Lin-Manuel Miranda Has Had an Insane Couple of Weeks
Lin-Manuel Miranda showed up in the first teaser trailer for Mary Poppins Returns. Photo courtesy Disney, via IMDB
It's been a while since we checked in on Lin-Manuel Miranda, who at this point really needs no introduction. Today marks the 10-year anniversary of the Broadway debut of In the Heights, Miranda's first big hit that laid the groundwork for him to revolutionize the Great White Way with Hamilton.
But aside from that, he's had a pretty insane couple of weeks, even by Miranda standards. Here's what you might have missed.
---
Miranda got emotional telling Oprah about bringing Hamilton to Puerto Rico.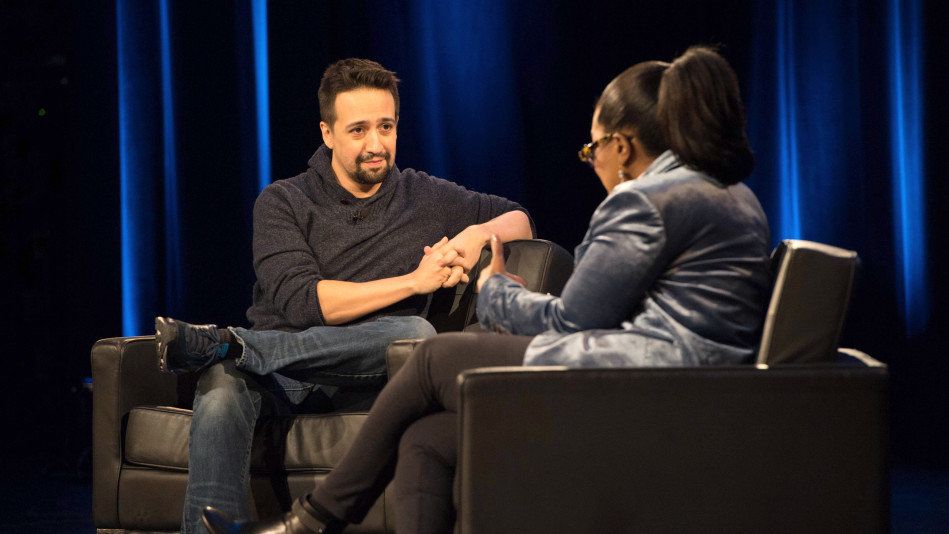 Miranda spoke to Oprah Winfrey for her "Oprah at the Apollo" series. Screenshot via oprah.com.
If you can listen to him talk about taking Hamilton home to Puerto Rico without tearing up, you're a lot tougher than we are. He'll be reprising his Tony-nominated role as part of his ongoing efforts to assist with recovery after Hurricane Maria. The hit musical lands in Puerto Rico January 2019.
We got our first glimpse of him in Mary Poppins Returns.
The teaser trailer for the sequel to the seminal movie musical is—dare we say it?—positively supercalifragilisticexpialidocious. (We're hoping for just a smidge more dancing in the full trailers.) It dropped during the Academy Awards, during which Miranda and his co-star Emily Blunt presented the award for Best Original Song (the category in which he was nominated last year for Moana).
Hamilton set a new record for Olivier Award nominations.
Lin-Manuel Miranda and the original Broadway cast of Hamilton. Photo by Joan Marcus, Courtesy Hamilton
Hamilton has broken so many records at this point that it's practically blasé, but scooping up 13 Olivier Award nominations (the British equivalent of the Tony Awards) is incredible. Beyond the Best New Musical nomination, Miranda is up for Outstanding Achievement in Music, Andy Blankenbuehler got a nod for Best Theater Choreographer and the West End cast has nominations in every eligible acting category except Best Actress in a Musical (including three of the four Actor in a Supporting Role nominations).
Miranda did an incredible, ridiculous lip sync performance of Weird Al's "The Hamilton Polka."
The March 2 February 30 Hamildrop was a Hamilton reimagining/remix/mashup by none other than "Weird Al" Yankovic. And if that weren't crazy enough, Miranda and Yankovic teamed up with Jimmy Fallon for an epic lip sync of the track.
Most people may know Derek Dunn for his impeccable turns and alluring onstage charisma. But the Boston Ballet principal dancer is just as charming offstage, whether he's playing with his 3-year-old miniature labradoodle or working in the studio. Dance Magazine recently spent the day with Dunn as he prepared for his debut as Albrecht in the company's upcoming run of Giselle.
Rosalie O'Connor, Courtesy Mark Morris Dance Group
You know compelling musicality when you see it. But how do you cultivate it? It's not as elusive as it might seem. Musicality, like any facet of dance, can be developed and honed over time—with dedicated, detailed practice. At its most fundamental, it's "respect for the music, that this is your partner," says Kate Linsley, academy principal of the School of Nashville Ballet.
Keep reading...
Show less
The USC Kaufman graduating class with Mikhail Baryshnikov. Gus Ruelas/USC
Just four years ago, the University of Southern California's Glorya Kaufman School of Dance welcomed its first class of BFA students. The program—which boasts world-class faculty and a revolutionary approach to training focused on collaboration and hybridity—immediately established itself as one of the country's most prestigious and most innovative.
Now, the first graduating class is entering the dance field. Here, six of the 33 graduates share what they're doing post-grad, what made their experience at USC Kaufman so meaningful and how it prepared them for their next steps:
Keep reading...
Show less
Ross Parkes, right, teaching in Shanghai in 1983. Lan-Lan Wang is at left. Courtesy Lan-Lan Wang.
Notable dancer and beloved teacher, Ross Parkes, 79, passed away on August 5, 2019 in New York City. He was a founding faculty member at Taipei National University of the Arts in Taiwan, where he taught from 1984 to 2006. Lin Hwai-min, artistic director of Cloud Gate Dance Theater, said: "He nurtured two generations of dancers in Taiwan, and his legacy will continue."
About his dancing, Tonia Shimin, professor emerita at UC Santa Barbara and producer of Mary Anthony: A Life in Modern Dance, said this: "He was an exquisite, eloquent dancer who inhabited his roles completely."
Keep reading...
Show less