How Becoming a Mother Changed Lindsi Dec's Dancing
Lindsay Thomas for Pointe
Lindsi Dec is one of the pillars of Pacific Northwest Ballet: From Balanchine to Wheeldon, her mastery of principal roles brings a dynamic spark, strength and expansive spirit to the stage. Last year in January, Dec took on the biggest role of her life when she and husband Karel Cruz (also a principal with PNB) welcomed their son, Koan Dec Cruz.
Now back on stage and rehearsing for PNB's first rep of the season, Dec spoke with Dance Magazine about the powerful ways that becoming a mother has influenced her dancing.
---
What it was like to end maternity leave:
"I came back in mid-July last year, and then I had to deal with the guilt about leaving him. Sometimes I still do. We had moved to Bothell, so it was an hour each way, but I was coming home twice a day to see him. If we had a break between rehearsals, I was driving home."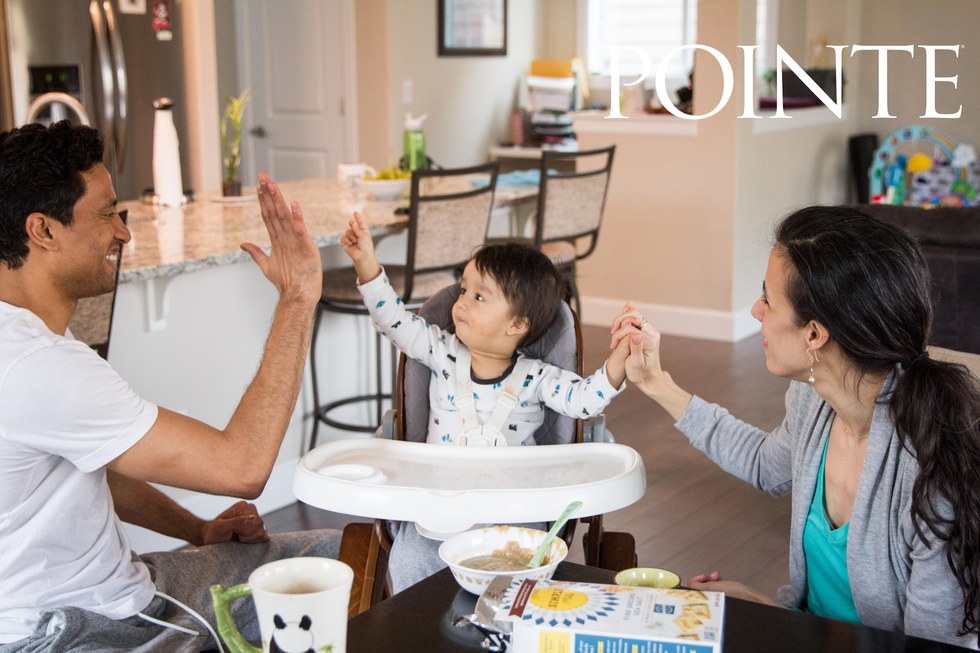 Lindsay Thomas for Pointe
On breaking her foot just four months after returning:
"I was in shock. I came back very strong, working with my trainer, and doing Pilates. But everything happens for a reason, and I got to spend another three months at home with the baby."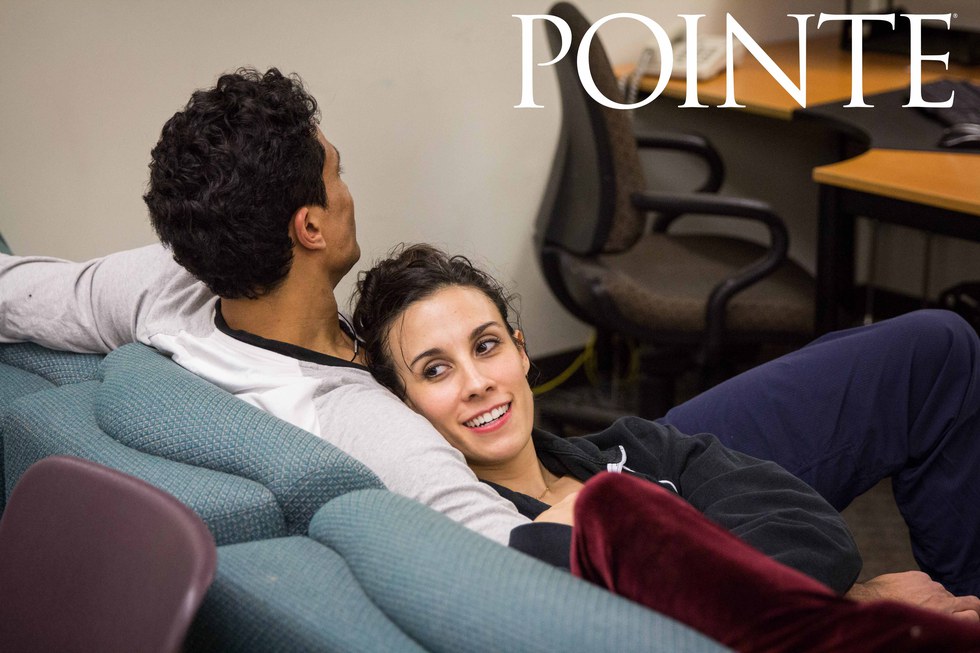 Lindsay Thomas for Pointe
On dealing with sleepless nights while dancing:
"It was really very hard. I was nursing for a year, so no caffeine. But once you start exercising and the endorphins kick in, you get that extra boost, and you just do it. You just keep going."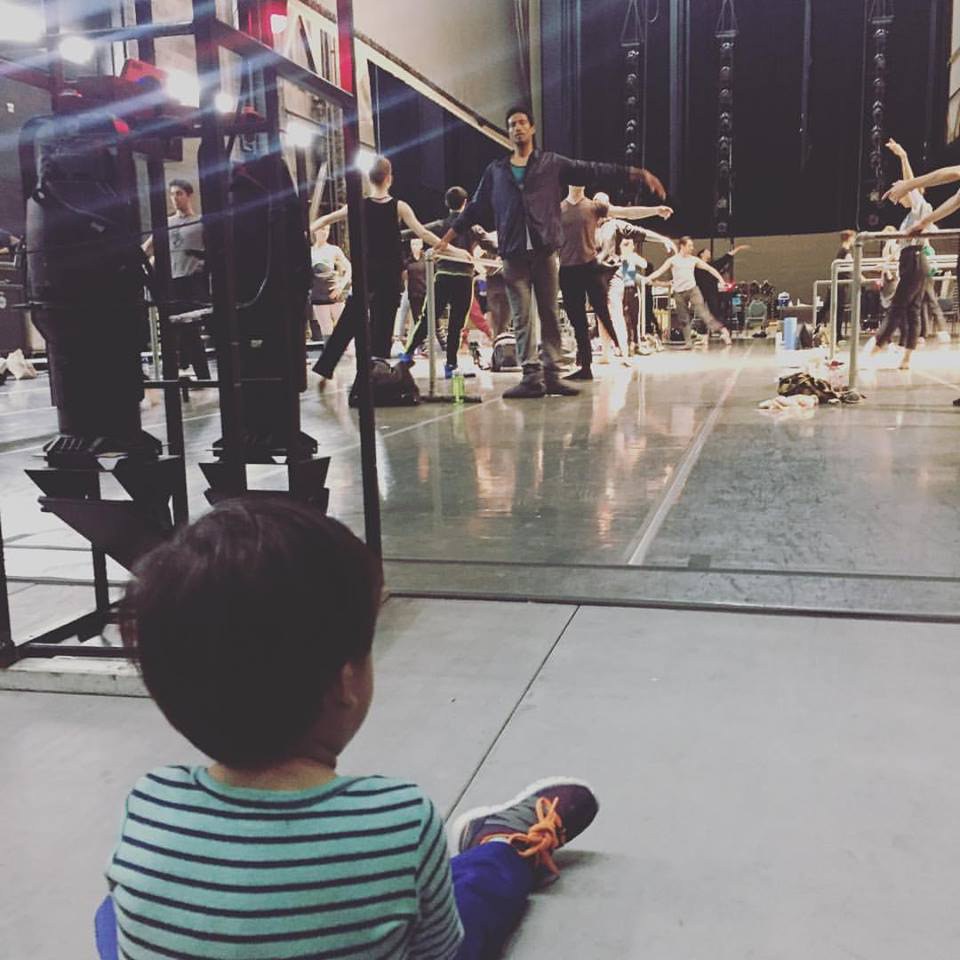 Dec says: "Loved sharing our backstage/theatre life with our sweet babe…especially with our talented PNB family, who gives him so much. So blessed to be able to share our passion with our son."
Her favorite part of having Koan:
"Just being a mom. Before, I thought that God put me on this earth to share dance with people. Now, I know I was put on earth to be his mom. And it's amazing."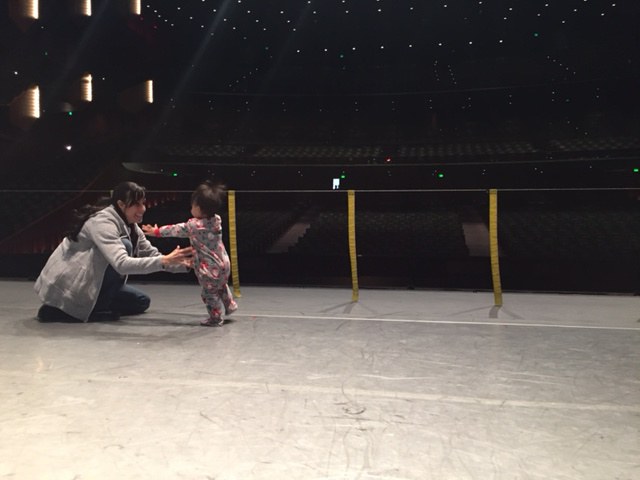 Photo courtesy Dec
How motherhood has changed her approach on stage:
"Before, I had a lot of pressure on myself to be perfect, to nail the turns, to do everything perfectly. I had the baby and came back, and I wasn't sure how I would feel. My mind was on my baby. But I was surprised because I felt so much more free. For those 20 minutes on stage, I don't have to worry about keeping a human alive. Before I would get nervous about a role, now I'm like, you had a baby! Nothing will ever be as hard as that. I had fun before, dancing. But there is a different level of fun with dancing now."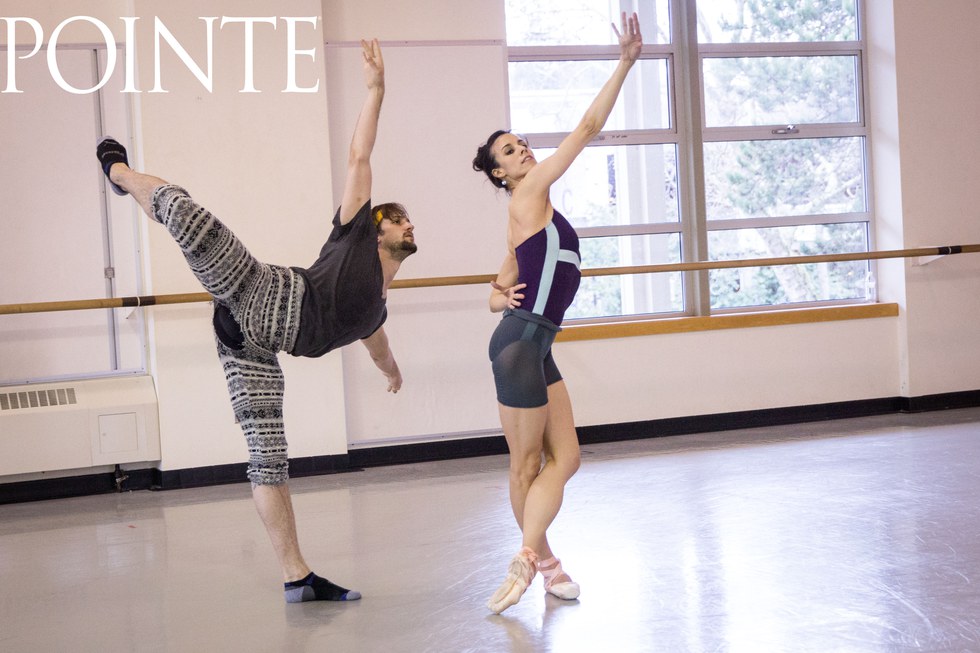 Lindsay Thomas for Pointe
Her advice for other dancers who want children:
"You can have it all! It is possible to have these other paths. You are resilient. It's possible and it's worth it."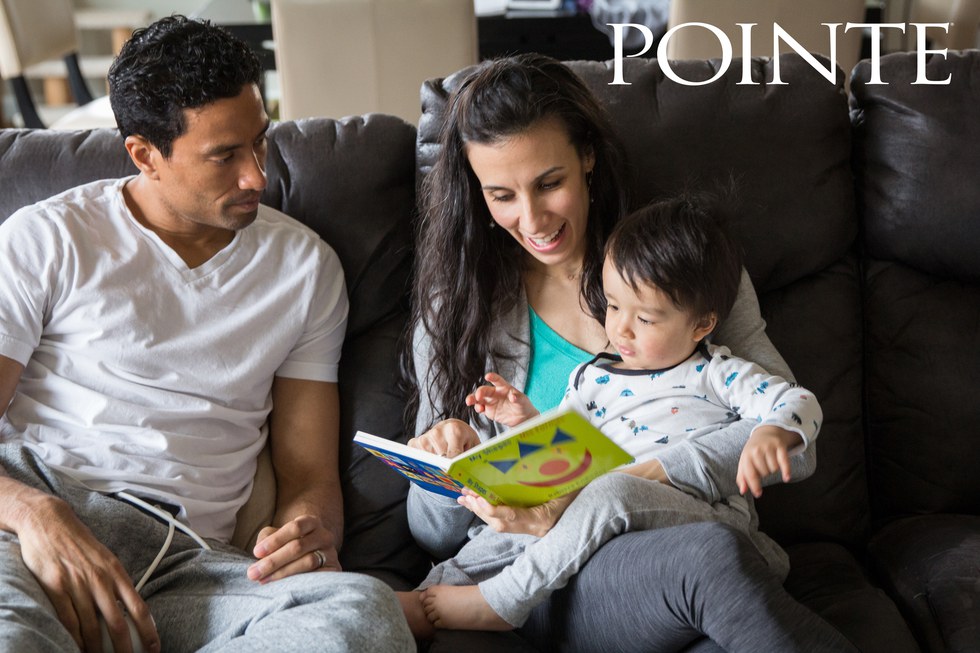 Lindsay Thomas for Pointe
Alice Sheppard photographed by Jayme Thornton for Dance Magazine
It can be hard to focus when Alice Sheppard dances.
Her recent sold-out run of DESCENT at New York Live Arts, for instance, offered a constellation of stimulation. Onstage was a large architectural ramp with an assortment of peaks and planes. There was an intricate lighting and projection design. There was a musical score that unfolded like an epic poem. There was a live score too: the sounds of Sheppard and fellow dancer Laurel Lawson's bodies interacting with the surfaces beneath them.
And there were wheelchairs. But if you think the wheelchairs are the center of this work, you're missing something vital about what Sheppard creates.

Keep reading...
Show less
Get the print edition!
Yuka Oba, Ednis Ariel Gomez Mallol and Connie Flachs in Swing by Olivier Wevers. Photo by Ryan Jackson, courtesy Flachs
"I'm sorry, but I just can't possibly give you the amount of money you're asking for."
My heart sinks at my director's final response to my salary proposal. She insists it's not me or my work, there is just no money in the budget. My disappointment grows when handed the calendar for Grand Rapids Ballet's next season with five fewer weeks of work.
Keep reading...
Show less
"Off Kilter" has real dancers playing dancers. Still courtesy CBC Arts
"It just...always looks better in my head."
While that might not be something any of us would want to hear from a choreographer, it's a brilliant introduction to "Off Kilter" and the odd, insecure character at its center, Milton Frank. The ballet mockumentary (think "The Office" or "Parks and Recreation," but with pointe shoes) follows Frank (dancer-turned-filmmaker Alejandro Alvarez Cadilla) as he comes back to the studio to try his hand at choreographing for the first time since a plagiarism scandal derailed his fledgling career back in the '90s.
We've been pretty excited about the series for a while, and now the wait is finally over. The first episode of the show, "The Denial," went live earlier today, and it's every bit as awkward, hilarious and relatable as we hoped.
Keep reading...
Show less
News
Jun. 20, 2018 10:28AM EST
The Broadway revival of CATS. Photo by Matthew Murphy
A Jellicle Ball is coming to the big screen, with the unlikeliest of dancemakers on tap to choreograph.
We'll give you some hints: His choreography can aptly be described as "animalistic," though Jellicle cats have never come to mind specifically when watching his hyper-physical work. He's worked on movies before—even one about Beasts. And though contemporary ballet is his genre of choice, his choreography is certainly theatrical enough to lend itself to a musical.
Keep reading...
Show less
Popular
Jun. 06, 2018 01:13PM EST
Stagestep's Encore hardwood flooring for full-service broadcast production facility, dance center and venue, Starwest, in Burbank, CA.
What is the right flooring system for us?

So many choices, companies, claims, endorsements, and recommendations to consider. The more you look, the more confusing it gets. Here is what you need to do. Here is what you need to know to get the flooring system suited to your needs.
Keep reading...
Show less
Being focused on one style eventually gave Al Blackstone more opportunities. Photo by Daryl A. Getman, Courtesy Blackstone
These days, everyone tells you how important it is to be versatile. But what if you're convinced there's just one style that's right for you? It can be tough to balance a deep interest in a single specialty and still meet many choreographers' expectations. Luckily, you don't have to choose between all in or all over the place, as long as you follow your interests thoughtfully.
Keep reading...
Show less
Get the print edition!
Omar Román De Jesús in rehearsal with Joffrey Academy trainees. Photo by Todd Rosenberg
So far, the fervor to create diversity in ballet has primarily focused on dancers. Less attention has been paid to the work that they'll encounter once they arrive.
Yet the cultivation of ballet choreographers of color (specifically black choreographers) through traditional pathways of choreographic training grounds remains virtually impossible. No matter how you slice it, we end up at the basic issues that plague the pipeline to the stage: access and privilege.
Keep reading...
Show less
We suspect it will be...a thriller.
Giphy
Christopher Wheeldon is going to be giving Michael Jackson some new moves: The Royal Ballet artistic associate is bringing the King of Pop to Broadway.
The unlikely pairing was announced today by Jackson's estate. Wheeldon will serve as both director and choreographer for the new musical inspired by Michael Jackson's life, which is aiming for a 2020 Broadway opening. This will be Wheeldon's second time directing and choreographing, following 2015's Tony Award-winning An American in Paris.
Wheeldon is a surprising choice, to say the least. There are many top choreographers who worked with Jackson directly, like Wade Robson and Brian Friedman, who could have been tapped for the project. Or the production could have even hired someone who actually choreographed on Jackson when he was alive, like Buddha Stretch.
Keep reading...
Show less
In rehearsal for Dreamgirls. Photo Courtesy DM Archives.
Broadway musicals have been on my mind for more than half a century. I discovered them in grade school, not in a theater but electronically. On the radio, every weeknight an otherwise boring local station would play a cast album in its entirety; on television, periodically Ed Sullivan's Sunday night variety show would feature an excerpt from the latest hit—numbers from Bye Bye Birdie, West Side Story, Camelot, Flower Drum Song.
But theater lives in the here and now, and I was in middle school when I attended my first Broadway musical, Gypsy—based, of all things, on the early life of the famed burlesque queen Gypsy Rose Lee. I didn't know who Jerome Robbins was, but I recognized genius when I saw it—kids morphing into adults as a dance number progresses, hilarious stripping routines, a pas de deux giving concrete shape to the romantic yearnings of an ugly duckling. It proved the birth of a lifelong habit, indulged for the last 18 years in the pages of this magazine. But all long runs eventually end, and it's time to say good-bye to the "On Broadway" column. It's not the last of our Broadway coverage—there's too much great work being created and performed, and you can count on hearing from me in print and online.
Keep reading...
Show less
It's already on its way to legendary status. (screenshot via YouTube)
Get the print edition!
Popular
May. 25, 2018 12:14PM EST
Travis Wall draws inspiration from dancers Tate McCrae, Timmy Blankenship and more.
One often-overlooked relationship that exists in dance is the relationship between choreographer and muse. Recently two-time Emmy Award Winner Travis Wall opened up about his experience working with dancers he considers to be his muses.
"My muses in choreography have evolved over the years," says Wall. "When I'm creating on Shaping Sound, our company members, my friends, are my muses. But at this current stage of my career, I'm definitely inspired by new, fresh talent."
Wall adds, "I'm so inspired by this new generation of dancers. Their teachers have done such incredible jobs, and I've seen these kids grown up. For many of them, I've had a hand in their exposure to choreography."

Keep reading...
Show less
News
Jun. 18, 2018 02:12PM EST
MADBOOTS DANCE in MASC. Photo by Scott Shaw, Courtesy Richard Kornberg & Associates
This week, New York City's Joyce Theater presents two companies addressing LGBTQ+ issues.
Keep reading...
Show less


Get Dance Magazine in your inbox