Nashville Ballet's New Full-Length Shows What Inclusion in Ballet Could Look Like
Source: YouTube
Lately, there has been much ado about diversity, equity and inclusion in ballet. While it's clear what increased diversity would look like (having more dancers, teachers, choreographers and administrators of color working in the field), equity and inclusion are a bit more nebulous. Yet Nashville Ballet's new ballet Lucy Negro Redux might give us a glimpse of what inclusion could look like.
Choreographed by artistic director Paul Vasterling, the ballet derives its provocative title from poet Caroline Randell William's book, which explores the woman behind Shakespeare's "Dark Lady" sonnets. Through her research, Williams came to discover that Lucy Negro was in fact an Elizabethan era black brothel owner who enchanted the Bard.
---
Told through poetry, prose and cultural criticism, Williams' book explores themes of equality and beauty, imagining the love affair between Lucy and "Mr. Whiteness Him Bad Bard Self," aka William Shakespeare.
Vasterling discovered the story when the book was gifted to him, and he became transfixed. He saw its possibility as ballet primarily because he had a dancer to embody the role: Kayla Rowser.
"I wouldn't even be approaching this work if I didn't have her in the company," he says, illustrating the inherent value of having diversity in the room—both your perspective and your possibilities are broadened. You can't tell diverse stories without diversity represented.
Of course, white people telling the stories of people of color is inherently problematic, and this fact was not lost on Vasterling. When he approached Williams, the first question he asked was whether he was the right person to tell this story.
"If he hadn't asked that question I would have been worried," says Williams. "It was important to me that he felt othered some way. When Paul said 'I feel like Lucy is me too,' I was like, Thank god!"
There is an intersectional love triangle in the story that involves two men and a woman, two social taboos—interracial and homosexual love—which makes one third of the story Vasterling's as well.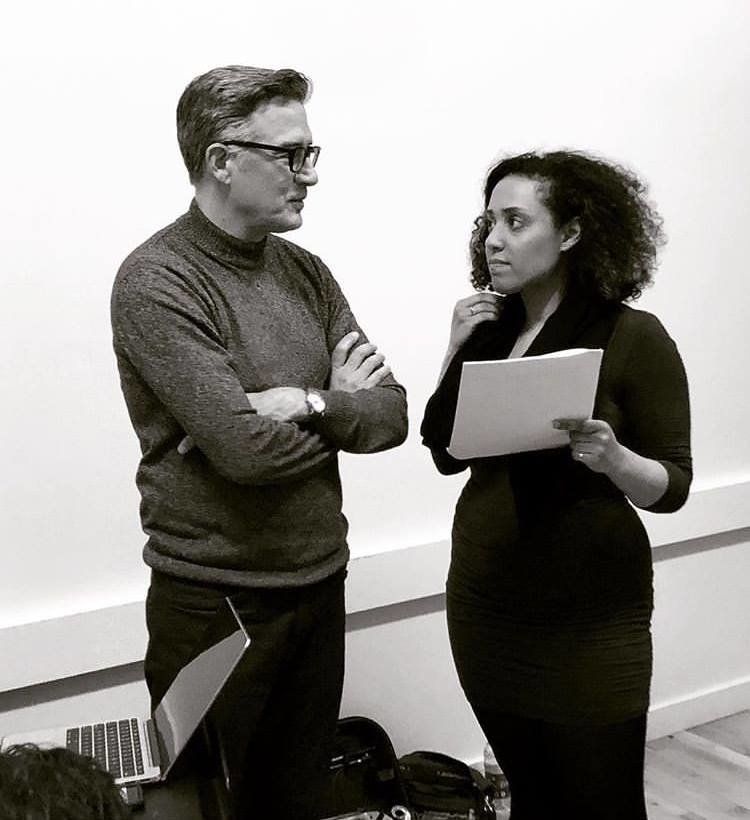 Caroline Randall Williams and Paul Vasterling
Alexandria Kominsky
In addition to Williams, who will perform spoken word from her book, 2017 MacArthur award-winning bluegrass musician Rhiannon Giddens composed the original score, and Rowser originated the title role, working closely with Vasterling to bring Lucy to life.
The use of three African American women as collaborators is significant. Seldom are people of color so highly represented on artistic teams outside of historically black companies like Dance Theatre of Harlem or Alvin Ailey American Dance Theatre.
The black female body in classic literature and art is also a rarity. Where it has been present, it has often been scrubbed, whitewashed or, as Williams says, "othered to the point of grotesqueness." Williams adds, "Kayla, Rhiannon and myself all come from very historically white creative spaces. The idea that the three of us are coming together to create a work of art that engages with all three of our classical forms, that tells an altogether new story set in an historical space, it says that we have been here all along, we are supposed to be in these spaces, we should have always been in these spaces."
Although she has embodied pinnacle roles like Odette/Odile, Aurora, Firebird and Sugarplum, for Rowser, originating Lucy speaks not only to the ballerina in her but the woman as well. "What's been overwhelmingly powerful throughout this process has been doing something I've done my entire life with the addition of the character being based on something I can fully relate to," Rowser says. "Sharing space with Caroline and Rhiannon has been incredible for a project like this."
Williams had studied to be a Shakespearean actress but found herself marginalized within the work, cast in matronly roles or having to be "regarded" as white. Her discovery of Lucy Negro and the Dark Sonnets created a space for inclusion in that world. If Shakespeare could write, "Then will I swear that beauty herself is black" and "Thy black is fairest" to describe a woman who was the object of his affection and desire, it signified to Williams' that Shakespeare (the genre) could love her as well.
Yet, how do we assess whether or not a project like Lucy Negro Redux is simply a marketing ploy? Lauren Wingenroth's article calling out the tokenizing of black dancers pointed out that these artists sometimes feel trotted out to illustrate a company's "good works." This is a natural and warranted reaction. An organization's intentions should be interrogated; they should be held accountable for they ways they present artists of color. Part of equity is creating the terms upon which you agree to participate. During the process of diversification, as more dancers of color get hired, promoted and featured (on stage and in ads), at first it will feel like tokenism until it becomes normalized. Only time will bear out the authenticity of this "progress."
After all, Lucy Negro Redux is premiering during black history month. Yet Vasterling says that wasn't a marketing move; it's just when the company's contemporary series falls.
"It is story that touched me and it is a story I wanted to tell," says Vasterling. "I am not telling it because I want to bring in audiences of color. I am not telling it because I want to put Kayla forward as an African American dancer specifically. I want to put her forward because she is Kayla." (Although Nashville Ballet is an unranked company, Rowser is one of its premier artists.)
The truth is, Lucy Negro Redux is a textbook example of how ballet companies should be thinking in regards to creating inclusion. With this ballet, Vasterling performs as 'ally,' creating a space for the black body, the black voice and the diversity of the black experience (in the vehicle and his collaborators) and he is doing so within the organic, existing context of Nashville Ballet.
Research has shown that diversity changes "the tenor of decision-making" and "benefits the market." Another recent example of this was New York City Ballet's commissioning Kyle Abraham to create The Runaway. Not only was it a critically-acclaimed piece that challenged the audience's perceptions of what ballet could be, it showed what NYCB should look like and present.
Most profoundly, Abraham created an artistic vehicle that showcased the diverse virtuosity of principal Taylor Stanley. The symbiosis between the two was palpable, not just in the movement generated but in the level of ownership that exuded from Stanley. It was deeply personal, intimate, as though he was dancing a love letter written to him. Abraham's offering knitted together aspects of Stanley's talent and experiences as a ballet dancer of color that might never have connected had he not been invited to work on the company.
That collaboration enabled to artistic team to see Stanley in a new light: Shortly after, he was cast in Balanchine's Apollo. The interim artistic team, led by Jonathan Stafford, includes Craig Hall, Rebecca Krohn and Justin Peck. Different eyes see different things, and their inclusive, collaborative casting process is proving to bring forth juicy and delicious fruit.
"The new model of casting did have something to do with Taylor's casting in Apollo, and the casting of the new guys in Cavalier," says Stafford. December's Nutcracker season featured four Cavaliers of color: Stanley and Silas Farley, plus Preston Chamberlee and Daniel Applebaum making their debuts in the role.
Both Nashville Ballet and NYCB are members of The Equity Project: Increasing the Presence of Blacks in Ballet. This three-year program (of which I am a part of the design and facilitation team) is a learning cohort where artistic and executive directors can gain the information and tools needed to address diversity, equity and inclusion from an educated place. It challenges the leadership to be courageous in confronting the implicit and explicit biases that exist within themselves, their organizations and the very culture of ballet.
There are great strides happening behind the scenes. When people know better, they do better. Productions like Lucy Negro Redux might just be the evidence that ballet is an old dog that can learn some new tricks.
Related Articles Around the Web
From Your Site Articles
James Fosberg, courtesy Mason
Over the past 15 years, Gesel Mason has asked 11 choreographers—including legends like Donald McKayle, David Roussève, Bebe Miller, Jawole Willa Jo Zollar, Rennie Harris and Kyle Abraham—to teach her a solo. She's performed up to seven of them in one evening for her project No Boundaries: Dancing the Visions of Contemporary Black Choreographers.
Now, Mason is repackaging the essence of this work into a digital archive. This online offering shares the knowledge of a few with many, and considers how dance can live on as those who create it get older.
Keep reading...
Show less
Hive by Boston Conservatory student Alyssa Markowitz. Photo by Jim Coleman
The way we create and consume dance is changing every day. Now more than ever, the field demands that dancers not only be able to perform at the highest level, but also collaborate with choreographers to bring their artistic visions to life. Dancers who miss out on choreographic training may very well find themselves at a disadvantage as they try to launch their careers.

Keep reading...
Show less
News
May. 22, 2019 05:57PM EST
Fox produced a live broadcast of Rent in January—but could an original musical be next? Photo by Kevin Estrada, Courtesy Fox
When a musical prepares to make the transfer from a smaller, lesser-known venue to Broadway (where theaters hold 500-plus seats), often there's a collective intake of breath from all involved. After all, a bigger house means more tickets to sell in order to stay in the black, and sometimes shows with even the most tenacious fan bases can't quite navigate such a jump. But what about the transfer from stage…to screen? Is Broadway ready to be consumed from the comfort of your couch?
Keep reading...
Show less
Courtesy Lee
Daphne Lee was dancing with Collage Dance Collective in Memphis, Tennessee, when she received two difficult pieces of news: Her mother had been diagnosed with multiple myeloma cancer, and her father had Parkinson's disease, affecting his mobility and mental faculties.
The New Jersey native's reaction: "I really need to move home."
Keep reading...
Show less
Last year's winner: Manuel Vignoulle's EARTH. Jack Hartin Photography, Courtesy McCallum Theatre
It's not often that a promising choreographer gets to stage work in a world-class theater, on a skillfully-curated program with professional dancers, and with the possibility of winning a substantial cash prize. But at the McCallum Theatre's Palm Desert Choreography Festival, that's been the status quo for over twenty years.
Since Shea New, the festival's artistic director, founded the festival in 1998, she's worked tirelessly with McCallum's director of education and festival producer, Kajsa Thuresson-Frary, and stage manager and festival production manager Joanna Fookes to build a festival that nurtures choreographers, highlights high quality work, powerfully engages the local community and cultivates an audience base for dance in the Coachella Valley. The trio is backed by a strong team of professionals at McCallum and the brilliant volunteers from the local and national level who serve as adjudicators.
Keep reading...
Show less
Get Dance Magazine in your inbox
Bruce Mars via Unsplash
Summer is almost upon us, and whether you're a student about to go on break or a pro counting the days till layoff, don't forget that with warm weather comes a very serious responsibility: To maintain your cross-training routine on your own.
Those of us who've tried to craft our own cross-training routine know it's easier said than done. So we consulted the stars, and rounded up the best options for every zodiac sign. (TBH, you should probably consult an expert, too—we'd recommend a physical therapist, a personal trainer or your teacher.)
Keep reading...
Show less
It's become second nature in dance studios: The instant anyone gets hurt, our immediate reaction is to run to the freezer to grab some ice (or, more realistically, a package of frozen peas).
But as routine as icing our injuries might be, the benefits are not actually backed up by scientific studies. And some experts now believe icing could even disrupt the healing process.
Keep reading...
Show less
Getty Images
I'm a contemporary dancer, and I'm nervous about trying to get pregnant since I can't predict if it might happen during the middle of the season. We have a union contract that is supposed to protect us. But I'm scared because several of my colleagues' contracts weren't renewed for no particular reason. Having a big belly could be a big reason to get rid of me!
—Andrea, New York, NY
Keep reading...
Show less
From Dance of Urgency. © Ekvidi
When the going gets tough, the tough start dancing: That's the premise behind "Dance of Urgency," a recently opened exhibit at MuseumsQuartier Vienna that features photos, video and other documentary material relating to the use of dance as political protest or social uprising.
The groups featured in the show, largely based around clubs and electronic dance music scenes, span the globe and respond to a variety of issues—from inequality and social stratification to racial divides to crackdowns on club culture itself.
Keep reading...
Show less
News
May. 20, 2019 04:24PM EST
Last night, longtime theater legends (including Chita Rivera herself!) as well as rising stars gathered to celebrate one of Broadway's danciest events: the third annual Chita Rivera Awards.
The evening paid tribute to this season's dancer standouts, fabulous ensembles, and jaw-dropping choreography—on- and off-Broadway and on film.
As usual, several of our faves made it into the mix. (With such a fabulous talent pool of nominees to choose from, we're glad that ties were allowed.) Here are the highlights from the winner's list:
Keep reading...
Show less
Lorenzo Di Cristina/Unsplash
When you're a foreign dancer, gaining legal rights to work in the U.S. is a challenging process. It's especially difficult if you're petitioning to work as a freelance dancer without an agent or company sponsorship.
The process requires professional muscle along with plenty of resources and heart. "There's a real misnomer that it's super easy," says Neena Dutta, immigration attorney and president of Dutta Law Firm. "People need to educate themselves and talk to a professional."
Here are four things every foreign dancer who wants to work in the U.S. needs to know to build a freelance dance career here.
Keep reading...
Show less
Quinn Wharton
What does it take to "make it" in dance? It's no secret that turning this passion into a profession can be a struggle. In such a competitive field, talent alone isn't enough to get you where you want to be.
So what kinds of steps can you take to become successful? Dance Magazine spoke to 33 people from all corners of the industry to get their advice on the lessons that could help us all, no matter where we are in our careers.
Keep reading...
Show less
Still of Fonteyn from the 1972 film I Am a Dancer. Photo courtesy DM Archives
On May 18, 1919, Margot "Peggy" Hookham was born. She would grow up to become Dame Margot Fonteyn, England's first homegrown prima ballerina. She joined the Sadler's Wells School in 1934 and was performing principal roles with the precursor to The Royal Ballet the next year. Fonteyn was a company-defining figure, dancing Aurora for the re-opening of the Royal Opera House after World War II, creating numerous roles with Sir Frederick Ashton and forging a legendary partnership with Rudolf Nureyev.
Keep reading...
Show less