"Besides the stage, baking is my other happy place," says New York City Ballet corps member Jenelle Manzi.
Four years ago, she thought her baking days were over when she was diagnosed with gluten intolerance. Manzi had been dealing with pain, frequent illness and joint inflammation for nearly 10 years. Once she cut out gluten, Manzi gradually started to feel better, noticing a transformation in how her body felt and functioned. She found her joints were less inflamed, and she got sick less often.
---
But she missed baking. Then, she realized that she didn't have to stop—she just needed to adapt her old recipes. "There's something so satisfying about figuring out how to make recipes I used to love," she says. Now, Manzi usually keeps the dough of a favorite gluten-free treat, like matcha ganache bars or grain-free cacao brownies, ready in the fridge so she can whip something up quickly for a party or rehearsal.
She shared with Dance Magazine her recipe for Maca Cacao Mesquite Granola. "I love having jars of healthy granola to jazz up yogurt, chia pudding and shakes. When you make your own, you can control the amount of sugar and boost the recipe with healthy fats and superfoods. This one is a touch chocolatey."
Recipe: Maca Cacao Mesquite Granola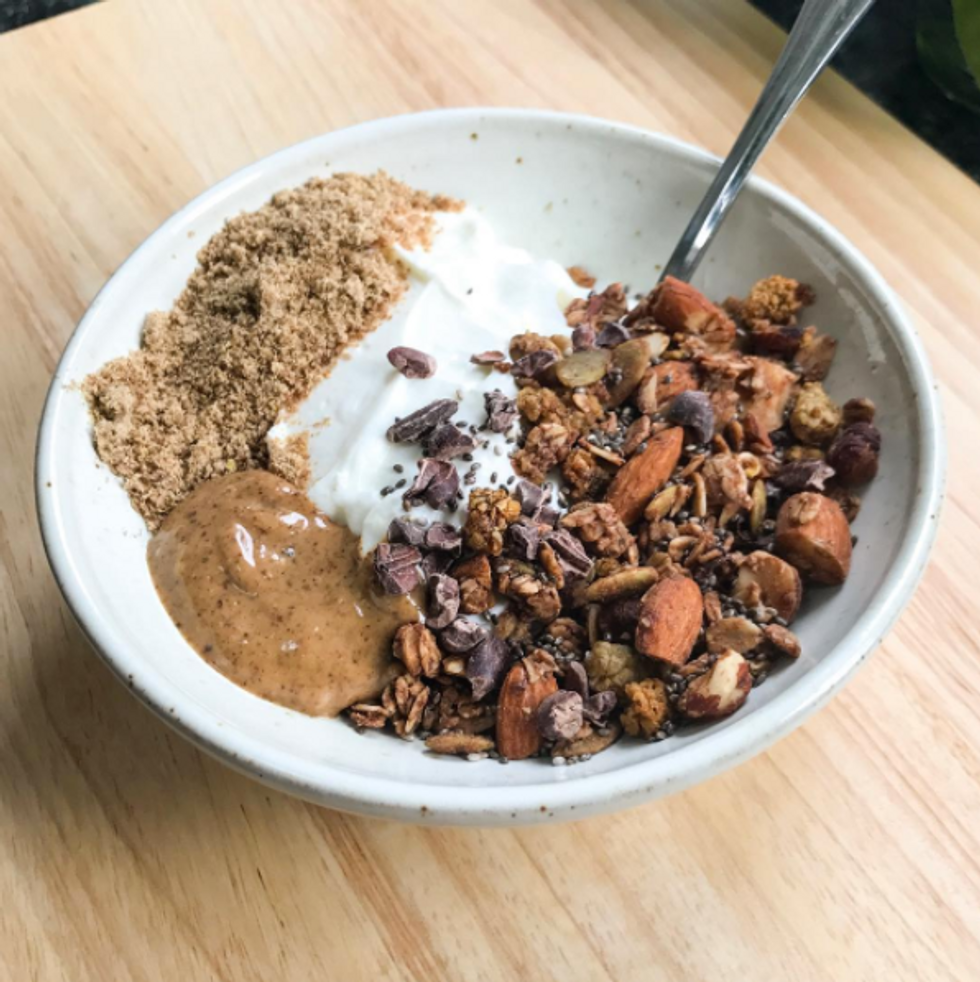 Manzi's breakfast bowl with her Maca Cacao Mesquite Granola
Ingredients:
2 1/2 cups gluten-free oats
3/4 cup chopped hazelnuts
1/2 cup chopped almonds
1/2 cup pumpkin seeds
1/2 tsp sea salt
2 tbsps cacao powder
2 tbsps maca powder
2 tbsps mesquite powder
4 tbsps maple syrup
1/4 cup coconut oil
1/4 cup coconut sugar
3/4 cup dried mulberries
Directions:
Preheat oven to 300ºF. In a large bowl, toss to combine oats, hazelnuts, almonds, pumpkin seeds, salt, cacao, maca and mesquite. In a small saucepan set over low heat, warm the maple syrup, coconut oil and coconut sugar until the sugar crystals dissolve. Pour the wet mixture over the dry ingredients, add in mulberries and toss to evenly coat. Spread on a baking sheet lined with parchment paper and bake until golden brown for around 35–45 minutes, stirring occasionally.