Make NYCB dancer Jenelle Manzi's Maca Cacao Mesquite Granola
"Besides the stage, baking is my other happy place," says New York City Ballet corps member Jenelle Manzi.
Four years ago, she thought her baking days were over when she was diagnosed with gluten intolerance. Manzi had been dealing with pain, frequent illness and joint inflammation for nearly 10 years. Once she cut out gluten, Manzi gradually started to feel better, noticing a transformation in how her body felt and functioned. She found her joints were less inflamed, and she got sick less often.
---
But she missed baking. Then, she realized that she didn't have to stop—she just needed to adapt her old recipes. "There's something so satisfying about figuring out how to make recipes I used to love," she says. Now, Manzi usually keeps the dough of a favorite gluten-free treat, like matcha ganache bars or grain-free cacao brownies, ready in the fridge so she can whip something up quickly for a party or rehearsal.
She shared with Dance Magazine her recipe for Maca Cacao Mesquite Granola. "I love having jars of healthy granola to jazz up yogurt, chia pudding and shakes. When you make your own, you can control the amount of sugar and boost the recipe with healthy fats and superfoods. This one is a touch chocolatey."
Recipe: Maca Cacao Mesquite Granola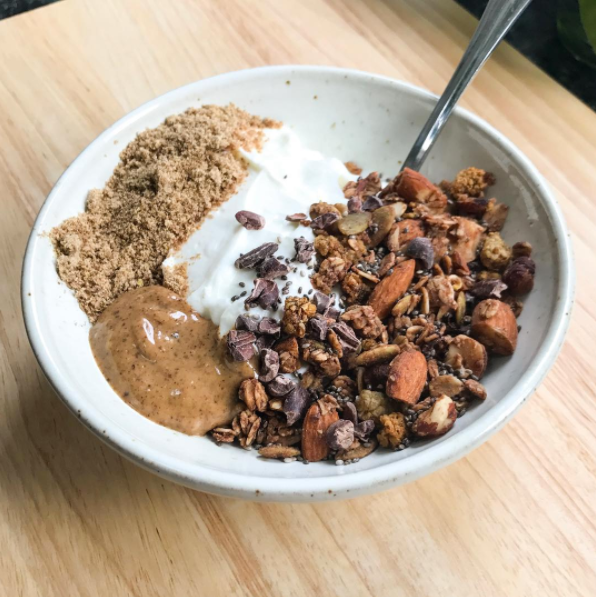 Manzi's breakfast bowl with her Maca Cacao Mesquite Granola
Ingredients:
2 1/2 cups gluten-free oats
3/4 cup chopped hazelnuts
1/2 cup chopped almonds
1/2 cup pumpkin seeds
1/2 tsp sea salt
2 tbsps cacao powder
2 tbsps maca powder
2 tbsps mesquite powder
4 tbsps maple syrup
1/4 cup coconut oil
1/4 cup coconut sugar
3/4 cup dried mulberries
Directions:
Preheat oven to 300ºF. In a large bowl, toss to combine oats, hazelnuts, almonds, pumpkin seeds, salt, cacao, maca and mesquite. In a small saucepan set over low heat, warm the maple syrup, coconut oil and coconut sugar until the sugar crystals dissolve. Pour the wet mixture over the dry ingredients, add in mulberries and toss to evenly coat. Spread on a baking sheet lined with parchment paper and bake until golden brown for around 35–45 minutes, stirring occasionally.
When the news broke that Prince George, currently third in line for the British throne, would be continuing ballet classes as part of his school curriculum this year, we were as excited as anyone. (Okay, maybe more excited.)
This was not, it seems, a sentiment shared by "Good Morning America" host Lara Spencer.
Keep reading...
Show less
UA Dance Ensemble members Candice Barth and Gregory Taylor in Jessica Lang's "Among the Stars." Photo by Ed Flores, courtesy University of Arizona
If you think becoming a trainee or apprentice is the only path to gaining experience in a dance company environment, think again.
The University of Arizona, located in the heart of Tucson, acclimates dancers to the pace and rigor of company life while offering all the academic opportunities of a globally-ranked university. If you're looking to get a head-start on your professional dance career—or to just have a college experience that balances company-level training and repertory with rigorous academics—the University of Arizona's undergraduate and graduate programs have myriad opportunites to offer:
Keep reading...
Show less
Alice Sheppard/Kinetic Light in DESCENT, which our readers chose as last year's "Most Moving Performance." Photo by Jay Newman, courtesy Kinetic Light
Yes, we realize it's only August. But we can't help but to already be musing about all the incredible dance happenings of 2019.
We're getting ready for our annual Readers' Choice feature, and we want to hear from you about the shows you can't stop thinking about, the dance videos that blew your mind and the artists you discovered this year who everyone should know about.
Keep reading...
Show less
News
Aug. 23, 2019 10:30AM EST
A still from Dancing Dreams. Courtesy OVID
If you're seeking an extra dash of inspiration to start the new season on the right—dare we say—foot, look no further than dance documentaries.
Starting August 23, OVID, a streaming service dedicated to docs and art-house films, is adding eight notable dance documentaries to its library. The best part? There's a free seven-day trail. (After that, subscriptions are $6.99 per month or $69.99 annually.)
From the glamour of Russian ballet stars to young dancers training in Cuba to a portrait of powerhouse couple Carmen de Lavallade and Geoffrey Holder, here's what's coming to a couch near you:
Keep reading...
Show less