News
Feb. 12, 2019 01:37PM EST
There's a New Pointe Shoe Designed Specifically for Men
Courtesy Siberian Swan
As ballet's gender roles grow increasingly blurred, more men than ever are reaching new heights: the tips of their toes.
It's no longer just Les Ballets Trockadero de Monte Carlo and the few pointe-clad male character parts, like in Cinderella or Alexei Ratmansky's The Bright Stream. Some male dancers are starting to experiment with pointe shoes to strengthen their feet or expand their artistic possibilities. Michelle Dorrance even challenged the men in her cast at American Ballet Theatre to perform on pointe last season (although only Tyler Maloney ended up actually doing it onstage).
The one problem? Pointe shoes have traditionally only been designed for women. Until now.
---
A Russian company called Siberian Swan has just announced the debut of the first pointe shoe model specifically designed for men, named "Rudolf" (after Nureyev, of course). It will be released next month, giving men an alternative to custom orders.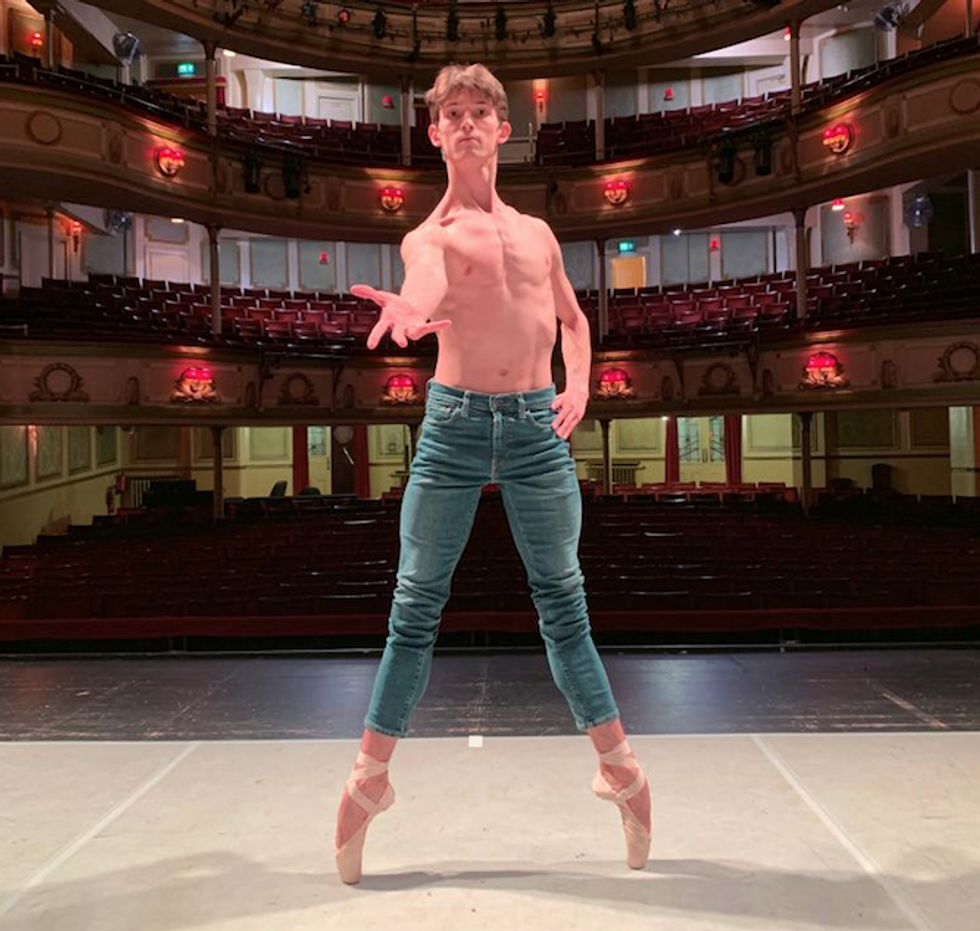 State Ballet of Siberia dancer Yuri Kudriavstev
Courtesy Siberian Swan
Research shows that aside from being significantly longer on average, male feet are typically wider at the ball, instep and heel. Yet the heights of the ankle bones, instep and toes can be shorter. Men's feet are also typically less flexible, and they often support more weight.
So you can't simply make bigger pointe shoes and stick them on—they need a different design altogether to ensure a proper fit.
The Rudolf takes this into account, with a roomy box, medium-high vamp, a wide platform and medium profile. The shanks, made of plastic, are designed to support longer, less flexible feet, with options for medium, hard or super-hard strengths.
It's all the brain child of two former Bolshoi Ballet dancers who launched Siberian Swan three years ago to support the needs of their company, the State Ballet of Siberia. They since realized there was international demand beyond their studio.
Case in, well, point: Even though the Rudolf has not yet been officially released, it already has dozens of pre-orders.

From Your Site Articles
Related Articles Around the Web
Rachel Papo
In the middle of one of New York City Center's cavernous studios, Misty Copeland takes a measured step backwards. The suggestion of a swan arm ripples before she turns downstage, chest and shoulders unfurling as her legs stretch into an open lunge. She piqués onto pointe, arms echoing the sinuous curve of her back attitude, then walks out of it, pausing to warily look over her shoulder. As the droning of Ryuichi Sakamoto and Alva Noto's mysterious "Attack/Transition" grows more insistent, her feet start to fly with a rapidity that seems to almost startle her.
And then she stops mid-phrase. Copeland's hands fall to her hips as she apologizes. Choreographer Kyle Abraham slides to the sound system to pause the music, giving Copeland a moment to remind herself of a recent change to the sequence.
"It's different when the sound's on!" he reassures her. "And it's a lot of changes."
The day before was the first time Abraham had seen Copeland dance the solo in its entirety, and the first moment they were in the studio together in a month. This is their last rehearsal, save for tech, before the premiere of Ash exactly one week later, as part of the opening night of City Center's Fall for Dance festival.
Keep reading...
Show less
Ailey II artistic director Troy Powell teaching an Ailey Workshop at NYCDA. Courtesy NYCDA
Back in 2011 when Joe Lanteri first approached Katie Langan, chair of Marymount Manhattan College's dance department, about getting involved with New York City Dance Alliance, she was skeptical about the convention/competition world.
"But I was pleasantly surprised by the enormity of talent that was there," she says. "His goal was to start scholarship opportunities, and I said okay, I'm in."
Today, it's fair to say that Lanteri has far surpassed his goal of creating scholarship opportunities. But NYCDA has done so much more, bridging the gap between the convention world and the professional world by forging a wealth of partnerships with dance institutions from Marymount to The Ailey School to Complexions Contemporary Ballet and many more. There's a reason these companies and schools—some of whom otherwise may not see themselves as aligned with the convention/competition world—keep deepening their relationships with NYCDA.
Now, college scholarships are just one of many ways NYCDA has gone beyond the typical weekend-long convention experience and created life-changing opportunities for students. We rounded up some of the most notable ones:
Keep reading...
Show less
Getty Images
Dancers are understandably obsessed with food. In both an aesthetic and athletic profession, you know you're judged on your body shape, but you need proper fuel to perform your best. Meanwhile, you're inundated with questionable diet advice.
"My 'favorite' was the ABC diet," says registered dietitian nutritionist Kristin Koskinen, who trained in dance seriously but was convinced her body type wouldn't allow her to pursue it professionally. "On the first day you eat only foods starting with the letter A, on the second day only B, and so on."
Keep reading...
Show less
Left: Hurricane Harvey damage in Houston Ballet's Dance Lab; Courtesy Harlequin. Right: The Dance Lab pre-Harvey; Nic Lehoux, Courtesy Houston Ballet.
"The show must go on" may be a platitude we use to get through everything from costume malfunctions to stormy moods. But when it came to overcoming a literal hurricane, Houston Ballet was buoyed by this mantra to go from devastated to dancing in a matter of weeks—with the help of Harlequin Floors, Houston Ballet's longstanding partner who sprang into action to build new floors in record time.
Keep reading...
Show less