News
Feb. 12, 2019 01:37PM EST
There's a New Pointe Shoe Designed Specifically for Men
Courtesy Siberian Swan
As ballet's gender roles grow increasingly blurred, more men than ever are reaching new heights: the tips of their toes.
It's no longer just Les Ballets Trockadero de Monte Carlo and the few pointe-clad male character parts, like in Cinderella or Alexei Ratmansky's The Bright Stream. Some male dancers are starting to experiment with pointe shoes to strengthen their feet or expand their artistic possibilities. Michelle Dorrance even challenged the men in her cast at American Ballet Theatre to perform on pointe last season (although only Tyler Maloney ended up actually doing it onstage).
The one problem? Pointe shoes have traditionally only been designed for women. Until now.
---
A Russian company called Siberian Swan has just announced the debut of the first pointe shoe model specifically designed for men, named "Rudolf" (after Nureyev, of course). It will be released next month, giving men an alternative to custom orders.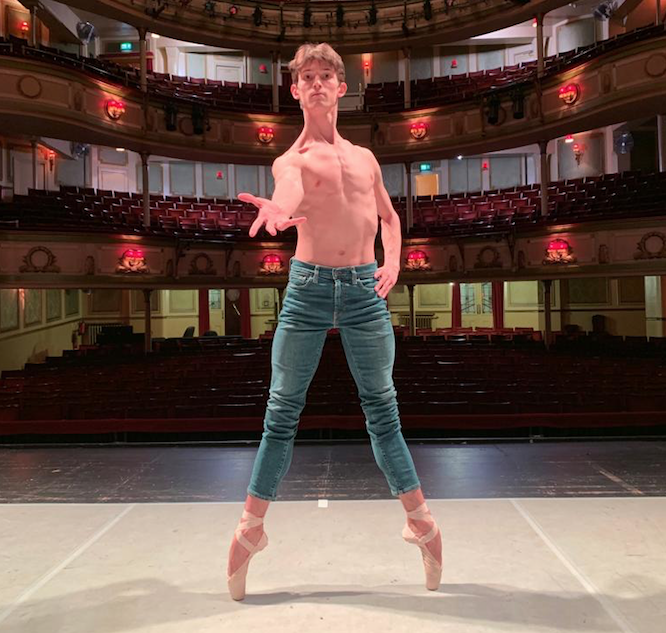 State Ballet of Siberia dancer Yuri Kudriavstev
Courtesy Siberian Swan
Research shows that aside from being significantly longer on average, male feet are typically wider at the ball, instep and heel. Yet the heights of the ankle bones, instep and toes can be shorter. Men's feet are also typically less flexible, and they often support more weight.
So you can't simply make bigger pointe shoes and stick them on—they need a different design altogether to ensure a proper fit.
The Rudolf takes this into account, with a roomy box, medium-high vamp, a wide platform and medium profile. The shanks, made of plastic, are designed to support longer, less flexible feet, with options for medium, hard or super-hard strengths.
It's all the brain child of two former Bolshoi Ballet dancers who launched Siberian Swan three years ago to support the needs of their company, the State Ballet of Siberia. They since realized there was international demand beyond their studio.
Case in, well, point: Even though the Rudolf has not yet been officially released, it already has dozens of pre-orders.

From Your Site Articles
Related Articles Around the Web
Via @lizzo on Twitter
On August 20, pop goddess Lizzo tweeted, "Someone do a ballet routine to truth hurts pls," referring to the anthem that's been top on everyone's playlists this summer. Lizzo might not know it yet, but ballet dancers are not known for shying away from a challenge. In the past two days, the internet has exploded which responses, with dancers like Houston Ballet's Harper Watters and American Ballet Theatre's Erica Lall tagging the singer in submissions.
Below are a few of our favorites so far, but we're guessing that this is just the beginning. Ballet world, consider yourselves officially challenged! (Use #LizzoBalletChallenge so we know what you're up to.)
Keep reading...
Show less
UA Dance Ensemble members Candice Barth and Gregory Taylor in Jessica Lang's "Among the Stars." Photo by Ed Flores, courtesy University of Arizona
If you think becoming a trainee or apprentice is the only path to gaining experience in a dance company environment, think again.
The University of Arizona, located in the heart of Tucson, acclimates dancers to the pace and rigor of company life while offering all the academic opportunities of a globally-ranked university. If you're looking to get a head-start on your professional dance career—or to just have a college experience that balances company-level training and repertory with rigorous academics—the University of Arizona's undergraduate and graduate programs have myriad opportunites to offer:
Keep reading...
Show less
Alice Sheppard/Kinetic Light in DESCENT, which our readers chose as last year's "Most Moving Performance." Photo by Jay Newman, courtesy Kinetic Light
Yes, we realize it's only August. But we can't help but to already be musing about all the incredible dance happenings of 2019.
We're getting ready for our annual Readers' Choice feature, and we want to hear from you about the shows you can't stop thinking about, the dance videos that blew your mind and the artists you discovered this year who everyone should know about.
Keep reading...
Show less
Kate Torline via Unsplash
New York City–based choreographer and director Jennifer Weber once worked on a project with a strict social media policy: " 'Hire no one with less than 10K, period'—and that was a few years ago," she says. "Ten thousand is a very small number now, especially on Instagram."
The commercial dance world is in a period of transition, where social media handles and follower counts are increasingly requested by casting directors, but rarely offered by dancers up front. "I can see it starting to show up on resumés, though, alongside a dancer's height and hair color," predicts Weber.
Keep reading...
Show less