The Loss of a Legend: Remembering Marcia Dale Weary
Courtesy CPYB
"At every possible opportunity, I hope to instill in children a love for the arts and for classical music," said Marcia Dale Weary, beloved teacher and founder of Central Pennsylvania Youth Ballet. "Along with that, I hope to help them develop self-discipline, generosity and the ability to focus."
Weary passed away at the age of 82 on Monday, March 4, 2019.
---
Since opening her first school in 1955, Weary taught generations of students, training them for professional careers, and changing their lives through dance. In 1974, the Marcia Dale School of Dance became the Central Pennsylvania Youth Ballet, a nonprofit school and performing company, and the red barn behind her house in Carlisle, Pennsylvania, was established as an iconic ballet studio and center for dance education.
Many of her students, affectionately known as "barn babies," remember the way she created a safe and beautiful haven—a home away from home—that inspired both dreams and hard work.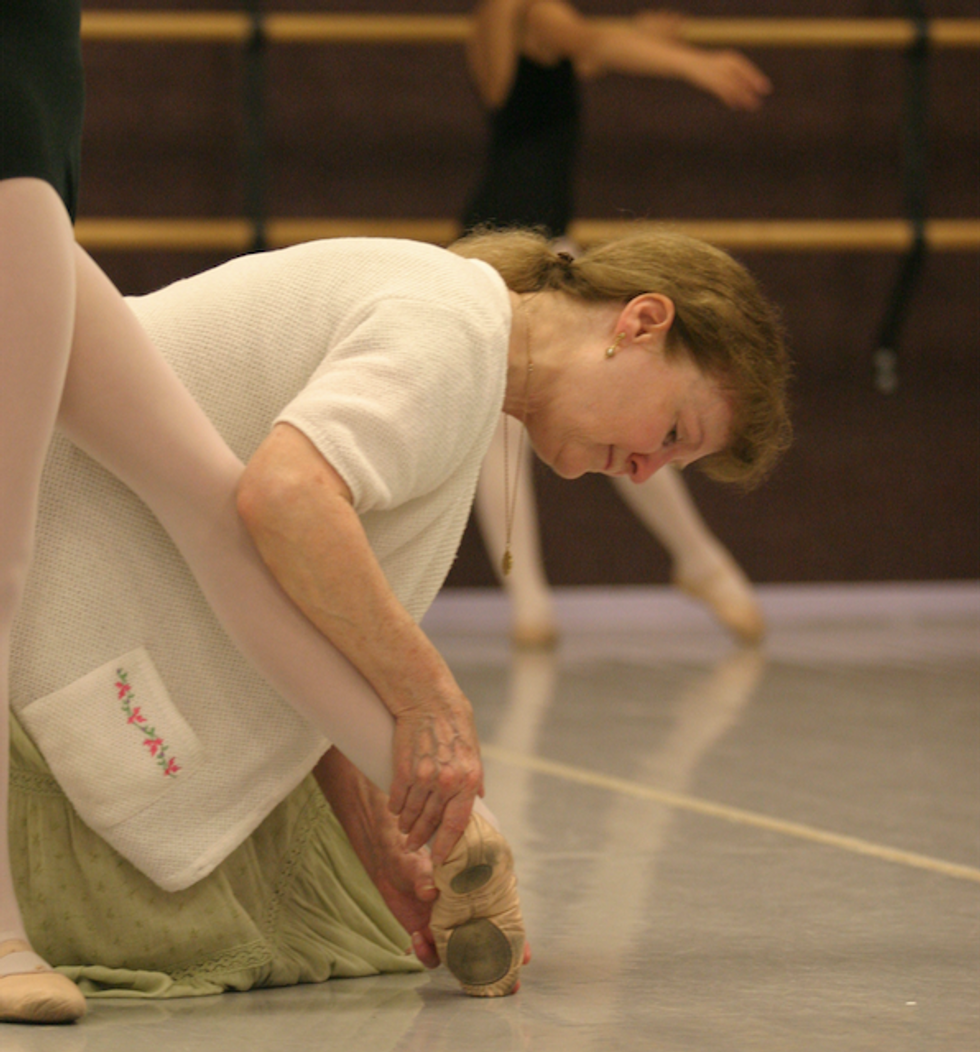 Rosalie O'Connor
Weary had a magical way of commanding a student's attention. As one of CPYB's guest teachers, I remember sitting in the corner of the barn's Studio A, watching her teach a beginner level. Not one of those young dancers was fidgeting, talking or daydreaming. They were all completely engaged and eager to please, under her spell.
She was able to communicate and connect with students in a way that consistently brought out their best.
While I did not have the privilege of training with Weary, my husband and his sister grew up dancing in the barn and often speak of the impact she had on their careers and lives. My mother-in-law was one of Weary's first students and taught by her side for more than 30 years. Many of my professional colleagues studied with Weary, and each of them had a technical fearlessness, refined artistry, confidence and pristine attention to detail—trademark qualities of Weary's training.
Generations of students that studied with her are now teaching, dancing in major companies or directing them. So many more have excelled in other areas, due to the skills they learned under her watchful and caring eye.
Weary had high expectations for all her students. They learned discipline, focus and respect for the art form. They learned musicality and the importance of creative expression, as she often talked about showing your soul through movement.
She encouraged dancers to maintain a certain level of professionalism both inside and outside the studio. She was strict but had a sense of humor. She was a master who always kept learning and passed that knowledge to her students.
The first time I taught at CPYB's summer program almost 15 years ago, Weary watched the last few minutes of my class. Students were muddling through a series of big jumps but seemed to be enjoying the challenge. "They need to go back to the barre," Weary told me. "Break it down for them. Don't just make it fun." Her words resonated.
The practice of "breaking it down" was key to Weary's teaching philosophy. She could dissect and explain each step in a way that everyone could understand, and she never underestimated children. The young dancers she trained have a strength and maturity beyond their years and could often perform the repertoire typical of a major professional company.
She believed that all students could become dancers if they worked hard enough and had the passion. "There is a place for them in the ballet world if they really want it," she once said. Weary made dreams come true. She touched the lives of countless people and will remain in our hearts as future generations of dancers grow and blossom through her legacy.
Thank you, Marcia. We are grateful and enriched beyond words.
Related Articles Around the Web
Rachel Papo
In the middle of one of New York City Center's cavernous studios, Misty Copeland takes a measured step backwards. The suggestion of a swan arm ripples before she turns downstage, chest and shoulders unfurling as her legs stretch into an open lunge. She piqués onto pointe, arms echoing the sinuous curve of her back attitude, then walks out of it, pausing to warily look over her shoulder. As the droning of Ryuichi Sakamoto and Alva Noto's mysterious "Attack/Transition" grows more insistent, her feet start to fly with a rapidity that seems to almost startle her.
And then she stops mid-phrase. Copeland's hands fall to her hips as she apologizes. Choreographer Kyle Abraham slides to the sound system to pause the music, giving Copeland a moment to remind herself of a recent change to the sequence.
"It's different when the sound's on!" he reassures her. "And it's a lot of changes."
The day before was the first time Abraham had seen Copeland dance the solo in its entirety, and the first moment they were in the studio together in a month. This is their last rehearsal, save for tech, before the premiere of Ash exactly one week later, as part of the opening night of City Center's Fall for Dance festival.
Keep reading...
Show less
Ailey II artistic director Troy Powell teaching an Ailey Workshop at NYCDA. Courtesy NYCDA
Back in 2011 when Joe Lanteri first approached Katie Langan, chair of Marymount Manhattan College's dance department, about getting involved with New York City Dance Alliance, she was skeptical about the convention/competition world.
"But I was pleasantly surprised by the enormity of talent that was there," she says. "His goal was to start scholarship opportunities, and I said okay, I'm in."
Today, it's fair to say that Lanteri has far surpassed his goal of creating scholarship opportunities. But NYCDA has done so much more, bridging the gap between the convention world and the professional world by forging a wealth of partnerships with dance institutions from Marymount to The Ailey School to Complexions Contemporary Ballet and many more. There's a reason these companies and schools—some of whom otherwise may not see themselves as aligned with the convention/competition world—keep deepening their relationships with NYCDA.
Now, college scholarships are just one of many ways NYCDA has gone beyond the typical weekend-long convention experience and created life-changing opportunities for students. We rounded up some of the most notable ones:
Keep reading...
Show less
Getty Images
Dancers are understandably obsessed with food. In both an aesthetic and athletic profession, you know you're judged on your body shape, but you need proper fuel to perform your best. Meanwhile, you're inundated with questionable diet advice.
"My 'favorite' was the ABC diet," says registered dietitian nutritionist Kristin Koskinen, who trained in dance seriously but was convinced her body type wouldn't allow her to pursue it professionally. "On the first day you eat only foods starting with the letter A, on the second day only B, and so on."
Keep reading...
Show less
Left: Hurricane Harvey damage in Houston Ballet's Dance Lab; Courtesy Harlequin. Right: The Dance Lab pre-Harvey; Nic Lehoux, Courtesy Houston Ballet.
"The show must go on" may be a platitude we use to get through everything from costume malfunctions to stormy moods. But when it came to overcoming a literal hurricane, Houston Ballet was buoyed by this mantra to go from devastated to dancing in a matter of weeks—with the help of Harlequin Floors, Houston Ballet's longstanding partner who sprang into action to build new floors in record time.
Keep reading...
Show less