The Loss of a Legend: Remembering Marcia Dale Weary
Courtesy CPYB
"At every possible opportunity, I hope to instill in children a love for the arts and for classical music," said Marcia Dale Weary, beloved teacher and founder of Central Pennsylvania Youth Ballet. "Along with that, I hope to help them develop self-discipline, generosity and the ability to focus."
Weary passed away at the age of 82 on Monday, March 4, 2019.
---
Since opening her first school in 1955, Weary taught generations of students, training them for professional careers, and changing their lives through dance. In 1974, the Marcia Dale School of Dance became the Central Pennsylvania Youth Ballet, a nonprofit school and performing company, and the red barn behind her house in Carlisle, Pennsylvania, was established as an iconic ballet studio and center for dance education.
Many of her students, affectionately known as "barn babies," remember the way she created a safe and beautiful haven—a home away from home—that inspired both dreams and hard work.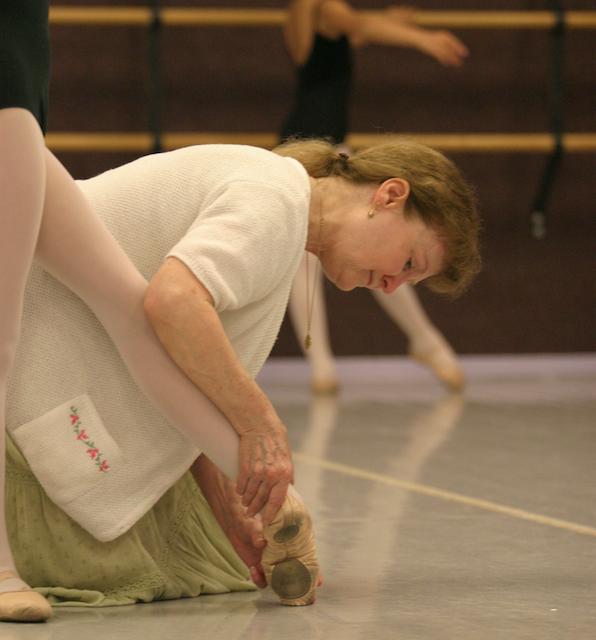 Rosalie O'Connor
Weary had a magical way of commanding a student's attention. As one of CPYB's guest teachers, I remember sitting in the corner of the barn's Studio A, watching her teach a beginner level. Not one of those young dancers was fidgeting, talking or daydreaming. They were all completely engaged and eager to please, under her spell.
She was able to communicate and connect with students in a way that consistently brought out their best.
While I did not have the privilege of training with Weary, my husband and his sister grew up dancing in the barn and often speak of the impact she had on their careers and lives. My mother-in-law was one of Weary's first students and taught by her side for more than 30 years. Many of my professional colleagues studied with Weary, and each of them had a technical fearlessness, refined artistry, confidence and pristine attention to detail—trademark qualities of Weary's training.
Generations of students that studied with her are now teaching, dancing in major companies or directing them. So many more have excelled in other areas, due to the skills they learned under her watchful and caring eye.
Weary had high expectations for all her students. They learned discipline, focus and respect for the art form. They learned musicality and the importance of creative expression, as she often talked about showing your soul through movement.
She encouraged dancers to maintain a certain level of professionalism both inside and outside the studio. She was strict but had a sense of humor. She was a master who always kept learning and passed that knowledge to her students.
The first time I taught at CPYB's summer program almost 15 years ago, Weary watched the last few minutes of my class. Students were muddling through a series of big jumps but seemed to be enjoying the challenge. "They need to go back to the barre," Weary told me. "Break it down for them. Don't just make it fun." Her words resonated.
The practice of "breaking it down" was key to Weary's teaching philosophy. She could dissect and explain each step in a way that everyone could understand, and she never underestimated children. The young dancers she trained have a strength and maturity beyond their years and could often perform the repertoire typical of a major professional company.
She believed that all students could become dancers if they worked hard enough and had the passion. "There is a place for them in the ballet world if they really want it," she once said. Weary made dreams come true. She touched the lives of countless people and will remain in our hearts as future generations of dancers grow and blossom through her legacy.
Thank you, Marcia. We are grateful and enriched beyond words.
Related Articles Around the Web
A flyer showing Alberto Alonso, Fernando Alonso, Benjamin Steinberg and Alicia Alonso. Photo courtesy the author
Alicia has died. I walked around my apartment feeling her spirit, but knowing something had changed utterly.
My father, the late conductor Benjamin Steinberg, was the first music director of the Ballet de Cuba, as it was called then. I grew up in Vedado on la Calle 1ra y doce in a building called Vista al Mar. My family lived there from 1959 to 1963. My days were filled with watching Alicia teach class, rehearse and dance. She was everything: hilarious, serious, dramatic, passionate and elegiac. You lost yourself and found yourself when you loved her.
Keep reading...
Show less
Left: Hurricane Harvey damage in Houston Ballet's Dance Lab; Courtesy Harlequin. Right: The Dance Lab pre-Harvey; Nic Lehoux, Courtesy Houston Ballet.
"The show must go on" may be a platitude we use to get through everything from costume malfunctions to stormy moods. But when it came to overcoming a literal hurricane, Houston Ballet was buoyed by this mantra to go from devastated to dancing in a matter of weeks—with the help of Harlequin Floors, Houston Ballet's longstanding partner who sprang into action to build new floors in record time.
Keep reading...
Show less
Hansuke Yamamoto in Helgi Tomasson's Nutcracker at San Francisco Ballet, which features an exciting and respectful Chinese divertissement. Photo by Erik Tomasson, Courtesy SFB
It's Nutcracker time again: the season of sweet delights and a sparkling good time—if we're able to ignore the sour taste left behind by the outdated racial stereotypes so often portrayed in the second act.
In 2017, as a result of a growing list of letters from audience members, to New York City Ballet's ballet master in chief Peter Martins reached out to us asking for assistance on how to modify the elements of Chinese caricature in George Balanchine's The Nutcracker. Following that conversation, we founded the Final Bow for Yellowface pledge that states, "I love ballet as an art form, and acknowledge that to achieve a diversity amongst our artists, audiences, donors, students, volunteers, and staff, I am committed to eliminating outdated and offensive stereotypes of Asians (Yellowface) on our stages."
Keep reading...
Show less
Allegra Bautista in Nevertheless, by ka·nei·see | collective. Photo by Robbie Sweeny
An audience member once emailed Dallas choreographer Joshua L. Peugh, claiming his work was vulgar. It complained that he shouldn't be pushing his agenda. As the artistic director of Dark Circles Contemporary Dance, Peugh's recent choreography largely deals with LGBTQ issues.
"I got angry when I saw that email, wrote my angry response, deleted it, and then went back and explained to him that that's exactly why I should be making those works," says Peugh.
With the current political climate as polarized as it is, many artists today feel compelled to use their work to speak out on issues they care deeply about. But touring with a message is not for the faint of heart. From considerations about how to market the work to concerns about safety, touring to cities where, in general, that message may not be so welcome, requires companies to figure out how they'll respond to opposition.
Keep reading...
Show less