What Happens When You Dance For 200,000 People at Once?
Carla Körbes and Janie Taylor in L.A. Dance Project's livestream from The Chinati Foundation
New York's Metropolitan Opera House seats 3,800 people. Moscow's Bolshoi Theater holds 2,153. When the Royal Ballet hosts a special event in London's massive O2 arena, the dancers perform for a comparatively giant 20,000.
But dancing for more than 200,000 people at a time? That's simply not something most concert dancers are used to.
So when we heard that L.A. Dance Project's series of livestreams over Memorial Day weekend reached more than 500,000 views total, with its most popular stream hitting 211,300 views, it got us thinking. How does that sort of viewership affect a small troupe like LADP? And how does it feel for the dancers to perform for the equivalent of the entire population of Salt Lake City?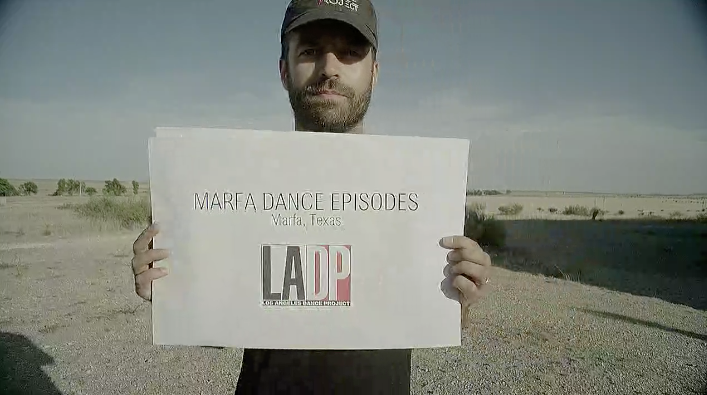 Millepied holding up DIY-style cards to introduce the second "episode"
---
One obvious benefit of this success: People everywhere from Russia to South America could get a glimpse of the troupe's residency at The Chinati Foundation without having to schelp to Marfa, Texas. Several comments on the stream showed that for many, this was clearly their first exposure to contemporary dance. (See Exhibit A, below.)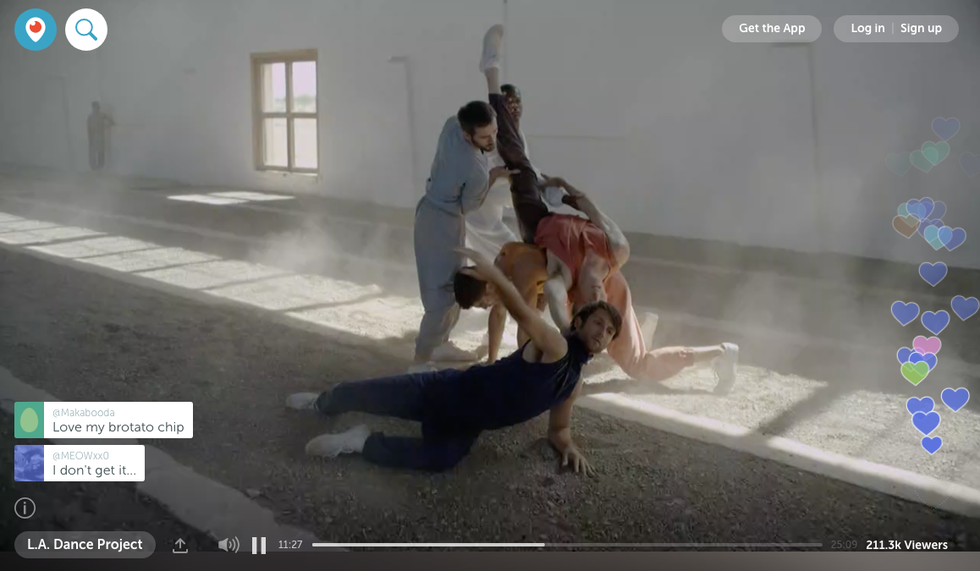 For most of us dance lovers, it was our first glimpse at Carla Körbes and Janie Taylor since their "retirements" from Pacific Northwest Ballet and New York City Ballet, respectively. (Please excuse us while we drool over their duet. More, please. Please?)
Director Benjamin Millepied has made it clear that he wants LADP to be as active online as it is in theaters, so congrats to him on hitting this one out of the ball park. In just over an hour's worth of livestreaming, the audience far surpassed what the troupe could have reached even in a month of performances at one of the world's largest opera houses. (In comparison, World Ballet Day has reportedly reached 350,000 in 24 hours.) Talk about building your brand.
What's interesting is that this livestream wasn't what we're typically used to: It was more of a live dance film happening in real time than an intimate peek in on rehearsal. It was highly curated, with a cinematic feel; more of a final product than a look behind the scenes.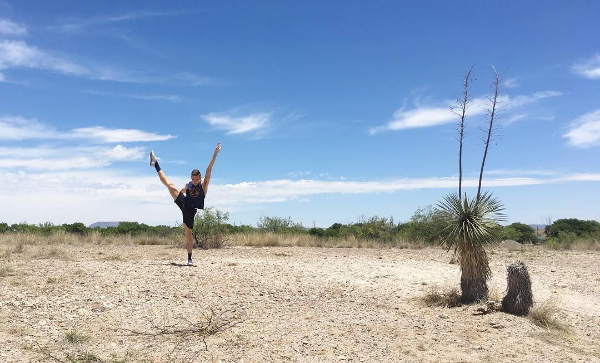 Via ladanceproject on Instagram
But that still leaves the question that many dance companies are asking today: Can you can convert free livestream viewers into people who actually purchase tickets to watch dance at a theater? Will they be intrigued enough to pay for a more intimate dance experience? Or will they feel like they can just stay home and get their dance fix online instead?
In Millepied's case, ticket sales don't seem to be his end goal. He's got bigger plans in mind, and has told us that he's actively pursuing other sources of revenue, like a clothing line and possibly brand-name licensing opportunities. We're curious to see if other companies will follow his lead, and take advantage of their own livestreams in creative new ways.
Gettty Images
It's a cycle familiar to many: First, a striking image of a lithe, impossibly fit dancer executing a gravity-defying développé catches your eye on Instagram. You pause your scrolling to marvel, over and over again, at her textbook physique.
Inevitably, you take a moment to consider your own body, in comparison. Doubt and negative self-talk first creep, and then flood, in. "I'll never look like that," the voice inside your head whispers. You continue scrolling, but the image has done its dirty work—a gnawing sensation has taken hold, continually reminding you that your own body is inferior, less-than, unworthy.
It's no stretch to say that social media has a huge effect on body image. For dancers—most of whom already have a laser-focus on their appearance—the images they see on Instagram can seem to exacerbate ever-present issues. "Social media is just another trigger," says Nadine Kaslow, a psychologist who works with the dancers of Atlanta Ballet. "And dancers don't need another trigger." In the age of Photoshop and filters, how can dancers keep body dysmorphia at bay?
Keep reading...
Show less
Courtesy Boneau/Bryan-Brown
If "Fosse/Verdon" whet your appetite for the impeccable Gwen Verdon, then Merely Marvelous: The Dancing Genius of Gwen Verdon is the three-course meal you've been craving. The new documentary—available now on Amazon for rental or purchase—dives into the life of the Tony-winning performer and silver-screen star lauded for her charismatic dancing.

Though she's perhaps most well-known today as Bob Fosse's wife and muse, that's not even half of her story. For starters, she'd already won four Tonys before they wed, making her far more famous in the public eye than he was at that point in his career. That's just one of many surprising details we learned during last night's U.S. premiere of Merely Marvelous. Believe us: You're gonna love her even more once you get to know her. Here are eight lesser-known tidbits to get you started.
Keep reading...
Show less
Lindsay Thomas
Every dancer knows that how you fuel your body affects how you feel in the studio. Of course, while breakfast is no more magical than any other meal (despite the enduring myth that it's the most important one of the day), showing up to class hangry is a recipe for unproductive studio time.
So what do your favorite dancers eat in the morning to set themselves up for a busy rehearsal or performance day?
Keep reading...
Show less
News
Sep. 20, 2019 09:17AM EST
Simon Soong, Courtesy DDT
When it comes to dance in the U.S., companies in the South often find themselves overlooked—sometimes even by the presenters in their own backyard. That's where South Arts comes in. This year, the regional nonprofit launched Momentum, an initiative that will provide professional development, mentorship, touring grants and residencies to five Southern dance companies.
Keep reading...
Show less