What Happens When You Dance For 200,000 People at Once?
Carla Körbes and Janie Taylor in L.A. Dance Project's livestream from The Chinati Foundation
New York's Metropolitan Opera House seats 3,800 people. Moscow's Bolshoi Theater holds 2,153. When the Royal Ballet hosts a special event in London's massive O2 arena, the dancers perform for a comparatively giant 20,000.
But dancing for more than 200,000 people at a time? That's simply not something most concert dancers are used to.
So when we heard that L.A. Dance Project's series of livestreams over Memorial Day weekend reached more than 500,000 views total, with its most popular stream hitting 211,300 views, it got us thinking. How does that sort of viewership affect a small troupe like LADP? And how does it feel for the dancers to perform for the equivalent of the entire population of Salt Lake City?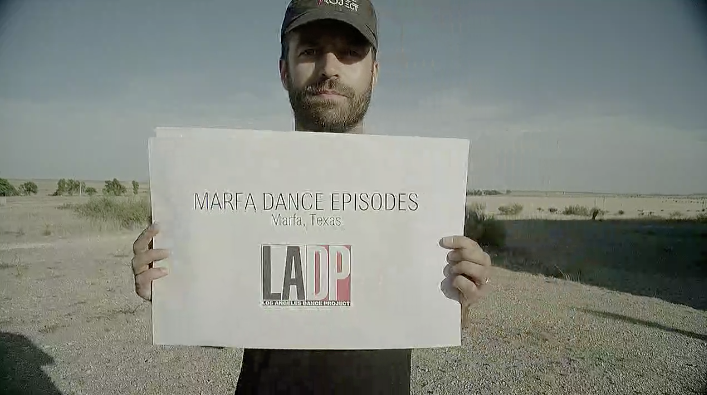 Millepied holding up DIY-style cards to introduce the second "episode"
---
One obvious benefit of this success: People everywhere from Russia to South America could get a glimpse of the troupe's residency at The Chinati Foundation without having to schelp to Marfa, Texas. Several comments on the stream showed that for many, this was clearly their first exposure to contemporary dance. (See Exhibit A, below.)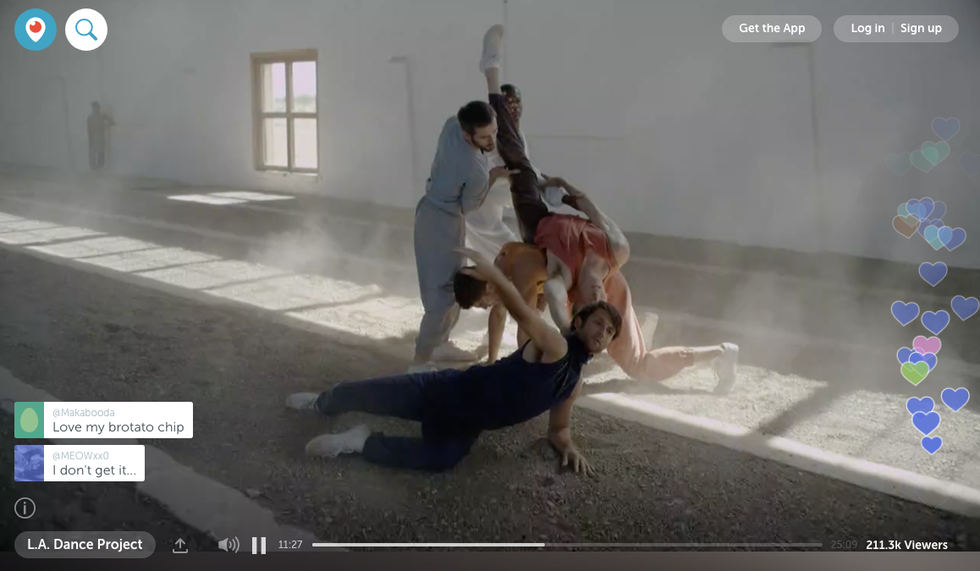 For most of us dance lovers, it was our first glimpse at Carla Körbes and Janie Taylor since their "retirements" from Pacific Northwest Ballet and New York City Ballet, respectively. (Please excuse us while we drool over their duet. More, please. Please?)
Director Benjamin Millepied has made it clear that he wants LADP to be as active online as it is in theaters, so congrats to him on hitting this one out of the ball park. In just over an hour's worth of livestreaming, the audience far surpassed what the troupe could have reached even in a month of performances at one of the world's largest opera houses. (In comparison, World Ballet Day has reportedly reached 350,000 in 24 hours.) Talk about building your brand.
What's interesting is that this livestream wasn't what we're typically used to: It was more of a live dance film happening in real time than an intimate peek in on rehearsal. It was highly curated, with a cinematic feel; more of a final product than a look behind the scenes.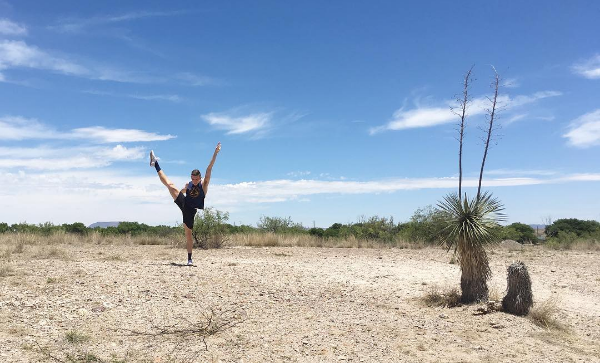 Via ladanceproject on Instagram
But that still leaves the question that many dance companies are asking today: Can you can convert free livestream viewers into people who actually purchase tickets to watch dance at a theater? Will they be intrigued enough to pay for a more intimate dance experience? Or will they feel like they can just stay home and get their dance fix online instead?
In Millepied's case, ticket sales don't seem to be his end goal. He's got bigger plans in mind, and has told us that he's actively pursuing other sources of revenue, like a clothing line and possibly brand-name licensing opportunities. We're curious to see if other companies will follow his lead, and take advantage of their own livestreams in creative new ways.
PC Kevin Berne, courtesy Boneau/Bryan-Brown
Choreographer Sergio Trujillo asked the women auditioning for ensemble roles in his newest musical to arrive in guys' clothing—"men's suits, or blazers and ties," he says. He wasn't being kinky or whimsical. The entire ensemble of Summer: The Donna Summer Musical is female, playing men and women interchangeably as they unfold the history of the chart-busting, Grammy-winning, indisputable Queen of Disco.
courtesy www.today.com
Keep reading...
Show less
Dance in Pop Culture
Apr. 20, 2018 12:37PM EST
Ballet Zaida; Courtesy Agnes Muljadi
Have a scroll through Agnes Muljadi's Instagram feed (@artsyagnes), and you'll notice that in between her ballet shots is a curated mix of lifestyle pics. So what exactly sets her apart from the other influencers you follow? Muljadi has made a conscious effort to only feature natural beauty products, sustainable fashion and vegan foods. With over 500k followers, her social strategy (and commitment to making ethical choices) is clearly a hit. Ahead, learn why Muljadi switched to a vegan lifestyle, and the surprising way it's helped her dance career.
Keep reading...
Show less
StockSnap
When I wrote about my struggle with depression, and eventual departure from dance because of it, I expected criticism. I was prepared to be challenged. But much to my relief, and horror, dancers from all over the world responded with support and stories of solidarity. The most critical response I saw was this one:
"Dance isn't for everyone."
This may as well be a mantra in the dance world. We have become entrenched in the Darwinian notion that the emotionally weak will be weeded out. There is no room for them anyway.
Keep reading...
Show less
News
Apr. 16, 2018 02:42PM EST
Maria Kochetkova in Helgi Tomasson's Trio // © Erik Tomasson
San Francisco Ballet star Maria Kochetkova just announced that she'll be leaving the company at the end of this season, after the much-anticipated Unbound Festival. The exact date will be announced later.
Keep reading...
Show less
The Creative Process
Apr. 20, 2018 09:30AM EST
Brandon Sterling Baker never tries to make it a "light show." Photo by Lora Robertson, courtesy Baker
He may not be a household name, but you probably know Brandon Stirling Baker's work. The 30-year-old has designed the lighting for most of Justin Peck's ballets—including Heatscape for Miami City Ballet, and the edgy The Times Are Racing for New York City Ballet—but also Jamar Roberts' new Members Don't Get Weary at Alvin Ailey American Dance Theater and a trio of Martha Graham duets for L.A. Dance Project.
He's been fascinated by lighting ever since he attended a public performing arts middle school in Sherman Oaks, California, where he had his first experiences lighting shows. He also has a background in music (he plays guitar and bass) and in drawing. Both, he says, are central to the way he approaches lighting dance.
Keep reading...
Show less
Update: Due to an overwhelming response, the in-person audition has been moved to a larger location to accommodate more dancers. See details below.

For the first time in more than 10 years, Janet Jackson is holding an open audition for dancers.
Even better? You could land a spot in her #JTribe simply by posting a video on social media.
Keep reading...
Show less


Get Dance Magazine in your inbox