The Insta-Ballerina: How Mariinsky Newcomer Maria Khoreva Shot to Stardom
Courtesy Khoreva
The pleasure of watching prodigies perform technical feats on Instagram can be tinged with a sense of trepidation. Impressive tricks, you think, but do they have what it takes for an actual career?
Just look at 18-year-old Maria Khoreva, who has more followers than most seasoned principals; in videos, her lines and attention to detail suggested a precocious talent, and led to a Nike ambassador contract before she even graduated from the Vaganova Ballet Academy. Still, when she joined the Mariinsky Ballet last summer, there was no guarantee any of it would translate to stage prowess.
---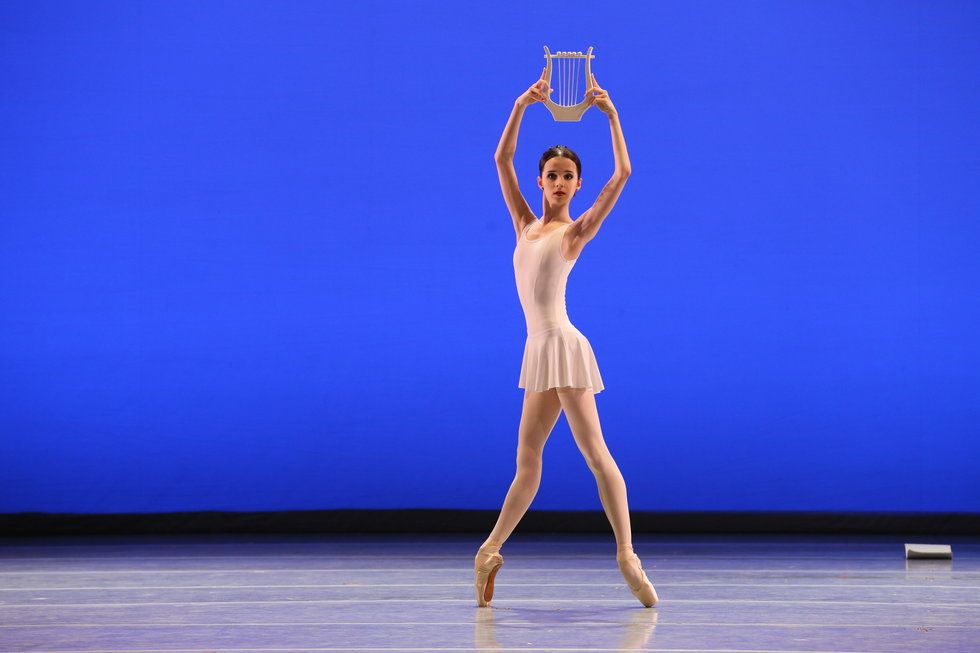 Maria Khoreva in Apollo
Natasha Razina, Courtesy State Academic Mariinsky Theatre
Yet it has, and fast. Less than a year later, Khoreva is already a first soloist, touted as one of the most important talents to join the venerable Russian company in recent years.
A star turn in Balanchine's Apollo, alongside British principal Xander Parish, was swiftly followed by leading roles in full-length ballets. Her debut in Paquita last fall, captured and shared on social media (naturally), showed astonishing self-possession: She sailed through variations with rare lightness, topping them off with a sharp set of fouettés—Khoreva's first ever as a professional—that barely moved an inch.
Not that the young dancer herself was entirely satisfied. "I was worried a lot about stamina, and I didn't really feel my legs when the third act came. It turned out okay-ish," she says seriously, in impeccable English. (Her mother taught English.)
Still, Mariinsky's acting director Yuri Fateyev was taken by surprise. "I was shocked by how she presented herself, how strong and clean she was," he says. "In the theater we have a saying: 'Now a ballerina is born.' After Paquita, I felt like we had a newborn ballerina." Parish puts it succinctly: "She is the next Diana Vishneva, in my opinion."
Not unlike Vishneva, Khoreva is a lithe brunette with the kind of proportions—not too tall, but long-legged—that lend themselves to a range of roles, from Aurora to "Diamonds," the latter of which she added to her repertoire this winter. She shares something else with the Russian star: her final teacher at the Vaganova Ballet Academy, 78-year-old Lyudmila Kovaleva, a legend who also trained Bolshoi principal Olga Smirnova.
"Every class with her is wonderful. It's the combinations that she gives, the energy she puts into each correction," says Khoreva. "She taught us how to move, how to do the movements energy-wise, how to make them stronger."
A native of St. Petersburg, Khoreva started in rhythmic gymnastics class at age 3. She was already on an intensive track and had come second in a national competition when one day, at 10 years old, she walked past the Vaganova Ballet Academy with her mother. They noticed there were auditions a few days later. Her parents, both ballet aficionados, frequently took Khoreva to see performances, and they decided to give it a try.
Khoreva got in but initially struggled. "I was really lost. It was both hard and too easy, not as intense as gymnastics." Her mind-set only shifted when she saw classmates making strides. "One girl wasn't physically gifted, but she was doing a great job and she got the same mark as me in an exam. It was a turning point for me. I realized that it mattered, that I should have goals."
Fateyev first noticed Khoreva shortly after she returned from a serious Achilles inflammation that sidelined her for over six months when she was 15. "Lyudmila Kovaleva told me about a very talented girl, but she was very worried about her injury," he says. "Maria was weak, but I thought if she developed well, she'd be good in the future."
When he came back two years later, he was impressed not just with Khoreva, but with the entire class Kovaleva had nurtured. Taking a page from Balanchine's book, he decided to cast three "baby ballerinas"—Khoreva and classmates Daria Ionova and Anastasia Nuykina—as the muses in Apollo, and started rehearsals with them before their final school year was even over.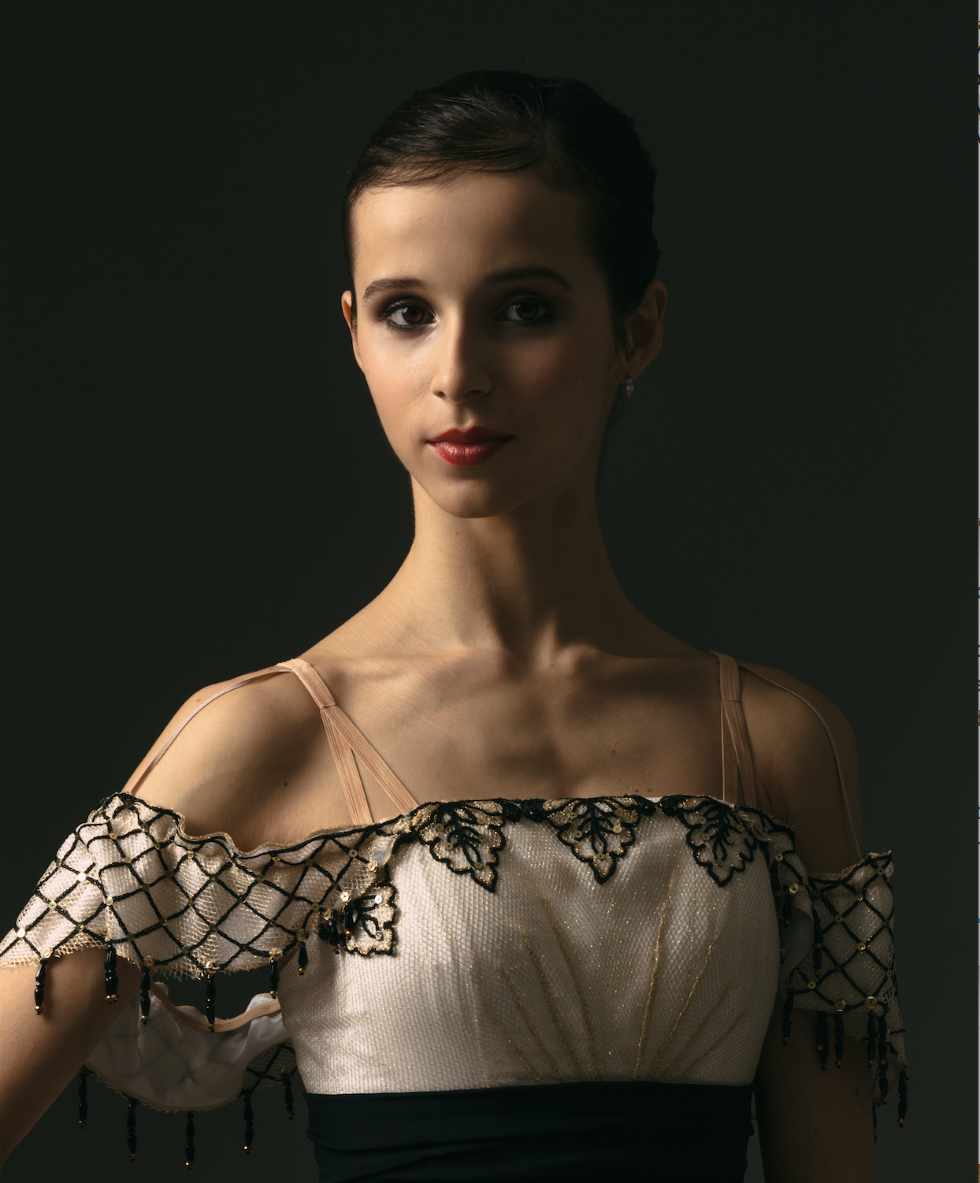 Quinn Wharton
It didn't stop Khoreva from questioning where she wanted to start her career. She had received offers from six other companies, including the Bolshoi. Fateyev told her that she could dance Apollo and still go elsewhere. "But emotionally, from the first rehearsal, I knew that I would be joining this company," Khoreva says.
The young dancers worked with Fateyev and Parish for two months. "When I first came in, Maria was ever so shy," Parish remembers. "But we gelled very quickly. For someone so young, she's extremely mature. She works with her head as much as with her body. And I've never seen such technique before. It's phenomenal. I'm holding her, and thinking, Everything is just perfect. There's nothing wrong at all."
That, along with nerves of steel, prompted Fateyev to promote her to first soloist last fall, during her performances of Apollo at the Balanchine festival at New York City Center. He acknowledges that it's fast but says, "It's necessary to show her and the ballet world how we appreciate talented people. She will be one of the company's main ballerinas in the future."
For Khoreva, however, everything about life as a professional dancer feels new. "I'm still trying to figure out who is who, what is better for me, how I should build my day." She gets nervous before performances, she adds, although a monthlong tour to Asia taught her to go with the flow. "We missed a connecting flight in Beijing, and we had to dance the next day. When you have these stressful situations, you become calmer, in a way."
As is the tradition in Russia, Khoreva was assigned a personal coach, Elvira Tarasova. Together, they prepared the role of Medora in Le Corsaire ahead of the Mariinsky's tour to Washington, DC, in April. "She can be quite strict, but she is very supportive, and she gives me as much as I need," Khoreva says.
And she has found ready support within the company. "The stories that people tell about the Mariinsky, that everyone is evil—it's not true. All the dancers have been kind, generous and supportive. Of course, I feel the pressure, but they make it so much easier."
Khoreva created her Instagram account (@marachok) in 2014, at her father's suggestion. "I studied how it worked, the hashtags, how to get followers, and I tried to develop my personal style in photos and videos, to make them visually beautiful," she says. Her profile raised considerably when she was featured on the main @Instagram account—not just for Russia, but internationally—and she now has more than 288K followers.
Alongside carefully crafted images, she writes personal thoughts and motivational messages in English nearly every day. "Editing the visual content takes less time than writing the captions. After a long day, I have a lot to say, to share, and I try to give it a structure, which can take up to 40 minutes."
Khoreva approaches her account with characteristic seriousness. Posting while on tour has proven especially challenging. "Instagram isn't allowed in China, so we had to use a VPN for redirecting the Wi-Fi to another country. It was very hard. Sometimes I needed to stay up really late at night to still post something." She says she doesn't feel a responsibility to keep up the stream of content for the sake of building followers, however. "I just need to share these moments, because they're amazing for me."
Khoreva still lives with her family. Her father, who works in IT, helps her navigate the attention that comes with her career, and she has a 15-year-old sister who is also training at the Vaganova Ballet Academy. She unwinds by watching beauty vloggers on YouTube. "It's an obsession that started when I got my injury."

With her language skills and international following, the future is bright if Khoreva ever decides to work abroad. Alongside the classical repertoire, she hopes to dance works by Sir Kenneth MacMillan, Alexei Ratmansky and Christopher Wheeldon, yet remains strikingly cautious when discussing her meteoric rise, as if it hasn't quite sunk in yet. "She's not arrogant. She genuinely loves her art form," says Parish. Khoreva herself put it best in an Instagram caption: "For me nothing is a better motivation to work harder than the work itself." 18,314 of her followers approved the sentiment.
Related Articles Around the Web
From Your Site Articles
James Fosberg, courtesy Mason
Over the past 15 years, Gesel Mason has asked 11 choreographers—including legends like Donald McKayle, David Roussève, Bebe Miller, Jawole Willa Jo Zollar, Rennie Harris and Kyle Abraham—to teach her a solo. She's performed up to seven of them in one evening for her project No Boundaries: Dancing the Visions of Contemporary Black Choreographers.
Now, Mason is repackaging the essence of this work into a digital archive. This online offering shares the knowledge of a few with many, and considers how dance can live on as those who create it get older.
Keep reading...
Show less
Hive by Boston Conservatory student Alyssa Markowitz. Photo by Jim Coleman
The way we create and consume dance is changing every day. Now more than ever, the field demands that dancers not only be able to perform at the highest level, but also collaborate with choreographers to bring their artistic visions to life. Dancers who miss out on choreographic training may very well find themselves at a disadvantage as they try to launch their careers.

Keep reading...
Show less
News
May. 22, 2019 05:57PM EST
Fox produced a live broadcast of Rent in January—but could an original musical be next? Photo by Kevin Estrada, Courtesy Fox
When a musical prepares to make the transfer from a smaller, lesser-known venue to Broadway (where theaters hold 500-plus seats), often there's a collective intake of breath from all involved. After all, a bigger house means more tickets to sell in order to stay in the black, and sometimes shows with even the most tenacious fan bases can't quite navigate such a jump. But what about the transfer from stage…to screen? Is Broadway ready to be consumed from the comfort of your couch?
Keep reading...
Show less
Courtesy Lee
Daphne Lee was dancing with Collage Dance Collective in Memphis, Tennessee, when she received two difficult pieces of news: Her mother had been diagnosed with multiple myeloma cancer, and her father had Parkinson's disease, affecting his mobility and mental faculties.
The New Jersey native's reaction: "I really need to move home."
Keep reading...
Show less
Last year's winner: Manuel Vignoulle's EARTH. Jack Hartin Photography, Courtesy McCallum Theatre
It's not often that a promising choreographer gets to stage work in a world-class theater, on a skillfully-curated program with professional dancers, and with the possibility of winning a substantial cash prize. But at the McCallum Theatre's Palm Desert Choreography Festival, that's been the status quo for over twenty years.
Since Shea New, the festival's artistic director, founded the festival in 1998, she's worked tirelessly with McCallum's director of education and festival producer, Kajsa Thuresson-Frary, and stage manager and festival production manager Joanna Fookes to build a festival that nurtures choreographers, highlights high quality work, powerfully engages the local community and cultivates an audience base for dance in the Coachella Valley. The trio is backed by a strong team of professionals at McCallum and the brilliant volunteers from the local and national level who serve as adjudicators.
Keep reading...
Show less
Get Dance Magazine in your inbox
Bruce Mars via Unsplash
Summer is almost upon us, and whether you're a student about to go on break or a pro counting the days till layoff, don't forget that with warm weather comes a very serious responsibility: To maintain your cross-training routine on your own.
Those of us who've tried to craft our own cross-training routine know it's easier said than done. So we consulted the stars, and rounded up the best options for every zodiac sign. (TBH, you should probably consult an expert, too—we'd recommend a physical therapist, a personal trainer or your teacher.)
Keep reading...
Show less
It's become second nature in dance studios: The instant anyone gets hurt, our immediate reaction is to run to the freezer to grab some ice (or, more realistically, a package of frozen peas).
But as routine as icing our injuries might be, the benefits are not actually backed up by scientific studies. And some experts now believe icing could even disrupt the healing process.
Keep reading...
Show less
Getty Images
I'm a contemporary dancer, and I'm nervous about trying to get pregnant since I can't predict if it might happen during the middle of the season. We have a union contract that is supposed to protect us. But I'm scared because several of my colleagues' contracts weren't renewed for no particular reason. Having a big belly could be a big reason to get rid of me!
—Andrea, New York, NY
Keep reading...
Show less
From Dance of Urgency. © Ekvidi
When the going gets tough, the tough start dancing: That's the premise behind "Dance of Urgency," a recently opened exhibit at MuseumsQuartier Vienna that features photos, video and other documentary material relating to the use of dance as political protest or social uprising.
The groups featured in the show, largely based around clubs and electronic dance music scenes, span the globe and respond to a variety of issues—from inequality and social stratification to racial divides to crackdowns on club culture itself.
Keep reading...
Show less
News
May. 20, 2019 04:24PM EST
Last night, longtime theater legends (including Chita Rivera herself!) as well as rising stars gathered to celebrate one of Broadway's danciest events: the third annual Chita Rivera Awards.
The evening paid tribute to this season's dancer standouts, fabulous ensembles, and jaw-dropping choreography—on- and off-Broadway and on film.
As usual, several of our faves made it into the mix. (With such a fabulous talent pool of nominees to choose from, we're glad that ties were allowed.) Here are the highlights from the winner's list:
Keep reading...
Show less
Lorenzo Di Cristina/Unsplash
When you're a foreign dancer, gaining legal rights to work in the U.S. is a challenging process. It's especially difficult if you're petitioning to work as a freelance dancer without an agent or company sponsorship.
The process requires professional muscle along with plenty of resources and heart. "There's a real misnomer that it's super easy," says Neena Dutta, immigration attorney and president of Dutta Law Firm. "People need to educate themselves and talk to a professional."
Here are four things every foreign dancer who wants to work in the U.S. needs to know to build a freelance dance career here.
Keep reading...
Show less
Quinn Wharton
What does it take to "make it" in dance? It's no secret that turning this passion into a profession can be a struggle. In such a competitive field, talent alone isn't enough to get you where you want to be.
So what kinds of steps can you take to become successful? Dance Magazine spoke to 33 people from all corners of the industry to get their advice on the lessons that could help us all, no matter where we are in our careers.
Keep reading...
Show less
Still of Fonteyn from the 1972 film I Am a Dancer. Photo courtesy DM Archives
On May 18, 1919, Margot "Peggy" Hookham was born. She would grow up to become Dame Margot Fonteyn, England's first homegrown prima ballerina. She joined the Sadler's Wells School in 1934 and was performing principal roles with the precursor to The Royal Ballet the next year. Fonteyn was a company-defining figure, dancing Aurora for the re-opening of the Royal Opera House after World War II, creating numerous roles with Sir Frederick Ashton and forging a legendary partnership with Rudolf Nureyev.
Keep reading...
Show less