Meet Your New Favorite Foam Rollers
Nathan Sayers
Dancers are well-known hoarders when it comes to massage balls and foam rollers. But how could we not be when there are so many great new options constantly coming out?
I've recently become obsessed with these three new options:
---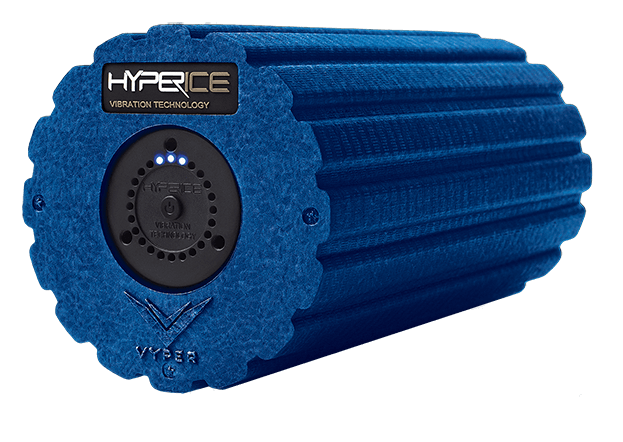 At first, the intensity of all the motion under my hamstring felt almost unsettling. (When I let go of it for a second, it jumped away with its crazy vibrating power!)
But once you give into the movement, it makes for a fantastic massage, helping the muscles relax so you can dig in even deeper. Just beware the sticker shock that comes with fancy technology: $199, plus an extra $16 if you're looking for firm density.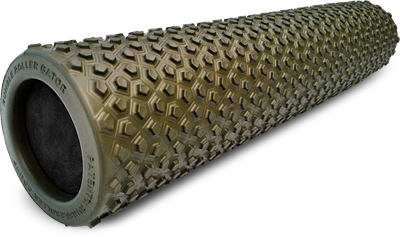 From the company that brought you the original torture-device looking rollers that unkink all your knots, this new style adds an extra trick to its arsenal: traction.
Rather than trying to get deeper into the muscle tissue by just pressing harder, this roller's bumps grip your skin to offer a cross-friction massage. By shifting back and forth, you can tug the muscle underneath whenever it isn't responding to traditional self-massage techniques. This strategy felt particularly delightful on my calves.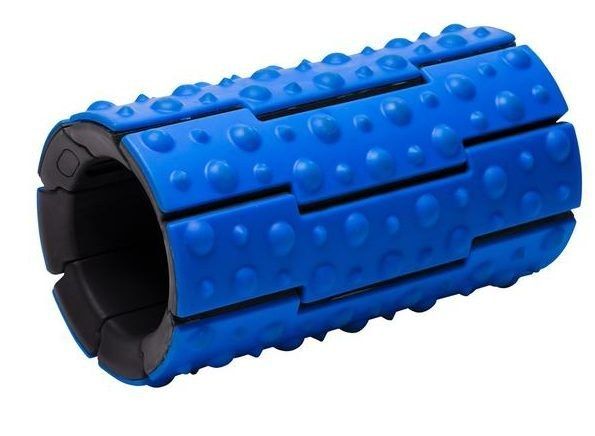 Although it isn't technically available yet, I've been tracking the ROVE since it was in Kickstarter campaign mode. Why? Because it's a touring dancer's self-massage dream come true. The design comes apart to lie flat in your suitcase. It only takes up space when you want to use it.
I haven't tested it out yet (it's still in pre-orders until spring) but that kind of convenience is genius.
The "Merde" bag. Courtesy Scenery
Jennifer Kahn knew the theater industry could do better. As a professional stage manager for 17 years she worked on regional, off-Broadway and Broadway shows. Nearly each time a show closed, something unsettling happened: "I would watch them throw away our shows. All of the beautiful artwork by my friends in the paint shop would go in the trash." The elaborate backdrops? Gone.

But she had an idea: What if the material used in the backdrops and legs could be upcycled into something new? And what if theater lovers could literally keep a piece of a beloved show?
Keep reading...
Show less
Left: Hurricane Harvey damage in Houston Ballet's Dance Lab; Courtesy Harlequin. Right: The Dance Lab pre-Harvey; Nic Lehoux, Courtesy Houston Ballet.
"The show must go on" may be a platitude we use to get through everything from costume malfunctions to stormy moods. But when it came to overcoming a literal hurricane, Houston Ballet was buoyed by this mantra to go from devastated to dancing in a matter of weeks—with the help of Harlequin Floors, Houston Ballet's longstanding partner who sprang into action to build new floors in record time.
Keep reading...
Show less
News
Oct. 18, 2019 11:54AM EST
Photo by Gabriel Davalos, Courtesy Valdés
For decades the name Alicia Alonso has been virtually synonymous with Ballet Nacional de Cuba, the company she co-founded in Havana in 1948. Alonso died on October 17, just shy of what would have been her 99th birthday. In recent years, she had stepped back from day-to-day decision-making in the company. As if preparing for the future, in January, the company's leading ballerina, 42-year-old Viengsay Valdés, was named deputy director, a job that seems to encompass most of the responsibilities of a traditional director. Now, presumably, she will step into her new role as director of the company. Her debut as curator of the repertory comes in November, when the troupe will perform three mixed bills selected by her at the Gran Teatro de la Habana Alicia Alonso. The following has been translated from a conversation conducted in Spanish, Valdés' native tongue.
Keep reading...
Show less
Sara Mearns in the gym. Photo by Kyle Froman.
New York City Ballet principal Sara Mearns wasn't sure she was strong enough. A ballerina who has danced many demanding full-length and contemporary roles, she was about to push herself physically more than she thought was possible.
"I said, 'I can't. My body won't,' " she says. "He told me, 'Yes, it will.' "
She wasn't working with a ballet coach, but with personal trainer Joel Prouty, who was asking her to do squats with a heavier barbell than she'd ever used.
Keep reading...
Show less