Dance As Activism
Mar. 19, 2018 10:34AM EST
The Power of Jerome Robbins' The Cage in the #MeToo Era
Nathalia Arja as the Novice in Jerome Robbins' The Cage. Photo by Alexander Iziliaev, courtesy Miami City Ballet
The encounter with man-eating female creatures in Jerome Robbins' The Cage never fails to shock audiences. As this tribe of insects initiates the newly-born Novice into their community and prepares her for the attack of the male Intruders, the ballet draws us into a world of survival and instinct.
This year celebrates the 100th anniversary of Jerome Robbins' birth, and a number of Robbins programs are celebrating his timeless repertoire. But it especially feels like a prime moment to experience The Cage again. Several companies are performing it: San Francisco Ballet begins performances on March 20, followed by the English National Ballet in April and New York City Ballet in May.
Why it matters: In this time of female empowerment—as women are supporting one another in vocalizing injustices, demanding fair treatment and pay, and advocating for future generations—The Cage's nest of dominant women have new significance.
---
"It's very empowering with everything that's happening right now in society, and to be able to take on this role I feel like there's a responsibility to bring that into it," says SFB principal Jennifer Stahl, who will make her debut as the Queen this week. "To stand tall and proud, and not holding back, physically, with a strong powerful woman leader of this pack."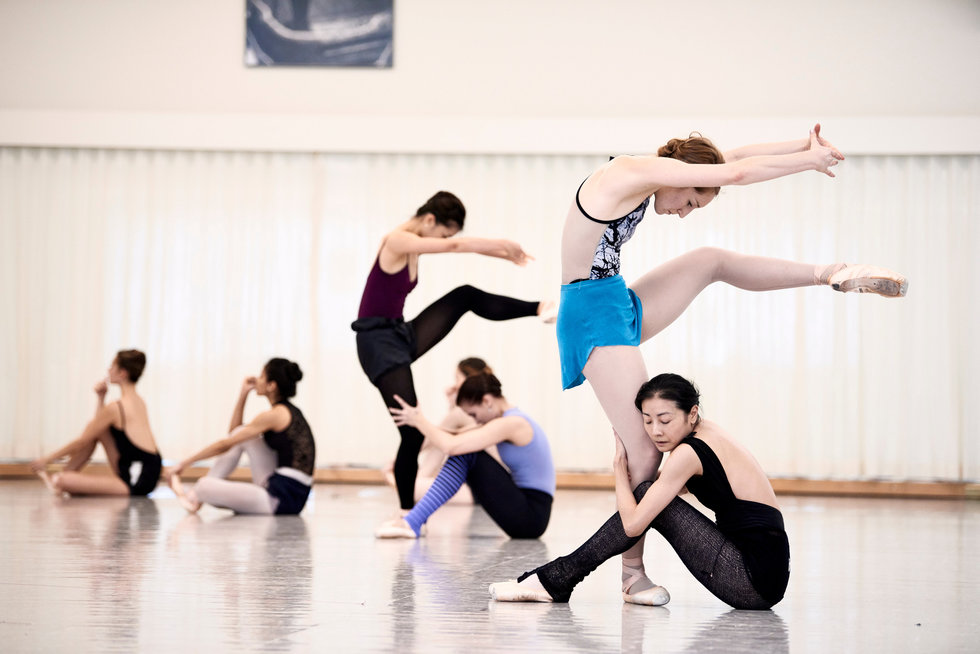 Jennifer Stahl, rehearsing The Cage with Yuan Yuan Tan, calls the ballet "empowering." Photo by Erik Tomasson, courtesy SFB
Robbins' hypnotic choreography, and the potent language he created for these fictional creatures through movement that is as aggressive as it is exploratory, reveals the many layers of this ballet: the female as predator and man as prey (which is what partially enraged audiences when the ballet premiered in 1951), their inclusive behavior as they embrace the young Novice, and the acceptance of our instincts—just as the Novice must when faced with killing the second Intruder despite her complex emotions.
Describing the ballet, Balanchine wrote, "The women are content with their own society and relax without fear of intrusion." The precision of these females in kill mode is just one part of the story; the other is the connectedness of this tribe.
When Miami City Ballet performed The Cage in January and February, principal soloist Nathalia Arja danced the Novice for the first time and found the role uncovered another side of her dancing.
"The ladies and I, we talked about it," Arja says of the collective movement toward female recognition we're experiencing today. "We watched the video together and we said it's the woman power ballet. Literally the ballet is led by all these strong women and I get goosebumps talking about it because I remember even when I was in the audience watching the other cast I said, how amazing that Jerome Robbins created a ballet that is just all about women."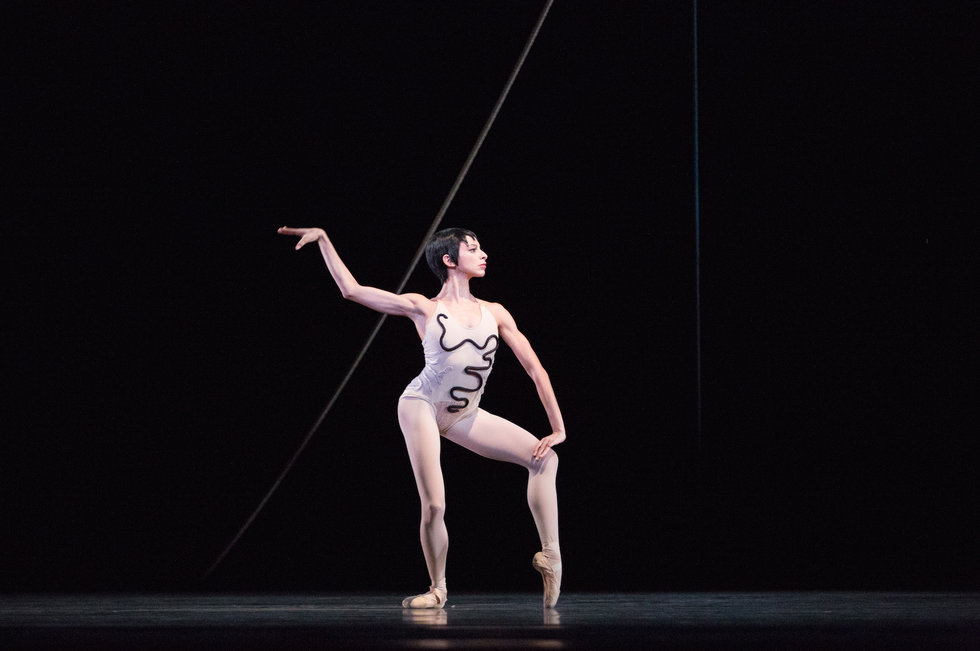 Nathalia Arja calls The Cage a "woman power ballet." Photo by Alexander Iziliaev, courtesy Miami City Ballet
Robbins was inspired to create the ballet after hearing Stravinsky's Concerto in D for String Orchestra, "Basler," and the dramatic pulse of the score. At first he wanted a ballet of Amazons, the female warriors in Greek mythology, which he then re-cast as insect creatures unleashing the animalistic and contorting movement that makes The Cage so direct and entirely unforgettable.
As Stahl notes, this is not about being "pretty ballet dancers." In a video recording of Robbins coaching Wendy Whelan for the role of the Novice in 1990 (which would become one of Whelan's signature roles because of the authoritative nature and otherworldliness she injected into the young creature) Robbins urged her not to look like a ballet dancer. He wanted her legs to anticipate and strike.
To Robbins these insects examined their world but remained impenetrable to the audience. During that same rehearsal, he mentioned how exciting it was to watch Nora Kaye, who originated the role, because you didn't know what was "going on in that thing."
The sharp and precise angles of the body, suspended movements on pointe, and haunting pauses between steps give these women a powerful presence. The Cage also requires deep artistry and individuality. Even the iconic flick of the Novice's arm and hand, which Robbins described as "a squirrels tale," lasts just an instant and is so full of character.
"It's not a ballet that you look at the other dancer and you go, 'I want to do it like her,'" Arja explains. "I had the freedom to make my own Novice…to bring my Nathalia touch."
In thinking about the significance of this ballet today, as well as in 1951, Stahl says, "There's always been strong women. It's our place in society and how we treat ourselves and treat each other and lift each other up, that's what really changes." Then and now, this work gives women command of the stage as well as their story.
Indumba investigates an African cleansing ritual. Photo by Ken Carl, via
bam.org
When Kevin "Iega" Jeff saw Fana Tshabalala's Indumba at the annual JOMBA! Contemporary Dance Experience in South Africa, he immediately knew he would ask Tshabalala to set the work on his company.

"There's an ancient energy in Fana's movement, a deep and trusted knowing," says Jeff, director of the Chicago-based Deeply Rooted Dance Theater. "Because I witnessed the raw humanity of his dancer's souls, I wanted my dancers to have that experience."
Keep reading...
Show less
Name calling, physical intimidation and cyberbullying are all-too-common experiences among male dancers. Photo by Goh Rhy Yan/Unsplash
Growing up in a family-owned dance studio in Missouri had its perks for tap dancer Anthony Russo. But it also earned him constant taunting, especially in high school.
"There was a junior in my sophomore year health class who was absolutely relentless," he says. "I'd get tripped on my way to the front of the classroom and he'd say, 'Watch out, twinkle toes.' If I raised my hand and answered a question incorrectly, I'd hear a patronizing 'Nice one, Bojangles.' "
Keep reading...
Show less
StockSnap
When I wrote about my struggle with depression, and eventual departure from dance because of it, I expected criticism. I was prepared to be challenged. But much to my relief, and horror, dancers from all over the world responded with support and stories of solidarity. The most critical response I saw was this one:
"Dance isn't for everyone."
This may as well be a mantra in the dance world. We have become entrenched in the Darwinian notion that the emotionally weak will be weeded out. There is no room for them anyway.
Keep reading...
Show less
News
Apr. 16, 2018 02:42PM EST
Maria Kochetkova in Helgi Tomasson's Trio // © Erik Tomasson
San Francisco Ballet star Maria Kochetkova just announced that she'll be leaving the company at the end of this season, after the much-anticipated Unbound Festival. The exact date will be announced later.
Keep reading...
Show less
Dance on Broadway
Apr. 21, 2018 09:30AM EST
PC Kevin Berne, courtesy Boneau/Bryan-Brown
Choreographer Sergio Trujillo asked the women auditioning for ensemble roles in his newest musical to arrive in guys' clothing—"men's suits, or blazers and ties," he says. He wasn't being kinky or whimsical. The entire ensemble of Summer: The Donna Summer Musical is female, playing men and women interchangeably as they unfold the history of the chart-busting, Grammy-winning, indisputable Queen of Disco.
courtesy www.today.com
Keep reading...
Show less
Dance in Pop Culture
Apr. 20, 2018 12:37PM EST
Ballet Zaida; Courtesy Agnes Muljadi
Have a scroll through Agnes Muljadi's Instagram feed (@artsyagnes), and you'll notice that in between her ballet shots is a curated mix of lifestyle pics. So what exactly sets her apart from the other influencers you follow? Muljadi has made a conscious effort to only feature natural beauty products, sustainable fashion and vegan foods. With over 500k followers, her social strategy (and commitment to making ethical choices) is clearly a hit. Ahead, learn why Muljadi switched to a vegan lifestyle, and the surprising way it's helped her dance career.
Keep reading...
Show less


Get Dance Magazine in your inbox