The Power of Jerome Robbins' The Cage in the #MeToo Era
Nathalia Arja as the Novice in Jerome Robbins' The Cage. Photo by Alexander Iziliaev, courtesy Miami City Ballet
The encounter with man-eating female creatures in Jerome Robbins' The Cage never fails to shock audiences. As this tribe of insects initiates the newly-born Novice into their community and prepares her for the attack of the male Intruders, the ballet draws us into a world of survival and instinct.
This year celebrates the 100th anniversary of Jerome Robbins' birth, and a number of Robbins programs are celebrating his timeless repertoire. But it especially feels like a prime moment to experience The Cage again. Several companies are performing it: San Francisco Ballet begins performances on March 20, followed by the English National Ballet in April and New York City Ballet in May.
Why it matters: In this time of female empowerment—as women are supporting one another in vocalizing injustices, demanding fair treatment and pay, and advocating for future generations—The Cage's nest of dominant women have new significance.
---
"It's very empowering with everything that's happening right now in society, and to be able to take on this role I feel like there's a responsibility to bring that into it," says SFB principal Jennifer Stahl, who will make her debut as the Queen this week. "To stand tall and proud, and not holding back, physically, with a strong powerful woman leader of this pack."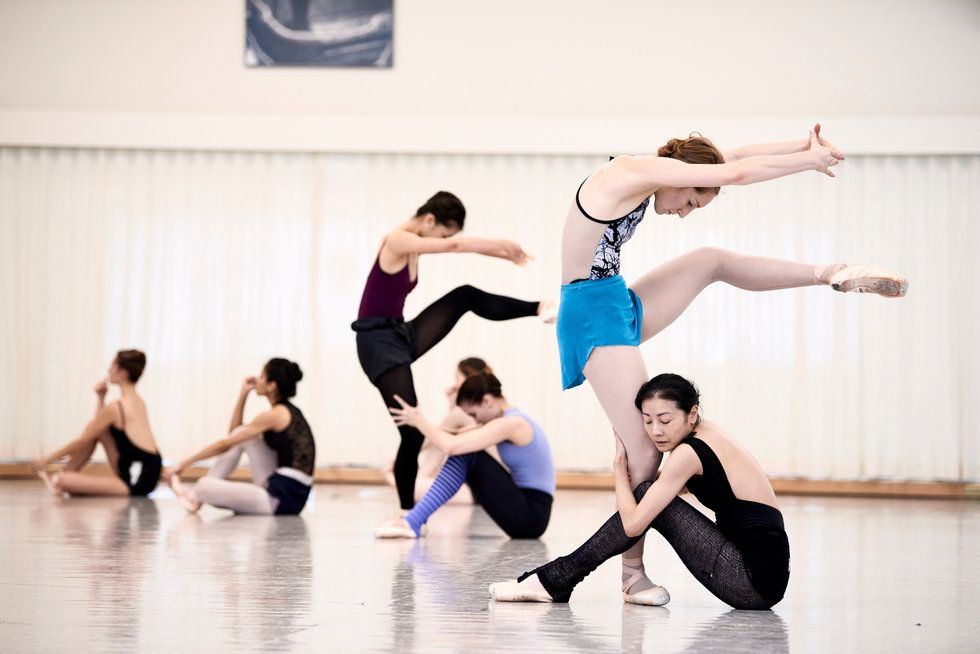 Jennifer Stahl, rehearsing The Cage with Yuan Yuan Tan, calls the ballet "empowering." Photo by Erik Tomasson, courtesy SFB
Robbins' hypnotic choreography, and the potent language he created for these fictional creatures through movement that is as aggressive as it is exploratory, reveals the many layers of this ballet: the female as predator and man as prey (which is what partially enraged audiences when the ballet premiered in 1951), their inclusive behavior as they embrace the young Novice, and the acceptance of our instincts—just as the Novice must when faced with killing the second Intruder despite her complex emotions.
Describing the ballet, Balanchine wrote, "The women are content with their own society and relax without fear of intrusion." The precision of these females in kill mode is just one part of the story; the other is the connectedness of this tribe.
When Miami City Ballet performed The Cage in January and February, principal soloist Nathalia Arja danced the Novice for the first time and found the role uncovered another side of her dancing.
"The ladies and I, we talked about it," Arja says of the collective movement toward female recognition we're experiencing today. "We watched the video together and we said it's the woman power ballet. Literally the ballet is led by all these strong women and I get goosebumps talking about it because I remember even when I was in the audience watching the other cast I said, how amazing that Jerome Robbins created a ballet that is just all about women."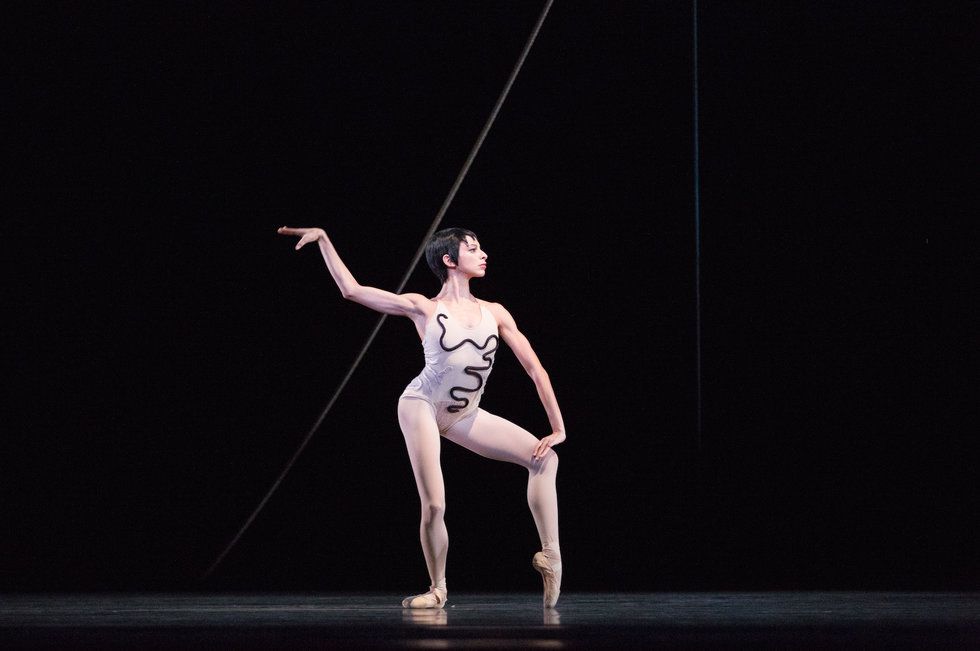 Nathalia Arja calls The Cage a "woman power ballet." Photo by Alexander Iziliaev, courtesy Miami City Ballet
Robbins was inspired to create the ballet after hearing Stravinsky's Concerto in D for String Orchestra, "Basler," and the dramatic pulse of the score. At first he wanted a ballet of Amazons, the female warriors in Greek mythology, which he then re-cast as insect creatures unleashing the animalistic and contorting movement that makes The Cage so direct and entirely unforgettable.
As Stahl notes, this is not about being "pretty ballet dancers." In a video recording of Robbins coaching Wendy Whelan for the role of the Novice in 1990 (which would become one of Whelan's signature roles because of the authoritative nature and otherworldliness she injected into the young creature) Robbins urged her not to look like a ballet dancer. He wanted her legs to anticipate and strike.
To Robbins these insects examined their world but remained impenetrable to the audience. During that same rehearsal, he mentioned how exciting it was to watch Nora Kaye, who originated the role, because you didn't know what was "going on in that thing."
The sharp and precise angles of the body, suspended movements on pointe, and haunting pauses between steps give these women a powerful presence. The Cage also requires deep artistry and individuality. Even the iconic flick of the Novice's arm and hand, which Robbins described as "a squirrels tale," lasts just an instant and is so full of character.
"It's not a ballet that you look at the other dancer and you go, 'I want to do it like her,'" Arja explains. "I had the freedom to make my own Novice…to bring my Nathalia touch."
In thinking about the significance of this ballet today, as well as in 1951, Stahl says, "There's always been strong women. It's our place in society and how we treat ourselves and treat each other and lift each other up, that's what really changes." Then and now, this work gives women command of the stage as well as their story.
Related Articles Around the Web
From Your Site Articles
News
Jul. 15, 2019 12:30PM EST
Courtesy Ritzel
Capezio, Bloch, So Dança, Gaynor Minden.
At the top of the line, dancers have plenty of quality footwear options to choose from, and in most metropolitan areas, stores to go try them on. But for many of North America's most economically disadvantaged dance students, there has often been just one option for purchasing footwear in person: Payless ShoeSource.
Keep reading...
Show less
Jayme Thornton
When Sonya Tayeh saw Moulin Rouge! for the first time, on opening night at a movie theater in Detroit, she remembers not only being inspired by the story, but noticing the way it was filmed.
"What struck me the most was the pace, and the erratic feeling it had," she says. The camera's quick shifts and angles reminded her of bodies in motion. "I was like, 'What is this movie? This is so insane and marvelous and excessive,' " she says. "And excessive is I think how I approach dance. I enjoy the challenge of swiftness, and the pushing of the body. I love piling on a lot of vocabulary and seeing what comes out."
Keep reading...
Show less
Robbie Fairchild in a still from In This Life, directed by Bat-Sheva Guez. Photo courtesy Michelle Tabnick PR
Back when Robbie Fairchild graced the cover of the May 2018 issue of Dance Magazine, he mentioned an idea for a short dance film he was toying around with. That idea has now come to fruition: In This Life, starring Fairchild and directed by dance filmmaker Bat-Sheva Guez, is being screened at this year's Dance on Camera Festival.
While the film itself covers heavy material—specifically, how we deal with grief and loss—the making of it was anything but: "It was really weird to have so much fun filming a piece about grief!" Fairchild laughs. We caught up with him, Guez and Christopher Wheeldon (one of In This Life's five choreographers) to find out what went into creating the 11-minute short film.
Keep reading...
Show less
Terry Notary in a movement capture suit during the filming of Rise of the Planet of the Apes. Photo by Sigtor Kildal, Courtesy Notary
When Hollywood needs to build a fantasy world populated with extraordinary creatures, they call Terry Notary.
The former gymnast and circus performer got his start in film in 2000 when Ron Howard asked him to teach the actors how to move like Whos for How the Grinch Stole Christmas. Notary has since served as a movement choreographer, stunt coordinator and performer via motion capture technology for everything from the Planet of the Apes series to The Hobbit trilogy, Avatar, Avengers: Endgame and this summer's The Lion King.
Since opening the Industry Dance Academy with his wife, Rhonda, and partners Maia and Richard Suckle, Notary also offers movement workshops for actors in Los Angeles.
Keep reading...
Show less