The Power of Jerome Robbins' The Cage in the #MeToo Era
Nathalia Arja as the Novice in Jerome Robbins' The Cage. Photo by Alexander Iziliaev, courtesy Miami City Ballet
The encounter with man-eating female creatures in Jerome Robbins' The Cage never fails to shock audiences. As this tribe of insects initiates the newly-born Novice into their community and prepares her for the attack of the male Intruders, the ballet draws us into a world of survival and instinct.
This year celebrates the 100th anniversary of Jerome Robbins' birth, and a number of Robbins programs are celebrating his timeless repertoire. But it especially feels like a prime moment to experience The Cage again. Several companies are performing it: San Francisco Ballet begins performances on March 20, followed by the English National Ballet in April and New York City Ballet in May.
Why it matters: In this time of female empowerment—as women are supporting one another in vocalizing injustices, demanding fair treatment and pay, and advocating for future generations—The Cage's nest of dominant women have new significance.
---
"It's very empowering with everything that's happening right now in society, and to be able to take on this role I feel like there's a responsibility to bring that into it," says SFB principal Jennifer Stahl, who will make her debut as the Queen this week. "To stand tall and proud, and not holding back, physically, with a strong powerful woman leader of this pack."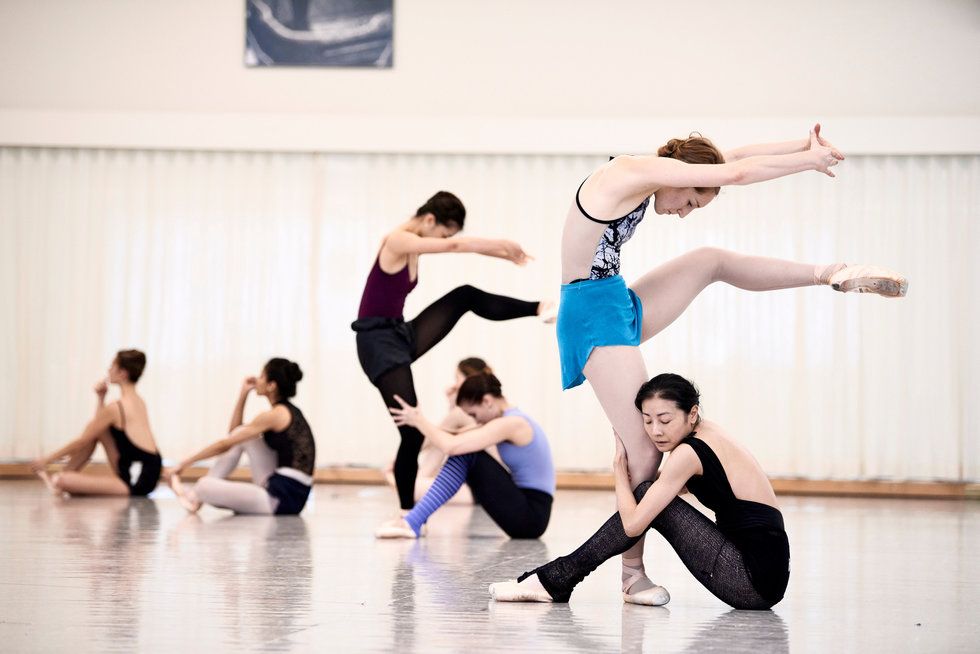 Jennifer Stahl, rehearsing The Cage with Yuan Yuan Tan, calls the ballet "empowering." Photo by Erik Tomasson, courtesy SFB
Robbins' hypnotic choreography, and the potent language he created for these fictional creatures through movement that is as aggressive as it is exploratory, reveals the many layers of this ballet: the female as predator and man as prey (which is what partially enraged audiences when the ballet premiered in 1951), their inclusive behavior as they embrace the young Novice, and the acceptance of our instincts—just as the Novice must when faced with killing the second Intruder despite her complex emotions.
Describing the ballet, Balanchine wrote, "The women are content with their own society and relax without fear of intrusion." The precision of these females in kill mode is just one part of the story; the other is the connectedness of this tribe.
When Miami City Ballet performed The Cage in January and February, principal soloist Nathalia Arja danced the Novice for the first time and found the role uncovered another side of her dancing.
"The ladies and I, we talked about it," Arja says of the collective movement toward female recognition we're experiencing today. "We watched the video together and we said it's the woman power ballet. Literally the ballet is led by all these strong women and I get goosebumps talking about it because I remember even when I was in the audience watching the other cast I said, how amazing that Jerome Robbins created a ballet that is just all about women."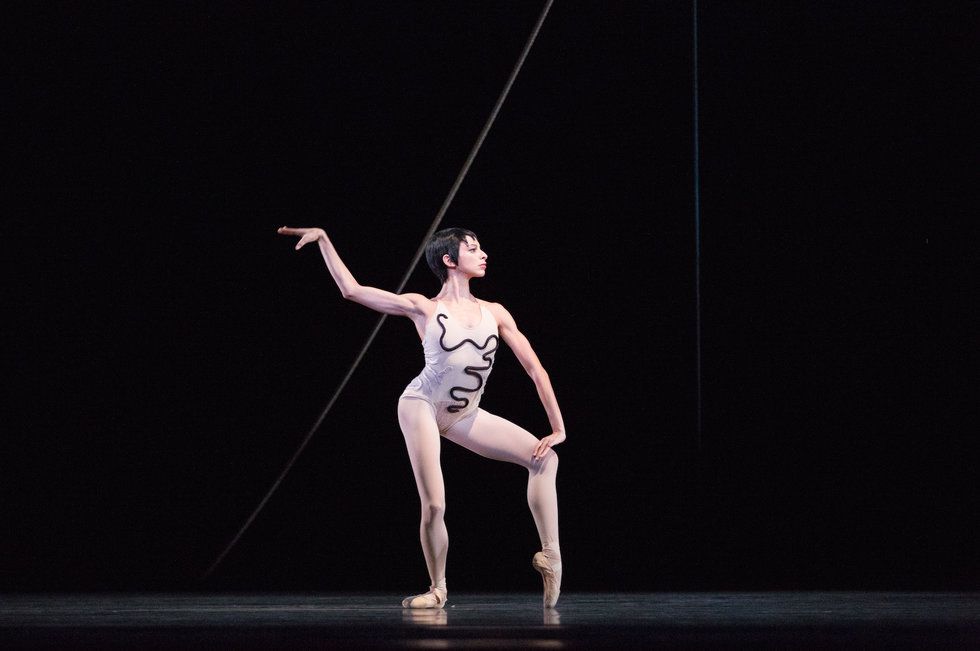 Nathalia Arja calls The Cage a "woman power ballet." Photo by Alexander Iziliaev, courtesy Miami City Ballet
Robbins was inspired to create the ballet after hearing Stravinsky's Concerto in D for String Orchestra, "Basler," and the dramatic pulse of the score. At first he wanted a ballet of Amazons, the female warriors in Greek mythology, which he then re-cast as insect creatures unleashing the animalistic and contorting movement that makes The Cage so direct and entirely unforgettable.
As Stahl notes, this is not about being "pretty ballet dancers." In a video recording of Robbins coaching Wendy Whelan for the role of the Novice in 1990 (which would become one of Whelan's signature roles because of the authoritative nature and otherworldliness she injected into the young creature) Robbins urged her not to look like a ballet dancer. He wanted her legs to anticipate and strike.
To Robbins these insects examined their world but remained impenetrable to the audience. During that same rehearsal, he mentioned how exciting it was to watch Nora Kaye, who originated the role, because you didn't know what was "going on in that thing."
The sharp and precise angles of the body, suspended movements on pointe, and haunting pauses between steps give these women a powerful presence. The Cage also requires deep artistry and individuality. Even the iconic flick of the Novice's arm and hand, which Robbins described as "a squirrels tale," lasts just an instant and is so full of character.
"It's not a ballet that you look at the other dancer and you go, 'I want to do it like her,'" Arja explains. "I had the freedom to make my own Novice…to bring my Nathalia touch."
In thinking about the significance of this ballet today, as well as in 1951, Stahl says, "There's always been strong women. It's our place in society and how we treat ourselves and treat each other and lift each other up, that's what really changes." Then and now, this work gives women command of the stage as well as their story.
From Your Site Articles
Related Articles Around the Web
A flyer showing Alberto Alonso, Fernando Alonso, Benjamin Steinberg and Alicia Alonso. Photo courtesy the author
Alicia has died. I walked around my apartment feeling her spirit, but knowing something had changed utterly.
My father, the late conductor Benjamin Steinberg, was the first music director of the Ballet de Cuba, as it was called then. I grew up in Vedado on la Calle 1ra y doce in a building called Vista al Mar. My family lived there from 1959 to 1963. My days were filled with watching Alicia teach class, rehearse and dance. She was everything: hilarious, serious, dramatic, passionate and elegiac. You lost yourself and found yourself when you loved her.
Keep reading...
Show less
Left: Hurricane Harvey damage in Houston Ballet's Dance Lab; Courtesy Harlequin. Right: The Dance Lab pre-Harvey; Nic Lehoux, Courtesy Houston Ballet.
"The show must go on" may be a platitude we use to get through everything from costume malfunctions to stormy moods. But when it came to overcoming a literal hurricane, Houston Ballet was buoyed by this mantra to go from devastated to dancing in a matter of weeks—with the help of Harlequin Floors, Houston Ballet's longstanding partner who sprang into action to build new floors in record time.
Keep reading...
Show less
Hansuke Yamamoto in Helgi Tomasson's Nutcracker at San Francisco Ballet, which features an exciting and respectful Chinese divertissement. Photo by Erik Tomasson, Courtesy SFB
It's Nutcracker time again: the season of sweet delights and a sparkling good time—if we're able to ignore the sour taste left behind by the outdated racial stereotypes so often portrayed in the second act.
In 2017, as a result of a growing list of letters from audience members, to New York City Ballet's ballet master in chief Peter Martins reached out to us asking for assistance on how to modify the elements of Chinese caricature in George Balanchine's The Nutcracker. Following that conversation, we founded the Final Bow for Yellowface pledge that states, "I love ballet as an art form, and acknowledge that to achieve a diversity amongst our artists, audiences, donors, students, volunteers, and staff, I am committed to eliminating outdated and offensive stereotypes of Asians (Yellowface) on our stages."
Keep reading...
Show less
Allegra Bautista in Nevertheless, by ka·nei·see | collective. Photo by Robbie Sweeny
An audience member once emailed Dallas choreographer Joshua L. Peugh, claiming his work was vulgar. It complained that he shouldn't be pushing his agenda. As the artistic director of Dark Circles Contemporary Dance, Peugh's recent choreography largely deals with LGBTQ issues.
"I got angry when I saw that email, wrote my angry response, deleted it, and then went back and explained to him that that's exactly why I should be making those works," says Peugh.
With the current political climate as polarized as it is, many artists today feel compelled to use their work to speak out on issues they care deeply about. But touring with a message is not for the faint of heart. From considerations about how to market the work to concerns about safety, touring to cities where, in general, that message may not be so welcome, requires companies to figure out how they'll respond to opposition.
Keep reading...
Show less