Misty Copeland Adds a New Job Title To Her Resume: Fashion Designer
Misty Copeland in her Signature Bodysuit. Photo via
Under Armour
Sometimes you have to wonder if Misty Copeland has secretly found an extra day in the week that the rest of us don't know about.
Yesterday, in the midst of gearing up for American Ballet Theatre's spring season, she celebrated the launch of her latest high-profile project: Under Armour's Misty Copeland Signature Collection.
---
This is her first foray into fashion. She's been an Under Armour athlete since 2014 and the brand has two other Misty collections, but this time she took part in the design process to create nine garments that she feels truly represent her.
At the launch event last night, Copeland spoke about how she first got into fashion as a kid growing up without access to expensive clothing. "Being very petite, I wanted things to be tailored and fit right, so I just started sewing," she said.

Today, her go-to style focuses on basics—usually in black—that fit her well. Like any dancer, she's very aware of proportions and her line, and is always focused on making her legs look longer.
Working with the Under Armour design team, she focused her collection around a look that's a mix between "ballerina and New York street," as she put it, balancing masculinity and femininity, structure and flow.
Her favorite look in the collection? The Signature Lace Crop Top with the high-waisted Perforated Lace Leggings.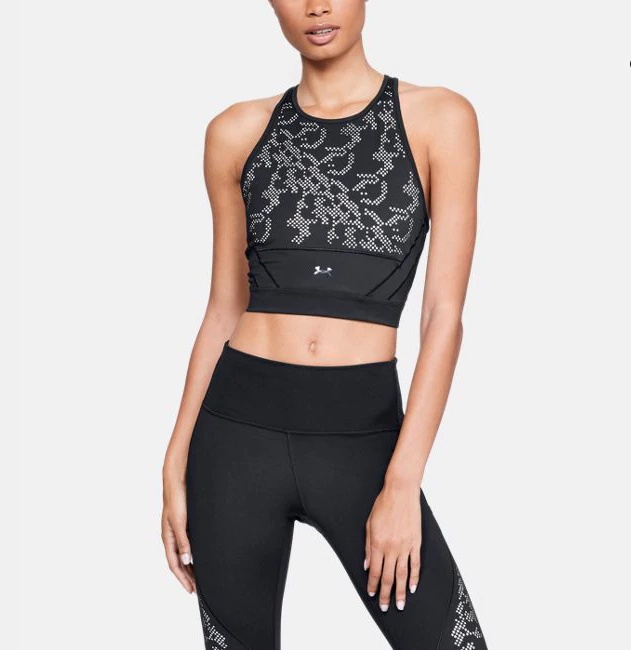 "A ballerina is such a versatile athlete, and most people don't think about that," said Copeland. "She's strong, she's feminine, she's powerful, she's elegant."
Although the collection is designed for all kinds of athletes and any woman who loves athleisure, Copeland made sure it was geared to a dancer's needs. "As a dancer," she said, "we want things we can move in, and we also want to look beautiful."
The good news? While talking about the collection last night, Copeland described it as her "first line." Which means we can probably look forward to more to come.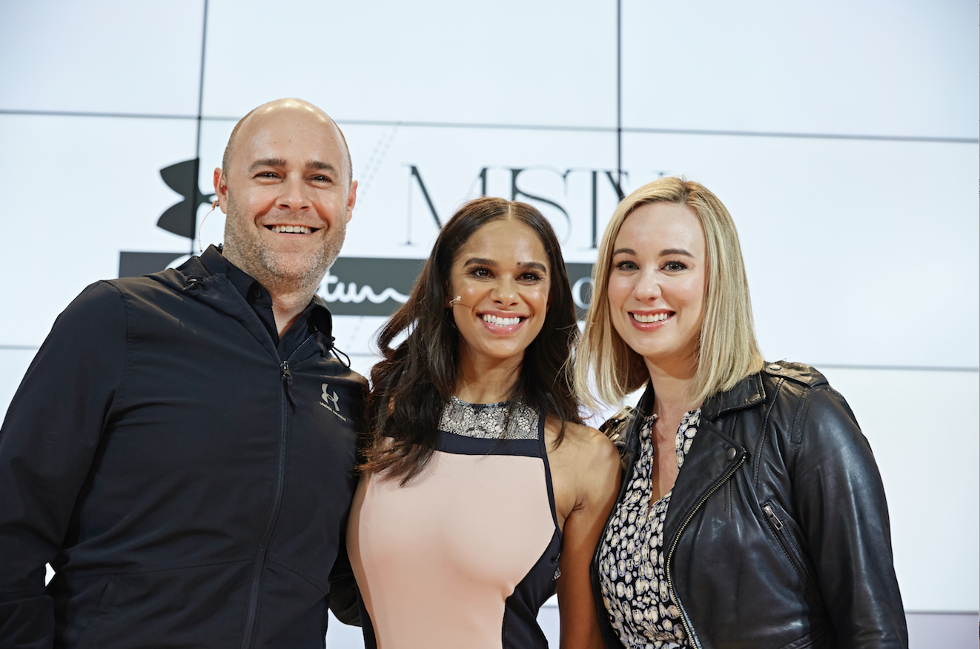 Copeland with Dave Dombrow, Under Armour Chief Design Officer and Morgan Goerke, General Manager of Under Armour Women's
Michelle Dorrance. Photo by Jayme Thornton
What do Percy Jackson, Princess Diana and Tina Turner have in common? They're all characters on Broadway this season. Throw in Michelle Dorrance's choreographic debut, Henry VIII's six diva-licious wives and the 1990s angst of Alanis Morissette, and the 2019–20 season is shaping up to be an exciting mix of past-meets-pop-culture-present.
Here's a look at the musicals hitting Broadway in the coming months. We're biding our time until opening night!

Keep reading...
Show less
UA Dance Ensemble members Candice Barth and Gregory Taylor in Jessica Lang's "Among the Stars." Photo by Ed Flores, courtesy University of Arizona
If you think becoming a trainee or apprentice is the only path to gaining experience in a dance company environment, think again.
The University of Arizona, located in the heart of Tucson, acclimates dancers to the pace and rigor of company life while offering all the academic opportunities of a globally-ranked university. If you're looking to get a head-start on your professional dance career—or to just have a college experience that balances company-level training and repertory with rigorous academics—the University of Arizona's undergraduate and graduate programs have myriad opportunites to offer:
Keep reading...
Show less
Alice Sheppard/Kinetic Light in DESCENT, which our readers chose as last year's "Most Moving Performance." Photo by Jay Newman, courtesy Kinetic Light
Yes, we realize it's only August. But we can't help but to already be musing about all the incredible dance happenings of 2019.
We're getting ready for our annual Readers' Choice feature, and we want to hear from you about the shows you can't stop thinking about, the dance videos that blew your mind and the artists you discovered this year who everyone should know about.
Keep reading...
Show less
Getty Images
Ah, stretching. It seems so simple, and is yet so complicated.
For example: You don't want to overstretch, but you're not going to see results if you don't stretch enough. You want to focus on areas where you're tight, but you also can't neglect other areas or else you'll be imbalanced. You were taught to hold static stretches growing up, but now everyone is telling you never to hold a stretch longer than a few seconds?
Considering how important stretching correctly is for dancers, it's easy to get confused or overwhelmed. So we came up with 10 common stretching scenarios, and gave you the expert low-down.
Keep reading...
Show less