How Does the New Moulin Rouge! The Musical Compare to the Real Thing in Paris?
D. Duguet, Courtesy Moulin Rouge
Last week, Moulin Rouge! The Musical, based off Baz Luhrmann's 2001 hit and choreographed by Sonya Tayeh, opened on Broadway to rave reviews.
On opening night, there were a few members in the audience with a unique perspective on the show: Dancers and artistic staff members from the actual Moulin Rouge in Paris. Samantha Greenlund, an Everson, Washington, native, spent the past three years as a dancer at the Moulin Rouge, and spoke to DM the morning after the red carpet event to offer her take on the musical.
---
Dancers perform the can-can at the Moulin Rouge
S. Franzese, Courtesy Moulin Rouge
How was the premiere?
I loved it. I loved the choreography—the big dance numbers were the best parts. Everyone was on their feet after those. I've always loved Sonya Tayeh's style, and was curious to see how it would translate into a big production musical. Plus, I've always loved Aaron Tveit, so it was enjoyable hearing his voice live.
How did the show compare to the film?
Some of the songs in the movie aren't in the musical, and they have a lot of new, more modern songs. They fit surprisingly well. But sometimes I found myself missing the songs I know. In the movie, there are a lot of medleys, and they're in the musical as well, but with some different, updated songs.
How does it feel seeing your job of the past three years translated to Broadway?
People are going to be very surprised if they come to the Moulin Rouge in Paris and think it's the same show they've seen in the movie or on Broadway! The show in Paris is its own thing. It's a Parisian cabaret. It's about the costumes, elegance, and the French can-can. That's not what you get in the movie or musical. But the history is the same. It still has this place in your heart.
Was is it like performing in the real Moulin Rouge?
So many people grow up wanting to be in that show—it's a dream job. But my background was a bit different. As a kid, I dabbled in everything, and I went to college at Oklahoma City University, where most of my focus was on Broadway, tap and jazz. It took me a while to learn where I was going to fit in as a dancer. I'm 5'10", and showgirls are very tall, so I started getting jobs in Las Vegas. Then, I heard about cabarets in Paris, and auditioned.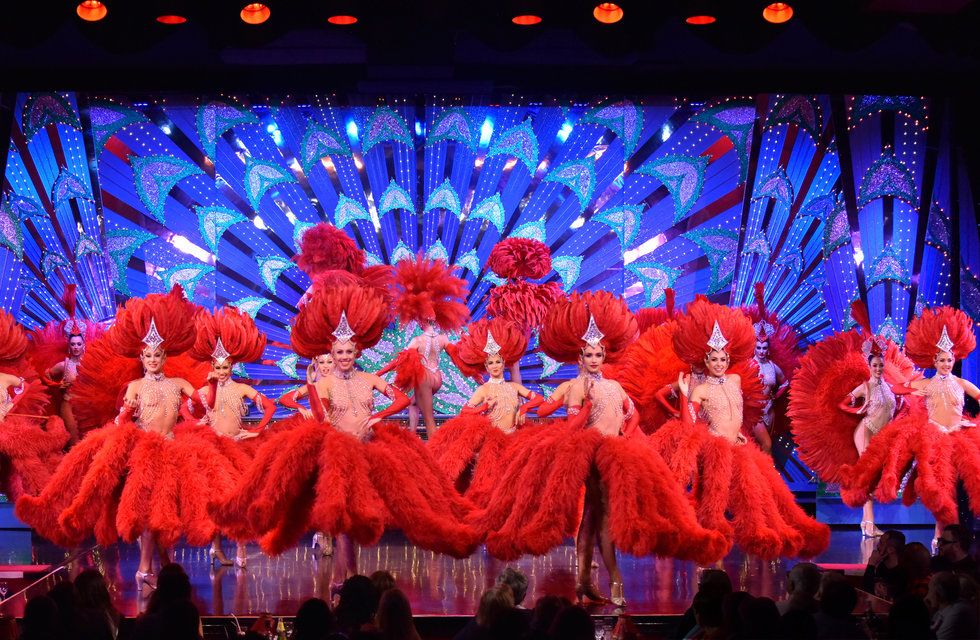 B. Royer, Courtesy Moulin Rouge
What was the audition like?
Very long! It was an all-day situation. They started with a full-on technical ballet combination, and if you get through all that, they get into a more eighties, funky routine. Finally, you do the can-can. It's all in there, and they make cuts as you go.
What were the biggest challenges of the job?
I don't speak French as well as I would've liked! Fortunately, the Moulin Rouge is an English-speaking company—you're actually required to speak English, and rehearsals are taught in English. Most people working there are Australians and Brits. Physically, everyone performs six nights a week, two shows a night. As soon as the first show ends and they get the audience out, the next audience comes in and we do it all over again. The second show never starts on time!
Was the job what you expected?
I had never even been to Paris, or anywhere in Europe—and I had never seen the show! I went in blind. My first day, I went in for rehearsal and saw the show for the first time that night. Even in rehearsal, I didn't know what the show was exactly. The first week of rehearsal is just the can-can. After the first day, my legs were dead for weeks.
But the show is what I love about the French cabaret. It's very intimate in a way, with all the tables and lighting and décor. The lights come up, and it's just a sea of sparkles. I'll never forget seeing that for the first time.
From Your Site Articles
Related Articles Around the Web
Alicia Alonso with Igor Youskevitch. Sedge Leblang, Courtesy Dance Magazine Archives.
Her Dying Swan was as fragile as her Juliet was rebellious; her Odile, scheming, her Swanilda, insouciant. Her Belle was joyous, and her Carmen, both brooding and full-blooded. But there was one role in particular that prompted dance critic Arnold Haskell to ask, "How do you interpret Giselle when you are Giselle?"
At eight, Alicia Alonso took her first ballet class on a stage in her native Cuba, wearing street clothes. Fifteen years later, put in for an ailing Alicia Markova in a performance of Giselle at New York's Metropolitan Opera House, she staked her claim to that title role.
Alonso received recognition throughout the world for her flawless technique and her ability to become one with the characters she danced, even after she became nearly blind. After a career in New York, she and her then husband Fernando Alonso established the Cuban National Ballet and the Cuban National Ballet School, both of which grew into major international dance powerhouses and beloved institutions in their home country. On October 17, the company announced that, after leading the company for a remarkable 71 years, Alonso died from cardiovascular disease at the age of 98.
Keep reading...
Show less
News
Oct. 17, 2019 02:02PM EST
Rauf "RubberlLegz" Yasit and Parvaneh Scharafali. Photo by Mohamed Sadek, courtesy The Shed
William Forsythe is bringing his multi-faceted genius to New York City in stripped down form. His "Quiet Evening of Dance," a mix of new and recycled work now at The Shed until October 25, is co-commissioned with Sadler's Wells in London (and a slew of European presenters).
As always, Forsythe's choreography is a layered experience, both kinetic and intellectual. This North American premiere prompted many thoughts, which I whittled down to seven.
Keep reading...
Show less
News
Oct. 17, 2019 01:39PM EST
Courtesy NBC
"Law & Order: SVU" has dominated the crime show genre for 21 seasons with its famous "ripped from the headlines" strategy of taking plot inspiration from real-life crimes.
So viewers would be forgiven for assuming that the new storyline following the son of Mariska Hargitay's character into dance class originated in the news cycle. After all, the mainstream media widely covered the reaction to Lara Spencer's faux pas on "Good Morning America" in August, when she made fun of Prince George for taking ballet class.
But it turns out, the storyline was actually the idea of the 9-year-old actor, Ryan Buggle, who plays Hargitay's son. And he came up with it before Spencer ever giggled at the word ballet.
Keep reading...
Show less