How Does the New Moulin Rouge! The Musical Compare to the Real Thing in Paris?
D. Duguet, Courtesy Moulin Rouge
Last week, Moulin Rouge! The Musical, based off Baz Luhrmann's 2001 hit and choreographed by Sonya Tayeh, opened on Broadway to rave reviews.
On opening night, there were a few members in the audience with a unique perspective on the show: Dancers and artistic staff members from the actual Moulin Rouge in Paris. Samantha Greenlund, an Everson, Washington, native, spent the past three years as a dancer at the Moulin Rouge, and spoke to DM the morning after the red carpet event to offer her take on the musical.
---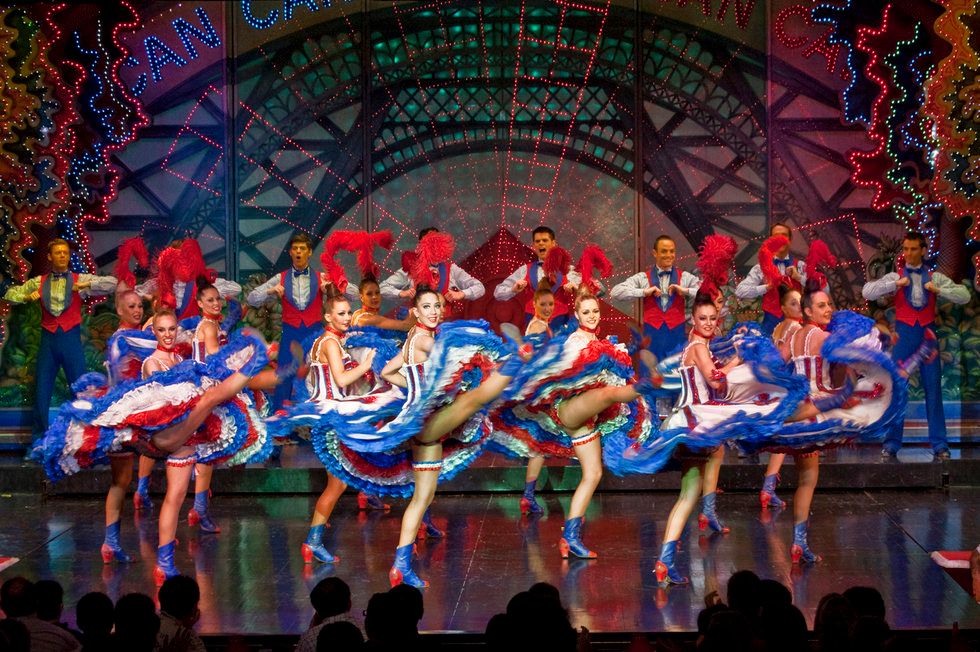 Dancers perform the can-can at the Moulin Rouge
S. Franzese, Courtesy Moulin Rouge
How was the premiere?
I loved it. I loved the choreography—the big dance numbers were the best parts. Everyone was on their feet after those. I've always loved Sonya Tayeh's style, and was curious to see how it would translate into a big production musical. Plus, I've always loved Aaron Tveit, so it was enjoyable hearing his voice live.
How did the show compare to the film?
Some of the songs in the movie aren't in the musical, and they have a lot of new, more modern songs. They fit surprisingly well. But sometimes I found myself missing the songs I know. In the movie, there are a lot of medleys, and they're in the musical as well, but with some different, updated songs.
How does it feel seeing your job of the past three years translated to Broadway?
People are going to be very surprised if they come to the Moulin Rouge in Paris and think it's the same show they've seen in the movie or on Broadway! The show in Paris is its own thing. It's a Parisian cabaret. It's about the costumes, elegance, and the French can-can. That's not what you get in the movie or musical. But the history is the same. It still has this place in your heart.
Was is it like performing in the real Moulin Rouge?
So many people grow up wanting to be in that show—it's a dream job. But my background was a bit different. As a kid, I dabbled in everything, and I went to college at Oklahoma City University, where most of my focus was on Broadway, tap and jazz. It took me a while to learn where I was going to fit in as a dancer. I'm 5'10", and showgirls are very tall, so I started getting jobs in Las Vegas. Then, I heard about cabarets in Paris, and auditioned.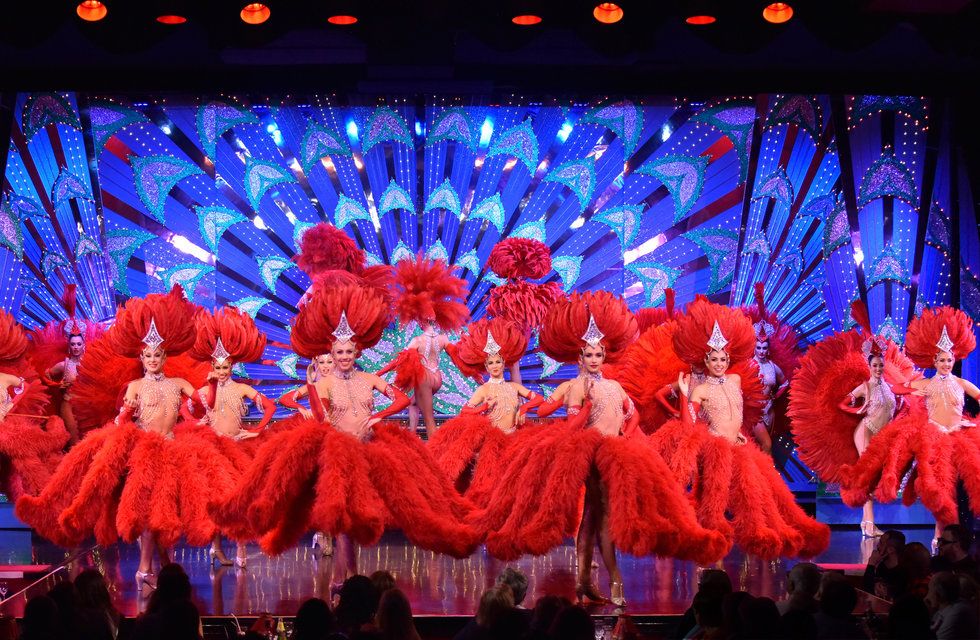 B. Royer, Courtesy Moulin Rouge
What was the audition like?
Very long! It was an all-day situation. They started with a full-on technical ballet combination, and if you get through all that, they get into a more eighties, funky routine. Finally, you do the can-can. It's all in there, and they make cuts as you go.
What were the biggest challenges of the job?
I don't speak French as well as I would've liked! Fortunately, the Moulin Rouge is an English-speaking company—you're actually required to speak English, and rehearsals are taught in English. Most people working there are Australians and Brits. Physically, everyone performs six nights a week, two shows a night. As soon as the first show ends and they get the audience out, the next audience comes in and we do it all over again. The second show never starts on time!
Was the job what you expected?
I had never even been to Paris, or anywhere in Europe—and I had never seen the show! I went in blind. My first day, I went in for rehearsal and saw the show for the first time that night. Even in rehearsal, I didn't know what the show was exactly. The first week of rehearsal is just the can-can. After the first day, my legs were dead for weeks.
But the show is what I love about the French cabaret. It's very intimate in a way, with all the tables and lighting and décor. The lights come up, and it's just a sea of sparkles. I'll never forget seeing that for the first time.
From Your Site Articles
Related Articles Around the Web
Michelle Dorrance. Photo by Jayme Thornton
What do Percy Jackson, Princess Diana and Tina Turner have in common? They're all characters on Broadway this season. Throw in Michelle Dorrance's choreographic debut, Henry VIII's six diva-licious wives and the 1990s angst of Alanis Morissette, and the 2019–20 season is shaping up to be an exciting mix of past-meets-pop-culture-present.
Here's a look at the musicals hitting Broadway in the coming months. We're biding our time until opening night!

Keep reading...
Show less
UA Dance Ensemble members Candice Barth and Gregory Taylor in Jessica Lang's "Among the Stars." Photo by Ed Flores, courtesy University of Arizona
If you think becoming a trainee or apprentice is the only path to gaining experience in a dance company environment, think again.
The University of Arizona, located in the heart of Tucson, acclimates dancers to the pace and rigor of company life while offering all the academic opportunities of a globally-ranked university. If you're looking to get a head-start on your professional dance career—or to just have a college experience that balances company-level training and repertory with rigorous academics—the University of Arizona's undergraduate and graduate programs have myriad opportunites to offer:
Keep reading...
Show less
Alice Sheppard/Kinetic Light in DESCENT, which our readers chose as last year's "Most Moving Performance." Photo by Jay Newman, courtesy Kinetic Light
Yes, we realize it's only August. But we can't help but to already be musing about all the incredible dance happenings of 2019.
We're getting ready for our annual Readers' Choice feature, and we want to hear from you about the shows you can't stop thinking about, the dance videos that blew your mind and the artists you discovered this year who everyone should know about.
Keep reading...
Show less
Getty Images
Ah, stretching. It seems so simple, and is yet so complicated.
For example: You don't want to overstretch, but you're not going to see results if you don't stretch enough. You want to focus on areas where you're tight, but you also can't neglect other areas or else you'll be imbalanced. You were taught to hold static stretches growing up, but now everyone is telling you never to hold a stretch longer than a few seconds?
Considering how important stretching correctly is for dancers, it's easy to get confused or overwhelmed. So we came up with 10 common stretching scenarios, and gave you the expert low-down.
Keep reading...
Show less