How Does the New Moulin Rouge! The Musical Compare to the Real Thing in Paris?
D. Duguet, Courtesy Moulin Rouge
Last week, Moulin Rouge! The Musical, based off Baz Luhrmann's 2001 hit and choreographed by Sonya Tayeh, opened on Broadway to rave reviews.
On opening night, there were a few members in the audience with a unique perspective on the show: Dancers and artistic staff members from the actual Moulin Rouge in Paris. Samantha Greenlund, an Everson, Washington, native, spent the past three years as a dancer at the Moulin Rouge, and spoke to DM the morning after the red carpet event to offer her take on the musical.
---
Dancers perform the can-can at the Moulin Rouge
S. Franzese, Courtesy Moulin Rouge
How was the premiere?
I loved it. I loved the choreography—the big dance numbers were the best parts. Everyone was on their feet after those. I've always loved Sonya Tayeh's style, and was curious to see how it would translate into a big production musical. Plus, I've always loved Aaron Tveit, so it was enjoyable hearing his voice live.
How did the show compare to the film?
Some of the songs in the movie aren't in the musical, and they have a lot of new, more modern songs. They fit surprisingly well. But sometimes I found myself missing the songs I know. In the movie, there are a lot of medleys, and they're in the musical as well, but with some different, updated songs.
How does it feel seeing your job of the past three years translated to Broadway?
People are going to be very surprised if they come to the Moulin Rouge in Paris and think it's the same show they've seen in the movie or on Broadway! The show in Paris is its own thing. It's a Parisian cabaret. It's about the costumes, elegance, and the French can-can. That's not what you get in the movie or musical. But the history is the same. It still has this place in your heart.
Was is it like performing in the real Moulin Rouge?
So many people grow up wanting to be in that show—it's a dream job. But my background was a bit different. As a kid, I dabbled in everything, and I went to college at Oklahoma City University, where most of my focus was on Broadway, tap and jazz. It took me a while to learn where I was going to fit in as a dancer. I'm 5'10", and showgirls are very tall, so I started getting jobs in Las Vegas. Then, I heard about cabarets in Paris, and auditioned.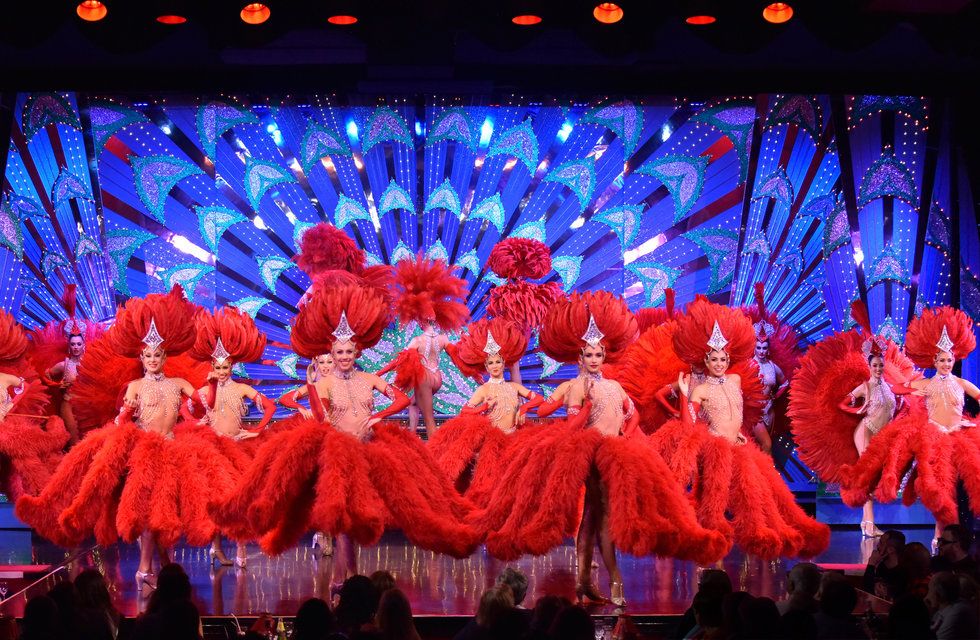 B. Royer, Courtesy Moulin Rouge
What was the audition like?
Very long! It was an all-day situation. They started with a full-on technical ballet combination, and if you get through all that, they get into a more eighties, funky routine. Finally, you do the can-can. It's all in there, and they make cuts as you go.
What were the biggest challenges of the job?
I don't speak French as well as I would've liked! Fortunately, the Moulin Rouge is an English-speaking company—you're actually required to speak English, and rehearsals are taught in English. Most people working there are Australians and Brits. Physically, everyone performs six nights a week, two shows a night. As soon as the first show ends and they get the audience out, the next audience comes in and we do it all over again. The second show never starts on time!
Was the job what you expected?
I had never even been to Paris, or anywhere in Europe—and I had never seen the show! I went in blind. My first day, I went in for rehearsal and saw the show for the first time that night. Even in rehearsal, I didn't know what the show was exactly. The first week of rehearsal is just the can-can. After the first day, my legs were dead for weeks.
But the show is what I love about the French cabaret. It's very intimate in a way, with all the tables and lighting and décor. The lights come up, and it's just a sea of sparkles. I'll never forget seeing that for the first time.
From Your Site Articles
Related Articles Around the Web
Chantelle Pianetta competing at a West Coast swing event. Courtesy Pianetta.
Just hearing the word "improvisation" is enough to make some ballet dancers shake in their pointe shoes. But for Chantelle Pianetta, it's a practice she relishes. Depending on the weekend, you might find her gracing Bay Area stages as a principal with Menlowe Ballet or sweeping in awards at West Coast swing competitions.

She specializes in Jack and Jill events, which involve improvised swing dancing with an unexpected partner in front of a panel of judges. (Check her out in action below.) While sustaining her ballet career, over the past four years Pianetta has quickly risen from novice to champion level on the WCS international competition circuit.
Keep reading...
Show less
Jayme Thornton
Sean Dorsey was always going to be an activist. Growing up in a politically engaged, progressive family in Vancouver, British Columbia, "it was my heart's desire to create change in the world," he says. Far less certain was his future as a dancer.
Like many dancers, Dorsey fell in love with movement as a toddler. However, he didn't identify strongly with any particular gender growing up. Dorsey, who now identifies as trans, says, "I didn't see a single person like me anywhere in the modern dance world." The lack of trans role models and teachers, let alone all-gender studio facilities where he could feel safe and welcome, "meant that even in my wildest dreams, there was no room for that possibility."
Keep reading...
Show less
Getty Images
It's hour three of an intense rehearsal, you're feeling mentally foggy and exhausted, and your stomach hurts. Did you know the culprit could be something as simple as dehydration?
Proper hydration helps maintain physical and mental function while you're dancing, and keeps your energy levels high. But with so many products on the market promising to help you rehydrate more effectively, how do you know when it's time to reach for more than water?
Keep reading...
Show less