18-Year-Old NYCB Apprentice Naomi Corti Talks About Her Big Break in Forsythe's "Herman Schmerman"
Naomi Corti in William Forsythe's "Herman Schmerman." Erin Baiano, Courtesy NYCB.
When audience members opened their programs at New York City Ballet's revival of Herman Schmerman a few weeks ago, one name had everyone buzzing: Naomi Corti. Just an apprentice, she was dancing a featured role alongside principals and soloists in William Forsythe's challenging, go-for-broke choreography. How was this going to go down?
Quite well, actually. Despite a nasty fall at the beginning of the ballet, 18-year-old Corti held her own next to castmates Sara Mearns and Unity Phelan—and didn't hold back during her solos and partnering sections. When she stepped forward to take her bow, the audience cheered wildly; her reaction was a mix of shock and utter joy. Still, we couldn't help but wonder what kind of pressure she must have been under.
NYCB has a history of giving young apprentices big breaks. Current corps members Miriam Miller (as Titania in Balanchine's A Midsummer Night's Dream) and Alston Macgill (in a featured role in Symphony in C) both had opportunities to shine during their apprentice years. So how does it feel to take on a big role so young? We talked to Corti to find out.

---
What has your life as an NYCB apprentice been like so far?
It's been a stressful year, of course, but the company is so encouraging. We have mentors, NYCB dancers who help us get used to company life and answer any questions we have. It's a new thing they've done for the past two or three years now, but it's so helpful.
You had first learned excerpts from Herman Schmerman while you were a student at the School of American Ballet. What was that like?

Last year, Forsythe stager Noah Gelber came to the school for a few days and taught us the same solo that I just performed. As soon as we left that class I remember telling my friend that Herman Schmerman was one of my bucket list ballets. I kept it in the back of my head.
How did you find out that you would be learning it with the company?
Noah came and watched company class with ballet master Rebecca Krohn. When we got the schedule, my name was on the list, along with dancers I had been looking up to since I was little! I texted my parents and they were so excited and scared for me. It was just a two-hour call to learn some excerpts, including that solo I had learned at SAB. Then they said they'd email us and let us know if we needed to keep coming to rehearsals. They kept whittling the dancers down into smaller and smaller groups until there were about three or four working casts.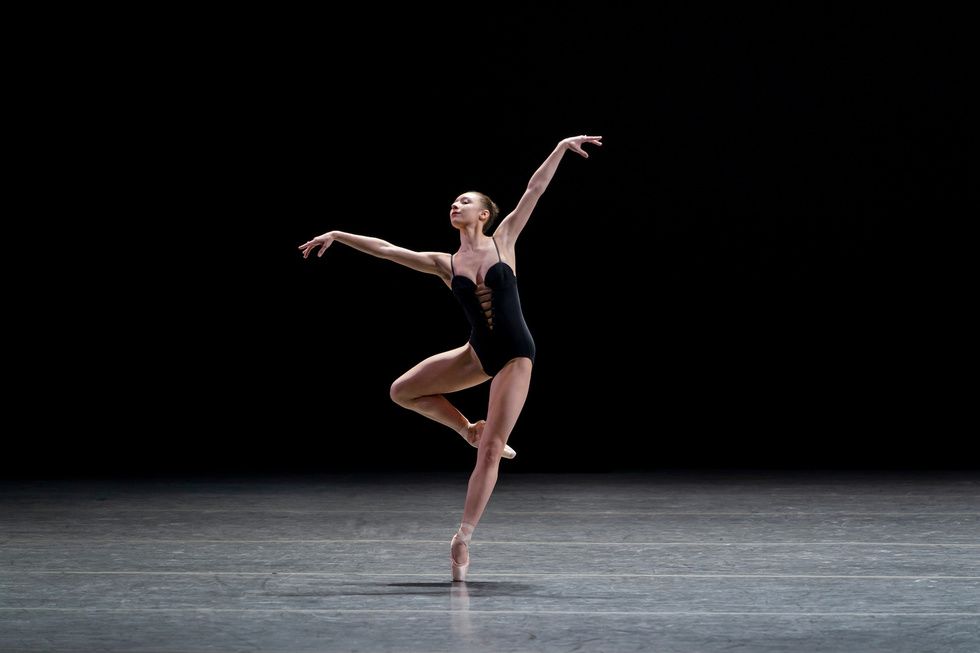 Paul Kolnik, Courtesy NYCB.
As an apprentice, I'm sure that was nerve wracking. Did it help that you were familiar with the choreography?
I was in the room with principal dancers and felt very out of place, so knowing the steps beforehand helped me feel a little more comfortable. Right before that first rehearsal one of my mentors, corps member Kristen Segin, grabbed me and said, "You belong here. Do not feel like you are not supposed to be in this rehearsal—you deserve this." That really helped me relax.
When did you learn that you would be performing the ballet, and in the first cast?
I found out the Thursday before the first show. I was shocked! I had been staying in the back of the studio, just trying to rehearse as full out as possible and learn as much as I could from the company members. It had been a whirlwind of a season, and a few dancers started to feel some small injuries coming on. They wanted to save their bodies so they wouldn't be out the entire season, which is how I got to perform it. I was definitely a little nervous, but also really excited to dance alongside my idols.
Did your fellow cast members make you feel welcome?

They really did! They were so kind and encouraging. If I was having trouble with a step they would try to help me find the best way to do it.
What was it like to work with William Forsythe?

He came in the last two weeks and re-choreographed the opening section. It was amazing to see his choreographic process. He was so kind and really wanted us to have fun with the ballet. I had been really focused on hitting all the steps and making sure it was perfect, and he wanted me to relax and let go of all of that. He really helped me find what kind of dancer I want to be.
What was going through your mind on opening night?
Right before the performance there was so much nervous energy and excitement backstage. When the curtain came up, it was silent for a second, and everything felt super calm. Then once the music started it felt, not comfortable, but like it was the right place to be. And then I fell. But it was actually a great way of letting go of some of those nerves. I thought, it can't get worse, so I might as well throw it all out there and enjoy it. I was dancing next to Sara and Unity, these powerhouse dancers who command attention. I was trying to bring myself up to their level, which is so impossible but it was an amazing challenge!
The other apprentices and corps members were backstage encouraging me. I could see them smiling in the wings and cheering me on, and they'd high five me whenever I came offstage. It gave me the energy to keep going.
How did you grow from the experience?

In school you're so focused on your technique and trying to make everything perfect. Once you come here, it's more about finding what type of a dancer you are. By having the opportunity to dance what feels natural to me, I found my weaknesses but I also found my strengths. It also made me realize that there's a lot more work to be done—you look around and see that every single person in the company is working on becoming better, so it kind of reminds you that even though you think you've made it, there's so much more work to do.
What advice would you give someone about to start an apprenticeship?

Hard work pays off. Even if you see other people taking it easy, it doesn't always mean that you can, especially as an apprentice. You're being tested, so it's your time to work hard and show that you deserve to be there. But you also need to take care of your body and your mind, and take moments to appreciate the accomplishments you've made, however big or small. They all add up and help you enjoy the hard stuff.
Courtesy Boneau/Bryan-Brown
If "Fosse/Verdon" whet your appetite for the impeccable Gwen Verdon, then Merely Marvelous: The Dancing Genius of Gwen Verdon is the three-course meal you've been craving. The new documentary—available now on Amazon for rental or purchase—dives into the life of the Tony-winning performer and silver-screen star lauded for her charismatic dancing.

Though she's perhaps most well-known today as Bob Fosse's wife and muse, that's not even half of her story. For starters, she'd already won four Tonys before they wed, making her far more famous in the public eye than he was at that point in his career. That's just one of many surprising details we learned during last night's U.S. premiere of Merely Marvelous. Believe us: You're gonna love her even more once you get to know her. Here are eight lesser-known tidbits to get you started.
Keep reading...
Show less
Lindsay Thomas
Every dancer knows that how you fuel your body affects how you feel in the studio. Of course, while breakfast is no more magical than any other meal (despite the enduring myth that it's the most important one of the day), showing up to class hangry is a recipe for unproductive studio time.
So what do your favorite dancers eat in the morning to set themselves up for a busy rehearsal or performance day?
Keep reading...
Show less
News
Sep. 20, 2019 09:17AM EST
Simon Soong, Courtesy DDT
When it comes to dance in the U.S., companies in the South often find themselves overlooked—sometimes even by the presenters in their own backyard. That's where South Arts comes in. This year, the regional nonprofit launched Momentum, an initiative that will provide professional development, mentorship, touring grants and residencies to five Southern dance companies.
Keep reading...
Show less
News
Sep. 19, 2019 12:46PM EST
Alice Pennefather, Courtesy ROH
You ever just wish that Kenneth MacMillan's iconic production of Romeo and Juliet could have a beautiful love child with the 1968 film starring Olivia Hussey? (No, not Baz Luhrmann's version. We are purists here.)
Wish granted: Today, the trailer for a new film called Romeo and Juliet: Beyond Words was released, featuring MacMillan's choreography and with what looks like all the cinematic glamour we could ever dream of:
Keep reading...
Show less