18-Year-Old NYCB Apprentice Naomi Corti Talks About Her Big Break in Forsythe's "Herman Schmerman"
Naomi Corti in William Forsythe's "Herman Schmerman." Erin Baiano, Courtesy NYCB.
When audience members opened their programs at New York City Ballet's revival of Herman Schmerman a few weeks ago, one name had everyone buzzing: Naomi Corti. Just an apprentice, she was dancing a featured role alongside principals and soloists in William Forsythe's challenging, go-for-broke choreography. How was this going to go down?
Quite well, actually. Despite a nasty fall at the beginning of the ballet, 18-year-old Corti held her own next to castmates Sara Mearns and Unity Phelan—and didn't hold back during her solos and partnering sections. When she stepped forward to take her bow, the audience cheered wildly; her reaction was a mix of shock and utter joy. Still, we couldn't help but wonder what kind of pressure she must have been under.
NYCB has a history of giving young apprentices big breaks. Current corps members Miriam Miller (as Titania in Balanchine's A Midsummer Night's Dream) and Alston Macgill (in a featured role in Symphony in C) both had opportunities to shine during their apprentice years. So how does it feel to take on a big role so young? We talked to Corti to find out.

---
What has your life as an NYCB apprentice been like so far?
It's been a stressful year, of course, but the company is so encouraging. We have mentors, NYCB dancers who help us get used to company life and answer any questions we have. It's a new thing they've done for the past two or three years now, but it's so helpful.
You had first learned excerpts from Herman Schmerman while you were a student at the School of American Ballet. What was that like?

Last year, Forsythe stager Noah Gelber came to the school for a few days and taught us the same solo that I just performed. As soon as we left that class I remember telling my friend that Herman Schmerman was one of my bucket list ballets. I kept it in the back of my head.
How did you find out that you would be learning it with the company?
Noah came and watched company class with ballet master Rebecca Krohn. When we got the schedule, my name was on the list, along with dancers I had been looking up to since I was little! I texted my parents and they were so excited and scared for me. It was just a two-hour call to learn some excerpts, including that solo I had learned at SAB. Then they said they'd email us and let us know if we needed to keep coming to rehearsals. They kept whittling the dancers down into smaller and smaller groups until there were about three or four working casts.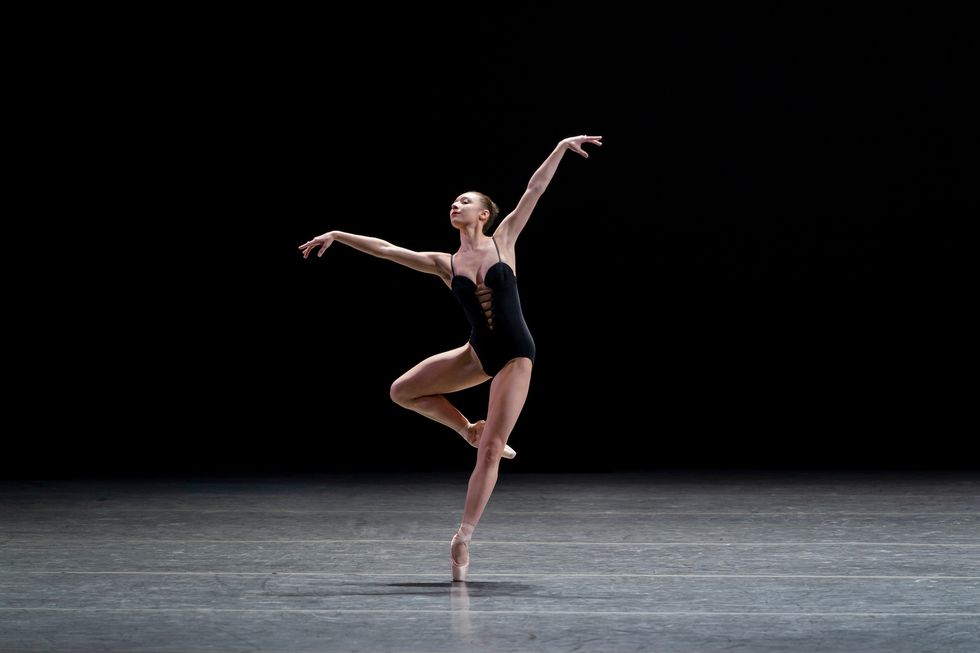 Paul Kolnik, Courtesy NYCB.
As an apprentice, I'm sure that was nerve wracking. Did it help that you were familiar with the choreography?
I was in the room with principal dancers and felt very out of place, so knowing the steps beforehand helped me feel a little more comfortable. Right before that first rehearsal one of my mentors, corps member Kristen Segin, grabbed me and said, "You belong here. Do not feel like you are not supposed to be in this rehearsal—you deserve this." That really helped me relax.
When did you learn that you would be performing the ballet, and in the first cast?
I found out the Thursday before the first show. I was shocked! I had been staying in the back of the studio, just trying to rehearse as full out as possible and learn as much as I could from the company members. It had been a whirlwind of a season, and a few dancers started to feel some small injuries coming on. They wanted to save their bodies so they wouldn't be out the entire season, which is how I got to perform it. I was definitely a little nervous, but also really excited to dance alongside my idols.
Did your fellow cast members make you feel welcome?

They really did! They were so kind and encouraging. If I was having trouble with a step they would try to help me find the best way to do it.
What was it like to work with William Forsythe?

He came in the last two weeks and re-choreographed the opening section. It was amazing to see his choreographic process. He was so kind and really wanted us to have fun with the ballet. I had been really focused on hitting all the steps and making sure it was perfect, and he wanted me to relax and let go of all of that. He really helped me find what kind of dancer I want to be.
What was going through your mind on opening night?
Right before the performance there was so much nervous energy and excitement backstage. When the curtain came up, it was silent for a second, and everything felt super calm. Then once the music started it felt, not comfortable, but like it was the right place to be. And then I fell. But it was actually a great way of letting go of some of those nerves. I thought, it can't get worse, so I might as well throw it all out there and enjoy it. I was dancing next to Sara and Unity, these powerhouse dancers who command attention. I was trying to bring myself up to their level, which is so impossible but it was an amazing challenge!
The other apprentices and corps members were backstage encouraging me. I could see them smiling in the wings and cheering me on, and they'd high five me whenever I came offstage. It gave me the energy to keep going.
How did you grow from the experience?

In school you're so focused on your technique and trying to make everything perfect. Once you come here, it's more about finding what type of a dancer you are. By having the opportunity to dance what feels natural to me, I found my weaknesses but I also found my strengths. It also made me realize that there's a lot more work to be done—you look around and see that every single person in the company is working on becoming better, so it kind of reminds you that even though you think you've made it, there's so much more work to do.
What advice would you give someone about to start an apprenticeship?

Hard work pays off. Even if you see other people taking it easy, it doesn't always mean that you can, especially as an apprentice. You're being tested, so it's your time to work hard and show that you deserve to be there. But you also need to take care of your body and your mind, and take moments to appreciate the accomplishments you've made, however big or small. They all add up and help you enjoy the hard stuff.
Rachel Papo
In the middle of one of New York City Center's cavernous studios, Misty Copeland takes a measured step backwards. The suggestion of a swan arm ripples before she turns downstage, chest and shoulders unfurling as her legs stretch into an open lunge. She piqués onto pointe, arms echoing the sinuous curve of her back attitude, then walks out of it, pausing to warily look over her shoulder. As the droning of Ryuichi Sakamoto and Alva Noto's mysterious "Attack/Transition" grows more insistent, her feet start to fly with a rapidity that seems to almost startle her.
And then she stops mid-phrase. Copeland's hands fall to her hips as she apologizes. Choreographer Kyle Abraham slides to the sound system to pause the music, giving Copeland a moment to remind herself of a recent change to the sequence.
"It's different when the sound's on!" he reassures her. "And it's a lot of changes."
The day before was the first time Abraham had seen Copeland dance the solo in its entirety, and the first moment they were in the studio together in a month. This is their last rehearsal, save for tech, before the premiere of Ash exactly one week later, as part of the opening night of City Center's Fall for Dance festival.
Keep reading...
Show less
Ailey II artistic director Troy Powell teaching an Ailey Workshop at NYCDA. Courtesy NYCDA
Back in 2011 when Joe Lanteri first approached Katie Langan, chair of Marymount Manhattan College's dance department, about getting involved with New York City Dance Alliance, she was skeptical about the convention/competition world.
"But I was pleasantly surprised by the enormity of talent that was there," she says. "His goal was to start scholarship opportunities, and I said okay, I'm in."
Today, it's fair to say that Lanteri has far surpassed his goal of creating scholarship opportunities. But NYCDA has done so much more, bridging the gap between the convention world and the professional world by forging a wealth of partnerships with dance institutions from Marymount to The Ailey School to Complexions Contemporary Ballet and many more. There's a reason these companies and schools—some of whom otherwise may not see themselves as aligned with the convention/competition world—keep deepening their relationships with NYCDA.
Now, college scholarships are just one of many ways NYCDA has gone beyond the typical weekend-long convention experience and created life-changing opportunities for students. We rounded up some of the most notable ones:
Keep reading...
Show less
Getty Images
Dancers are understandably obsessed with food. In both an aesthetic and athletic profession, you know you're judged on your body shape, but you need proper fuel to perform your best. Meanwhile, you're inundated with questionable diet advice.
"My 'favorite' was the ABC diet," says registered dietitian nutritionist Kristin Koskinen, who trained in dance seriously but was convinced her body type wouldn't allow her to pursue it professionally. "On the first day you eat only foods starting with the letter A, on the second day only B, and so on."
Keep reading...
Show less
Left: Hurricane Harvey damage in Houston Ballet's Dance Lab; Courtesy Harlequin. Right: The Dance Lab pre-Harvey; Nic Lehoux, Courtesy Houston Ballet.
"The show must go on" may be a platitude we use to get through everything from costume malfunctions to stormy moods. But when it came to overcoming a literal hurricane, Houston Ballet was buoyed by this mantra to go from devastated to dancing in a matter of weeks—with the help of Harlequin Floors, Houston Ballet's longstanding partner who sprang into action to build new floors in record time.
Keep reading...
Show less