What Makes David Hallberg and Natalia Osipova So Magical Together?
Hallberg describes dancing with Osipova as "a bit like an addiction." Photo by Stephanie Berger, courtesy Sadler's Wells
On the surface, intercontinental ballet stars David Hallberg and Natalia Osipova would seem to make unlikely partners. He's an American paragon of elegant princeliness; she's an explosive Russian powerhouse who seems to mock the laws of gravity.
But since they first danced together in 2009, they've moved audiences to tears as Romeo and Juliet, and sent chills through spines as Giselle and Albrecht. Whether at American Ballet Theatre, The Royal or the Bolshoi, each time they're together they bring out new depths in each other's artistry.
---
"It's a bit like an addiction: Whenever I get a hit of dancing with her, I want more," admits Hallberg. "She has such a powerful, driving engine, to keep up with the machine inside her, she makes me live in the moment. How she moves through space, the expansiveness of her physicality, I feed off of her intuition."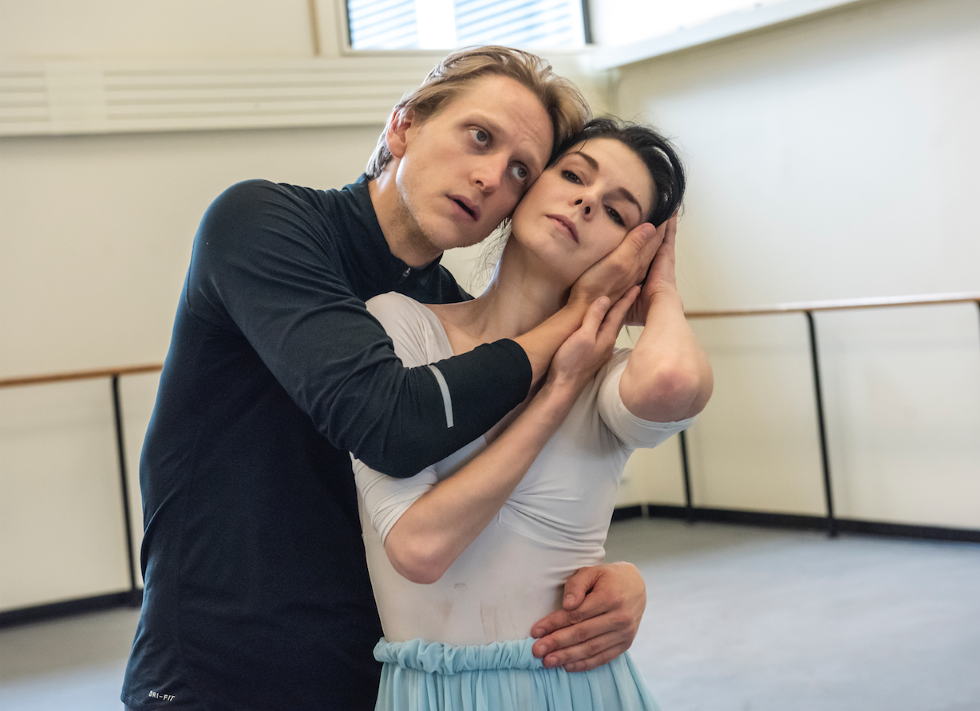 The dancers used to be only able to communicate with each other through movement. Photo by Stephanie Berger, courtesy Sadler's Wells
Yet until this season, no choreographer had ever created a new work on the pair. Enter Alexei Ratmansky. Arguably today's preeminent ballet choreographer, he not only has a reputation for bringing out the best in his muses, but he also has deep experience with both dancers. Hallberg originated a role in Ratmansky's first work for ABT (On the Dnieper) a decade ago and has worked with him several times since; Osipova was given her first major opportunities at the Bolshoi when Ratmansky was its ballet director and later originated the title character in his Firebird.
The trio had three weeks together in the studio last summer to create a seven-minute duet, Valse Triste. It's the centerpiece of an evening called Natalia Osipova's Pure Dance with David Hallberg, a Sadler's Wells co-production with New York City Center.
Although the work has no overt narrative, the dancers saw their personal relationship reflected in the characters: She at times runs across the stage tumultuously, while Hallberg provides a calming, comforting presence. "That's kind of our partnership and friendship in a nutshell," says Hallberg, with a laugh.
After debuting at Sadler's Wells last September, Valse Triste has its U.S. premiere at New York City Center April 3–6. The program also includes Hallberg and Osipova together in Antony Tudor's The Leaves Are Fading. Jason Kittelberger joins Osipova in Roy Assaf's Six Years Later, and Jonathan Goddard partners her in Flutter, a premiere by Iván Pérez.
When the pair first started working together a decade ago, Osipova spoke no English, and Hallberg spoke no Russian. But that inability to communicate through speech had a sublime effect: The dancers became hyperaware of how everything felt, relying solely on the energy between them to connect. And it electrified the air around them.
While their performances remain as thrilling as ever, Hallberg has picked up some Russian from his time with the Bolshoi and Osipova has gained a solid grasp of English while living in London. Where they used to go their separate ways after rehearsal, they're now dear friends. Dinner together can last for hours, then turn into a stroll that leads to a cup of coffee, more talking and walking, then maybe a glass of wine.
"What typically happens are these epic sort of evenings," says Hallberg. "Before you know it, seven hours have gone by."
Courtesy Boneau/Bryan-Brown
If "Fosse/Verdon" whet your appetite for the impeccable Gwen Verdon, then Merely Marvelous: The Dancing Genius of Gwen Verdon is the three-course meal you've been craving. The new documentary—available now on Amazon for rental or purchase—dives into the life of the Tony-winning performer and silver-screen star lauded for her charismatic dancing.

Though she's perhaps most well-known today as Bob Fosse's wife and muse, that's not even half of her story. For starters, she'd already won four Tonys before they wed, making her far more famous in the public eye than he was at that point in his career. That's just one of many surprising details we learned during last night's U.S. premiere of Merely Marvelous. Believe us: You're gonna love her even more once you get to know her. Here are eight lesser-known tidbits to get you started.
Keep reading...
Show less
Lindsay Thomas
Every dancer knows that how you fuel your body affects how you feel in the studio. Of course, while breakfast is no more magical than any other meal (despite the enduring myth that it's the most important one of the day), showing up to class hangry is a recipe for unproductive studio time.
So what do your favorite dancers eat in the morning to set themselves up for a busy rehearsal or performance day?
Keep reading...
Show less
News
Sep. 20, 2019 09:17AM EST
Simon Soong, Courtesy DDT
When it comes to dance in the U.S., companies in the South often find themselves overlooked—sometimes even by the presenters in their own backyard. That's where South Arts comes in. This year, the regional nonprofit launched Momentum, an initiative that will provide professional development, mentorship, touring grants and residencies to five Southern dance companies.
Keep reading...
Show less
News
Sep. 19, 2019 12:46PM EST
Alice Pennefather, Courtesy ROH
You ever just wish that Kenneth MacMillan's iconic production of Romeo and Juliet could have a beautiful love child with the 1968 film starring Olivia Hussey? (No, not Baz Luhrmann's version. We are purists here.)
Wish granted: Today, the trailer for a new film called Romeo and Juliet: Beyond Words was released, featuring MacMillan's choreography and with what looks like all the cinematic glamour we could ever dream of:
Keep reading...
Show less