What Makes David Hallberg and Natalia Osipova So Magical Together?
Hallberg describes dancing with Osipova as "a bit like an addiction." Photo by Stephanie Berger, courtesy Sadler's Wells
On the surface, intercontinental ballet stars David Hallberg and Natalia Osipova would seem to make unlikely partners. He's an American paragon of elegant princeliness; she's an explosive Russian powerhouse who seems to mock the laws of gravity.
But since they first danced together in 2009, they've moved audiences to tears as Romeo and Juliet, and sent chills through spines as Giselle and Albrecht. Whether at American Ballet Theatre, The Royal or the Bolshoi, each time they're together they bring out new depths in each other's artistry.
---
"It's a bit like an addiction: Whenever I get a hit of dancing with her, I want more," admits Hallberg. "She has such a powerful, driving engine, to keep up with the machine inside her, she makes me live in the moment. How she moves through space, the expansiveness of her physicality, I feed off of her intuition."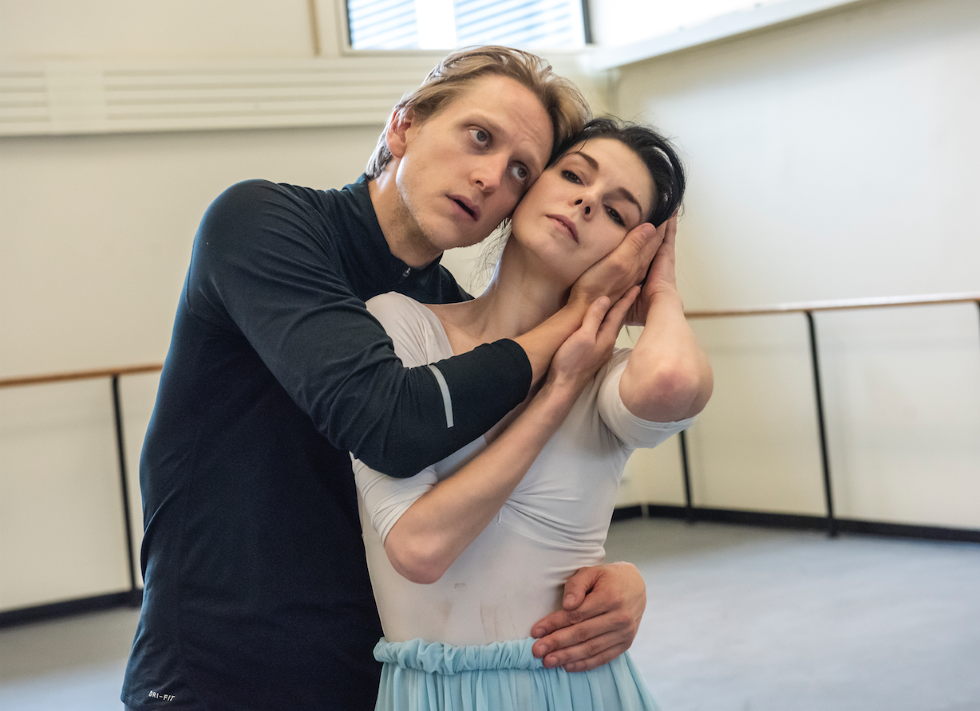 The dancers used to be only able to communicate with each other through movement. Photo by Stephanie Berger, courtesy Sadler's Wells
Yet until this season, no choreographer had ever created a new work on the pair. Enter Alexei Ratmansky. Arguably today's preeminent ballet choreographer, he not only has a reputation for bringing out the best in his muses, but he also has deep experience with both dancers. Hallberg originated a role in Ratmansky's first work for ABT (On the Dnieper) a decade ago and has worked with him several times since; Osipova was given her first major opportunities at the Bolshoi when Ratmansky was its ballet director and later originated the title character in his Firebird.
The trio had three weeks together in the studio last summer to create a seven-minute duet, Valse Triste. It's the centerpiece of an evening called Natalia Osipova's Pure Dance with David Hallberg, a Sadler's Wells co-production with New York City Center.
Although the work has no overt narrative, the dancers saw their personal relationship reflected in the characters: She at times runs across the stage tumultuously, while Hallberg provides a calming, comforting presence. "That's kind of our partnership and friendship in a nutshell," says Hallberg, with a laugh.
After debuting at Sadler's Wells last September, Valse Triste has its U.S. premiere at New York City Center April 3–6. The program also includes Hallberg and Osipova together in Antony Tudor's The Leaves Are Fading. Jason Kittelberger joins Osipova in Roy Assaf's Six Years Later, and Jonathan Goddard partners her in Flutter, a premiere by Iván Pérez.
When the pair first started working together a decade ago, Osipova spoke no English, and Hallberg spoke no Russian. But that inability to communicate through speech had a sublime effect: The dancers became hyperaware of how everything felt, relying solely on the energy between them to connect. And it electrified the air around them.
While their performances remain as thrilling as ever, Hallberg has picked up some Russian from his time with the Bolshoi and Osipova has gained a solid grasp of English while living in London. Where they used to go their separate ways after rehearsal, they're now dear friends. Dinner together can last for hours, then turn into a stroll that leads to a cup of coffee, more talking and walking, then maybe a glass of wine.
"What typically happens are these epic sort of evenings," says Hallberg. "Before you know it, seven hours have gone by."
Just for Fun
Jul. 16, 2019 02:13PM EST
As Dance Magazine editors, we admittedly spend more time than we'd like sifting through stock photography. Some of it is good, more of it is bad and most of it is just plain awkward.
But when paired with the right caption, those shots magically transform from head-scratchers to meme-worthy images that illustrate our singular experience as dancers. You can thank the internet for this special salute to dancer moods.
Keep reading...
Show less
Wayne McGregor. Photo by Johan Persson, Courtesy ROH
It's no surprise that dancers make some of the best TED Talk presenters. Not only are they great performers, but they've got unique knowledge to share. And they can dance!
If you're in need of a midweek boost, look no further than these eight presentations from some incredibly inspiring dance artists.
Keep reading...
Show less
News
Jul. 16, 2019 03:58PM EST
Including this extraordinary Travis Wall number for "So You Think You Can Dance" (Adam Rose/FOX)
The Primetime Emmy Award nominations are out! Congrats to the seven choreographers who earned nods for their exceptional TV work this year. Notably, that work was made for just two shows, "So You Think You Can Dance" and "World of Dance."
And there was a particularly remarkable snub: While the dance-filled hit "Fosse/Verdon" earned 17 nominations across many of the major categories, Andy Blankenbuehler's fabulous Fosse remixes weren't recognized in the Outstanding Choreography field.
Here are all the dance routines up for Emmys:
Keep reading...
Show less

abezikus/Getty Images
"Dancers can do everything these days," I announced to whoever was in earshot at the Jacob's Pillow Archives during a recent summer. I had just been dazzled by footage of a ballet dancer performing hip hop, remarkably well. But my very next thought was, What if that isn't always a good thing? What if what one can't do is the very thing that lends character?
Keep reading...
Show less