What Makes David Hallberg and Natalia Osipova So Magical Together?
Hallberg describes dancing with Osipova as "a bit like an addiction." Photo by Stephanie Berger, courtesy Sadler's Wells
On the surface, intercontinental ballet stars David Hallberg and Natalia Osipova would seem to make unlikely partners. He's an American paragon of elegant princeliness; she's an explosive Russian powerhouse who seems to mock the laws of gravity.
But since they first danced together in 2009, they've moved audiences to tears as Romeo and Juliet, and sent chills through spines as Giselle and Albrecht. Whether at American Ballet Theatre, The Royal or the Bolshoi, each time they're together they bring out new depths in each other's artistry.
---
"It's a bit like an addiction: Whenever I get a hit of dancing with her, I want more," admits Hallberg. "She has such a powerful, driving engine, to keep up with the machine inside her, she makes me live in the moment. How she moves through space, the expansiveness of her physicality, I feed off of her intuition."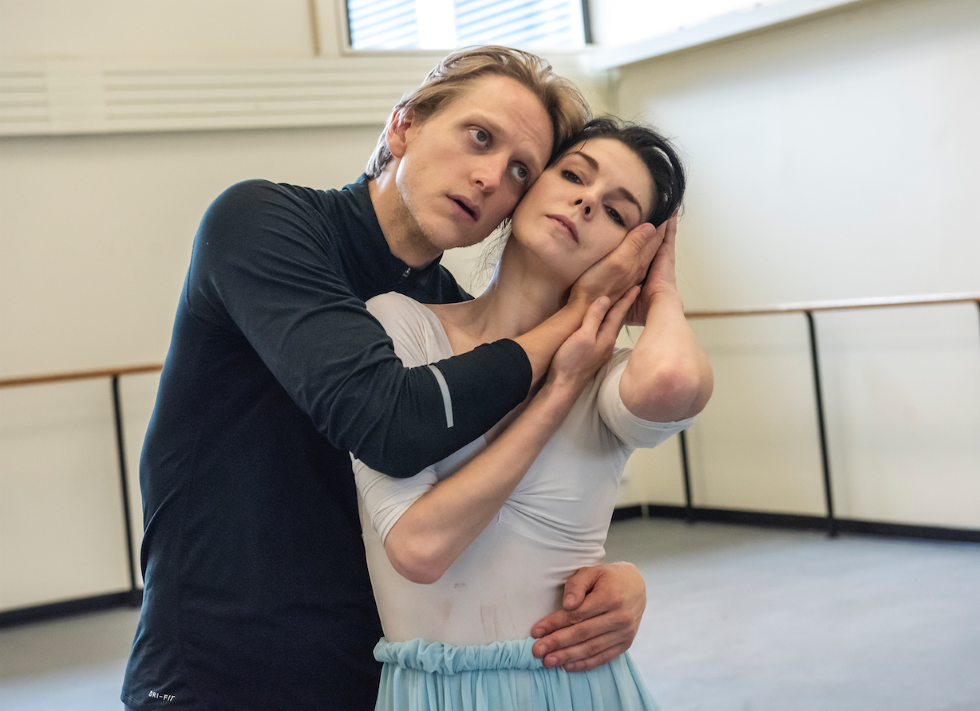 The dancers used to be only able to communicate with each other through movement. Photo by Stephanie Berger, courtesy Sadler's Wells
Yet until this season, no choreographer had ever created a new work on the pair. Enter Alexei Ratmansky. Arguably today's preeminent ballet choreographer, he not only has a reputation for bringing out the best in his muses, but he also has deep experience with both dancers. Hallberg originated a role in Ratmansky's first work for ABT (On the Dnieper) a decade ago and has worked with him several times since; Osipova was given her first major opportunities at the Bolshoi when Ratmansky was its ballet director and later originated the title character in his Firebird.
The trio had three weeks together in the studio last summer to create a seven-minute duet, Valse Triste. It's the centerpiece of an evening called Natalia Osipova's Pure Dance with David Hallberg, a Sadler's Wells co-production with New York City Center.
Although the work has no overt narrative, the dancers saw their personal relationship reflected in the characters: She at times runs across the stage tumultuously, while Hallberg provides a calming, comforting presence. "That's kind of our partnership and friendship in a nutshell," says Hallberg, with a laugh.
After debuting at Sadler's Wells last September, Valse Triste has its U.S. premiere at New York City Center April 3–6. The program also includes Hallberg and Osipova together in Antony Tudor's The Leaves Are Fading. Jason Kittelberger joins Osipova in Roy Assaf's Six Years Later, and Jonathan Goddard partners her in Flutter, a premiere by Iván Pérez.
When the pair first started working together a decade ago, Osipova spoke no English, and Hallberg spoke no Russian. But that inability to communicate through speech had a sublime effect: The dancers became hyperaware of how everything felt, relying solely on the energy between them to connect. And it electrified the air around them.
While their performances remain as thrilling as ever, Hallberg has picked up some Russian from his time with the Bolshoi and Osipova has gained a solid grasp of English while living in London. Where they used to go their separate ways after rehearsal, they're now dear friends. Dinner together can last for hours, then turn into a stroll that leads to a cup of coffee, more talking and walking, then maybe a glass of wine.
"What typically happens are these epic sort of evenings," says Hallberg. "Before you know it, seven hours have gone by."
Via @lizzo on Twitter
On August 20, pop goddess Lizzo tweeted, "Someone do a ballet routine to truth hurts pls," referring to the anthem that's been top on everyone's playlists this summer. Lizzo might not know it yet, but ballet dancers are not known for shying away from a challenge. In the past two days, the internet has exploded which responses, with dancers like Houston Ballet's Harper Watters and American Ballet Theatre's Erica Lall tagging the singer in submissions.
Below are a few of our favorites so far, but we're guessing that this is just the beginning. Ballet world, consider yourselves officially challenged! (Use #LizzoBalletChallenge so we know what you're up to.)
Keep reading...
Show less
UA Dance Ensemble members Candice Barth and Gregory Taylor in Jessica Lang's "Among the Stars." Photo by Ed Flores, courtesy University of Arizona
If you think becoming a trainee or apprentice is the only path to gaining experience in a dance company environment, think again.
The University of Arizona, located in the heart of Tucson, acclimates dancers to the pace and rigor of company life while offering all the academic opportunities of a globally-ranked university. If you're looking to get a head-start on your professional dance career—or to just have a college experience that balances company-level training and repertory with rigorous academics—the University of Arizona's undergraduate and graduate programs have myriad opportunites to offer:
Keep reading...
Show less
Alice Sheppard/Kinetic Light in DESCENT, which our readers chose as last year's "Most Moving Performance." Photo by Jay Newman, courtesy Kinetic Light
Yes, we realize it's only August. But we can't help but to already be musing about all the incredible dance happenings of 2019.
We're getting ready for our annual Readers' Choice feature, and we want to hear from you about the shows you can't stop thinking about, the dance videos that blew your mind and the artists you discovered this year who everyone should know about.
Keep reading...
Show less
Kate Torline via Unsplash
New York City–based choreographer and director Jennifer Weber once worked on a project with a strict social media policy: " 'Hire no one with less than 10K, period'—and that was a few years ago," she says. "Ten thousand is a very small number now, especially on Instagram."
The commercial dance world is in a period of transition, where social media handles and follower counts are increasingly requested by casting directors, but rarely offered by dancers up front. "I can see it starting to show up on resumés, though, alongside a dancer's height and hair color," predicts Weber.
Keep reading...
Show less