What Makes David Hallberg and Natalia Osipova So Magical Together?
Hallberg describes dancing with Osipova as "a bit like an addiction." Photo by Stephanie Berger, courtesy Sadler's Wells
On the surface, intercontinental ballet stars David Hallberg and Natalia Osipova would seem to make unlikely partners. He's an American paragon of elegant princeliness; she's an explosive Russian powerhouse who seems to mock the laws of gravity.
But since they first danced together in 2009, they've moved audiences to tears as Romeo and Juliet, and sent chills through spines as Giselle and Albrecht. Whether at American Ballet Theatre, The Royal or the Bolshoi, each time they're together they bring out new depths in each other's artistry.
---
"It's a bit like an addiction: Whenever I get a hit of dancing with her, I want more," admits Hallberg. "She has such a powerful, driving engine, to keep up with the machine inside her, she makes me live in the moment. How she moves through space, the expansiveness of her physicality, I feed off of her intuition."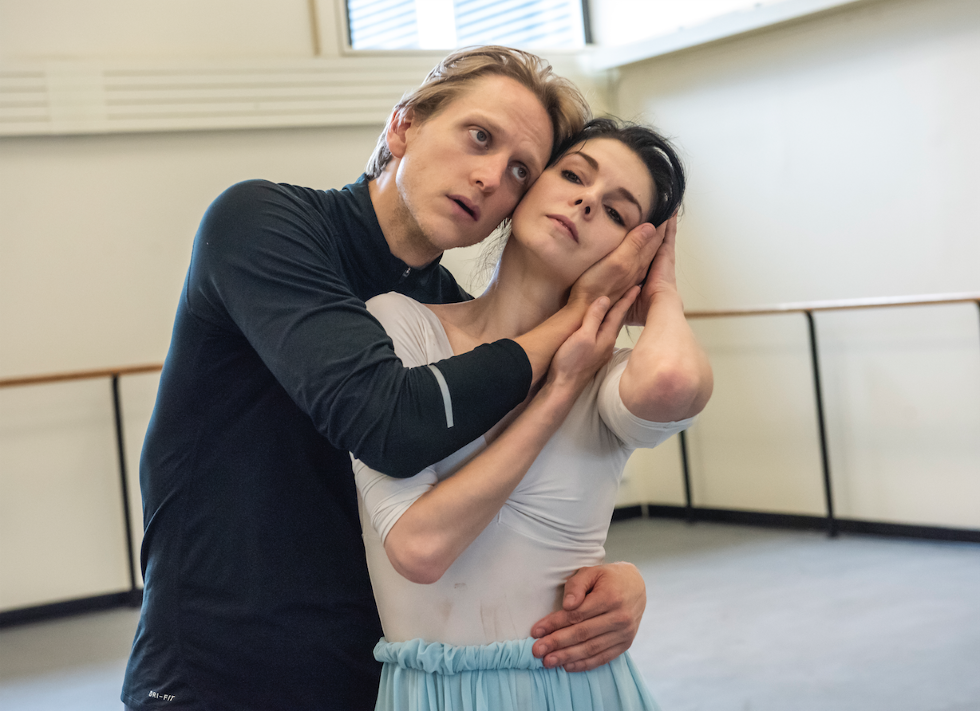 The dancers used to be only able to communicate with each other through movement. Photo by Stephanie Berger, courtesy Sadler's Wells
Yet until this season, no choreographer had ever created a new work on the pair. Enter Alexei Ratmansky. Arguably today's preeminent ballet choreographer, he not only has a reputation for bringing out the best in his muses, but he also has deep experience with both dancers. Hallberg originated a role in Ratmansky's first work for ABT (On the Dnieper) a decade ago and has worked with him several times since; Osipova was given her first major opportunities at the Bolshoi when Ratmansky was its ballet director and later originated the title character in his Firebird.
The trio had three weeks together in the studio last summer to create a seven-minute duet, Valse Triste. It's the centerpiece of an evening called Natalia Osipova's Pure Dance with David Hallberg, a Sadler's Wells co-production with New York City Center.
Although the work has no overt narrative, the dancers saw their personal relationship reflected in the characters: She at times runs across the stage tumultuously, while Hallberg provides a calming, comforting presence. "That's kind of our partnership and friendship in a nutshell," says Hallberg, with a laugh.
After debuting at Sadler's Wells last September, Valse Triste has its U.S. premiere at New York City Center April 3–6. The program also includes Hallberg and Osipova together in Antony Tudor's The Leaves Are Fading. Jason Kittelberger joins Osipova in Roy Assaf's Six Years Later, and Jonathan Goddard partners her in Flutter, a premiere by Iván Pérez.
When the pair first started working together a decade ago, Osipova spoke no English, and Hallberg spoke no Russian. But that inability to communicate through speech had a sublime effect: The dancers became hyperaware of how everything felt, relying solely on the energy between them to connect. And it electrified the air around them.
While their performances remain as thrilling as ever, Hallberg has picked up some Russian from his time with the Bolshoi and Osipova has gained a solid grasp of English while living in London. Where they used to go their separate ways after rehearsal, they're now dear friends. Dinner together can last for hours, then turn into a stroll that leads to a cup of coffee, more talking and walking, then maybe a glass of wine.
"What typically happens are these epic sort of evenings," says Hallberg. "Before you know it, seven hours have gone by."
The "Merde" bag. Courtesy Scenery
Jennifer Kahn knew the theater industry could do better. As a professional stage manager for 17 years she worked on regional, off-Broadway and Broadway shows. Nearly each time a show closed, something unsettling happened: "I would watch them throw away our shows. All of the beautiful artwork by my friends in the paint shop would go in the trash." The elaborate backdrops? Gone.

But she had an idea: What if the material used in the backdrops and legs could be upcycled into something new? And what if theater lovers could literally keep a piece of a beloved show?
Keep reading...
Show less
Left: Hurricane Harvey damage in Houston Ballet's Dance Lab; Courtesy Harlequin. Right: The Dance Lab pre-Harvey; Nic Lehoux, Courtesy Houston Ballet.
"The show must go on" may be a platitude we use to get through everything from costume malfunctions to stormy moods. But when it came to overcoming a literal hurricane, Houston Ballet was buoyed by this mantra to go from devastated to dancing in a matter of weeks—with the help of Harlequin Floors, Houston Ballet's longstanding partner who sprang into action to build new floors in record time.
Keep reading...
Show less
News
Oct. 18, 2019 11:54AM EST
Photo by Gabriel Davalos, Courtesy Valdés
For decades the name Alicia Alonso has been virtually synonymous with Ballet Nacional de Cuba, the company she co-founded in Havana in 1948. Alonso died on October 17, just shy of what would have been her 99th birthday. In recent years, she had stepped back from day-to-day decision-making in the company. As if preparing for the future, in January, the company's leading ballerina, 42-year-old Viengsay Valdés, was named deputy director, a job that seems to encompass most of the responsibilities of a traditional director. Now, presumably, she will step into her new role as director of the company. Her debut as curator of the repertory comes in November, when the troupe will perform three mixed bills selected by her at the Gran Teatro de la Habana Alicia Alonso. The following has been translated from a conversation conducted in Spanish, Valdés' native tongue.
Keep reading...
Show less
Sara Mearns in the gym. Photo by Kyle Froman.
New York City Ballet principal Sara Mearns wasn't sure she was strong enough. A ballerina who has danced many demanding full-length and contemporary roles, she was about to push herself physically more than she thought was possible.
"I said, 'I can't. My body won't,' " she says. "He told me, 'Yes, it will.' "
She wasn't working with a ballet coach, but with personal trainer Joel Prouty, who was asking her to do squats with a heavier barbell than she'd ever used.
Keep reading...
Show less