How This San Francisco Ballet Dancer Became An Instagram Foodie Star
Natasha Sheehan is a perfectionist when it comes to her technique or getting the ideal shot of her food. Photo by Quinn Wharton
"Whatever I'm into, whether it's ballet or healthy food," says Natasha Sheehan, "I'll research anything and everything about it."
That curiosity has led the San Francisco Ballet corps member, 19, to develop a sideline as an Instagram foodie star and food blogger. Sheehan shares recipes and photos of her beautifully styled meals, along with behind-the-scenes ballet insights, with her more than 44,000 followers.
---
"For food photography, natural light is best," says Sheehan. Styling a dish and setting up the shot can sometimes take a very long time, she admits. "As a ballet dancer, being a perfectionist, I try to make the food look as perfect as possible."
A devotee of Dr. Mark Hyman's pegan diet, which combines elements of paleo and vegan plans, she focuses on whole, unprocessed ingredients like organic fruits and vegetables, healthy fats, and high-quality proteins like chicken and fish. "I've found that eating food in its natural state makes me feel my best, so I've stuck with that," says Sheehan, who hopes to become a nutritionist after her dance career.
She shared one of her favorite recipes with Dance Magazine:
Vegan Spinach Walnut Pesto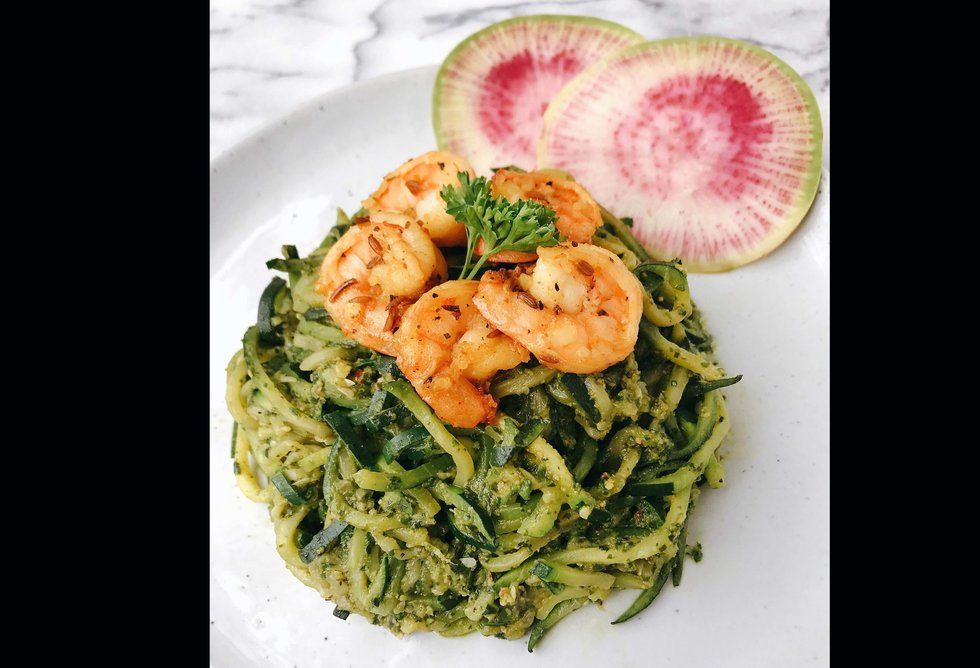 Sheehan loves making this pesto to put on zoodles (zucchini "noodles"), salads or roasted vegetables, or to dip raw vegetables in to snack on.
Ingredients:
1/2 cup walnuts
4 cups fresh basil
2 cups spinach
1/3 cup apple cider vinaigrette (olive oil, lemon juice, apple cider vinegar, garlic, Himalayan pink salt)
zest from 1/2 lemon
salt and black pepper to taste
Instructions:
Add all ingredients to a food processor and process until smooth.
Add lemon juice, salt and pepper to taste. If you prefer your pesto to be more thinned out, add either extra olive oil, lemon juice or water.
For more on Sheehan's daily diet, how she solved her recurring digestive issues and her homemade energy ball recipe, pick up a copy of Dance Magazine's August issue.
From Your Site Articles
Related Articles Around the Web
Sara Mearns in the gym. Photo by Kyle Froman.
New York City Ballet principal Sara Mearns wasn't sure she was strong enough. A ballerina who has danced many demanding full-length and contemporary roles, she was about to push herself physically more than she thought was possible.
"I said, 'I can't. My body won't,' " she says. "He told me, 'Yes, it will.' "
She wasn't working with a ballet coach, but with personal trainer Joel Prouty, who was asking her to do squats with a heavier barbell than she'd ever used.
Keep reading...
Show less
Left: Hurricane Harvey damage in Houston Ballet's Dance Lab; Courtesy Harlequin. Right: The Dance Lab pre-Harvey; Nic Lehoux, Courtesy Houston Ballet.
"The show must go on" may be a platitude we use to get through everything from costume malfunctions to stormy moods. But when it came to overcoming a literal hurricane, Houston Ballet was buoyed by this mantra to go from devastated to dancing in a matter of weeks—with the help of Harlequin Floors, Houston Ballet's longstanding partner who sprang into action to build new floors in record time.
Keep reading...
Show less
Alicia Alonso with Igor Youskevitch. Sedge Leblang, Courtesy Dance Magazine Archives.
Her Dying Swan was as fragile as her Juliet was rebellious; her Odile, scheming, her Swanilda, insouciant. Her Belle was joyous, and her Carmen, both brooding and full-blooded. But there was one role in particular that prompted dance critic Arnold Haskell to ask, "How do you interpret Giselle when you are Giselle?"
At eight, Alicia Alonso took her first ballet class on a stage in her native Cuba, wearing street clothes. Fifteen years later, put in for an ailing Alicia Markova in a performance of Giselle with Ballet Theatre, she staked her claim to that title role.
Alonso received recognition throughout the world for her flawless technique and her ability to become one with the characters she danced, even after she became nearly blind. After a career in New York, she and her then husband Fernando Alonso established the Cuban National Ballet and the Cuban National Ballet School, both of which grew into major international dance powerhouses and beloved institutions in their home country. On October 17, the company announced that, after leading the company for a remarkable 71 years, Alonso died from cardiovascular disease at the age of 98.
Keep reading...
Show less
News
Oct. 17, 2019 02:02PM EST
Rauf "RubberlLegz" Yasit and Parvaneh Scharafali. Photo by Mohamed Sadek, courtesy The Shed
William Forsythe is bringing his multi-faceted genius to New York City in stripped down form. His "Quiet Evening of Dance," a mix of new and recycled work now at The Shed until October 25, is co-commissioned with Sadler's Wells in London (and a slew of European presenters).
As always, Forsythe's choreography is a layered experience, both kinetic and intellectual. This North American premiere prompted many thoughts, which I whittled down to seven.
Keep reading...
Show less