How This San Francisco Ballet Dancer Became An Instagram Foodie Star
Natasha Sheehan is a perfectionist when it comes to her technique or getting the ideal shot of her food. Photo by Quinn Wharton
"Whatever I'm into, whether it's ballet or healthy food," says Natasha Sheehan, "I'll research anything and everything about it."
That curiosity has led the San Francisco Ballet corps member, 19, to develop a sideline as an Instagram foodie star and food blogger. Sheehan shares recipes and photos of her beautifully styled meals, along with behind-the-scenes ballet insights, with her more than 44,000 followers.
---
"For food photography, natural light is best," says Sheehan. Styling a dish and setting up the shot can sometimes take a very long time, she admits. "As a ballet dancer, being a perfectionist, I try to make the food look as perfect as possible."
A devotee of Dr. Mark Hyman's pegan diet, which combines elements of paleo and vegan plans, she focuses on whole, unprocessed ingredients like organic fruits and vegetables, healthy fats, and high-quality proteins like chicken and fish. "I've found that eating food in its natural state makes me feel my best, so I've stuck with that," says Sheehan, who hopes to become a nutritionist after her dance career.
She shared one of her favorite recipes with Dance Magazine:
Vegan Spinach Walnut Pesto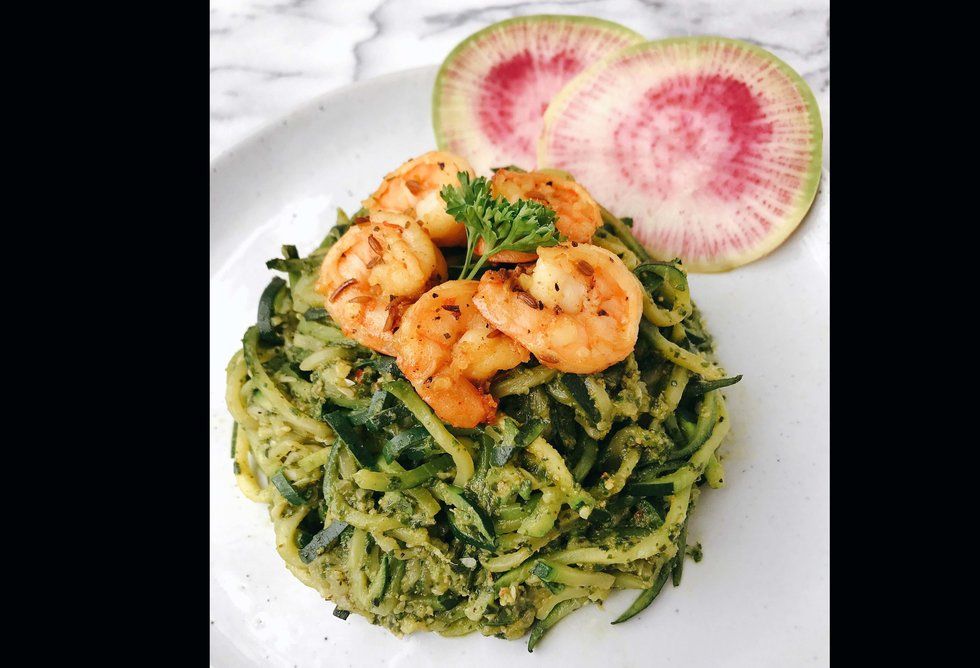 Sheehan loves making this pesto to put on zoodles (zucchini "noodles"), salads or roasted vegetables, or to dip raw vegetables in to snack on.
Ingredients:
1/2 cup walnuts
4 cups fresh basil
2 cups spinach
1/3 cup apple cider vinaigrette (olive oil, lemon juice, apple cider vinegar, garlic, Himalayan pink salt)
zest from 1/2 lemon
salt and black pepper to taste
Instructions:
Add all ingredients to a food processor and process until smooth.
Add lemon juice, salt and pepper to taste. If you prefer your pesto to be more thinned out, add either extra olive oil, lemon juice or water.
For more on Sheehan's daily diet, how she solved her recurring digestive issues and her homemade energy ball recipe, pick up a copy of Dance Magazine's August issue.
From Your Site Articles
Related Articles Around the Web
A flyer showing Alberto Alonso, Fernando Alonso, Benjamin Steinberg and Alicia Alonso. Photo courtesy the author
Alicia has died. I walked around my apartment feeling her spirit, but knowing something had changed utterly.
My father, the late conductor Benjamin Steinberg, was the first music director of the Ballet de Cuba, as it was called then. I grew up in Vedado on la Calle 1ra y doce in a building called Vista al Mar. My family lived there from 1959 to 1963. My days were filled with watching Alicia teach class, rehearse and dance. She was everything: hilarious, serious, dramatic, passionate and elegiac. You lost yourself and found yourself when you loved her.
Keep reading...
Show less
Left: Hurricane Harvey damage in Houston Ballet's Dance Lab; Courtesy Harlequin. Right: The Dance Lab pre-Harvey; Nic Lehoux, Courtesy Houston Ballet.
"The show must go on" may be a platitude we use to get through everything from costume malfunctions to stormy moods. But when it came to overcoming a literal hurricane, Houston Ballet was buoyed by this mantra to go from devastated to dancing in a matter of weeks—with the help of Harlequin Floors, Houston Ballet's longstanding partner who sprang into action to build new floors in record time.
Keep reading...
Show less
Hansuke Yamamoto in Helgi Tomasson's Nutcracker at San Francisco Ballet, which features an exciting and respectful Chinese divertissement. Photo by Erik Tomasson, Courtesy SFB
It's Nutcracker time again: the season of sweet delights and a sparkling good time—if we're able to ignore the sour taste left behind by the outdated racial stereotypes so often portrayed in the second act.
In 2017, as a result of a growing list of letters from audience members, to New York City Ballet's ballet master in chief Peter Martins reached out to us asking for assistance on how to modify the elements of Chinese caricature in George Balanchine's The Nutcracker. Following that conversation, we founded the Final Bow for Yellowface pledge that states, "I love ballet as an art form, and acknowledge that to achieve a diversity amongst our artists, audiences, donors, students, volunteers, and staff, I am committed to eliminating outdated and offensive stereotypes of Asians (Yellowface) on our stages."
Keep reading...
Show less
Allegra Bautista in Nevertheless, by ka·nei·see | collective. Photo by Robbie Sweeny
An audience member once emailed Dallas choreographer Joshua L. Peugh, claiming his work was vulgar. It complained that he shouldn't be pushing his agenda. As the artistic director of Dark Circles Contemporary Dance, Peugh's recent choreography largely deals with LGBTQ issues.
"I got angry when I saw that email, wrote my angry response, deleted it, and then went back and explained to him that that's exactly why I should be making those works," says Peugh.
With the current political climate as polarized as it is, many artists today feel compelled to use their work to speak out on issues they care deeply about. But touring with a message is not for the faint of heart. From considerations about how to market the work to concerns about safety, touring to cities where, in general, that message may not be so welcome, requires companies to figure out how they'll respond to opposition.
Keep reading...
Show less