What It's Like Inside NYCB Right Now
"There is a palpable sense of hope for the future." Photo by Devin Alberda via
Instagram
New York City Ballet continues its first year without Peter Martins at the helm as our spring season opens tonight.
When he retired at the start of the new year, we plunged headfirst into unknown, murky waters. Who would the new director be? When would we know? Would we dancers get some say in the decision? Who would oversee the Balanchine ballets? Who would be in charge of casting? Would a new director bring along huge upheaval? Could some of us be out of a job?
---
The dancers currently have little information about the search process and plans to move forward. But Mr. Martins' absence has certainly been felt around the theater.
I've noticed it the most during dress rehearsals, particularly for Balanchine ballets. Although he rarely attended daily rehearsals, he always supervised the final rehearsals before the ballets went before the audience. Frequently, he had a nugget of wisdom to share, often from the mouth of Balanchine himself, to help us fix a tricky partnering maneuver, or a difficult sequence of turns.
Without this guidance, it feels as if we have lost a connection to our past. Although it is inevitable that the company's ballet masters and leaders will eventually become people who never danced for Balanchine, will his particular nuances slowly be forgotten and lost?
For me, as the news has sunk in, it was initially difficult to fathom that the man responsible for the trajectory of my career, my life for the last 18 years, could be replaced. I have never not been a ballet dancer, and I have only worked for him.

After training for 10 years in rural Pennsylvania, and climbing the tiers at the ultra-competitive School of American Ballet, Mr. Martins himself handpicked me to join NYCB as an apprentice. Out of all the women in the corps de ballet, he selected me for featured roles when I was only 17, promoted me to soloist at 19, and again to principal dancer at 25, fulfilling a lifelong dream.
A new director coming in could change everything. What if she or he doesn't like my dancing? My career could end before I'm ready.
After a bit of time, however, I allowed myself to view the changes optimistically. A new director would not be clouded with memories of me as a young, inexperienced dancer. Under Mr. Martins, I knew what to expect in terms of casting and roles, but unfortunately, I was unsatisfied. I wanted to dance more roles—different roles—to grow in new ways.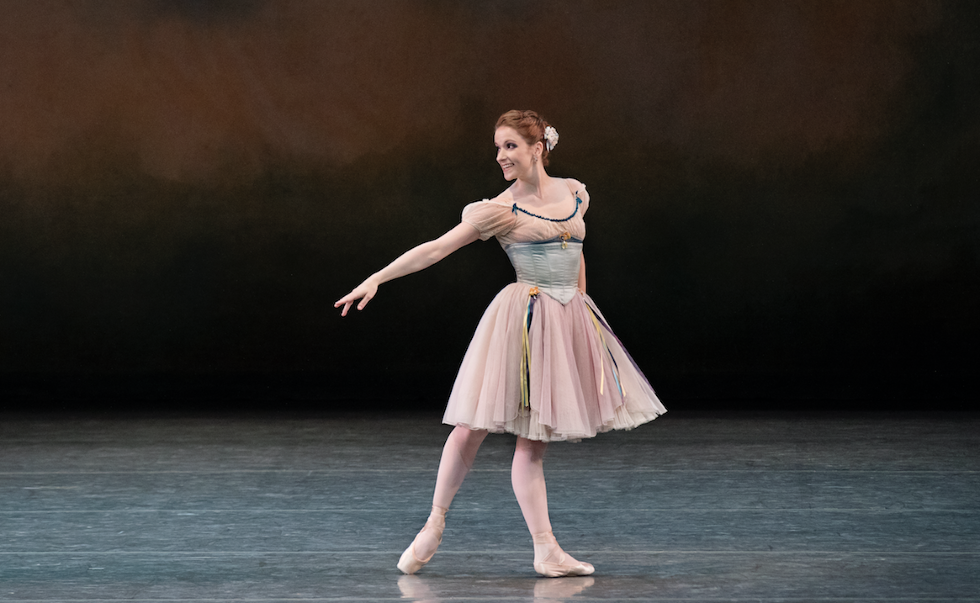 Abi Stafford in Flower Festival in Genzano from Bournonville Divertissements. Photo by Paul Kolnik
Ultimately, I am thankful for the life lessons that I learned to deal with my feelings during those years. I wasn't handed every role that I wanted, nor did I receive the validation from him that we all craved.
Instead, I had to learn to look inside myself for acceptance and approval. I had to reevaluate why I dance and who I dance for. I can continue to dance for myself and fulfill my own expectations regardless of who is in charge.
A new director offers the prospect of changes and growth within the management of the company. I would love to see us taking advantage of the wealth of resources at our fingertips. The amount of talent that has the graced the stage over the years at NYCB is incomparable. Some dancers worked with all three of NYCB's former directors—Balanchine, Robbins and Martins. Many had masterpieces created on them. Still more had signature roles in ballets that we frequently perform.
Given the opportunity, I'm sure that they would jump at the chance to help us to look our best. For instance, at the request of the dancers appearing in the lead roles of Le Baiser de le Fee, Patricia McBride rehearsed the ballet for the first time during the winter season. As the originator of the role, she was able to offer her first-hand knowledge about Balanchine's ideas and intentions. The dancers reveled in the experience. Recent retirements and, sadly, the passing of several ballet masters have brought an awareness to how these past generations won't always be there to coach the company.
A new director might also spread out roles more evenly. In addition to having happier dancers, I think this would help everyone would perform better. Those who previously carried heavy workloads wouldn't be dancing injured and exhausted. Dancers who were underutilized would feel more confident and in shape.
I'd love to see casting against type, too. Give us a chance. We may surprise you!

For now, I'd like to assure everyone simply that we are all right. Each of us at NYCB, in whatever position or title we hold, is continuing to do his or her job to the best of their ability. We are fulfilling our specific duties to sustain our brilliant and special organization.
The level of passion and dedication in each of us, from stage managers and stage hands, to musicians and wardrobe staff, remains the same. Although business continues as usual, there is a palpable sense of hope for the future. We are excited to help shape the next era at NYCB.
Rosalie O'Connor, Courtesy Mark Morris Dance Group
You know compelling musicality when you see it. But how do you cultivate it? It's not as elusive as it might seem. Musicality, like any facet of dance, can be developed and honed over time—with dedicated, detailed practice. At its most fundamental, it's "respect for the music, that this is your partner," says Kate Linsley, academy principal of the School of Nashville Ballet.
Keep reading...
Show less
Ross Parkes, right, teaching in Shanghai in 1983. Lan-Lan Wang is at left. Courtesy Lan-Lan Wang.
Notable dancer and beloved teacher, Ross Parkes, 79, passed away on August 5, 2019 in New York City. He was a founding faculty member at Taipei National University of the Arts in Taiwan, where he taught from 1984 to 2006. Lin Hwai-min, artistic director of Cloud Gate Dance Theater, said: "He nurtured two generations of dancers in Taiwan, and his legacy will continue."
About his dancing, Tonia Shimin, professor emerita at UC Santa Barbara and producer of Mary Anthony: A Life in Modern Dance, said this: "He was an exquisite, eloquent dancer who inhabited his roles completely."
Keep reading...
Show less
The USC Kaufman graduating class with Mikhail Baryshnikov. Gus Ruelas/USC
Just four years ago, the University of Southern California's Glorya Kaufman School of Dance welcomed its first class of BFA students. The program—which boasts world-class faculty and a revolutionary approach to training focused on collaboration and hybridity—immediately established itself as one of the country's most prestigious and most innovative.
Now, the first graduating class is entering the dance field. Here, six of the 33 graduates share what they're doing post-grad, what made their experience at USC Kaufman so meaningful and how it prepared them for their next steps:
Keep reading...
Show less
Lindsay Martell at a class performance. Courtesy Martell.
More than once, when I'm sporting my faded, well-loved ballet hoodie, some slight variation of this conversation ensues:
"Is your daughter the dancer?"
"Actually," I say, "I am."
"Wow!" they enthuse. "Who do you dance with? Or have you retired...?"
"I don't dance with a company. I'm not a professional. I just take classes."
Insert mic drop/record scratch/quizzical looks.
Keep reading...
Show less