Just for Fun
Jun. 12, 2018 04:55PM EST
Grab the Popcorn—The First Episode of "Off Kilter" is Here, and It's Just As Hilarious As We'd Hoped
"Off Kilter" has real dancers playing dancers. Still courtesy CBC Arts.
"It just...always looks better in my head."
While that might not be something any of us would want to hear from a choreographer, it's a brilliant introduction to "Off Kilter" and the odd, insecure character at its center, Milton Frank. The ballet mockumentary (think "The Office" or "Parks and Recreation," but with pointe shoes) follows Frank (dancer-turned-filmmaker Alejandro Alvarez Cadilla) as he comes back to the studio to try his hand at choreographing for the first time since a plagiarism scandal derailed his fledgling career back in the '90s.

---
We've been pretty excited about the series for a while, and now the wait is finally over. The first episode of the show, "The Denial," went live earlier today, and it's every bit as awkward, hilarious and relatable as we hoped.
In the course of its eight-episode season, "Off Kilter" nods to some big issues in the dance world. Ageism, the gender pay-gap and sexual harassment are all addressed on some level, in the midst of hijinks caused by an uptight building manager and an enterprising public relations guru.

Plus, the dancing is excellent—but then, with National Ballet of Canada stars Brendan Saye, Harrison James and Chelsy Meiss joining former Royal Winnipeg Ballet soloist Sarah Murphy-Dyson to form the cast of Frank's new ballet (choreographed by Shawn Hounsell), we expected nothing less.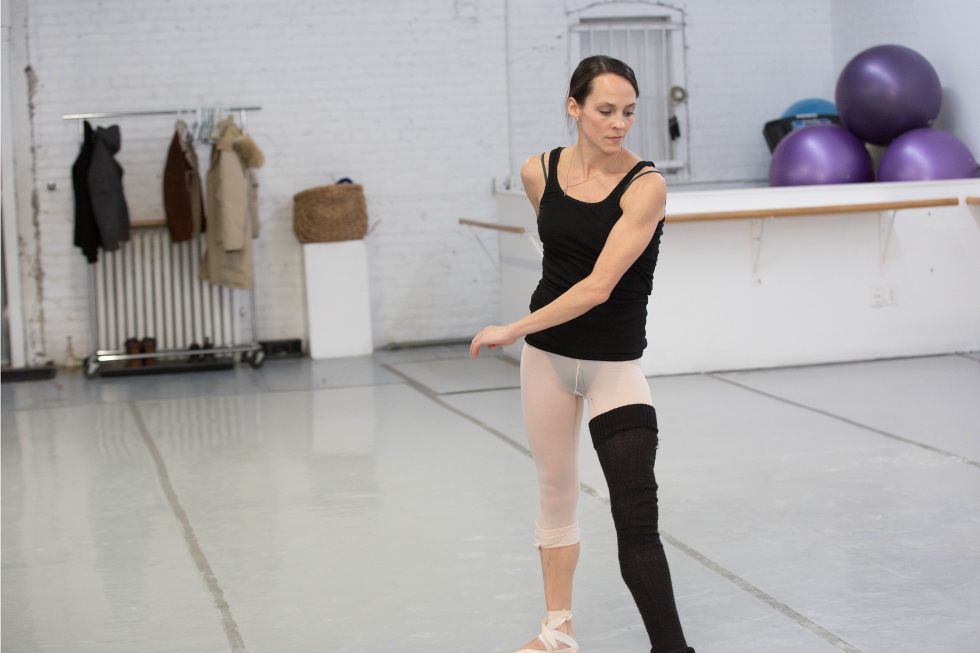 Sarah Murphy-Dyson plays Anna, a 43-year-old ballerina coming face-to-face with ageism in the ballet world. Still courtesy CBC Arts
Keep an eye on the CBC Arts YouTube channel: They'll be posting one episode a week as we watch Frank's definitely-not-a-comeback take shape.
Related Articles Around the Web
From Your Site Articles
News
Jul. 18, 2019 05:02PM EST
Frozen put profit-sharing arrangements in place prior to the Equity deal. Photo by Deen van Meer, Courtesy Disney Theatrical Group
For a Broadway dancer, few opportunities are more exciting than being part of the creation of an original show. But if that show goes on to become wildly successful, who reaps the benefits? Thanks to a new deal between Actors' Equity Association and The Broadway League, performers involved in a production's development will now receive their own cut of the earnings.
Keep reading...
Show less
NBCUniversal
Jellicle obsessives, rejoice: There's a new video out that offers a (surprisingly substantive) look at the dancing that went down on the set of the new CATS movie.
Keep reading...
Show less
Via Wikimedia Commons
When Dr. Mae Jemison was growing up, she was obsessed with space. But she didn't see any astronauts who looked like her.
"I said, Wait a minute. Why are all the astronauts white males?" she recounts in a CNN video. "What if the aliens saw them and said, Are these the only people on Earth?"
Keep reading...
Show less
Wayne McGregor. Photo by Johan Persson, Courtesy ROH
It's no surprise that dancers make some of the best TED Talk presenters. Not only are they great performers, but they've got unique knowledge to share. And they can dance!
If you're in need of a midweek boost, look no further than these eight presentations from some incredibly inspiring dance artists.
Keep reading...
Show less