What Does It Take to Choreograph a Submission to the Olympic Opening Ceremony?
Tony Testa leads a rehearsal during his USC New Movement Residency. Photo by Mary Mallaney/Courtesy USC
The massive scale of choreographing an Olympic opening ceremony really has no equivalent. The hundreds of performers, the deeply historic rituals and the worldwide audience and significance make it a project like no other.
Just consider the timeline: For most live TV events like award shows, choreographers usually take a month or two to put everything together. For the Olympics, the process can take up to four years.
But this kind of challenge is exactly what Los Angeles choreographer Tony Testa is looking for. He's currently creating a submission to throw his hat in the ring to choreograph for Beijing's 2022 Winter Games.
---
Testa has built an incredibly successful career creating movement for pop stars like Janet Jackson and Britney Spears, plus commercials and shows like "So You Think You Can Dance." But ever since he saw 1980's opening ceremony in Moscow on TV as a kid, he's dreamed of choreographing for the Olympics.
"These ceremonies are this magical culmination of technology, film and bodies creating art," says Testa. "It says something about who we are, by showcasing not only athletes but artists."
To create his submission, Testa started by asking himself, Why are the Olympics important? What does the opening ceremony represent? And why do they speak to me?
His research involved watching all of the opening and closing ceremonies since 1896 (the birth of the modern Olympic Games)—or at least as many of those that he could find online. He noted the sacred traditions that appear every time: the carrying of the torch, the raising of the flags, the parade of nations, the countdown, the doves of peace. Then Testa started coming up with how he could put his own, contemporary spin on those rituals.
He also consulted Kenny Ortega, one of his mentors who's done two Olympic ceremonies (in Atlanta and Salt Lake City), as well as Dimitris Papaioannou, a Greek theater director that Testa has apprenticed with over the past two years, and who did the 2004 opening ceremony in Athens.
This summer, Testa's had three weeks to test out his ideas through USC's New Movement Residency. "I've been able to begin the journey of thinking, What kinds of ideas would be fun to dream up on this scale?"
He's had about 20 to 25 dancers each day—a mix of USC students and alumni, plus local professionals he's worked with in the past. USC gave him a high-ceilinged studio and a mechanical cherry picker so he can watch the dancers' formations from above, as well as portable mirrors and a black box theater to control lighting for filming.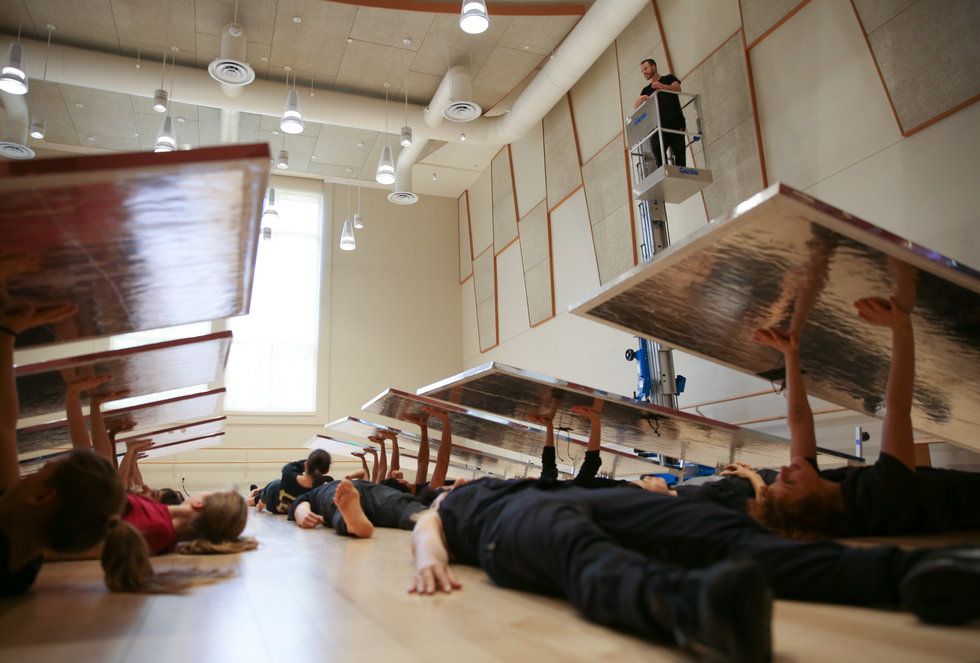 Mary Mallaney, Courtesy USC
There's no official "casting call" for Olympic choreographers or set of requirements to fulfill. Testa is simply thinking up his dream ceremony, and sending in a pitch for consideration, even though he's not from the host country.
"Some of my most rewarding projects have come out of me just sending a cold email, or putting something together and sending it off to someone who didn't know it was coming," he says. "We have a tendency to wait for opportunities to come. But it's unbelievable when you knock on the door, how many people are willing to open."
For Testa, all the time and effort going into his submission is worth it for the chance to be part of something so powerful.
"When you read the global gossip column and we see how divided everyone is, the Olympics find a way for the vast majority of nations to come together," he says. "You have people sharing podiums whose countries are at war. It's a quite clever way to bring the world together, because everybody isn't meeting up for peace. They're meeting up in the spirit of human competition, to test their limits. This is just the nature of humanity. And the opening ceremony for me celebrates that."

Related Articles Around the Web
The "Merde" bag. Courtesy Scenery
Jennifer Kahn knew the theater industry could do better. As a professional stage manager for 17 years she worked on regional, off-Broadway and Broadway shows. Nearly each time a show closed, something unsettling happened: "I would watch them throw away our shows. All of the beautiful artwork by my friends in the paint shop would go in the trash." The elaborate backdrops? Gone.

But she had an idea: What if the material used in the backdrops and legs could be upcycled into something new? And what if theater lovers could literally keep a piece of a beloved show?
Keep reading...
Show less
Left: Hurricane Harvey damage in Houston Ballet's Dance Lab; Courtesy Harlequin. Right: The Dance Lab pre-Harvey; Nic Lehoux, Courtesy Houston Ballet.
"The show must go on" may be a platitude we use to get through everything from costume malfunctions to stormy moods. But when it came to overcoming a literal hurricane, Houston Ballet was buoyed by this mantra to go from devastated to dancing in a matter of weeks—with the help of Harlequin Floors, Houston Ballet's longstanding partner who sprang into action to build new floors in record time.
Keep reading...
Show less
News
Oct. 18, 2019 11:54AM EST
Photo by Gabriel Davalos, Courtesy Valdés
For decades the name Alicia Alonso has been virtually synonymous with Ballet Nacional de Cuba, the company she co-founded in Havana in 1948. Alonso died on October 17, just shy of what would have been her 99th birthday. In recent years, she had stepped back from day-to-day decision-making in the company. As if preparing for the future, in January, the company's leading ballerina, 42-year-old Viengsay Valdés, was named deputy director, a job that seems to encompass most of the responsibilities of a traditional director. Now, presumably, she will step into her new role as director of the company. Her debut as curator of the repertory comes in November, when the troupe will perform three mixed bills selected by her at the Gran Teatro de la Habana Alicia Alonso. The following has been translated from a conversation conducted in Spanish, Valdés' native tongue.
Keep reading...
Show less
Sara Mearns in the gym. Photo by Kyle Froman.
New York City Ballet principal Sara Mearns wasn't sure she was strong enough. A ballerina who has danced many demanding full-length and contemporary roles, she was about to push herself physically more than she thought was possible.
"I said, 'I can't. My body won't,' " she says. "He told me, 'Yes, it will.' "
She wasn't working with a ballet coach, but with personal trainer Joel Prouty, who was asking her to do squats with a heavier barbell than she'd ever used.
Keep reading...
Show less