Popular
Aug. 03, 2017 09:22AM EST
Op-Ed: Why We Need To Confront Bias in Dance Criticism
LINES dancer Adji Cissoko. Photo by Quinn Wahrton
Points should be given to the dance world for beginning to address the issue of diversity. But have we ever taken into consideration who critiques dance—and the lack of diversity in that area of our community? Or how critics' subconscious biases create barriers to the elevation of non-white artists?
Recently, Charmian Wells wrote a scathing critical analysis of New York Times dance critic Gia Kourlas' review of DanceAfrica. Entitled "Strong and Wrong: On Ignorance and Modes of White Spectatorship in Dance Criticism" it took Kourlas to task for critiquing from a place of cultural and technical ignorance.

Forces of Nature Dance Theatre, which performed at DanceAfrica. Photo via Facebook.
Reviews are part of the life blood of artistic sustainability—funders, agents, bookers and audience members use them as guides. Dance critics have a responsibility to the community to do, and be better, or at least have the courage to let the reader know what they don't understand.
---
How can you truly comment on what you are seeing when you have no technical knowledge of a specific genre like African or hip hop? Critics who stand on the outside of a culture cannot write about what they do not know. Artists of color endure reviews that are often reductive or dismissive, especially when the work is "foreign" to the critic. Critiques without in-depth analysis—but with comments about how energetic, colorful or dynamic dancers are—reduces the sophistication and mastery that might be present to a learned eye. Instead, what's read between those lines is "happy Negroes dancing."
The black body on stage is never neutral, and the effects of its inherent politicization as it relates to the subconscious cultural ignorance and biases held by critics is seldom addressed.
The most common microaggressive critique of black artists is the hyperawareness of their bodies. There are critics who wax poetic about rippling, sinewy musculature, or raw sensuality while overlooking the actual dancing. These trope-laden reviews can read as though the writer was critiquing a dancing slave auction. You can barely read a review of the Ailey company without the mention of their over all "buffness," especially that of the men. During the meteoric rise of Misty Copeland, there was little talk of her technique; instead there was great focus her "athleticism," aka muscularity.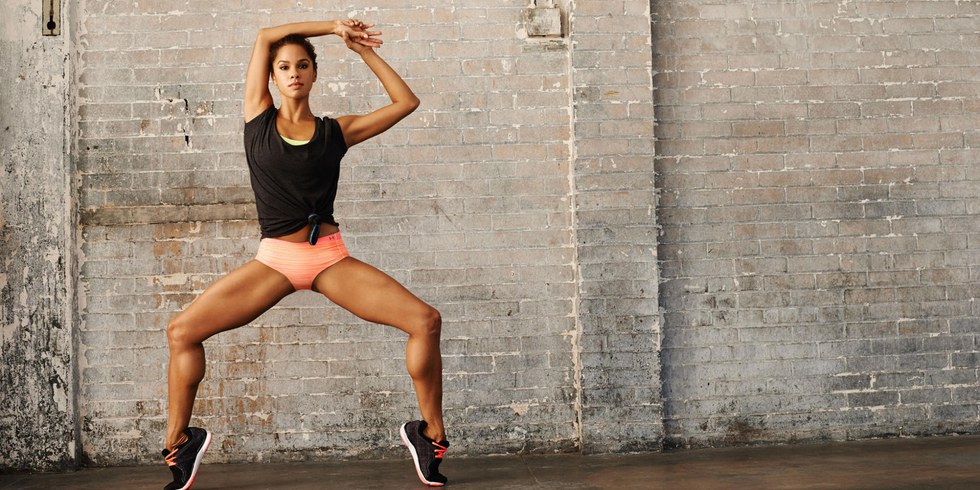 Copeland's Under Armour campaign
Even choreographers fall victim to this focus. Take William Forsythe and Alonzo King: Both have extrapolated the ballet vernacular, one from an anatomic/intellectual place, the other from a organic/spiritual one. Early in their careers, Forsythe was heralded for his innovation and daring while King's work was reduced to the beauty of his dancers, never addressing the systematic methodology behind creating his aesthetic.
Donald Byrd is another example of a black choreographer whose early work critics rarely acknowledged for its choreographic intricacies. They consistently used adjectives such as "aggressive," and focused on the "violent" nature of his movement. Byrd was the "angry, black man" choreographer.
Los Angeles Times critic Lewis Segal wrote a particularly scathing review of Byrd's 1998 production of Life Situations: Daydreams on Giselle, stating, "Byrd has never come to terms with his fixation on ballet." The fixation of which he speaks is the same one that Twyla Tharp's 1973 Deuce Coupe was lauded for. Segal was unrelenting: "Obviously, there are plenty of distinguished choreographers who explore ballet technique without requiring toe shoes—Jirí Kylián for starters. But nobody seems as unrelenting as Byrd in his fixation on tests of balance: the heart of pointe choreography." Why should Byrd be required to "relent" when his white counterparts are free to create?
Black artists are often hemmed into addressing culturally-specific topics, knowing that in order to succeed, white critics must be able to properly "place" them. There is an odd power struggle when black artists' voices are dictated to them through the critique of what writers "would have liked" to see or what they "should" do instead of the critics confronting what they are actually watching.
Choreographers are trapped between the rock of being culturally-specific, and the hard place of creating abstract work—or any work not necessarily associated with blackness. 2013 MacArthur fellow Kyle Abraham seems to be damned if he does and damned if he doesn't. For his latest work for Alvin Ailey, Absent Matter, his inspiration is clearly taken in part from his life in a black male body. Yet The New York Times decided "Mr. Abraham is not fully formed enough as a choreographer to tackle it," implying that he is (artistically) incapable of telling his own story. Meanwhile, for his new work on his own company, Dearest Home, which instead of confronting politics, confronts human emotion, NYT deemed it, "too many tears, not enough art."
Camille A. Brown tried to get ahead of this problem with her BLACK GIRL: Linguistic Play. This work is dense with the sentiment of growing up as a black girl, and the physical vocabulary is like an encyclopedia spanning from the shores of Africa to the dancehalls of Jamaica and the streets and clubs of America. Cognizant of the overall illiteracy of the audience (because this is information not taught), Brown placed a study guide in the program, and built in a post-show talkback where much of the cultural and historical information was unpacked. Still, writers gave the production a scratch-and-sniff once over, reducing the rhythms derived from Juba to "sneaker tapping" and using trite adjectives to describe the movement: "A sassy, fierce and at times playfully snarky step dance number opened the evening."
A May danceviewtimes review of The Washington Ballet in Lilac Garden unwittingly revealed the exact reasons why there is such a problem with diversity in ballet today.:
"Another issue was racially neutral casting. Ashley Murphy, one of the company's black dancers, was the bride-to-be Caroline. Jonathan Jordan, one of the company's white dancers, was the lover she can not marry. That this became a mixed race pair added a dimension to the story that Tudor hadn't intended in his careful depiction of English society during Edwardian times—a distracting dimension."
I would like to know if writer George Jackson is distracted when white male dancers perform the Moor's role in Othello? Or when white dancers do the Chinese, Arabian, Spanish roles in The Nutcracker? Is he disturbed when humans play swans or when live women are cast as dead ones? Or is his opinion on what he refers to as "neutral casting" reserved for non-white people in traditionally white roles? If that is the case, since traditionally most roles in ballet were cast on white dancers, where would that leave people of color?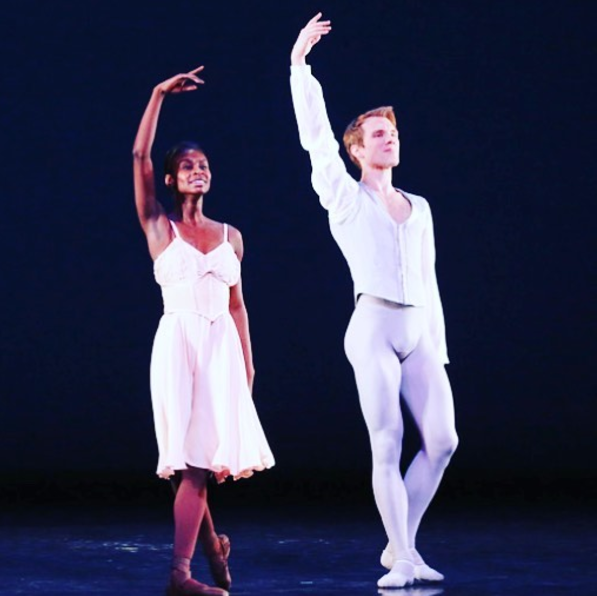 Ashley Murphy with her real-life fiancé, Sam Wilson.
His comments on the choreographer's original intent are purely speculative. Ironically, when you watch the ballet, the only nod to culture, class or era is in the costuming and hair (depending on the production); not even the set alludes to a time period. This is what makes the ballet so enduring—it is a universal story of unrequited love. The casting of the interracial couple is somewhat of a Rorschach test, and clearly Jackson did not see a butterfly.
But if Jackson wants to rely on history, then let's do. In the 1940s Tudor worked extensively with African American ballet dancers in Philadelphia. When other white teachers refused to teach them, he welcomed them into his classes. When the likes of Delores Browne and Joan Myers Brown took his partnering class and white male dancers refused to partner them, he was happy to step in. Judith Jamison speaks of her time training with him with great affection. In 1954, he choreographed Offenbach in the Underworld for the Philadelphia Guild with John Jones, Billy Wilson and Delores Browne (the ballet was later done on ABT).
Based on these facts, there is a great likelihood that Tudor would have had little issue with the color of the dancers.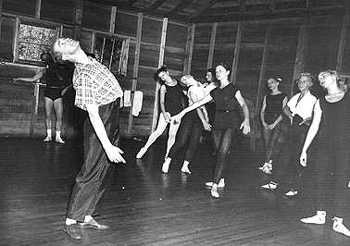 Tudor teaching at Jacob's Pillow. Photo via antonytudor.org.
Black performers, choreographers and directors are never shocked by this; it is what acronyms like SMH were truncated for. But it smarts a bit more when you believe that you are sharing the hallowed, liberal space of the theater where "the suspension of disbelief" is the agreement we enter into when we cross the threshold.
The fact that dance critics are allowed to write their personal proclivities without presenting them as such is a problem. The fact that there are so few dance critics of color working for mainstream outlets is another. The fact that critics are under no obligation to disclose their ignorance, yet are imbued with the authority to write about (or around) the work, or worse, dismiss its validity, is yet another.
Major publications have been printing pieces about diversity in dance, and have yet to look at their writing and editorial staffs. There can be no "marking" in our community if we are truly looking to create equity. It's full out or fail. Starting a conversation about the way work is critiqued should be a part of the reconstruction. And until then we have to call it like we see it. In true New York fashion, "If you see something, say something."
Alice Sheppard photographed by Jayme Thornton for Dance Magazine
It can be hard to focus when Alice Sheppard dances.
Her recent sold-out run of DESCENT at New York Live Arts, for instance, offered a constellation of stimulation. Onstage was a large architectural ramp with an assortment of peaks and planes. There was an intricate lighting and projection design. There was a musical score that unfolded like an epic poem. There was a live score too: the sounds of Sheppard and fellow dancer Laurel Lawson's bodies interacting with the surfaces beneath them.
And there were wheelchairs. But if you think the wheelchairs are the center of this work, you're missing something vital about what Sheppard creates.

Keep reading...
Show less
Omar Román De Jesús in rehearsal with Joffrey Academy trainees. Photo by Todd Rosenberg
So far, the fervor to create diversity in ballet has primarily focused on dancers. Less attention has been paid to the work that they'll encounter once they arrive.
Yet the cultivation of ballet choreographers of color (specifically black choreographers) through traditional pathways of choreographic training grounds remains virtually impossible. No matter how you slice it, we end up at the basic issues that plague the pipeline to the stage: access and privilege.
Keep reading...
Show less
Get the print edition!
Yuka Oba, Ednis Ariel Gomez Mallol and Connie Flachs in Swing by Olivier Wevers. Photo by Ryan Jackson, courtesy Flachs
"I'm sorry, but I just can't possibly give you the amount of money you're asking for."
My heart sinks at my director's final response to my salary proposal. She insists it's not me or my work, there is just no money in the budget. My disappointment grows when handed the calendar for Grand Rapids Ballet's next season with five fewer weeks of work.
Keep reading...
Show less
"Off Kilter" has real dancers playing dancers. Still courtesy CBC Arts
"It just...always looks better in my head."
While that might not be something any of us would want to hear from a choreographer, it's a brilliant introduction to "Off Kilter" and the odd, insecure character at its center, Milton Frank. The ballet mockumentary (think "The Office" or "Parks and Recreation," but with pointe shoes) follows Frank (dancer-turned-filmmaker Alejandro Alvarez Cadilla) as he comes back to the studio to try his hand at choreographing for the first time since a plagiarism scandal derailed his fledgling career back in the '90s.
We've been pretty excited about the series for a while, and now the wait is finally over. The first episode of the show, "The Denial," went live earlier today, and it's every bit as awkward, hilarious and relatable as we hoped.
Keep reading...
Show less
We suspect it will be...a thriller.
Giphy
Christopher Wheeldon is going to be giving Michael Jackson some new moves: The Royal Ballet artistic associate is bringing the King of Pop to Broadway.
The unlikely pairing was announced today by Jackson's estate. Wheeldon will serve as both director and choreographer for the new musical inspired by Michael Jackson's life, which is aiming for a 2020 Broadway opening. This will be Wheeldon's second time directing and choreographing, following 2015's Tony Award-winning An American in Paris.
Wheeldon is a surprising choice, to say the least. There are many top choreographers who worked with Jackson directly, like Wade Robson and Brian Friedman, who could have been tapped for the project. Or the production could have even hired someone who actually choreographed on Jackson when he was alive, like Buddha Stretch.
Keep reading...
Show less
Popular
Jun. 06, 2018 01:13PM EST
Stagestep's Encore hardwood flooring for full-service broadcast production facility, dance center and venue, Starwest, in Burbank, CA.
What is the right flooring system for us?

So many choices, companies, claims, endorsements, and recommendations to consider. The more you look, the more confusing it gets. Here is what you need to do. Here is what you need to know to get the flooring system suited to your needs.
Keep reading...
Show less
In rehearsal for Dreamgirls. Photo Courtesy DM Archives.
Broadway musicals have been on my mind for more than half a century. I discovered them in grade school, not in a theater but electronically. On the radio, every weeknight an otherwise boring local station would play a cast album in its entirety; on television, periodically Ed Sullivan's Sunday night variety show would feature an excerpt from the latest hit—numbers from Bye Bye Birdie, West Side Story, Camelot, Flower Drum Song.
But theater lives in the here and now, and I was in middle school when I attended my first Broadway musical, Gypsy—based, of all things, on the early life of the famed burlesque queen Gypsy Rose Lee. I didn't know who Jerome Robbins was, but I recognized genius when I saw it—kids morphing into adults as a dance number progresses, hilarious stripping routines, a pas de deux giving concrete shape to the romantic yearnings of an ugly duckling. It proved the birth of a lifelong habit, indulged for the last 18 years in the pages of this magazine. But all long runs eventually end, and it's time to say good-bye to the "On Broadway" column. It's not the last of our Broadway coverage—there's too much great work being created and performed, and you can count on hearing from me in print and online.
Keep reading...
Show less
Get the print edition!
It's already on its way to legendary status. (screenshot via YouTube)
Popular
May. 25, 2018 12:14PM EST
Travis Wall draws inspiration from dancers Tate McCrae, Timmy Blankenship and more.
One often-overlooked relationship that exists in dance is the relationship between choreographer and muse. Recently two-time Emmy Award Winner Travis Wall opened up about his experience working with dancers he considers to be his muses.
"My muses in choreography have evolved over the years," says Wall. "When I'm creating on Shaping Sound, our company members, my friends, are my muses. But at this current stage of my career, I'm definitely inspired by new, fresh talent."
Wall adds, "I'm so inspired by this new generation of dancers. Their teachers have done such incredible jobs, and I've seen these kids grown up. For many of them, I've had a hand in their exposure to choreography."

Keep reading...
Show less
News
Jun. 18, 2018 02:12PM EST
MADBOOTS DANCE in MASC. Photo by Scott Shaw, Courtesy Richard Kornberg & Associates
This week, New York City's Joyce Theater presents two companies addressing LGBTQ+ issues.
Keep reading...
Show less
Kerollis and students in his 8-week Absolute Beginner Workshop at Broadway Dance Center
When most people think of dance students, they imagine lithe children and teenagers waltzing around classrooms with their legs lifted to their ears. It doesn't often cross our minds that dance training can involve an older woman trying to build strength in her body to ward off balance issues, or a middle-aged man who didn't have the confidence to take a dance class as a boy for fear of bullying.
Anybody can begin to learn dance at any age. But it takes a particular type of teacher to share our art form with dancers who have few prospects beyond fun and fitness a few nights a week.
Keep reading...
Show less
Get the print edition!
News
Jun. 16, 2018 09:15AM EST
Gina Gibney's organization has grown invaluable to the NYC dance scene. Photo by Scott Shaw, Courtesy Gibney
New York City–based dancers know Gibney. It's a performance venue, a dance company, a rehearsal space, an internship possibility—a Rubik's Cube of resources bundled into two sites at 280 and 890 Broadway. And in March of this year, Gibney (having officially dropped "Dance" from its name) announced a major expansion of its space and programming; it now operates a total of 52,000 square feet, 23 studios and five performance spaces across the two locations.
Six of those studios and one performance space are brand-new at the 280 Broadway location, along with several programs. EMERGE will commission new works by emerging choreographic voices for the resident Gibney Dance Company each year; Making Space+ is an extension of Gibney's Making Space commissioning and presenting program, focused on early-career artists. For the next three years, the Joyce Theater Foundation's artist residency programs will be run out of one of the new Gibney studios, helping to fill the gap left by the closing of the Joyce's DANY Studios in 2016.
Keep reading...
Show less
Jay Sullivan Photography, courtesy Julie Granger
Dancers crossing over into the fitness realm may be increasingly popular, but it was never part of French-born Julie Granger's plan. Though Granger grew up a serious ballet student, taking yoga classes on the side eventually led to a whole new career. Creating her own rules along the way, Granger shares how combining the skills she learned in ballet with certifications in yoga, barre and personal training allowed her to become her own boss (and a rising fitness influencer).
Keep reading...
Show less


Get Dance Magazine in your inbox