News
Jul. 18, 2018 09:18AM EST
Paris Opéra Ballet Sues One of Its Own Dancers
The Paris Opéra Ballet has remained mostly silent in response to the dancers' calls for reform. Photo courtesy Zipporah Films
You'd think the Paris Opéra Ballet would be in damage-control mode after a leaked dancers' survey, in April, brought up worrying reports of harassment and mismanagement. But instead of addressing these issues internally, the French company is suing one of its own dancers in order to strip him of his union representative status and subsequently be free to fire him.
Dalloz Actualité, a French online magazine specializing in legal matters, elaborated on the lawsuit in an article published last week. The corps de ballet dancer taken to court, whom we'll call "S." to protect his identity, wasn't actually a member of the Commission for Artistic Expression, the elected group of dancers who put together the survey. He is described as a "geek" who provided technical support to ensure the validity of the results.
---
If you missed news of the lengthy survey, the results were grim: 108 dancers took part, out of a total of 154, and 77% of respondents declared that they have been the victim of verbal harassment or have witnessed it. 26% have suffered or witnessed sexual harassment. 90% said that they didn't consider their current management up to par, and nearly 60% believed no consideration was shown for their work.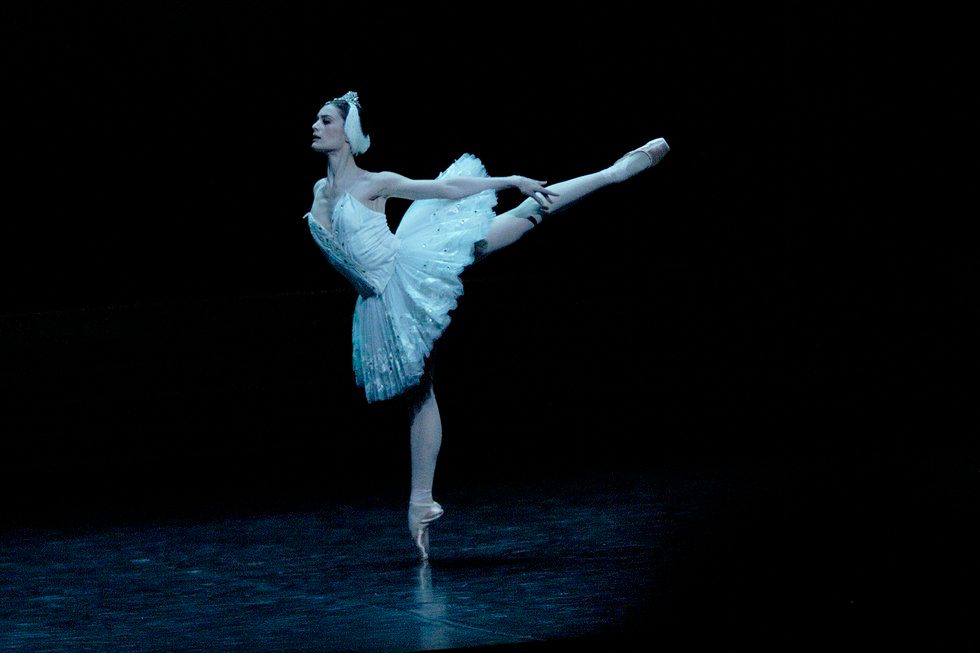 Aurélie Dupont was a Paris Opera Ballet star before being named director in 2016. Her in Le Lac, photo by Maurizio Petrone.
Press reports sent the Paris Opéra scrambling for a response this spring. General director Stéphane Lissner appeared keen to sweep the matter under the carpet, while Aurélie Dupont, who was appointed artistic director in 2016 after Benjamin Millepied's abrupt exit and whose management skills were called into question, has remained mostly silent. In her only interview, with Le JDD earlier this month, she stated that she was "hurt" by the survey and that her track record is "very positive," adding that "any harassment is intolerable." According to Dupont, an internal audit is scheduled for next season.
It seems, however, that the POB is currently more preoccupied with retaliation than cultural change. As Dalloz reports, S. was ordered by management to hand over access to the raw data of the survey. Instead, S. transferred it to a bailiff in order to protect it (with the anonymity of respondents at stake). Around the same time, S. was appointed as a representative of one of the Paris Opéra's unions, Sud spectacle.
The company claims in its lawsuit that the appointment only came in order to prevent S. from being fired, as union reps have their employment protected in France. According to Dalloz, in response, S.'s lawyer introduced evidence showing that the threat of a dismissal procedure against his client only came after his union appointment.
The court's decision is expected on September 6. Until then, the Paris Opéra would do well to use the summer to reflect on its tone-deaf response to calls for reform within its own ranks. As a Guardian piece showed this week, ballet directors elsewhere are waking up to the need for healthier institutional practices and stronger safeguards in the #MeToo era. Suing dissenters is hardly the way to get there.
From Your Site Articles
Related Articles Around the Web
The "Merde" bag. Courtesy Scenery
Jennifer Kahn knew the theater industry could do better. As a professional stage manager for 17 years she worked on regional, off-Broadway and Broadway shows. Nearly each time a show closed, something unsettling happened: "I would watch them throw away our shows. All of the beautiful artwork by my friends in the paint shop would go in the trash." The elaborate backdrops? Gone.

But she had an idea: What if the material used in the backdrops and legs could be upcycled into something new? And what if theater lovers could literally keep a piece of a beloved show?
Keep reading...
Show less
Left: Hurricane Harvey damage in Houston Ballet's Dance Lab; Courtesy Harlequin. Right: The Dance Lab pre-Harvey; Nic Lehoux, Courtesy Houston Ballet.
"The show must go on" may be a platitude we use to get through everything from costume malfunctions to stormy moods. But when it came to overcoming a literal hurricane, Houston Ballet was buoyed by this mantra to go from devastated to dancing in a matter of weeks—with the help of Harlequin Floors, Houston Ballet's longstanding partner who sprang into action to build new floors in record time.
Keep reading...
Show less
News
Oct. 18, 2019 11:54AM EST
Photo by Gabriel Davalos, Courtesy Valdés
For decades the name Alicia Alonso has been virtually synonymous with Ballet Nacional de Cuba, the company she co-founded in Havana in 1948. Alonso died on October 17, just shy of what would have been her 99th birthday. In recent years, she had stepped back from day-to-day decision-making in the company. As if preparing for the future, in January, the company's leading ballerina, 42-year-old Viengsay Valdés, was named deputy director, a job that seems to encompass most of the responsibilities of a traditional director. Now, presumably, she will step into her new role as director of the company. Her debut as curator of the repertory comes in November, when the troupe will perform three mixed bills selected by her at the Gran Teatro de la Habana Alicia Alonso. The following has been translated from a conversation conducted in Spanish, Valdés' native tongue.
Keep reading...
Show less
Sara Mearns in the gym. Photo by Kyle Froman.
New York City Ballet principal Sara Mearns wasn't sure she was strong enough. A ballerina who has danced many demanding full-length and contemporary roles, she was about to push herself physically more than she thought was possible.
"I said, 'I can't. My body won't,' " she says. "He told me, 'Yes, it will.' "
She wasn't working with a ballet coach, but with personal trainer Joel Prouty, who was asking her to do squats with a heavier barbell than she'd ever used.
Keep reading...
Show less