Become a Better Partner: Tips for Men
Philip Neal teaching at Next Generation Ballet
In ballet partnering, the male dancer has important responsibilities beyond technically supporting his ballerina. My partnerships with New York City Ballet principal dancers Kyra Nichols, Jenifer Ringer and Wendy Whelan gave me years of experience in adapting to their different needs to create more effective onstage collaborations. Here are some tips for male ballet dancers to consider As they advance in their training and career.
(For tips for female dancers, click here.)
---
Learn Her Sense of Musicality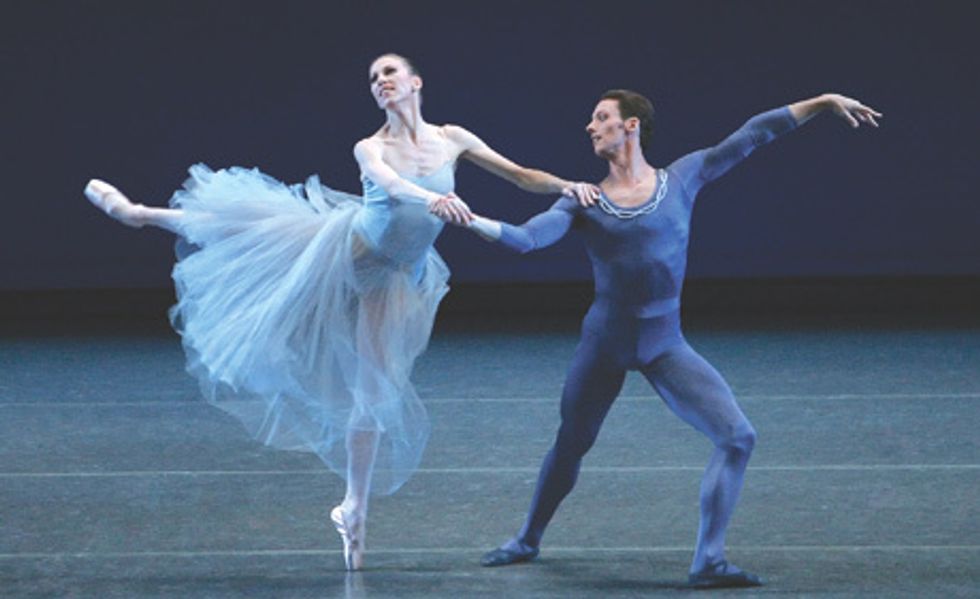 Philip Neal and Kyra Nichols in Balanchine's Serenade, photo by Paul Kolnik
A great partner tunes into a ballerina's sense of music, tempo, timing. It's vital to adapt to her needs in the moment without losing yourself. "For me, a partner needed to be intuitive, to understand my musicality. It's a live art and things happen. You can't rehearse away spontaneity," says Kyra Nichols. I learned all of Kyra's choreography to anticipate how she may interpret any given step, especially with a change in conductor. We didn't practice any combinations before the curtain rose, but rather trusted in our unspoken, visceral bond.
Develop Emotional Sensitivity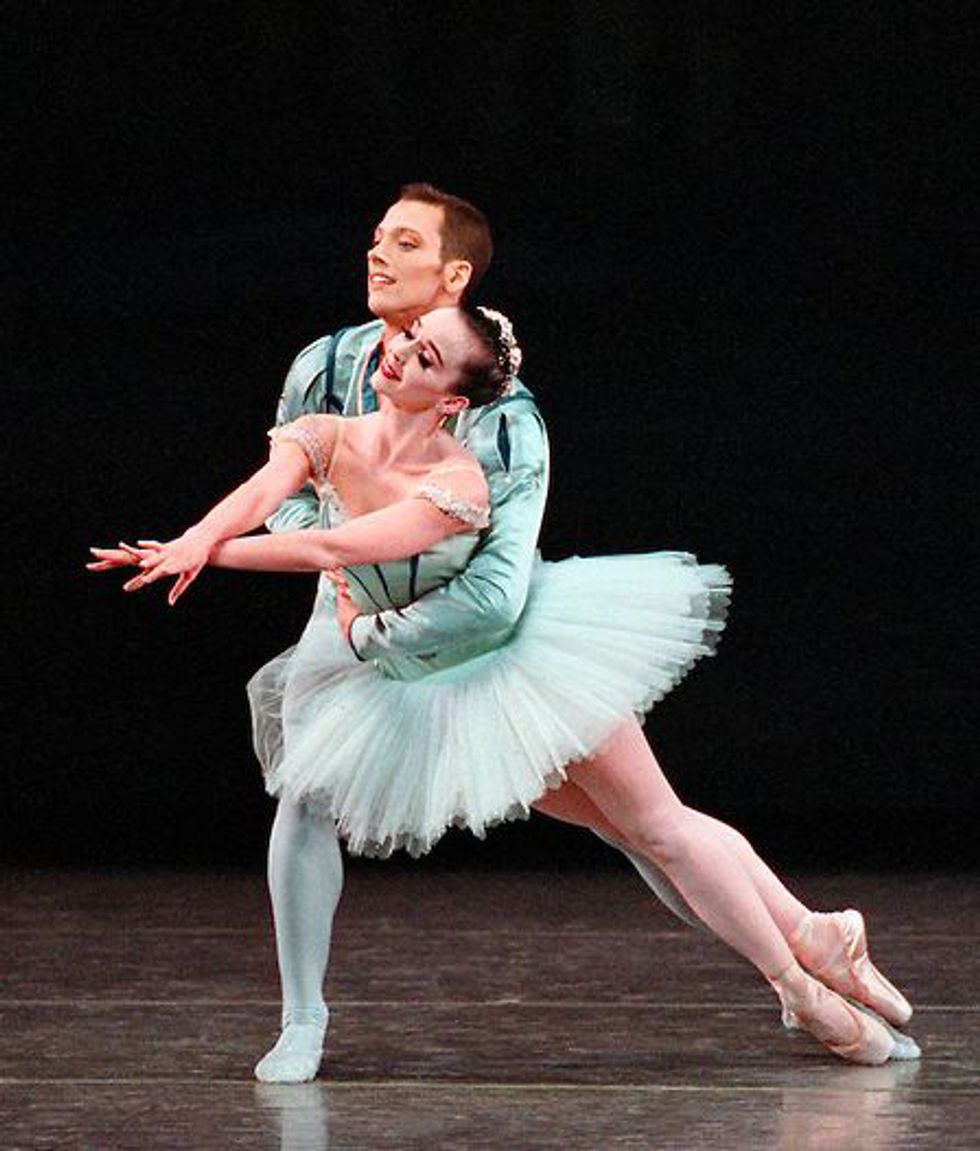 Philip Neal with Jenifer Ringer. Photo by Paul Kolnik
One must also develop an emotional awareness to what his partner is currently feeling. Ballet requires the dancer to tap into an authentic emotional place. Sensitively responding to one's partner respects the dynamics of the interpersonal relationship.
"There is an element of sacrifice that the best partners have where they will do what must be done to help the ballerina be successful in her step," says Jenifer Ringer. "No matter how much you rehearse, emotions in the moment could change how two individuals dancing together might execute any step."
Shepherd Each Other through Vulnerability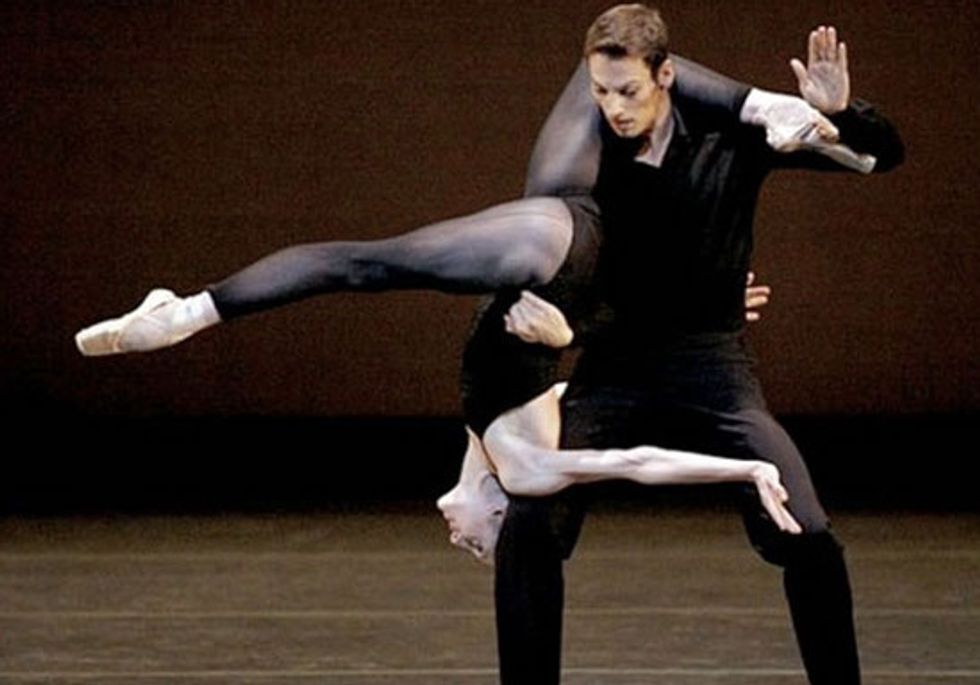 Philip Neal with Wendy Whelan. Photo by Paul Kolnik
Throughout the rehearsal process and performance, dancers are vulnerable, subject to criticism and injury. An exceptional partner always has his ballerina's back. She must trust you, not only with her physical safety, but also for emotional support. Often in larger companies, there can be an onus on dancers to prepare without extensive supervision. Dancers may have to rely on each other for another set of compassionate eyes.
"I've always worked best with a partner when I have felt an energetic chemistry—a creative chemistry," says Wendy Whelan. "It certainly always helped for me to have a musical partner, but more than anything else I had to be able to share myself with that person in order to work through challenges with honesty and have fun with them." My rehearsals with Wendy could be a riotously good time. We shared a similar sense of humor and our banter sometimes resembled an episode of "Will & Grace." But we always remained focused, helping each other through some challenging circumstances.
Know When to Get Out of the Way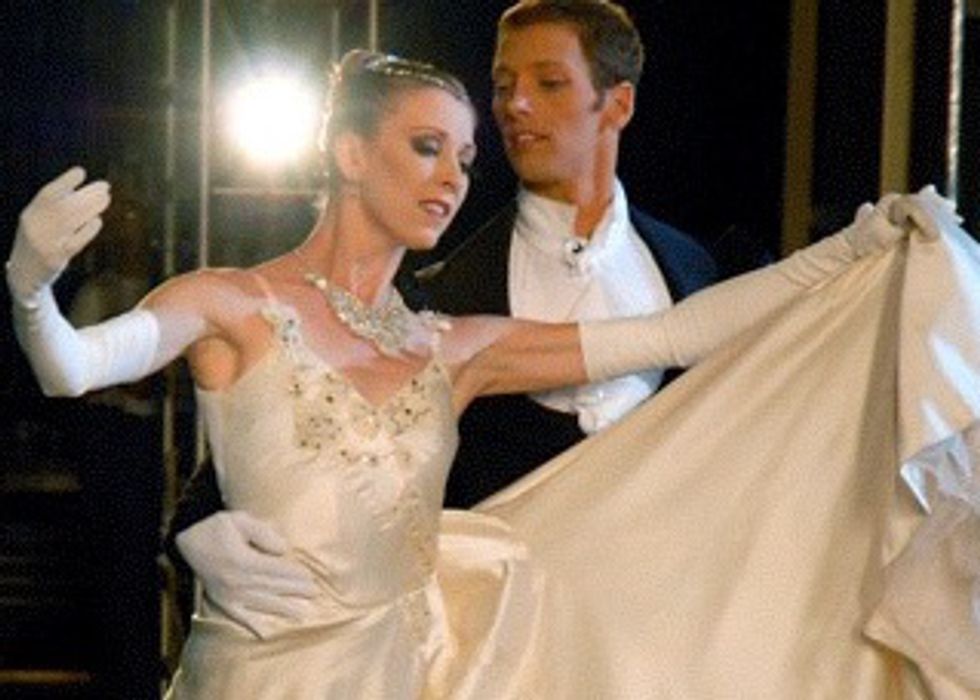 Philip Neal and Kyra Nichols, photo by Kyle Froman
Even though it's called a partnership, sometimes you'll have to step back and give her breathing room. Partnering is also no place for grandstanding. I personally searched for a balance between self-display and deferential modesty. "For me, a partner needed to be there when I needed him and not intrusive when I didn't," says Nichols. I partnered Kyra by her fingertips, often maneuvering her wrists instead of her hands. I kept quite a distance between our bodies to magnify the illusion of her self-sufficiency. And I didn't touch her waist until after she started her own turns (but I credit Mr. Balanchine for that bit of ingenuity).
Find Mutual Camaraderie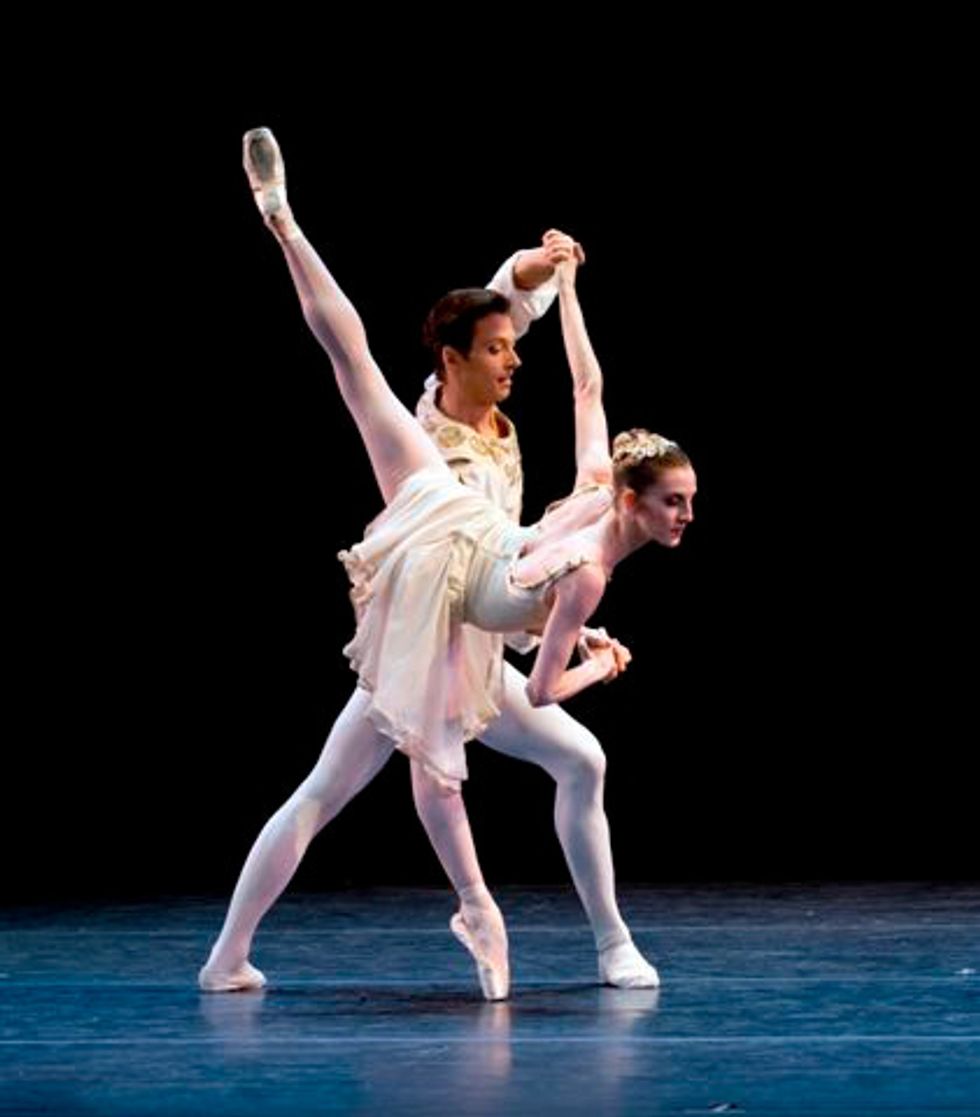 Philip Neal and Wendy Whelan. Photo by Paul Kolnik
Building a great partnership is like any successful relationship. You grow in it together and you change together. Support each other in your solo work. Dancers should become technically and emotionally available to each other, deepening the sense of camaraderie. There's a partnership beyond the pas de deux.
Rachel Papo
In the middle of one of New York City Center's cavernous studios, Misty Copeland takes a measured step backwards. The suggestion of a swan arm ripples before she turns downstage, chest and shoulders unfurling as her legs stretch into an open lunge. She piqués onto pointe, arms echoing the sinuous curve of her back attitude, then walks out of it, pausing to warily look over her shoulder. As the droning of Ryuichi Sakamoto and Alva Noto's mysterious "Attack/Transition" grows more insistent, her feet start to fly with a rapidity that seems to almost startle her.
And then she stops mid-phrase. Copeland's hands fall to her hips as she apologizes. Choreographer Kyle Abraham slides to the sound system to pause the music, giving Copeland a moment to remind herself of a recent change to the sequence.
"It's different when the sound's on!" he reassures her. "And it's a lot of changes."
The day before was the first time Abraham had seen Copeland dance the solo in its entirety, and the first moment they were in the studio together in a month. This is their last rehearsal, save for tech, before the premiere of Ash exactly one week later, as part of the opening night of City Center's Fall for Dance festival.
Keep reading...
Show less
Ailey II artistic director Troy Powell teaching an Ailey Workshop at NYCDA. Courtesy NYCDA
Back in 2011 when Joe Lanteri first approached Katie Langan, chair of Marymount Manhattan College's dance department, about getting involved with New York City Dance Alliance, she was skeptical about the convention/competition world.
"But I was pleasantly surprised by the enormity of talent that was there," she says. "His goal was to start scholarship opportunities, and I said okay, I'm in."
Today, it's fair to say that Lanteri has far surpassed his goal of creating scholarship opportunities. But NYCDA has done so much more, bridging the gap between the convention world and the professional world by forging a wealth of partnerships with dance institutions from Marymount to The Ailey School to Complexions Contemporary Ballet and many more. There's a reason these companies and schools—some of whom otherwise may not see themselves as aligned with the convention/competition world—keep deepening their relationships with NYCDA.
Now, college scholarships are just one of many ways NYCDA has gone beyond the typical weekend-long convention experience and created life-changing opportunities for students. We rounded up some of the most notable ones:
Keep reading...
Show less
Getty Images
Dancers are understandably obsessed with food. In both an aesthetic and athletic profession, you know you're judged on your body shape, but you need proper fuel to perform your best. Meanwhile, you're inundated with questionable diet advice.
"My 'favorite' was the ABC diet," says registered dietitian nutritionist Kristin Koskinen, who trained in dance seriously but was convinced her body type wouldn't allow her to pursue it professionally. "On the first day you eat only foods starting with the letter A, on the second day only B, and so on."
Keep reading...
Show less
Left: Hurricane Harvey damage in Houston Ballet's Dance Lab; Courtesy Harlequin. Right: The Dance Lab pre-Harvey; Nic Lehoux, Courtesy Houston Ballet.
"The show must go on" may be a platitude we use to get through everything from costume malfunctions to stormy moods. But when it came to overcoming a literal hurricane, Houston Ballet was buoyed by this mantra to go from devastated to dancing in a matter of weeks—with the help of Harlequin Floors, Houston Ballet's longstanding partner who sprang into action to build new floors in record time.
Keep reading...
Show less