Cover Story
Jan. 22, 2018 09:15AM EST
Why Paul Taylor Treasures Dancer Laura Halzack
Laura Halzack shows off her elegance and fire in costume for ...Byzantium. Photo by Jayme Thornton
When Paul Taylor created Beloved Renegade on Laura Halzack in 2008, he gave unequivocal instructions. She was the figure, sometimes referred to as the angel of death, who circles dancer Michael Trusnovec in a compassionate, yet emphatic way.
"He choreographed every single step for me," she says. "He showed it to me—do this développé, reach here, turn here, a very specific idea," she says. His guidance was that she be cool and sweet. Then, she says, "he just let me become her. That's where I really earned Paul's trust."
---
It's easy to see why Taylor treasures Halzack and why he has created 16 works on her since she joined Paul Taylor Dance Company in 2006. Her commanding lyricism in Taylor's Airs or Martha Graham's Diversion of Angels contrasts with her daredevil attack in works like Scudorama or Mercuric Tidings. That chameleonesque versatility allows her to easily convey wise sophistication or the giddy energy of a child on the playground. You ask her to do it, she can do it. With grace.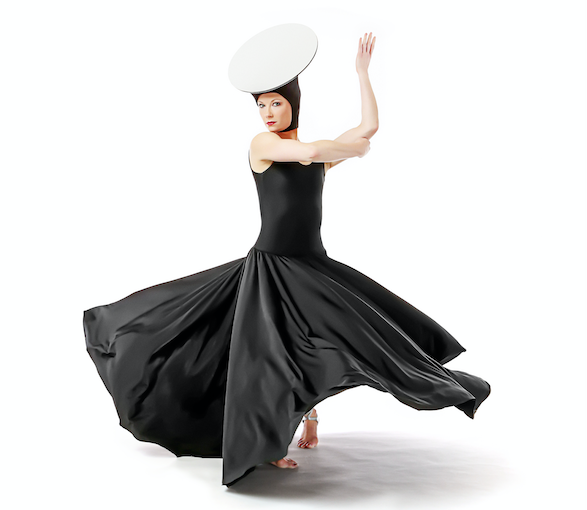 Laura Halzack in costume for Cloven Kingdom. Photo by Jayme Thornton
"Laura is an extraordinary dancer," says Taylor. "She is a leader within the company and she is a dynamic performer."
With her elegant torso and back, her majestic neck always stays elongated and the shoulders released, whether standing still or charging through a phrase of consecutive jumps. And her intuitive musicality permeates everything she dances. New York Times critic Alastair Macaulay calls her "the company's most utterly beautiful woman" and says "her statuesque, suave, quiet inscrutability becomes captivating."
Nevertheless, Halzack's path to PTDC wasn't a straight shot. She began dance lessons at age 4, studying jazz, lyrical, tap and ballet at a competition studio in Southwick, Massachusetts. "I was such a little type-A kid and would always be in my basement rehearsing my solos," she says with a giggle. "I took it very seriously."
Recognizing her talent, her teachers advised her to intensify her ballet training at the School of the Hartford Ballet. As a pre-professional student, she studied Cecchetti ballet technique with Raymond Lukens and Franco de Vita (who later directed American Ballet Theatre's Jacqueline Kennedy Onassis School), and the Vaganova syllabus with Alla Osipenko, a former ballerina with the Mariinsky Ballet. She continued her studies as a dance major at SUNY Purchase, where she first encountered Taylor's work.
And then she quit dancing.
"I had studied dance so intensively that, without even knowing, I was slowly burning myself out," she says. Halzack transferred from SUNY Purchase to the University of New Hampshire, eventually graduating with a degree in history in 2003. She didn't dance for two and a half years. "Every dancer's path is different, but for me, I don't think I'd be where I am today if I hadn't given myself a chance to dream and be a kid a little bit. It gave me the faith to miss dance and to learn other things."
After graduation, she did miss dance—a lot. She began studying at former Graham dancer Peggy Lyman's program at the University of Hartford's Hartt School. Her stronger grasp on modern dance training led her to perform with choreographer Amy Marshall, who had danced with Taylor 2 and David Parsons.
Then Halzack saw PTDC perform at Fall for Dance at New York City Center in 2004. She spent the next two years training at The Taylor School during the day, while working at restaurants and a night shift at the UBS bank headquarters.
"I fell in love with the range and depth of Taylor's work, the athleticism, the subtle nuances, the humanness," says Halzack. "It was my dream company." Taylor welcomed her to the troupe after her second audition in 2006.
An admitted adrenaline junkie, Halzack craves the oscillating range of the repertory: the effervescent pieces she calls "joy in motion that require technique, strength and stamina," such as Brandenburgs, Airs and Aureole; the dramatic works like Speaking in Tongues, which she describes as "theatrical, haunting, disturbing to be inside of and disturbing to watch"; and fluffy, humorous dances like Offenbach Overtures.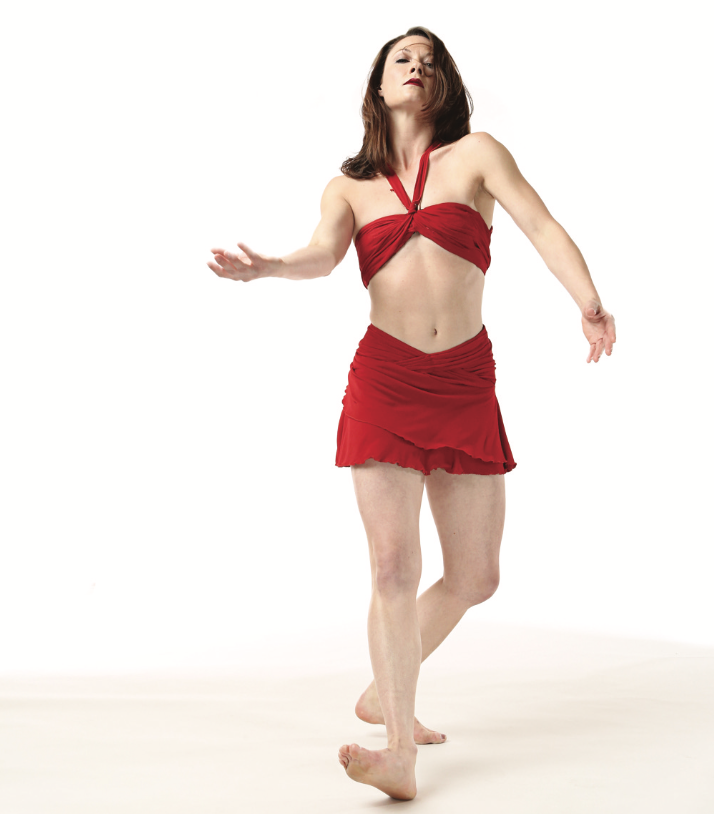 Halzack loves Taylor's range of repertory. Photo by Jayme Thornton
A true Gemini at heart, Halzack, now 36, juxtaposes her pensive, introverted side against her wild, free spirit. Intuitively, Halzack has always drawn from her bold imagination. The little girl who built a village out of popsicle sticks for her troll dolls isn't so different from the adult, hardwired to be a dancer and an artist.
Surprisingly, Halzack, who craves the rush of pushing herself, claims she had to learn how to move more slowly. Frequent partner Michael Trusnovec says he thinks the fullness of her dancing tricks people into tagging her as an adagio dancer, but he points out that her commanding speed and attack reveal the multifaceted dynamism of her artistry.
"Laura brings a rare combination of elegance and fire to Mr. Taylor's works," says Trusnovec. "She dances from a deep level of passion, and her personal expectation of excellence inspires the dancers around her, including myself, to be worthy of sharing a stage with her."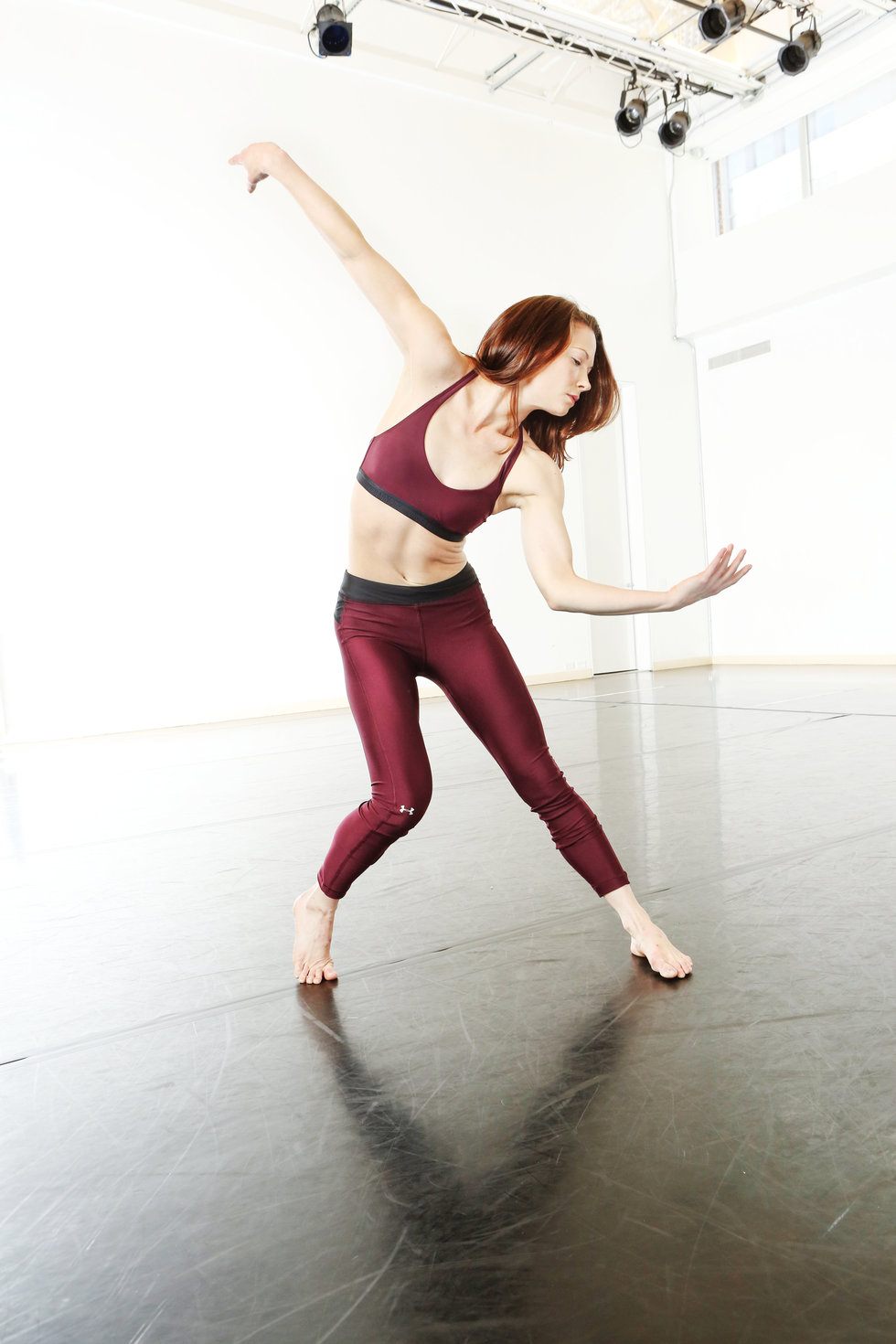 Halzack's loves relaxing by hiking or watching Game of Thrones. Photo by Jayme Thornton
Taylor has recognized similarities in Halzack's physicality and style to the legendary dancer, now company rehearsal director, Bettie de Jong. He chose her early on for one of de Jong's signature roles, the woman in pants in Esplanade, a casting decision that Halzack still mentions as a highlight of her career. "It made me really feel like I was part of the Taylor family," she says.
It was also the first time de Jong coached her in a role. "She's a woman with a tremendous imagination who loves to get back inside the part, stand up and demonstrate," says Halzack. "Just the way she talks about holding a room with your eyes, the way you stand and the subtlety of gesture is incredibly powerful."
Halzack says her rapport with Taylor has been natural: "He always has a way of making me feel at ease in the studio working with him." And, she adds, "he's really funny."
She recalls one rehearsal where Taylor stretched out on the floor to demonstrate a partnering move for Trusnovec. "He lowered me all the way down and had this hilarious, devilish little look in his eye, and says, 'Well, now what are we going to do?' We both started cracking up and then he pushed me right back up. It was this very easy, fun way of being. That's how he's always been with me."
PTDC possesses the rare blessing of working constantly, often on the road, so Halzack and her husband, Eric Naison-Phillips, an insurance executive, coordinate their schedules, and occasionally he joins her on tour. They both enjoy hiking and the outdoors, but Halzack also binges on "Game of Thrones" and photographs anything that sparks her imagination. "I love capturing the places that I go to and the people I'm with," she says. "The process of photo editing gives my head a break."
During the company's spring season at Lincoln Center, Halzack will appear in at least 12 dances, including new pieces by Doug Varone and Bryan Arias. "I do hope to continue dancing for a while," she says. In the future, she would love to be involved with The Taylor School and wouldn't miss an opportunity to direct or curate dance.
"I don't think I could ever be away from dance," she says. "There's not exactly a map, but there are things I know I want to do. But I have a few more good years in there."
Dance in Pop Culture
May. 25, 2018 01:48PM EST
Ne-Yo, Jennifer Lopez and Derek Hough return to "World of Dance" on May 29
Season 2 of World of Dance is almost here! The new season officially kicks off on Tuesday on NBC, and it's bringing a whole new crew of talented dancers with it (plus, some old favorites). Dance pro judges Jennifer Lopez, Derek Hough and Ne-Yo are back, too, with Jenna Dewan serving as the show's host.
Obviously we'll be watching, but just in case you're not completely sold, here's why you're not going to want to miss out:
JLo Might Be Performing
Earlier this week, JLo (who serves as the show's executive producer) posted this insane promo clip to her Instagram. Dancing to a mashup of Cardi B's "Bodak Yellow" and her new single "Dinero," JLo reminded us all of her dance skills while also leading us to believe she might just hit the stage herself for a performance.

Keep reading...
Show less
May. 25, 2018 12:14PM EST
Travis Wall draws inspiration from dancers Tate McCrae, Timmy Blankenship and more.
One often-overlooked relationship that exists in dance is the relationship between choreographer and muse. Recently two-time Emmy Award Winner Travis Wall opened up about his experience working with dancers he considers to be his muses.
"My muses in choreography have evolved over the years," says Wall. "When I'm creating on Shaping Sound, our company members, my friends, are my muses. But at this current stage of my career, I'm definitely inspired by new, fresh talent."
Wall adds, "I'm so inspired by this new generation of dancers. Their teachers have done such incredible jobs, and I've seen these kids grown up. For many of them, I've had a hand in their exposure to choreography."

Keep reading...
Show less
Rant & Rave
May. 23, 2018 04:25PM EST
Jessica Lang's Her Notes, one of ABT's few recent commissions from women. Photo by Rosalie O'Connor
A few weeks ago, American Ballet Theatre announced the A.B.T. Women's Movement, a new program that will support three women choreographers per season, one of whom will make work on the main company.
"The ABT Women's Movement takes inspiration from the groundbreaking female choreographers who have left a lasting impact on ABT's legacy, including Agnes de Mille and Twyla Tharp," said artistic director Kevin McKenzie in a press release.
Hypothetically, this is a great idea. We're all for more ballet commissions for women. But the way ABT has promoted the initiative is problematic.
Keep reading...
Show less
News
May. 18, 2018 12:05PM EST
The inimitable Alicia Alonso, now 97, remains at the helm of Ballet Nacional de Cuba. Photo by Leysis Quesada, Courtesy BNC
On the occasion of its 70th anniversary, the Ballet Nacional de Cuba tours the U.S. this spring with the resolute Cuban prima ballerina assoluta Alicia Alonso a the helm. Named a National Hero of Labor in Cuba, Alonso, 97, has weathered strained international relations and devastating fiscal challenges to have BNC emerge as a world-class dance company. Her dancers are some of ballet's best. On offer this time are Alonso's Giselle and Don Quixote. The profoundly Cuban company performs in Chicago May 18–20, Tampa May 23, Washington, D.C., May 29–June 3 and Saratoga, New York June 6–8.
Courtesy Soffe, Dicsount Dance Supply, Danskin. LeaMarie leotard photographed by Jayme Thornton
Considering we practically live in our dance clothes, there's really no such thing as having too many leotards, tights or leggings (no matter what our mom or friends say!). That's why we treat every sale as an opportunity to stock up. And thanks to the holiday weekend, you can shop all of your dancewear go-tos or try something totally new for as much as 50% less than the usual price.
Here are the eight sales we're most excited about—from online options to in-store retailers that will help you find the perfect fit. Happy Memorial Day (and shopping)!
Now through Monday, Danskin's site will automatically take 25% off your entire purchase at checkout. Even new items like their Pintuck Detail Floral Print Sports Bra and Pintuck Detail Legging (pictured here) are fair game.
Keep reading...
Show less
News
May. 25, 2018 12:38PM EST
Ailey dancers and stagehands rallied together yesterday. Photo by Jen Peters
"The sun may be shining brightly, but we are not in a very sunny mood today!" said New York State assemblywoman Linda Rosenthal during yesterday's rally for the Artists of Ailey.
The dancers and stage crew are demanding increased wages and more comprehensive benefits, what they have termed "reaching for the standard" and "fair wages."
Keep reading...
Show less


Get Dance Magazine in your inbox