Why Paul Taylor Treasures Dancer Laura Halzack
Laura Halzack shows off her elegance and fire in costume for ...Byzantium. Photo by Jayme Thornton
When Paul Taylor created Beloved Renegade on Laura Halzack in 2008, he gave unequivocal instructions. She was the figure, sometimes referred to as the angel of death, who circles dancer Michael Trusnovec in a compassionate, yet emphatic way.
"He choreographed every single step for me," she says. "He showed it to me—do this développé, reach here, turn here, a very specific idea," she says. His guidance was that she be cool and sweet. Then, she says, "he just let me become her. That's where I really earned Paul's trust."
---
It's easy to see why Taylor treasures Halzack and why he has created 16 works on her since she joined Paul Taylor Dance Company in 2006. Her commanding lyricism in Taylor's Airs or Martha Graham's Diversion of Angels contrasts with her daredevil attack in works like Scudorama or Mercuric Tidings. That chameleonesque versatility allows her to easily convey wise sophistication or the giddy energy of a child on the playground. You ask her to do it, she can do it. With grace.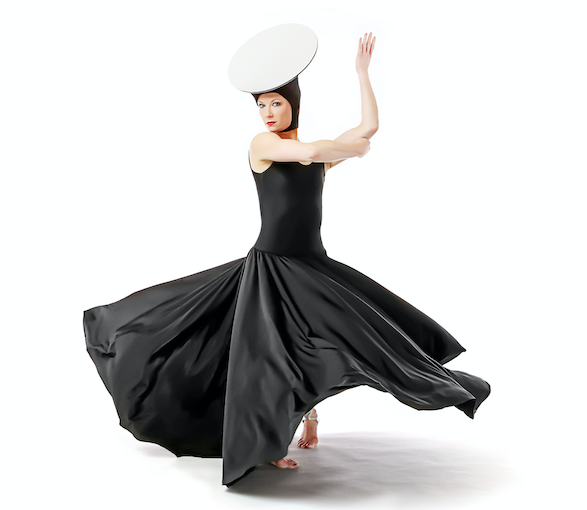 Laura Halzack in costume for Cloven Kingdom. Photo by Jayme Thornton
"Laura is an extraordinary dancer," says Taylor. "She is a leader within the company and she is a dynamic performer."
With her elegant torso and back, her majestic neck always stays elongated and the shoulders released, whether standing still or charging through a phrase of consecutive jumps. And her intuitive musicality permeates everything she dances. New York Times critic Alastair Macaulay calls her "the company's most utterly beautiful woman" and says "her statuesque, suave, quiet inscrutability becomes captivating."
Nevertheless, Halzack's path to PTDC wasn't a straight shot. She began dance lessons at age 4, studying jazz, lyrical, tap and ballet at a competition studio in Southwick, Massachusetts. "I was such a little type-A kid and would always be in my basement rehearsing my solos," she says with a giggle. "I took it very seriously."
Recognizing her talent, her teachers advised her to intensify her ballet training at the School of the Hartford Ballet. As a pre-professional student, she studied Cecchetti ballet technique with Raymond Lukens and Franco de Vita (who later directed American Ballet Theatre's Jacqueline Kennedy Onassis School), and the Vaganova syllabus with Alla Osipenko, a former ballerina with the Mariinsky Ballet. She continued her studies as a dance major at SUNY Purchase, where she first encountered Taylor's work.
And then she quit dancing.
"I had studied dance so intensively that, without even knowing, I was slowly burning myself out," she says. Halzack transferred from SUNY Purchase to the University of New Hampshire, eventually graduating with a degree in history in 2003. She didn't dance for two and a half years. "Every dancer's path is different, but for me, I don't think I'd be where I am today if I hadn't given myself a chance to dream and be a kid a little bit. It gave me the faith to miss dance and to learn other things."
After graduation, she did miss dance—a lot. She began studying at former Graham dancer Peggy Lyman's program at the University of Hartford's Hartt School. Her stronger grasp on modern dance training led her to perform with choreographer Amy Marshall, who had danced with Taylor 2 and David Parsons.
Then Halzack saw PTDC perform at Fall for Dance at New York City Center in 2004. She spent the next two years training at The Taylor School during the day, while working at restaurants and a night shift at the UBS bank headquarters.
"I fell in love with the range and depth of Taylor's work, the athleticism, the subtle nuances, the humanness," says Halzack. "It was my dream company." Taylor welcomed her to the troupe after her second audition in 2006.
An admitted adrenaline junkie, Halzack craves the oscillating range of the repertory: the effervescent pieces she calls "joy in motion that require technique, strength and stamina," such as Brandenburgs, Airs and Aureole; the dramatic works like Speaking in Tongues, which she describes as "theatrical, haunting, disturbing to be inside of and disturbing to watch"; and fluffy, humorous dances like Offenbach Overtures.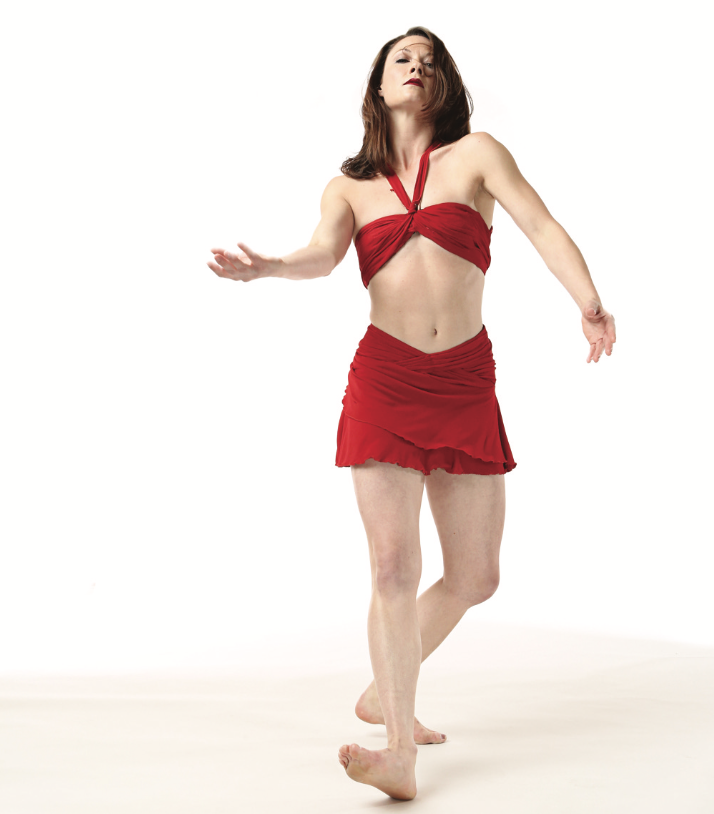 Halzack loves Taylor's range of repertory. Photo by Jayme Thornton
A true Gemini at heart, Halzack, now 36, juxtaposes her pensive, introverted side against her wild, free spirit. Intuitively, Halzack has always drawn from her bold imagination. The little girl who built a village out of popsicle sticks for her troll dolls isn't so different from the adult, hardwired to be a dancer and an artist.
Surprisingly, Halzack, who craves the rush of pushing herself, claims she had to learn how to move more slowly. Frequent partner Michael Trusnovec says he thinks the fullness of her dancing tricks people into tagging her as an adagio dancer, but he points out that her commanding speed and attack reveal the multifaceted dynamism of her artistry.
"Laura brings a rare combination of elegance and fire to Mr. Taylor's works," says Trusnovec. "She dances from a deep level of passion, and her personal expectation of excellence inspires the dancers around her, including myself, to be worthy of sharing a stage with her."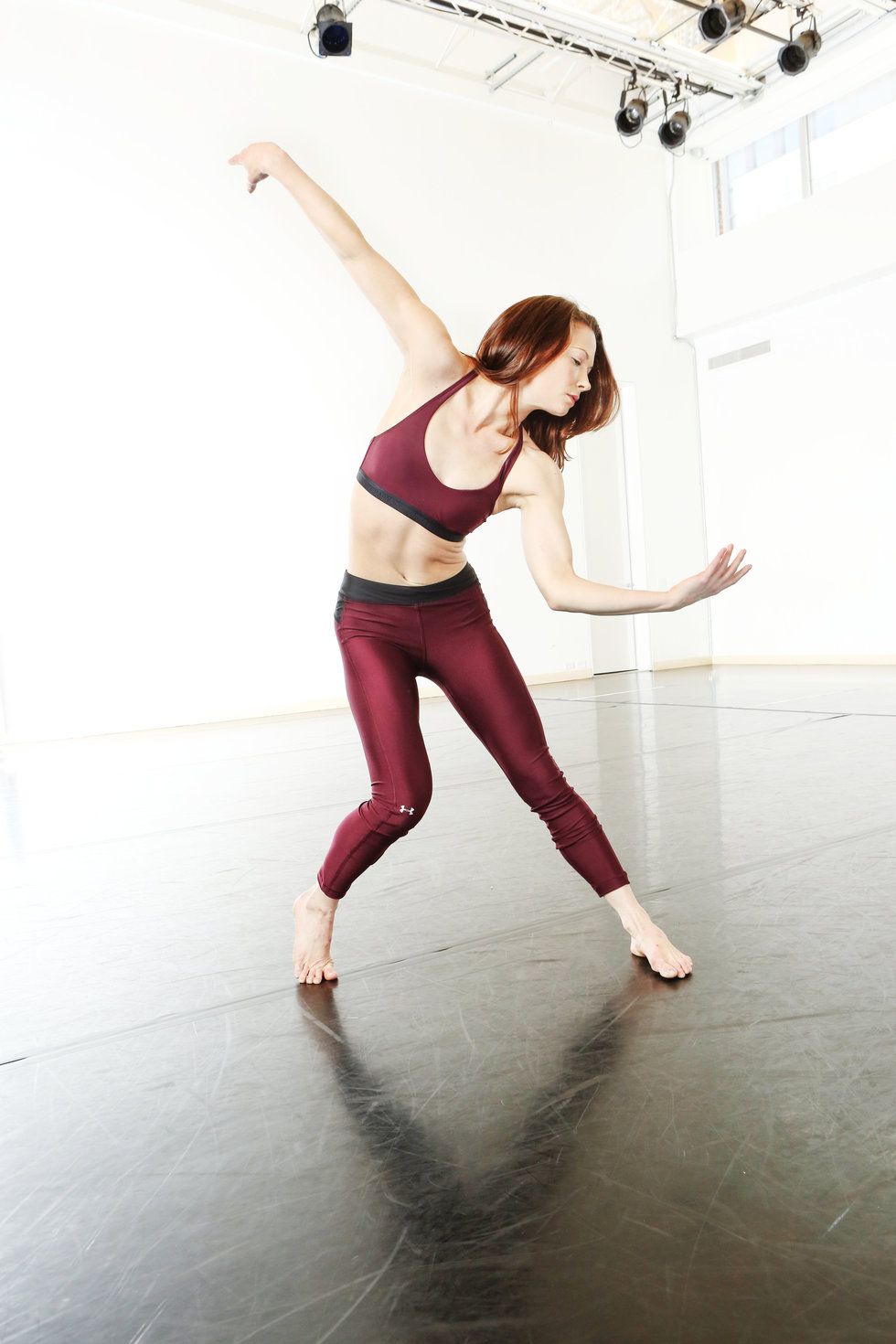 Halzack's loves relaxing by hiking or watching Game of Thrones. Photo by Jayme Thornton
Taylor has recognized similarities in Halzack's physicality and style to the legendary dancer, now company rehearsal director, Bettie de Jong. He chose her early on for one of de Jong's signature roles, the woman in pants in Esplanade, a casting decision that Halzack still mentions as a highlight of her career. "It made me really feel like I was part of the Taylor family," she says.
It was also the first time de Jong coached her in a role. "She's a woman with a tremendous imagination who loves to get back inside the part, stand up and demonstrate," says Halzack. "Just the way she talks about holding a room with your eyes, the way you stand and the subtlety of gesture is incredibly powerful."
Halzack says her rapport with Taylor has been natural: "He always has a way of making me feel at ease in the studio working with him." And, she adds, "he's really funny."
She recalls one rehearsal where Taylor stretched out on the floor to demonstrate a partnering move for Trusnovec. "He lowered me all the way down and had this hilarious, devilish little look in his eye, and says, 'Well, now what are we going to do?' We both started cracking up and then he pushed me right back up. It was this very easy, fun way of being. That's how he's always been with me."
PTDC possesses the rare blessing of working constantly, often on the road, so Halzack and her husband, Eric Naison-Phillips, an insurance executive, coordinate their schedules, and occasionally he joins her on tour. They both enjoy hiking and the outdoors, but Halzack also binges on "Game of Thrones" and photographs anything that sparks her imagination. "I love capturing the places that I go to and the people I'm with," she says. "The process of photo editing gives my head a break."
During the company's spring season at Lincoln Center, Halzack will appear in at least 12 dances, including new pieces by Doug Varone and Bryan Arias. "I do hope to continue dancing for a while," she says. In the future, she would love to be involved with The Taylor School and wouldn't miss an opportunity to direct or curate dance.
"I don't think I could ever be away from dance," she says. "There's not exactly a map, but there are things I know I want to do. But I have a few more good years in there."
Subscribe to get the print edition!
Related Articles Around the Web
From Your Site Articles
James Fosberg, courtesy Mason
Over the past 15 years, Gesel Mason has asked 11 choreographers—including legends like Donald McKayle, David Roussève, Bebe Miller, Jawole Willa Jo Zollar, Rennie Harris and Kyle Abraham—to teach her a solo. She's performed up to seven of them in one evening for her project No Boundaries: Dancing the Visions of Contemporary Black Choreographers.
Now, Mason is repackaging the essence of this work into a digital archive. This online offering shares the knowledge of a few with many, and considers how dance can live on as those who create it get older.
Keep reading...
Show less
Hive by Boston Conservatory student Alyssa Markowitz. Photo by Jim Coleman
The way we create and consume dance is changing every day. Now more than ever, the field demands that dancers not only be able to perform at the highest level, but also collaborate with choreographers to bring their artistic visions to life. Dancers who miss out on choreographic training may very well find themselves at a disadvantage as they try to launch their careers.

Keep reading...
Show less
News
May. 22, 2019 05:57PM EST
Fox produced a live broadcast of Rent in January—but could an original musical be next? Photo by Kevin Estrada, Courtesy Fox
When a musical prepares to make the transfer from a smaller, lesser-known venue to Broadway (where theaters hold 500-plus seats), often there's a collective intake of breath from all involved. After all, a bigger house means more tickets to sell in order to stay in the black, and sometimes shows with even the most tenacious fan bases can't quite navigate such a jump. But what about the transfer from stage…to screen? Is Broadway ready to be consumed from the comfort of your couch?
Keep reading...
Show less
Courtesy Lee
Daphne Lee was dancing with Collage Dance Collective in Memphis, Tennessee, when she received two difficult pieces of news: Her mother had been diagnosed with multiple myeloma cancer, and her father had Parkinson's disease, affecting his mobility and mental faculties.
The New Jersey native's reaction: "I really need to move home."
Keep reading...
Show less
Last year's winner: Manuel Vignoulle's EARTH. Jack Hartin Photography, Courtesy McCallum Theatre
It's not often that a promising choreographer gets to stage work in a world-class theater, on a skillfully-curated program with professional dancers, and with the possibility of winning a substantial cash prize. But at the McCallum Theatre's Palm Desert Choreography Festival, that's been the status quo for over twenty years.
Since Shea New, the festival's artistic director, founded the festival in 1998, she's worked tirelessly with McCallum's director of education and festival producer, Kajsa Thuresson-Frary, and stage manager and festival production manager Joanna Fookes to build a festival that nurtures choreographers, highlights high quality work, powerfully engages the local community and cultivates an audience base for dance in the Coachella Valley. The trio is backed by a strong team of professionals at McCallum and the brilliant volunteers from the local and national level who serve as adjudicators.
Keep reading...
Show less
Get Dance Magazine in your inbox
Bruce Mars via Unsplash
Summer is almost upon us, and whether you're a student about to go on break or a pro counting the days till layoff, don't forget that with warm weather comes a very serious responsibility: To maintain your cross-training routine on your own.
Those of us who've tried to craft our own cross-training routine know it's easier said than done. So we consulted the stars, and rounded up the best options for every zodiac sign. (TBH, you should probably consult an expert, too—we'd recommend a physical therapist, a personal trainer or your teacher.)
Keep reading...
Show less
It's become second nature in dance studios: The instant anyone gets hurt, our immediate reaction is to run to the freezer to grab some ice (or, more realistically, a package of frozen peas).
But as routine as icing our injuries might be, the benefits are not actually backed up by scientific studies. And some experts now believe icing could even disrupt the healing process.
Keep reading...
Show less
Getty Images
I'm a contemporary dancer, and I'm nervous about trying to get pregnant since I can't predict if it might happen during the middle of the season. We have a union contract that is supposed to protect us. But I'm scared because several of my colleagues' contracts weren't renewed for no particular reason. Having a big belly could be a big reason to get rid of me!
—Andrea, New York, NY
Keep reading...
Show less
From Dance of Urgency. © Ekvidi
When the going gets tough, the tough start dancing: That's the premise behind "Dance of Urgency," a recently opened exhibit at MuseumsQuartier Vienna that features photos, video and other documentary material relating to the use of dance as political protest or social uprising.
The groups featured in the show, largely based around clubs and electronic dance music scenes, span the globe and respond to a variety of issues—from inequality and social stratification to racial divides to crackdowns on club culture itself.
Keep reading...
Show less
News
May. 20, 2019 04:24PM EST
Last night, longtime theater legends (including Chita Rivera herself!) as well as rising stars gathered to celebrate one of Broadway's danciest events: the third annual Chita Rivera Awards.
The evening paid tribute to this season's dancer standouts, fabulous ensembles, and jaw-dropping choreography—on- and off-Broadway and on film.
As usual, several of our faves made it into the mix. (With such a fabulous talent pool of nominees to choose from, we're glad that ties were allowed.) Here are the highlights from the winner's list:
Keep reading...
Show less
Lorenzo Di Cristina/Unsplash
When you're a foreign dancer, gaining legal rights to work in the U.S. is a challenging process. It's especially difficult if you're petitioning to work as a freelance dancer without an agent or company sponsorship.
The process requires professional muscle along with plenty of resources and heart. "There's a real misnomer that it's super easy," says Neena Dutta, immigration attorney and president of Dutta Law Firm. "People need to educate themselves and talk to a professional."
Here are four things every foreign dancer who wants to work in the U.S. needs to know to build a freelance dance career here.
Keep reading...
Show less
Quinn Wharton
What does it take to "make it" in dance? It's no secret that turning this passion into a profession can be a struggle. In such a competitive field, talent alone isn't enough to get you where you want to be.
So what kinds of steps can you take to become successful? Dance Magazine spoke to 33 people from all corners of the industry to get their advice on the lessons that could help us all, no matter where we are in our careers.
Keep reading...
Show less
Still of Fonteyn from the 1972 film I Am a Dancer. Photo courtesy DM Archives
On May 18, 1919, Margot "Peggy" Hookham was born. She would grow up to become Dame Margot Fonteyn, England's first homegrown prima ballerina. She joined the Sadler's Wells School in 1934 and was performing principal roles with the precursor to The Royal Ballet the next year. Fonteyn was a company-defining figure, dancing Aurora for the re-opening of the Royal Opera House after World War II, creating numerous roles with Sir Frederick Ashton and forging a legendary partnership with Rudolf Nureyev.
Keep reading...
Show less