Why You Should Embrace Your Performance Anxiety
Rachel Papo
The range of emotions dancers feel during performances can run the gambit from calm transcendental elation to complete dread. If you're the shaking and sweating sort, there's good news for you: Those performance jitters don't have to be a bad thing.
---
Dr. John Raglin, a professor of kinesiology at Indiana University whose work examines the interface of mind and body and exercise, explains that each dancer has their own level of optimum performance anxiety. How dancers respond to their anxiety can help them perform at a higher level more frequently.
Figuring out how you operate is as simple as honestly reflecting on your performances. Think of your best performances, those that you would classify as "great." Then, think of where your anxiety level was before that performance. Were you anxious and chanting "calm down" under your breath? Were you confined to the bathroom for long periods of time before the show?
If these instances occurred before your best performances, it's possible that you just operate best in a more anxious head space. Embrace that as your normal.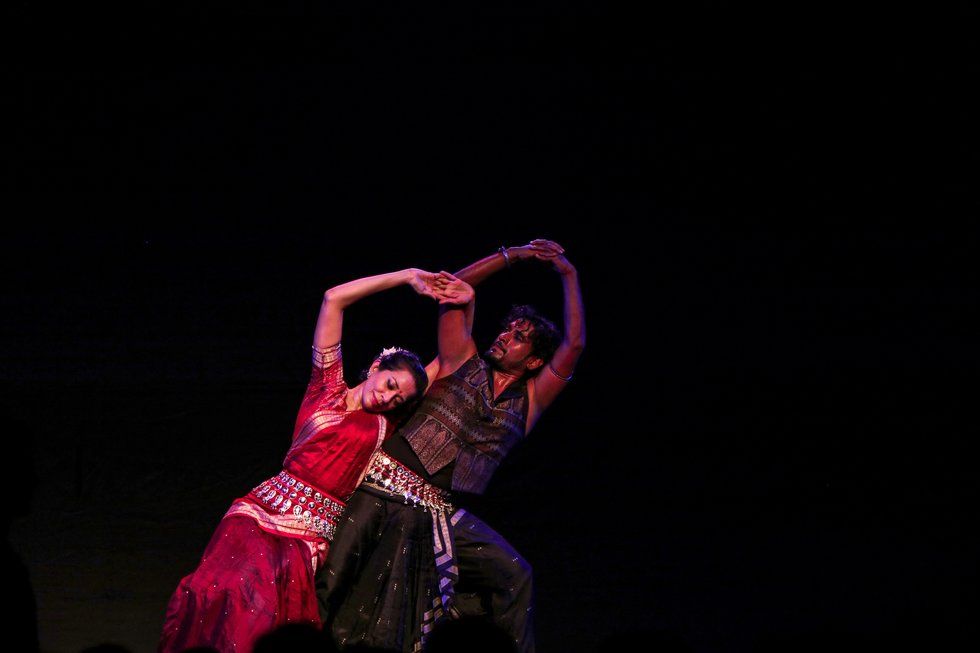 Kunal Parmar/Unsplash
Once you know yourself, what happens if you are partnered with someone whose optimal anxiety differs from your own? Practice any steps, lifts, turns well ahead of the show and then prepare separately before meeting up to go onstage. Removing yourself from an unhelpful environment can allow you to preserve your own ideal levels of pre-show anxiety.
Your natural anxiety levels can contribute to the longevity of your career. "If you need this high emotional state to do your best in class and on the stage, it can be very taxing," says Raglin. All dancers have known one of those calm performers who always seem to feel lighthearted and easygoing when the rest of the world is freaking out. Odds are good, those will be the super-humans who dance for decades on end.
If you are one of those dancers who finds the building of prickly, uncomfortable fear before every performance detrimental, Raglin suggests scanning yourself in any nervous moment to find what positive emotions are present.
"Once you start looking for them, those positive qualities rise to the surface," he says.
When you begin to feel overwhelmed, remember that you are doing something very special onstage. Take a breath and marvel at the physical reaction that caring so much about your craft can create.
From Your Site Articles
Related Articles Around the Web
Michelle Dorrance. Photo by Jayme Thornton
What do Percy Jackson, Princess Diana and Tina Turner have in common? They're all characters on Broadway this season. Throw in Michelle Dorrance's choreographic debut, Henry VIII's six diva-licious wives and the 1990s angst of Alanis Morissette, and the 2019–20 season is shaping up to be an exciting mix of past-meets-pop-culture-present.
Here's a look at the musicals hitting Broadway in the coming months. We're biding our time until opening night!

Keep reading...
Show less
UA Dance Ensemble members Candice Barth and Gregory Taylor in Jessica Lang's "Among the Stars." Photo by Ed Flores, courtesy University of Arizona
If you think becoming a trainee or apprentice is the only path to gaining experience in a dance company environment, think again.
The University of Arizona, located in the heart of Tucson, acclimates dancers to the pace and rigor of company life while offering all the academic opportunities of a globally-ranked university. If you're looking to get a head-start on your professional dance career—or to just have a college experience that balances company-level training and repertory with rigorous academics—the University of Arizona's undergraduate and graduate programs have myriad opportunites to offer:
Keep reading...
Show less
Alice Sheppard/Kinetic Light in DESCENT, which our readers chose as last year's "Most Moving Performance." Photo by Jay Newman, courtesy Kinetic Light
Yes, we realize it's only August. But we can't help but to already be musing about all the incredible dance happenings of 2019.
We're getting ready for our annual Readers' Choice feature, and we want to hear from you about the shows you can't stop thinking about, the dance videos that blew your mind and the artists you discovered this year who everyone should know about.
Keep reading...
Show less
Getty Images
Ah, stretching. It seems so simple, and is yet so complicated.
For example: You don't want to overstretch, but you're not going to see results if you don't stretch enough. You want to focus on areas where you're tight, but you also can't neglect other areas or else you'll be imbalanced. You were taught to hold static stretches growing up, but now everyone is telling you never to hold a stretch longer than a few seconds?
Considering how important stretching correctly is for dancers, it's easy to get confused or overwhelmed. So we came up with 10 common stretching scenarios, and gave you the expert low-down.
Keep reading...
Show less