Why Physically Integrated Dance Still Faces So Many Challenges
AXIS's Lani Dickinson and James Bowen. Photo by Matt Evearitt, courtesy AXIS
After 30 years of pioneering work in physically integrated dance, AXIS Dance Company co-founder Judith Smith has announced plans to retire from the Oakland, California, company. Throughout her tenure, she strived to get equal recognition for integrated dance and disabled dancers, commissioning work from high-profile choreographers like Bill T. Jones. Her efforts generated huge momentum for expanded training, choreography, education and advocacy for dancers with disabilities.
By phone from her home in Oakland, Smith reflected on how far the field has evolved since the early days of AXIS, and what's yet to be done.
---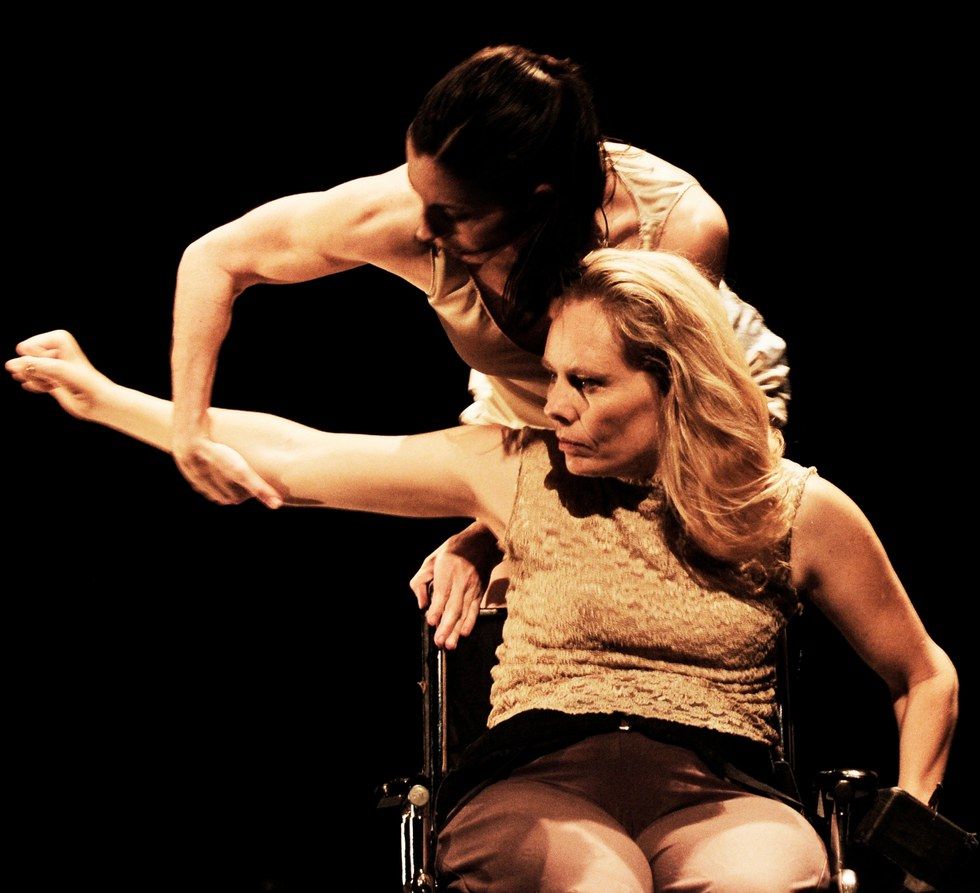 Judith Smith. Photo by Andrea Basile, courtesy AXIS
When you started AXIS, what challenges did you face in terms of being accepted?
There were people doing contact improvisation and including dancers with disabilities in that. But we didn't know any other companies that were actually setting choreography. The first 10 years were really trying to convince the dance world that we were doing dance, and not dance therapy. That really shifted with the first home season that I commissioned. It had Bill T. Jones, Joe Goode and Sonya Delwaide, and Joanna Haigood.
How did choreographers respond to your invitation?
Bill T., the first thing he said when we got into the studio with him was, "I'm really intimidated by this." And we all looked at him and said, "You're intimidated!" (laughs) The exciting thing about commissioning is the choreographers go away feeling like they got as much out of it as we did. We worked with Stephen Petronio, and he took a whole section that we ended up not using and actually used it on his company. That's been so gratifying, that it's not just them doing this great thing for us, it really is reciprocal.
Did you encounter resistance?
There's one critic who told a producer and presenter that he would never come see us because he did not consider what we did to be dance. The first time he came and saw us was our 15th anniversary, and he reviewed it, and actually liked what he saw. Now, he's come to everything. Some works he likes, and some he doesn't. But it was pretty gratifying to learn that people can change their minds.
Do you think that lack of training is the most significant challenge?
I do. There are not enough opportunities for disabled dancers to get training.
What is the barrier?
Teachers are not trained. That's part of our artistic advancement platform: going out and training more teachers all over the country. Somebody like me can't just show up to a dance class. Most of the dancers don't get to pursue dance at college. Victoria Marks is trying to shift that down at UCLA, and Jeff Friedman at Rutgers.
Your teacher trainings and choreographic workshops fill to capacity, so there's demand.
We turn people away from our summer intensive every year. One of the things I would love to see is teacher trainings for faculty at festivals. I was talking to one festival and they said, "We never have disabled dancers. Why would we do that, because nobody would come?" They're not aware.
What are the hopeful signs on the horizon?
There are people at universities getting more interested in integrated dance. One thing that's really great when we tour and go to university presenters, is that we usually get to work with the dance department. We've got Trio A Pressured #X [AXIS's staging of Yvonne Rainer's seminal Trio A], and we would love to do a university Trio A tour, where we would do a teach-in and show our version, but also do physically integrated classes.
Once people experience integrated dance, whether that's coming to a show, or taking a class or a teacher training, it becomes real. That seems like the key.
It definitely is. Having the one-on-one experience just goes miles. The hard part is that people come and they're so excited, and then we leave and there's nowhere for them to go in their city. So we're always encouraging people to start their own thing. What I've done is not rocket science. It's just hard work.
Most people may know Derek Dunn for his impeccable turns and alluring onstage charisma. But the Boston Ballet principal dancer is just as charming offstage, whether he's playing with his 3-year-old miniature labradoodle or working in the studio. Dance Magazine recently spent the day with Dunn as he prepared for his debut as Albrecht in the company's upcoming run of Giselle.
Rosalie O'Connor, Courtesy Mark Morris Dance Group
You know compelling musicality when you see it. But how do you cultivate it? It's not as elusive as it might seem. Musicality, like any facet of dance, can be developed and honed over time—with dedicated, detailed practice. At its most fundamental, it's "respect for the music, that this is your partner," says Kate Linsley, academy principal of the School of Nashville Ballet.
Keep reading...
Show less
The USC Kaufman graduating class with Mikhail Baryshnikov. Gus Ruelas/USC
Just four years ago, the University of Southern California's Glorya Kaufman School of Dance welcomed its first class of BFA students. The program—which boasts world-class faculty and a revolutionary approach to training focused on collaboration and hybridity—immediately established itself as one of the country's most prestigious and most innovative.
Now, the first graduating class is entering the dance field. Here, six of the 33 graduates share what they're doing post-grad, what made their experience at USC Kaufman so meaningful and how it prepared them for their next steps:
Keep reading...
Show less
Ross Parkes, right, teaching in Shanghai in 1983. Lan-Lan Wang is at left. Courtesy Lan-Lan Wang.
Notable dancer and beloved teacher, Ross Parkes, 79, passed away on August 5, 2019 in New York City. He was a founding faculty member at Taipei National University of the Arts in Taiwan, where he taught from 1984 to 2006. Lin Hwai-min, artistic director of Cloud Gate Dance Theater, said: "He nurtured two generations of dancers in Taiwan, and his legacy will continue."
About his dancing, Tonia Shimin, professor emerita at UC Santa Barbara and producer of Mary Anthony: A Life in Modern Dance, said this: "He was an exquisite, eloquent dancer who inhabited his roles completely."
Keep reading...
Show less