News
Jun. 10, 2019 12:27PM EST
Pittsburgh Ballet Theatre Artistic Director Terrence S. Orr to Retire After Next Season
Terrence S. Orr with dancers of Pittsburgh Ballet Theatre. Aimee DiAndrea, courtesy PBT.
Change is in the air in Steel City: On Friday Terrence S. Orr announced that, after 22-years as artistic director of Pittsburgh Ballet Theatre, he will retire in June 2020 following the conclusion of PBT's 50th anniversary season.
---
Orr took the helm of PBT in 1997, succeeding former New York City ballet star Patricia Wilde. Originally from Concord, California, he trained at the San Francisco Ballet School before joining the company and becoming a principal dancer at age 17. He then rose to that rank as a dancer with American Ballet Theatre, where he later spent 19 years as a ballet master before being named PBT's artistic director.
During his tenure, Orr early on guided PBT through financial setbacks and has since overseen growth in the company's budget, ticket sales, school enrollment and campus, including the addition of a 14,000-square-foot annex building with new studios and a wellness center.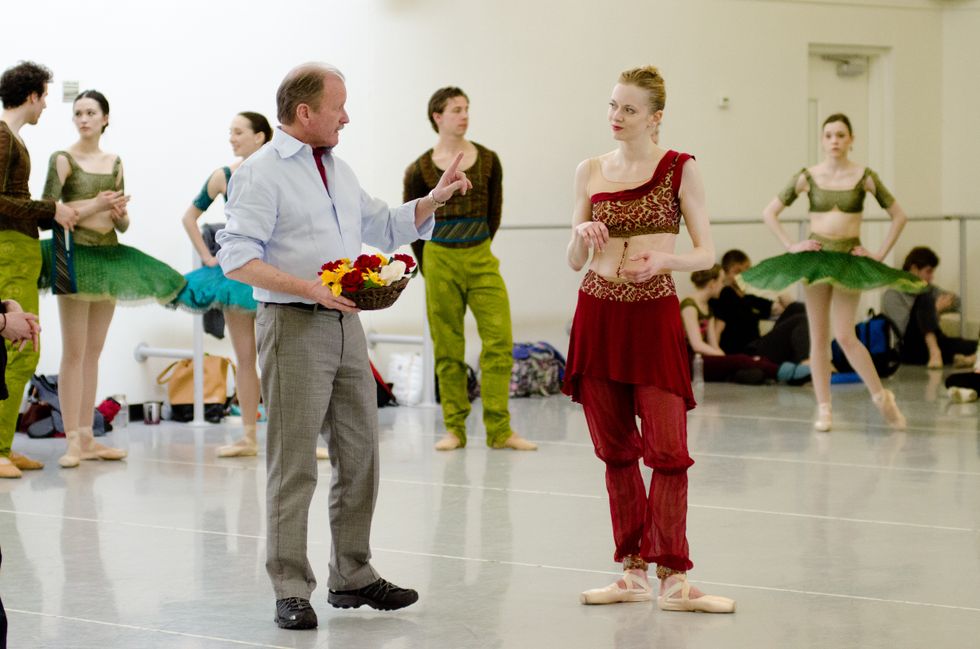 Orr and former principal dancer Julia Erickson in rehearsal.
Aimee DiAndrea, Courtesy PBT.
Orr has balanced PBT's repertory with a mix of story ballet classics and masterworks by George Balanchine, Jerome Robbins, Paul Taylor, Twyla Tharp and others; he has also provided a platform for emerging choreographers, including those within the company. His more than 20 new commissions for PBT includes a string of music-artist-themed ballets in the early 2000s to songs by Lena Horne, Paul Simon, Sting and Bruce Springsteen. In recent years, Orr bolstered PBT's repertory with ballets by Jiří Kylian, John Neumeier and William Forsythe along with company debuts of La Bayadère, Beauty and the Beast and Moulin Rouge®: The Ballet.
He has also championed increased accessibility and educational programming at PBT and the nation's first professional sensory-friendly production of (his Pittsburgh-themed) The Nutcracker.
A succession plan and the formation of a search committee is underway by PBT's Board for Orr's replacement.

"It has been my honor to lead this company," says Orr. "I want to thank the dancers, musicians and patrons who have become like family. You have made my time here something I will always cherish."
We knew that Ivo van Hove and Anne Teresa de Keersmaeker's production of West Side Story would challenge our preconceived notions about the show.
But a recent Vogue story gives us a taste of just how nontraditional the Broadway revival will be. Most notably, van Hove is cutting "I Feel Pretty" and the "Somewhere" ballet, condensing the show into one act to better reflect the urgency of the 48-hour plot. (The choice has been approved by the West Side Story estate, including Sondheim, who has "long been uncomfortable" with some of the "I Feel Pretty" lyrics.)
Keep reading...
Show less
Ailey II artistic director Troy Powell teaching an Ailey Workshop at NYCDA. Courtesy NYCDA
Back in 2011 when Joe Lanteri first approached Katie Langan, chair of Marymount Manhattan College's dance department, about getting involved with New York City Dance Alliance, she was skeptical about the convention/competition world.
"But I was pleasantly surprised by the enormity of talent that was there," she says. "His goal was to start scholarship opportunities, and I said okay, I'm in."
Today, it's fair to say that Lanteri has far surpassed his goal of creating scholarship opportunities. But NYCDA has done so much more, bridging the gap between the convention world and the professional world by forging a wealth of partnerships with dance institutions from Marymount to The Ailey School to Complexions Contemporary Ballet and many more. There's a reason these companies and schools—some of whom otherwise may not see themselves as aligned with the convention/competition world—keep deepening their relationships with NYCDA.
Now, college scholarships are just one of many ways NYCDA has gone beyond the typical weekend-long convention experience and created life-changing opportunities for students. We rounded up some of the most notable ones:
Keep reading...
Show less
Jayme Thornton
It's a much-repeated part of Francesca Hayward's origin story that she discovered ballet at age 3, when her grandparents bought a video of The Nutcracker to keep her occupied and she immediately started dancing around the room. What's less well-known is that there was another video lined up next to The Nutcracker that Hayward liked to dance along to: Cats. "I really just did the White Cat bit and fast-forwarded the rest," she remembers. "I'd make my friends who came around be the other cats."
Twenty-four years later, she's not only become a Royal Ballet principal, but has been cast as Victoria the White Cat in Tom Hooper's new movie adaptation of the Andrew Lloyd Webber musical, out in theaters on December 20. "I remember the director telling me I'd got the part: 'Just to let you know you're the lead in a Hollywood film,' he said." Hayward laughs. "This is crazy!"
Keep reading...
Show less
Left: Hurricane Harvey damage in Houston Ballet's Dance Lab; Courtesy Harlequin. Right: The Dance Lab pre-Harvey; Nic Lehoux, Courtesy Houston Ballet.
"The show must go on" may be a platitude we use to get through everything from costume malfunctions to stormy moods. But when it came to overcoming a literal hurricane, Houston Ballet was buoyed by this mantra to go from devastated to dancing in a matter of weeks—with the help of Harlequin Floors, Houston Ballet's longstanding partner who sprang into action to build new floors in record time.
Keep reading...
Show less