News
Jun. 10, 2019 12:27PM EST
Pittsburgh Ballet Theatre Artistic Director Terrence S. Orr to Retire After Next Season
Terrence S. Orr with dancers of Pittsburgh Ballet Theatre. Aimee DiAndrea, courtesy PBT.
Change is in the air in Steel City: On Friday Terrence S. Orr announced that, after 22-years as artistic director of Pittsburgh Ballet Theatre, he will retire in June 2020 following the conclusion of PBT's 50th anniversary season.
---
Orr took the helm of PBT in 1997, succeeding former New York City ballet star Patricia Wilde. Originally from Concord, California, he trained at the San Francisco Ballet School before joining the company and becoming a principal dancer at age 17. He then rose to that rank as a dancer with American Ballet Theatre, where he later spent 19 years as a ballet master before being named PBT's artistic director.
During his tenure, Orr early on guided PBT through financial setbacks and has since overseen growth in the company's budget, ticket sales, school enrollment and campus, including the addition of a 14,000-square-foot annex building with new studios and a wellness center.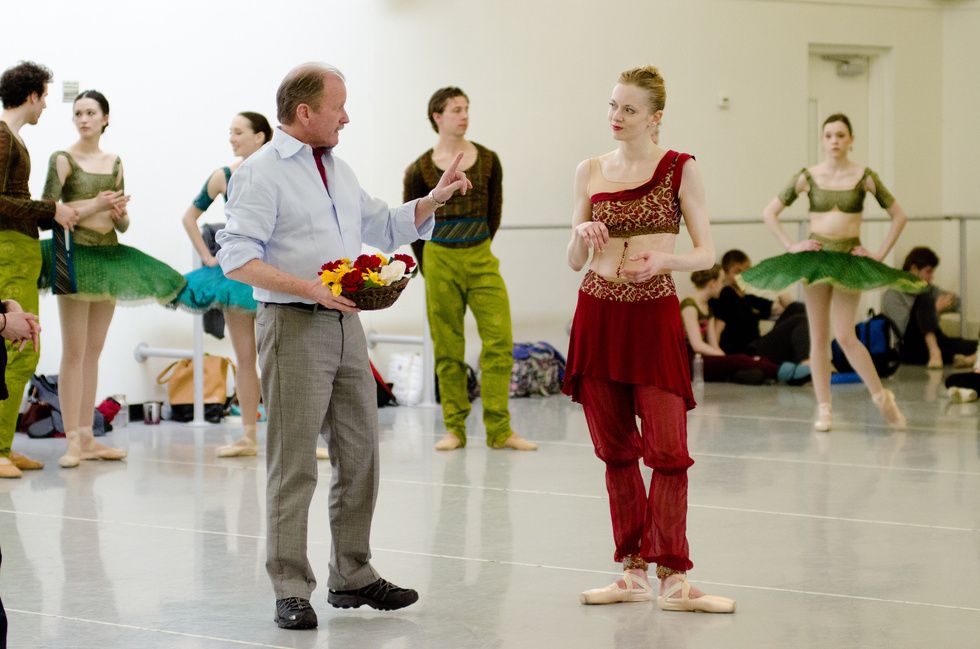 Orr and former principal dancer Julia Erickson in rehearsal.
Aimee DiAndrea, Courtesy PBT.
Orr has balanced PBT's repertory with a mix of story ballet classics and masterworks by George Balanchine, Jerome Robbins, Paul Taylor, Twyla Tharp and others; he has also provided a platform for emerging choreographers, including those within the company. His more than 20 new commissions for PBT includes a string of music-artist-themed ballets in the early 2000s to songs by Lena Horne, Paul Simon, Sting and Bruce Springsteen. In recent years, Orr bolstered PBT's repertory with ballets by Jiří Kylian, John Neumeier and William Forsythe along with company debuts of La Bayadère, Beauty and the Beast and Moulin Rouge®: The Ballet.
He has also championed increased accessibility and educational programming at PBT and the nation's first professional sensory-friendly production of (his Pittsburgh-themed) The Nutcracker.
A succession plan and the formation of a search committee is underway by PBT's Board for Orr's replacement.

"It has been my honor to lead this company," says Orr. "I want to thank the dancers, musicians and patrons who have become like family. You have made my time here something I will always cherish."
Chantelle Pianetta competing at a West Coast swing event. Courtesy Pianetta.
Just hearing the word "improvisation" is enough to make some ballet dancers shake in their pointe shoes. But for Chantelle Pianetta, it's a practice she relishes. Depending on the weekend, you might find her gracing Bay Area stages as a principal with Menlowe Ballet or sweeping in awards at West Coast swing competitions.

She specializes in Jack and Jill events, which involve improvised swing dancing with an unexpected partner in front of a panel of judges. (Check her out in action below.) While sustaining her ballet career, over the past four years Pianetta has quickly risen from novice to champion level on the WCS international competition circuit.
Keep reading...
Show less
Jayme Thornton
Sean Dorsey was always going to be an activist. Growing up in a politically engaged, progressive family in Vancouver, British Columbia, "it was my heart's desire to create change in the world," he says. Far less certain was his future as a dancer.
Like many dancers, Dorsey fell in love with movement as a toddler. However, he didn't identify strongly with any particular gender growing up. Dorsey, who now identifies as trans, says, "I didn't see a single person like me anywhere in the modern dance world." The lack of trans role models and teachers, let alone all-gender studio facilities where he could feel safe and welcome, "meant that even in my wildest dreams, there was no room for that possibility."
Keep reading...
Show less
Getty Images
It's hour three of an intense rehearsal, you're feeling mentally foggy and exhausted, and your stomach hurts. Did you know the culprit could be something as simple as dehydration?
Proper hydration helps maintain physical and mental function while you're dancing, and keeps your energy levels high. But with so many products on the market promising to help you rehydrate more effectively, how do you know when it's time to reach for more than water?
Keep reading...
Show less
James Beaudreau, Courtesy Roberto Lara
Inside a bustling television studio in Los Angeles, Lindsay Arnold Cusick hears the words "Five minutes to showtime." While dancers and celebrities covered head to toe in sequins whirl around preparing for their live performances on "Dancing with the Stars," Cusick pauses to say a prayer to God and express her gratitude.
"I know that it's not a given, and I'm grateful for the opportunity to do what I love for a living," says Cusick, a member of The Church of Jesus Christ of Latter-day Saints. For her, prayer is a ritualized expression of her faith that she has maintained since she was a girl in Provo, Utah. Even with her seven-plus years of industry experience, she always takes a moment to steady herself and close her prayer in Christ's name before rushing onto the stage.
Keep reading...
Show less