Pointe Shoes Prep Tips from the Pros
PNB principal Elizabeth Murphy prepping her shoes. Photo by Lindsay Thomas, courtesy PNB
Preparing pointe shoes is a highly personal process. Each pair requires seemingly contradictory qualities—that they be supportive yet soft, that they be strong yet quiet, that they show off the foot while providing enough structure for balances. So it's no surprise that the quest to get it right is an ongoing experiment.
Three professional ballet dancers shared the secrets of their own prep routines, mistakes and challenges with Dance Magazine.
---
Elizabeth Murphy, Pacific Northwest Ballet principal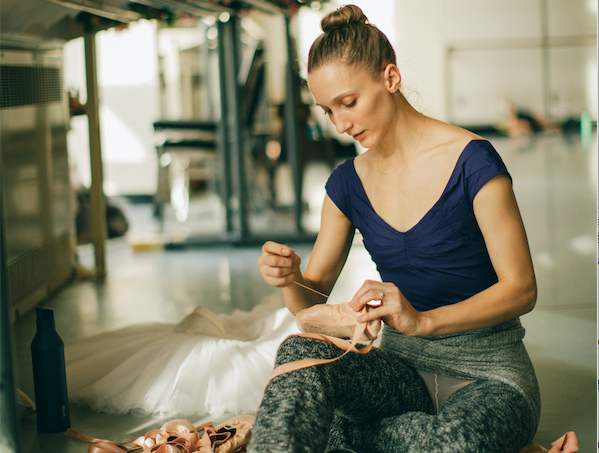 Lindsay Thomas, courtesy PNB
Shoe specs: Special order Freed of London, V maker. She adds extra length to the vamp, has the sides cut down, and asks for the shank of the Freed Classic Pros in addition to a flexible 3/4-shank support.
Pairs per week: Last season, Murphy used 54 pairs—the least of anyone in the company. She alternates between three to four pairs throughout a week, allowing them to dry out in between wears.
Personal challenge: Before Murphy realized she needed a higher vamp, her foot didn't always stay inside her shoe. "I would go up on pointe and sometimes my toes would flop out," says Murphy, laughing. "I have really long toes and stock shoes never had a vamp long enough." She ended up sewing a piece of elastic (close to the drawstring but without going through it) at the top of the vamp for more support. Even though she now special-orders higher vamps, she still adds the elastic when she's doing a full-length ballet.
Break-in process: Murphy starts by looking at each shoe to see if the pair looks nice together and re-pairs them as needed. "I take an eye at the platform and make sure it is angled in a way to put weight over my second toe." After sewing elastics and ribbons, she pops out the nail in the heel and steps on the box. "I make sure they are on the foot that feels best before I tie the elastic drawstring, and then I do some relevés before I glue."
How she uses glue: Murphy squeezes Hot Stuff glue onto where her arch bends, angling the shoe to drip it down the sides of the shank into the back of the box. "I think controlling the amount of glue that pools at the back corner keeps it quieter and less slippery." She also glues the top of the front of the box, about two inches up, so the shoe lasts longer and has more support.
Ashley Murphy-Wilson, The Washington Ballet company dancer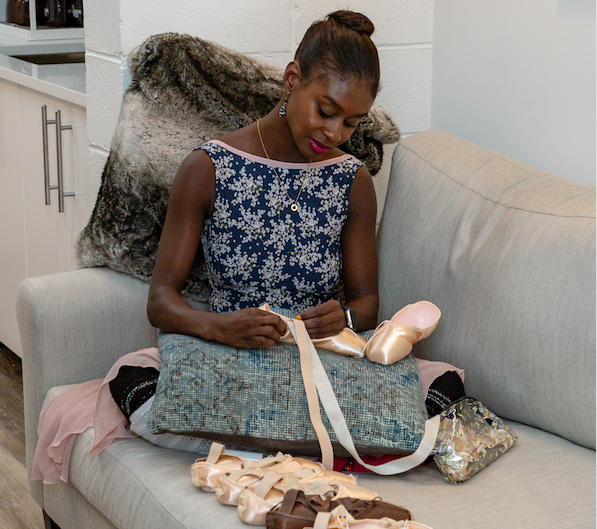 xmbphotography, by Mena Brunette, courtesy The Washington Ballet
Shoe specs: Chacott Veronese, special order with lower sides, a half shank and a lower vamp.
Pairs per week: Murphy-Wilson usually rotates between five to six pairs at a time, but depending on the roles she's dancing, she may end up sewing a new pair every day.
Break-in process: She holds on to about 10 sets of ribbons and crisscross elastics that she recycles. "It makes sewing new pairs easier because the ribbons and elastic are already at the correct length." She also darns the tips of her shoes to make the box flatter and more consistent, which can make it easier to balance and turn.
Secret ritual: When dancing with Dance Theatre of Harlem, Murphy-Wilson and a friend got into the habit of naming each pair of shoes. "It helped to keep the pairs together, but there was also some humor," she says. (One example: "Pointe Ur Biscuits.") It's a tradition that she continues to this day.
WanTing Zhao, San Francisco Ballet soloist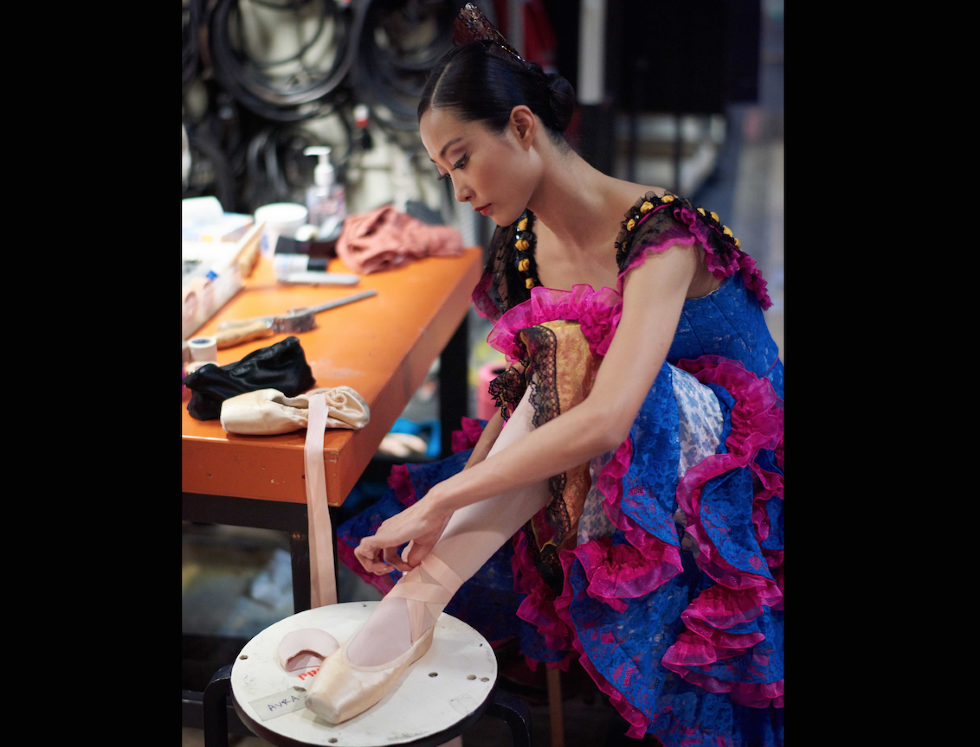 Erik Tomasson
Shoe specs: Russian Pointe, Rubin model.
Pairs per week: Zhao goes through two to three pairs per week, and roughly 150 per season. She sews two pairs at a time and only breaks in new shoes during class, keeping a "good" pair ready to go for rehearsals and leaving her softer shoes for contemporary repertoire.
Break-in process: "My philosophy is that if you have to perform surgery, then they're not the right shoe for you. I need my shoes to support me, and to destroy them before I put them on seems like it defeats the purpose." After sewing on ribbons and mesh elastic, she steps on the box, dabs the sides with alcohol to soften them, then scrapes the bottom of the shoe so she doesn't slip. The whole process takes about 20 minutes.
Pancaking: For performances, Zhao pancakes her shoes with tan powder so that they match her tights (either Bloch Inc. or Body Wrappers/Angelo Luzio). "I use powder instead of a liquid foundation because it keeps the shoes shiny."
Rookie mistake: "When I was 10, I went to a dance store in Beijing to get a pair of pointe shoes myself. But since I knew my feet were going to grow, I got them two sizes too big!"
From Your Site Articles
Related Articles Around the Web
Peter Smith, courtesy of University Musical Society
What happens during a performance is the product of the painstaking process of realizing an artistic vision. Whether held beforehand, afterward, offsite or online, audience discussions tend not to be so preordained, easily thrown off track without a skilled moderator at the helm.
"I'm someone who dreaded talkbacks and Q&As," admits Bill Bragin, former director of public programming at Lincoln Center. "While I was in New York, a lot of the time it was just audience members trying to show off how smart they were."
These events present a pile of difficult questions: How much do you reveal about a piece before it's shown? How can a conversation designed to hit key points feel casual and spontaneous? How do you cater to the needs of diverse attendees, from novice dancegoers to lifelong fans to scholars and critics? And how do you avoid smothering dance with language, flattening all its complexity?
Keep reading...
Show less
UA Dance Ensemble members Candice Barth and Gregory Taylor in Jessica Lang's "Among the Stars." Photo by Ed Flores, courtesy University of Arizona
If you think becoming a trainee or apprentice is the only path to gaining experience in a dance company environment, think again.
The University of Arizona, located in the heart of Tucson, acclimates dancers to the pace and rigor of company life while offering all the academic opportunities of a globally-ranked university. If you're looking to get a head-start on your professional dance career—or to just have a college experience that balances company-level training and repertory with rigorous academics—the University of Arizona's undergraduate and graduate programs have myriad opportunites to offer:
Keep reading...
Show less
Alice Sheppard/Kinetic Light in DESCENT, which our readers chose as last year's "Most Moving Performance." Photo by Jay Newman, courtesy Kinetic Light
Yes, we realize it's only August. But we can't help but to already be musing about all the incredible dance happenings of 2019.
We're getting ready for our annual Readers' Choice feature, and we want to hear from you about the shows you can't stop thinking about, the dance videos that blew your mind and the artists you discovered this year who everyone should know about.
Keep reading...
Show less
Silas Farley in his Songs from the Spirit at the Metropolitan Museum of Art. Rosalie O'Connor, Courtesy Farley
I dance to encourage others. The longer I dance, the more I see that much of my real work is to speak life-giving words to my fellow artists. This is a multidimensionally grueling profession. I count it a privilege to remind my colleagues of how they are bringing beauty into the world through their craft. I recently noticed significant artistic growth in a fellow dancer, and when I verbalized what I saw, he beamed. The impact of positive feedback is deeper than we realize.
Keep reading...
Show less