What It Takes to Tour Politically-Charged Works to Places Where the Message May Not Be Welcome
Allegra Bautista in Nevertheless, by ka·nei·see | collective. Photo by Robbie Sweeny
An audience member once emailed Dallas choreographer Joshua L. Peugh, claiming his work was vulgar. It complained that he shouldn't be pushing his agenda. As the artistic director of Dark Circles Contemporary Dance, Peugh's recent choreography largely deals with LGBTQ issues.
"I got angry when I saw that email, wrote my angry response, deleted it, and then went back and explained to him that that's exactly why I should be making those works," says Peugh.
With the current political climate as polarized as it is, many artists today feel compelled to use their work to speak out on issues they care deeply about. But touring with a message is not for the faint of heart. From considerations about how to market the work to concerns about safety, touring to cities where, in general, that message may not be so welcome, requires companies to figure out how they'll respond to opposition.
---
Yet many artists find that venturing away from their typical audiences offers an unparalleled opportunity to raise awareness, spark conversations and, in the best cases, even change minds.
Balancing Local Values and Artistic Integrity
Based in Minneapolis, Ananya Chatterjea tours her contemporary Indian dance work all over the world, bringing charged topics to Ethiopia, India, Zimbabwe and Palestine, among other places. Her company, Ananya Dance Theatre, is dedicated to sharing the stories of women of color, tackling deep and often controversial issues, such as systemic violence or threats to the environment.
"I dance because I am committed to politics and justice," she says. "My job is not to change laws. That is the job of legislators. My job as an artist is to move human beings, to say, 'Hey, this is something we should all care about.' "
Chatterjea has gotten used to encountering resistance in various tour stops. Sometimes it's low ticket sales or people walking out mid-show; other times it's negative verbal feedback or suggestions by presenters to edit out sections of her work.
In one case, Chatterjea was asked to not bring certain parts of a piece that depicted intimacy between women. "The work is the work," says Chatterjea. Still, she seeks to strike a balance between maintaining her art's integrity and respecting the local mores and values of the places where she tours.
Other variables, like marketing, sometimes need to be more flexible in order to draw an audience in the first place. Tanya Chianese, artistic director of the Oakland-based ka•nei•see | collective, was once asked by festival coordinators to take out any mention of toilet paper from her marketing materials for a piece that used it as a prop. They thought it would be offensive to their primarily conservative community.
She complied with their marketing request, yet left the toilet paper in the actual piece. (The presenters' instinct was probably correct: An audience member specifically told Chianese during a talkback that they felt the toilet paper was inappropriate.)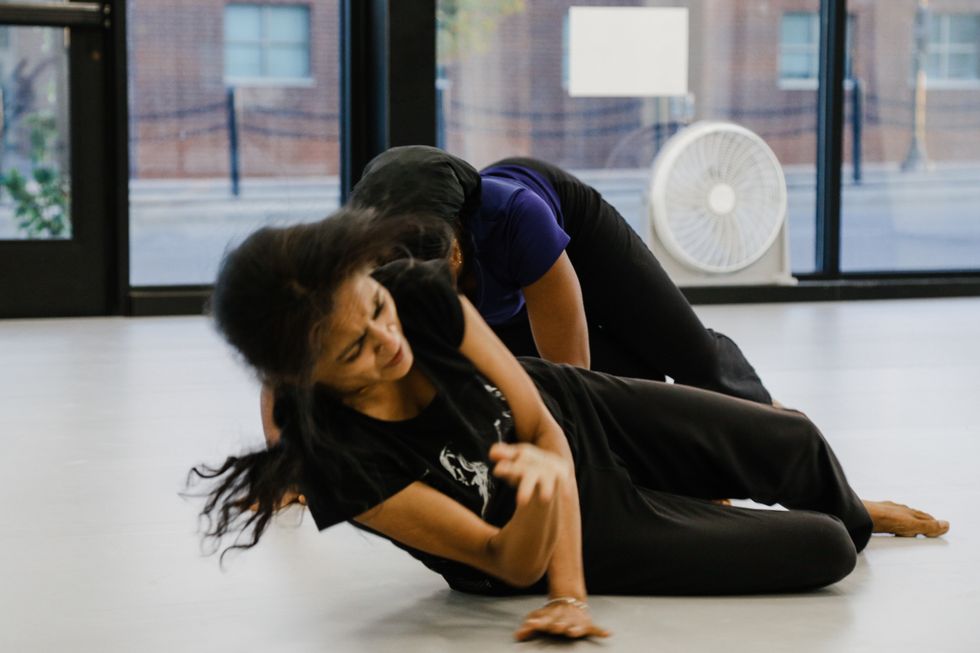 Ananya Chatterjea
Isabel Fajardo, Courtesy Ananya Dance Theatre
Choosing the Right Location
Although sometimes tour stops are simply a matter of which presenter offers an invite, other times choreographers zero in on particular areas where they feel their message will be especially influential. In 2015, Chatterjea chose to present Roktim: Nurture Incarnadine, a piece about farming practices used by women of color, in Ethiopia because of its relevance amidst the country's agricultural struggles. Audience members came in droves and cheered after every section of the piece.
Next year, Chatterjea will present a work about borders, journeys and homes, and hopes to bring it to border states. "The idea is to reach out to places where maybe people have more stories to share," she says.
That idea can even extend to more local tours. Earlier this year, Peugh collaborated with contemporary dance company MADCO as part of its Unity Movement, a series of works designed to generate conversations about segregation. The company targeted different zip codes within its home base of St. Louis to reach a variety of audiences, from affluent white neighborhoods to lower-income African-American communities. The goal at each stop was the same: to spark those more difficult conversations about race relations.
Traveling to areas where pushback is expected can be an opportunity to raise awareness—both for the audience and the artists. "I have learned never to be prescriptive, or to prejudge a context," says Chatterjea. People can surprise you. She remembers once presenting a work in a conservative part of Wisconsin. An older veteran left in the middle of the show. Afterward he came back and told Chatterjea that the imagery in her piece reminded him of the Vietnam War. She apologized for evoking that memory, but he thanked her for uncovering something he'd buried so deeply.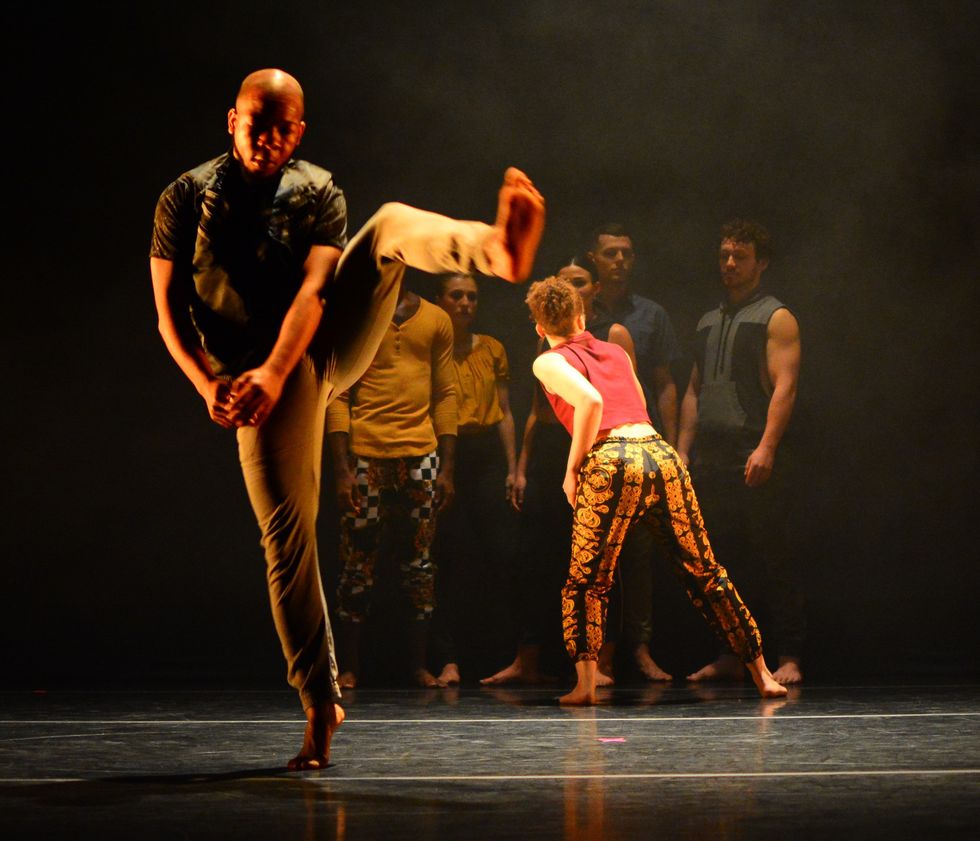 MADCO's Unity Movement
David Lancaster, Courtesy MADCO
Getting Skeptical Audiences Engaged
MADCO directors Nicole Whitesell and Emilee Morton have had audience members ask them why they don't just show good dance, and leave politics out of it. They respond by politely explaining that social justice is part of their company's mission.
Inviting audience members to share their reactions, questions and opinions can create opportunities for real dialogue. "Even when I'm nervous, I always make sure to go out to the lobby after the show and talk to people," says Chianese.
In 2018, after her first showing of Nevertheless, a piece about the sexual harassment of women, she was told that it didn't represent all women and that Chianese should make that clearer. After hearing that feedback, she decided to add a preshow disclaimer.
Looking to the future, Chianese hopes to engage audiences in the cities she tours to even further by offering free tickets and workshops to local women's centers and bringing in local dancers to perform the work. "So many of the words and sections are from the performers themselves," she says of Nevertheless. "Bringing in local performers could make it more relevant to that area."
At MADCO, Morton and Whitesell are mindful that although they can present a perspective on segregation, they aren't experts. To open up their conversations to more diverse perspectives, they ask the choreographers, who come from a range of backgrounds, to help moderate a postshow discussion. "We are two white women and we know how that might feel, so we make sure we bring our collaborators with us," says Whitesell.
Joshua Peugh leading a Dark Circles rehearsal
Chadi, Courtesy Dark Circles
Using Opposition as Opportunity
Whenever she encounters negative feedback from viewers, Chatterjea responds with politeness and respect. "We agree to disagree and that's okay. There's enough space in the world for both our points of view," she'll tell them. "I have a different point of view because I come from a different place. Your journey has been different."
How Peugh responded to the man who emailed him about his agenda is how he aims to respond to all pushback: as an opportunity. "It's very personal when someone reacts negatively," he says. "But once I got over the anger, my response was basically, 'Okay, you felt that way about the work. Let's talk about that. Thank you for beginning the conversation.' I never heard from him again, but something touched him enough so that he felt that he had to write to me. That's good because it means he was affected by what he saw."
However challenging, Chatterjea emphasizes the importance of persistence. "To shift minds takes time. We can't be arrogant about that," she says. "We have to keep at it."
From Your Site Articles
Related Articles Around the Web
Rachel Papo
In the middle of one of New York City Center's cavernous studios, Misty Copeland takes a measured step backwards. The suggestion of a swan arm ripples before she turns downstage, chest and shoulders unfurling as her legs stretch into an open lunge. She piqués onto pointe, arms echoing the sinuous curve of her back attitude, then walks out of it, pausing to warily look over her shoulder. As the droning of Ryuichi Sakamoto and Alva Noto's mysterious "Attack/Transition" grows more insistent, her feet start to fly with a rapidity that seems to almost startle her.
And then she stops mid-phrase. Copeland's hands fall to her hips as she apologizes. Choreographer Kyle Abraham slides to the sound system to pause the music, giving Copeland a moment to remind herself of a recent change to the sequence.
"It's different when the sound's on!" he reassures her. "And it's a lot of changes."
The day before was the first time Abraham had seen Copeland dance the solo in its entirety, and the first moment they were in the studio together in a month. This is their last rehearsal, save for tech, before the premiere of Ash exactly one week later, as part of the opening night of City Center's Fall for Dance festival.
Keep reading...
Show less
Ailey II artistic director Troy Powell teaching an Ailey Workshop at NYCDA. Courtesy NYCDA
Back in 2011 when Joe Lanteri first approached Katie Langan, chair of Marymount Manhattan College's dance department, about getting involved with New York City Dance Alliance, she was skeptical about the convention/competition world.
"But I was pleasantly surprised by the enormity of talent that was there," she says. "His goal was to start scholarship opportunities, and I said okay, I'm in."
Today, it's fair to say that Lanteri has far surpassed his goal of creating scholarship opportunities. But NYCDA has done so much more, bridging the gap between the convention world and the professional world by forging a wealth of partnerships with dance institutions from Marymount to The Ailey School to Complexions Contemporary Ballet and many more. There's a reason these companies and schools—some of whom otherwise may not see themselves as aligned with the convention/competition world—keep deepening their relationships with NYCDA.
Now, college scholarships are just one of many ways NYCDA has gone beyond the typical weekend-long convention experience and created life-changing opportunities for students. We rounded up some of the most notable ones:
Keep reading...
Show less
Getty Images
Dancers are understandably obsessed with food. In both an aesthetic and athletic profession, you know you're judged on your body shape, but you need proper fuel to perform your best. Meanwhile, you're inundated with questionable diet advice.
"My 'favorite' was the ABC diet," says registered dietitian nutritionist Kristin Koskinen, who trained in dance seriously but was convinced her body type wouldn't allow her to pursue it professionally. "On the first day you eat only foods starting with the letter A, on the second day only B, and so on."
Keep reading...
Show less
Left: Hurricane Harvey damage in Houston Ballet's Dance Lab; Courtesy Harlequin. Right: The Dance Lab pre-Harvey; Nic Lehoux, Courtesy Houston Ballet.
"The show must go on" may be a platitude we use to get through everything from costume malfunctions to stormy moods. But when it came to overcoming a literal hurricane, Houston Ballet was buoyed by this mantra to go from devastated to dancing in a matter of weeks—with the help of Harlequin Floors, Houston Ballet's longstanding partner who sprang into action to build new floors in record time.
Keep reading...
Show less