Hungry? Jittery? Bloated? Don't Make These Pre-Performance Nutrition Mistakes
Without enough healthy carbs, you'll lose energy quickly. Photo by Pablo Merchán Montes/Unsplash
Despite how many hours dancers spend in rehearsal getting performance-ready, many overlook one last crucial detail: the show-day nutrition plan.
"It's all about preparation," says Emily C. Harrison, a former dancer who now runs Dancer Nutrition, LLC. "To have a good performance, you give your time to rehearsals and making sure your body is in good shape. Why not also take the time to plan your meals and snacks? It's just as important as your pre-show warm-up."
The last thing you want to be thinking about onstage is an empty, over-caffeinated or bloated stomach. Luckily, with a little planning ahead, you can make sure these all-too-common nutrition mistakes don't get in the way of your best performance.

---
Mistake: Timing It Wrong
You have a show at 8 pm, but you've been in rehearsal all day and barely had time to eat anything. Now it's 7:30 and you're starving. "This should never happen," says dietitian Peggy Swistak, who works with dancers at Pacific Northwest Ballet. "Think about how your nutrition plays into your day of dancing and rehearsals. Ask yourself, 'When do I provide myself the energy I need to keep going?' Don't let it get thrown to the side."
If you let yourself get too hungry, you could end up overeating and dancing on an overly full stomach. Instead, plan to eat small, frequent meals and snacks every two to three hours throughout the day. Try to eat your last meal two to three hours before the show. If you need to top off your energy stores prior to curtain, munch on small snacks that won't overwhelm your stomach backstage.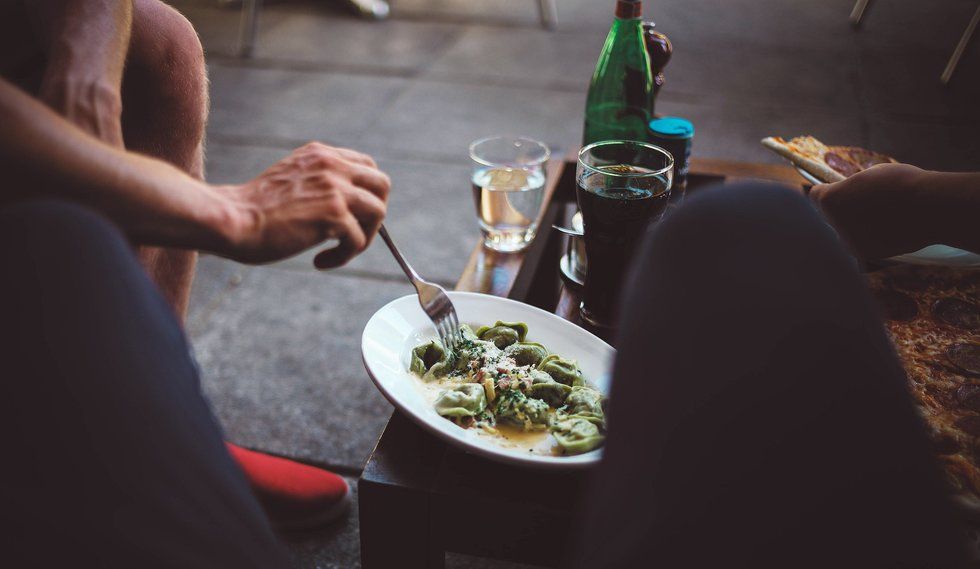 Try to eat your last meal two to three hours before you perform. Photo by Igor Miske/Unsplash
Mistake: Not Eating Enough Carbs
If you only have a protein shake for dinner, you're likely to start losing energy halfway through Act I. "Dancers are stop-start athletes, not endurance athletes," says Harrison. "We need to go full-out for a short amount of time." To accomplish that, you have to fuel your body with more than protein. "It's like putting the wrong type of gas into a racecar," says Harrison. "Instead, you want primarily carbohydrates with a little bit of protein and a little bit of fat."
Healthy carbs can be found in whole-wheat pastas, brown rice, quinoa and oatmeal, as well as fruits and vegetables. Swistak says every meal or snack you reach for should include a mix of carbs, lean protein and healthy fats. "Don't eliminate any of these components," she says. "Instead of just having carrots, dip them in hummus."
Mistake: Under-Hydrating
Stage lights and nerves can make you sweat more than you're used to—increasing your chances of becoming dehydrated, which can lead to cramping and lightheadedness. But pay attention to what you're drinking. Rachel Fine, founder of To The Pointe Nutrition, warns against beverages with sugar, sugar alcohols or artificial sweeteners. "Avoid soda—regular and diet—and quit the energy drinks," she says. "These nutrient-poor choices may contribute to dehydration, and most contain sodium, which can make you feel full and bloated prior to a show." To encourage yourself to drink more water, boost the flavor by adding a slice of lemon or cucumber.
Never chug an entire bottle of water just before going on stage—you don't want to feel it sloshing around in your intestines or end up needing to run to the bathroom. Instead, drink slowly and continuously throughout the day until about 30 to 45 minutes before curtain. Then, just grab sips of water whenever you're offstage during the show.
Mistake: Dancing on Empty
The worst thing you can do before a show is avoid food. Not only will you feel weak onstage, but you'll be sacrificing your strength over time. "Maybe you have to wear a costume that's revealing or that you feel self-conscious in, or you think you'll just eat after the show," says Harrison. "But your body has to find energy from somewhere, so it ends up breaking down its own muscle tissue to use as fuel. You're making yourself weaker in the long term."
If you're afraid of looking puffy, snack on unsalted nuts and water-filled fruits like grapes or water­melon. These will give you energy without making you bloat.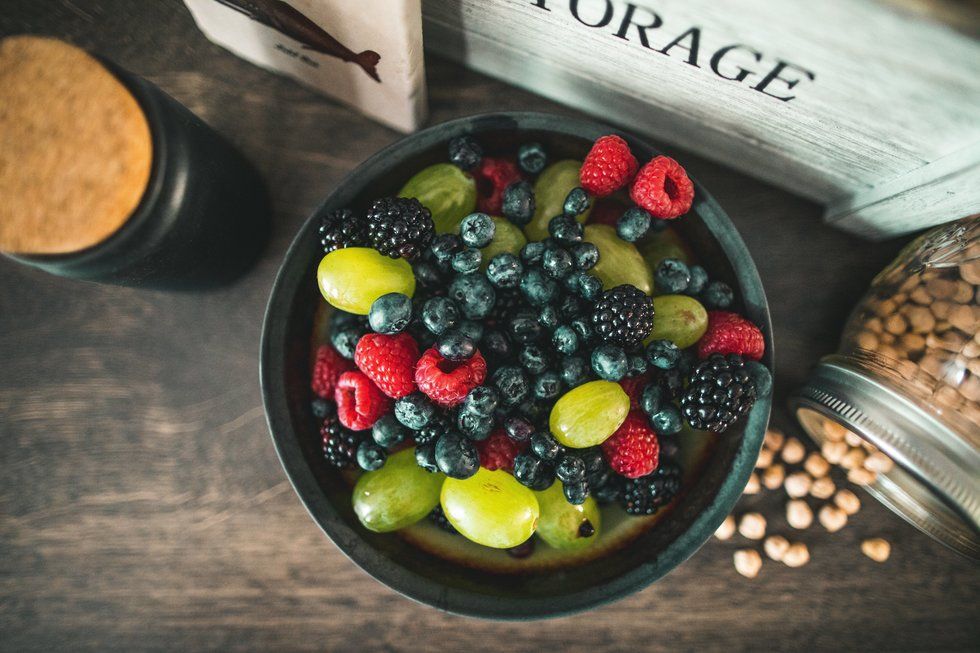 Water-filled fruits like grapes or unsalted nuts can give you energy without making you feel bloated. Photo by Hector Bermudez/Unsplash
Mistake: Over-Caffeinating
It's tempting to reach for a cup of coffee for an extra boost of energy before heading onstage, but not all dancers can handle the caffeine intake. "Caffeine is a chemical substance and affects everyone differently, like a drug," says Harrison. "Don't drink so much that it makes you jittery. That's when we make stupid mistakes or get injured." A moderate amount of caffeine (one to two cups daily) may actually benefit dancers and heighten performance, says Fine. "Research has shown caffeine—when it comes from the right sources, like coffee or tea—boosts endurance by mobilizing our fat stores and sparing our muscles' glycogen stores," she says. "In other words, your muscles are able to work harder for longer periods of time." But if you're not already a regular coffee drinker, the day of a performance isn't the time to become one. And skip the sugary toppings or add-ons, like whipped cream or caramel sauce. Just like candy, those empty calories may lead to a sugar crash an hour into the show.
Mistake: Eating What Your Cast Mate Eats
Everyone reacts to food differently. Don't think that just because a chicken burrito works for your partner means it will work for you. Take the time to learn how your body handles pre-performance meals and snacks. Use dress rehearsals to test different nutrition approaches and find out what fuels your best performance.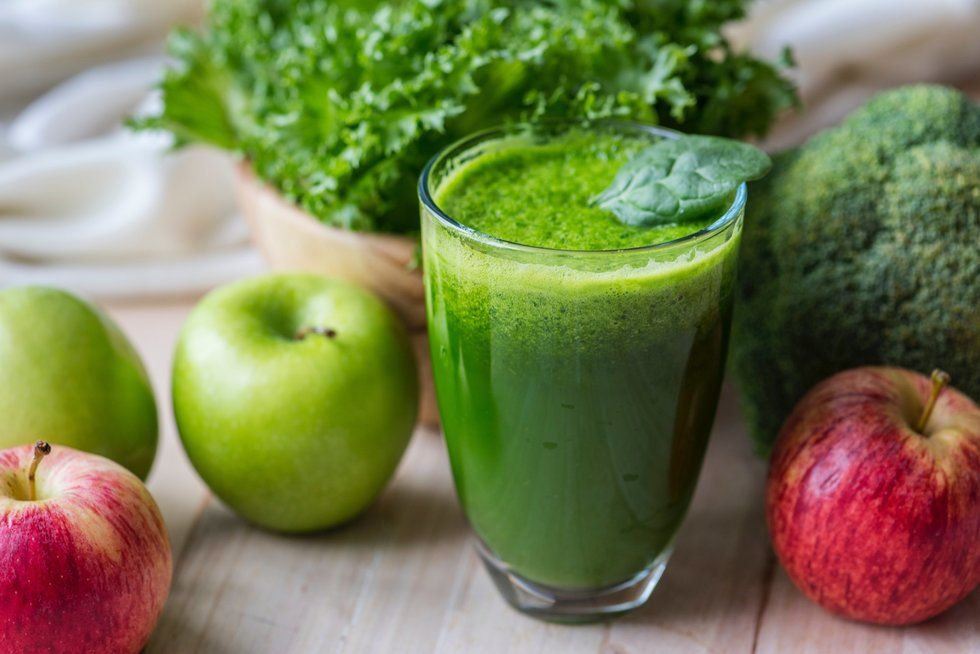 Eat what works for you. Photo via Unsplash
Try These Smart Pre-Curtain Meals
Most dancers perform best after eating a healthy, hearty meal about two to three hours before stepping onstage. Try one of these simple dishes to get an ideal mix of carbs, protein and fats.
• A cup of pasta or rice with a light sauce and some vegetables
• A roasted sweet potato with low-fat cottage cheese
• A smoothie with soy or almond milk, walnuts, chia or flax seeds, frozen berries and a banana
• Quinoa mixed with nuts and dried figs
• Oatmeal with nuts, seeds or dried fruits
---
From Your Site Articles
Related Articles Around the Web
When the news broke that Prince George, currently third in line for the British throne, would be continuing ballet classes as part of his school curriculum this year, we were as excited as anyone. (Okay, maybe more excited.)
This was not, it seems, a sentiment shared by "Good Morning America" host Lara Spencer.
Keep reading...
Show less
UA Dance Ensemble members Candice Barth and Gregory Taylor in Jessica Lang's "Among the Stars." Photo by Ed Flores, courtesy University of Arizona
If you think becoming a trainee or apprentice is the only path to gaining experience in a dance company environment, think again.
The University of Arizona, located in the heart of Tucson, acclimates dancers to the pace and rigor of company life while offering all the academic opportunities of a globally-ranked university. If you're looking to get a head-start on your professional dance career—or to just have a college experience that balances company-level training and repertory with rigorous academics—the University of Arizona's undergraduate and graduate programs have myriad opportunites to offer:
Keep reading...
Show less
Alice Sheppard/Kinetic Light in DESCENT, which our readers chose as last year's "Most Moving Performance." Photo by Jay Newman, courtesy Kinetic Light
Yes, we realize it's only August. But we can't help but to already be musing about all the incredible dance happenings of 2019.
We're getting ready for our annual Readers' Choice feature, and we want to hear from you about the shows you can't stop thinking about, the dance videos that blew your mind and the artists you discovered this year who everyone should know about.
Keep reading...
Show less
News
Aug. 23, 2019 10:30AM EST
A still from Dancing Dreams. Courtesy OVID
If you're seeking an extra dash of inspiration to start the new season on the right—dare we say—foot, look no further than dance documentaries.
Starting August 23, OVID, a streaming service dedicated to docs and art-house films, is adding eight notable dance documentaries to its library. The best part? There's a free seven-day trail. (After that, subscriptions are $6.99 per month or $69.99 annually.)
From the glamour of Russian ballet stars to young dancers training in Cuba to a portrait of powerhouse couple Carmen de Lavallade and Geoffrey Holder, here's what's coming to a couch near you:
Keep reading...
Show less