The Newest Old-School Fundraising Scheme: A Telethon Livestream
Raja Feather Kelly is hoping to raise $10,000 with an old-school telethon. Photo by Epfalck/Effyography, courtesy Kelly
How does a choreographer pressed for time raise a whole lot of money quickly—really quickly?
If you're Raja Feather Kelly, founder and artistic director of the feath3r theory, you do a 24-hour telethon—and you live stream it from the Kickstarter Headquarters in Greenpoint, Brooklyn.
---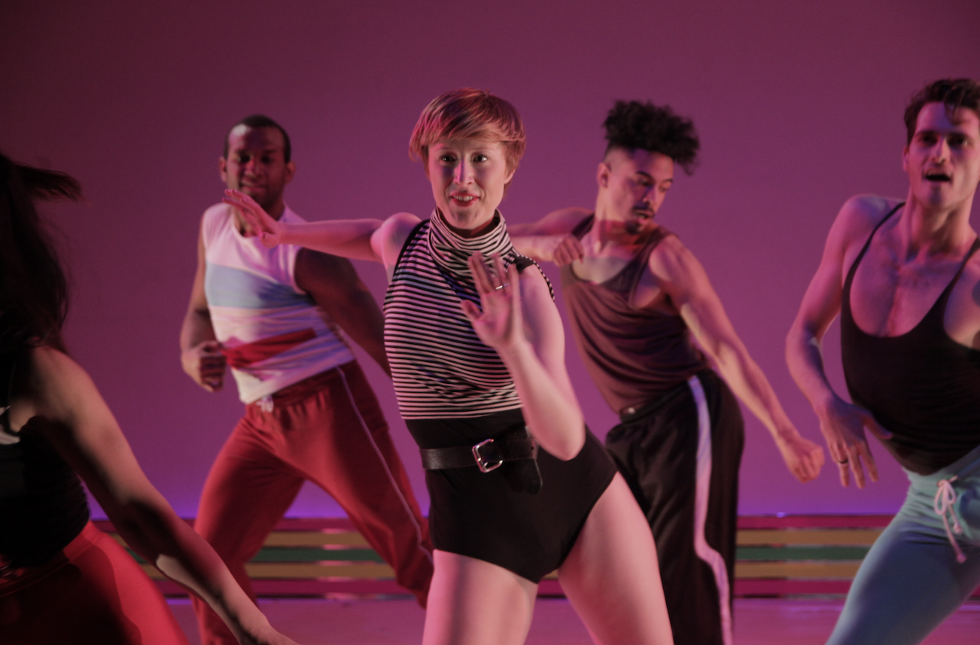 the feath3r theory's Amy Gernux. Photo by Aitor Mendilibar, courtesy Kelly
It all started in 2017, when—after bemoaning how time-consuming Kickstarter campaigns can be—a company member jokingly suggested an old-school telethon. "We'd spend one whole day asking for money, and be done!" Kelly says. "It's so on brand because our work is all about re-appropriating popular culture."

Last year's inaugural fundraiser took place at Kelly's apartment, where they managed to pull in $7,440 in 24 hours (the goal was $5,000, which they reached in the first 12 hours). This year will be the first-ever live event hosted at the Kickstarter Headquarters and will be streamed on Kickstarter Live, Facebook and Insta Stories. The goal? Raise $10,000.
Although it will have many of the same features as the first telethon—Kelly and company will make live fundraising calls and conduct interviews with friends and fans ("Why do you like our work? What should we do in the next five years?")—this one will have more of a gala/show/party feel, with doors opening to the public from 6 pm to midnight, with plenty of booze, dancing and cake to boot, in honor of Kelly's birthday.
"The only weekend I had free was my birthday weekend!" he laughs. "So we are doing it on my birthday."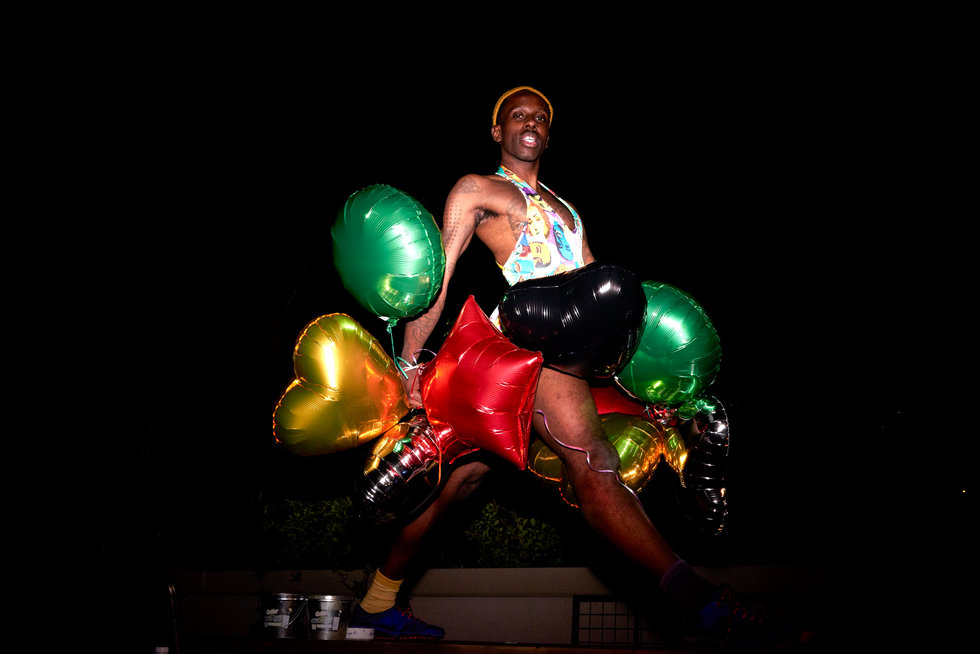 Raja Feather Kelly. Photo by Kate Shot Me, courtesy Kelly
What will happen between, say, 12 am and 8 am, when the venue is almost empty? "I'll call people on the West coast. I'll listen to music and DJ and talk to people. Say my thank yous," Kelly says. "I'll do my Marina Abramovic-esque napping. Then I'll wake up and continue calling people."

The Kickstarter goes live June 4 at noon.
Many of the dancers of 10000 Gestures weren't wearing much clothing when they started climbing on audience members. Photo by Ursula Kaufmann via nyuskirball.org
Some of my favorite experiences as both an audience member and a dancer have involved audience participation. Artists who cleverly use participatory moments can make bold statements about the boundaries between performer and spectator, onstage and off. And the challenge to be more than a passive viewer can redefine an audience's relationship to what they're watching. But all the experiences I've loved have had something in common: They've given audiences a choice.
A few weeks back, I had a starkly different experience—one that has caused me to think deeply about how consent should play into audience-performer relationships.
Keep reading...
Show less
This high school dance team's Harry Potter routine has gone viral. Screenshot via ThePac Walden Grove's YouTube channel.
What happens when you mix two really good things together? Sometimes, it can be magical. It's practically guaranteed when one of those elements is the wizarding world of Harry Potter, and the other is—wait for it—dance-team–style hip hop.
Keep reading...
Show less
News
Oct. 12, 2018 11:04AM EST
Adam McKinney's HaMapah/The Map. Photo by Lafotographeuse, Courtesy McKinney
When the Bible spoke of the "ingathering of the exiles," it didn't have dance in mind. Yet, this month, more than 100 dancers, choreographers and scholars from around the world will gather at Arizona State University to celebrate the impact of Jews and the Jewish experience on dance. From hora to hip hop, social justice to somatics, ballet to Gaga, the three-day event (Oct. 13–15) is "deliberately inclusive," says conference organizer and ASU professor Naomi Jackson.
Keep reading...
Show less


Get Dance Magazine in your inbox