5 Reasons We'll Miss NYCB Principal Rebecca Krohn
Rebecca Krohn in Balanchine's Serenade. Photo by Paul Kolnik, Courtesy NYCB
This Saturday night, New York City Ballet principal Rebecca Krohn is performing for the last time, in Balanchine's Stravinsky Violin Concerto. After 19 years at the company, she's transitioning into a ballet master role. As she told Playbill, she's incredibly grateful for the coaching she's received during her career, and now she wants to give back to the next generation.
In a company filled with buzzed-about stars, Krohn can sometimes fly under the radar. But then you'll see her in certain roles—particularly in Balanchine's "leotard ballets" —and she'll completely win you over with her bright, charming presence. Here are a few of the reasons we're going to miss her.
---
The way she can confidently command a stage in nothing more than a leotard and tights:


The way she uses her limbs as though they have no end. Sure, she's tall and leggy, but her incredible reach makes her look even longer:


The way she seems like a real person, not just a bunhead: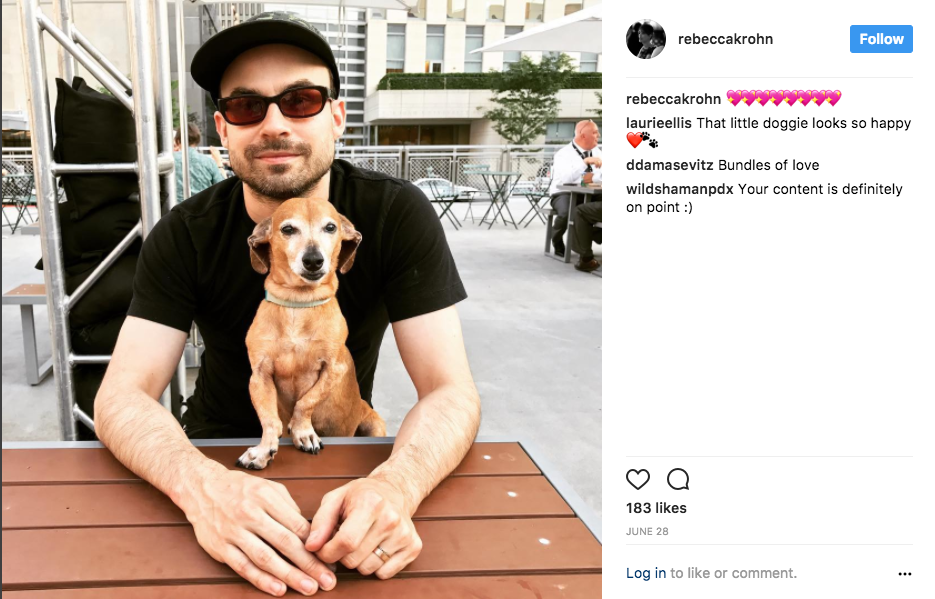 Hendrickson and their dog, Franny
Krohn told The New York Times that she knew she was in love with her husband, former NYCB dancer Adam Hendrickson, when he offered her a piece of bacon—when she was still a vegetarian.
Every night after the production that holiday season in 1999, she and Mr. Hendrickson would go to a diner to eat. A vegetarian of five years at the time, she sat across from him feeling an extreme level of exhaustion. He handed her a piece of bacon off his plate.

"You need the protein," he said. "You're going to feel so much better."

She hesitated, but she could see how concerned he was. He knew her body was depleted, and he understood firsthand the mental and physical demands of being a dancer. She took the bacon.

"It seems silly now," she said. "But it meant so much to me. As an athlete, you need so much protein, and I just wasn't taking care of myself." They married in 2011.

The way she can be delicately soft, even while cleanly punctuating every shape in the choreography:
(Rebecca Krohn and Adrian Danchig-Waring in George Balanchine's Stravinsky Violin Concerto.)
The way she's so grateful for her mentors, like Karin von Aroldingen, whom Krohn cites as one of the reasons she wants to become a ballet master:
Unsplash
Essential oils sometimes get a bad rap. Between the aggressive social media marketing for the products and the sometimes magical-sounding claims about their healing properties, it's easy to forget what they can actually do. But if you look beyond the pyramid schemes and exaggerations, experts believe they have legit benefits to offer both mind and body.
How can dancers take advantage of their medicinal properties? We asked Amy Galper, certified aromatherapist and co-founder of the New York Institute of Aromatic Studies:
Keep reading...
Show less
News
Mar. 22, 2019 09:02AM EST
Photo by Howard Sherman, Courtesy SDC
Karen Azenberg, a past president of the Stage Directors and Choreographers Society, stumbled on something peculiar before the union's 2015 move to new offices: a 52-year-old sealed envelope with a handwritten note attached. It was from Agnes de Mille, the groundbreaking choreographer of Oklahoma! and Rodeo. De Mille, a founding member of SDC, had sealed the envelope with gold wax before mailing it to the union and asking, in a separate note, that it not be opened. The reason? "It is the outline for a play, and I have no means of copyrighting…The material is eminently stealable."
Keep reading...
Show less