5 Reasons We'll Miss NYCB Principal Rebecca Krohn
Rebecca Krohn in Balanchine's Serenade. Photo by Paul Kolnik, Courtesy NYCB
This Saturday night, New York City Ballet principal Rebecca Krohn is performing for the last time, in Balanchine's Stravinsky Violin Concerto. After 19 years at the company, she's transitioning into a ballet master role. As she told Playbill, she's incredibly grateful for the coaching she's received during her career, and now she wants to give back to the next generation.
In a company filled with buzzed-about stars, Krohn can sometimes fly under the radar. But then you'll see her in certain roles—particularly in Balanchine's "leotard ballets" —and she'll completely win you over with her bright, charming presence. Here are a few of the reasons we're going to miss her.
---
The way she can confidently command a stage in nothing more than a leotard and tights:


The way she uses her limbs as though they have no end. Sure, she's tall and leggy, but her incredible reach makes her look even longer:


The way she seems like a real person, not just a bunhead: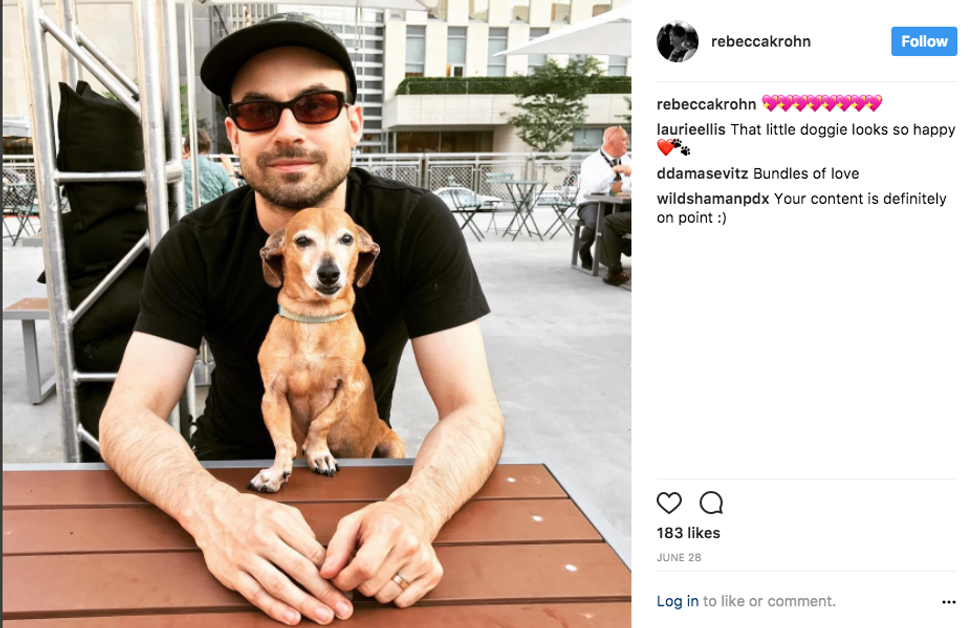 Hendrickson and their dog, Franny
Krohn told The New York Times that she knew she was in love with her husband, former NYCB dancer Adam Hendrickson, when he offered her a piece of bacon—when she was still a vegetarian.
Every night after the production that holiday season in 1999, she and Mr. Hendrickson would go to a diner to eat. A vegetarian of five years at the time, she sat across from him feeling an extreme level of exhaustion. He handed her a piece of bacon off his plate.

"You need the protein," he said. "You're going to feel so much better."

She hesitated, but she could see how concerned he was. He knew her body was depleted, and he understood firsthand the mental and physical demands of being a dancer. She took the bacon.

"It seems silly now," she said. "But it meant so much to me. As an athlete, you need so much protein, and I just wasn't taking care of myself." They married in 2011.

The way she can be delicately soft, even while cleanly punctuating every shape in the choreography:
(Rebecca Krohn and Adrian Danchig-Waring in George Balanchine's Stravinsky Violin Concerto.)
The way she's so grateful for her mentors, like Karin von Aroldingen, whom Krohn cites as one of the reasons she wants to become a ballet master:
Courtesy Macy's, Inc.
As you're prepping your Thanksgiving meal, why not throw in a dash of dance?
This year's Macy's Thanksgiving Day Parade is stuffed (pun intended) with performances from four stellar Broadway shows, the Radio City Rockettes and students from three New York City dance institutions.
Tune in to NBC November 28 from 9 am to noon (in all time zones), or catch the rebroadcast at 2 pm (also in all time zones). Here's what's in store:
Keep reading...
Show less
Ailey II artistic director Troy Powell teaching an Ailey Workshop at NYCDA. Courtesy NYCDA
Back in 2011 when Joe Lanteri first approached Katie Langan, chair of Marymount Manhattan College's dance department, about getting involved with New York City Dance Alliance, she was skeptical about the convention/competition world.
"But I was pleasantly surprised by the enormity of talent that was there," she says. "His goal was to start scholarship opportunities, and I said okay, I'm in."
Today, it's fair to say that Lanteri has far surpassed his goal of creating scholarship opportunities. But NYCDA has done so much more, bridging the gap between the convention world and the professional world by forging a wealth of partnerships with dance institutions from Marymount to The Ailey School to Complexions Contemporary Ballet and many more. There's a reason these companies and schools—some of whom otherwise may not see themselves as aligned with the convention/competition world—keep deepening their relationships with NYCDA.
Now, college scholarships are just one of many ways NYCDA has gone beyond the typical weekend-long convention experience and created life-changing opportunities for students. We rounded up some of the most notable ones:
Keep reading...
Show less
Sergei Polunin. Photo by British Broadcasting Corporation and Polunin Ltd., Courtesy Sundance Selects.
Last week, Variety reported that Sergei Polunin would reunite with the team behind Dancer for another documentary. "Where 'Dancer' looked at his whole life, family and influences," director Steven Cantor said, " 'Satori' will focus more squarely on his creative process as performer and, for the first time ever, choreographer." The title references a poorly received evening of work by the same name first presented by Polunin in 2017. (It recently toured to Moscow and St. Petersburg.)
I cannot be the only person wondering why we should care.
Keep reading...
Show less
Left: Hurricane Harvey damage in Houston Ballet's Dance Lab; Courtesy Harlequin. Right: The Dance Lab pre-Harvey; Nic Lehoux, Courtesy Houston Ballet.
"The show must go on" may be a platitude we use to get through everything from costume malfunctions to stormy moods. But when it came to overcoming a literal hurricane, Houston Ballet was buoyed by this mantra to go from devastated to dancing in a matter of weeks—with the help of Harlequin Floors, Houston Ballet's longstanding partner who sprang into action to build new floors in record time.
Keep reading...
Show less