5 Reasons We'll Miss NYCB Principal Rebecca Krohn
Rebecca Krohn in Balanchine's Serenade. Photo by Paul Kolnik, Courtesy NYCB
This Saturday night, New York City Ballet principal Rebecca Krohn is performing for the last time, in Balanchine's Stravinsky Violin Concerto. After 19 years at the company, she's transitioning into a ballet master role. As she told Playbill, she's incredibly grateful for the coaching she's received during her career, and now she wants to give back to the next generation.
In a company filled with buzzed-about stars, Krohn can sometimes fly under the radar. But then you'll see her in certain roles—particularly in Balanchine's "leotard ballets" —and she'll completely win you over with her bright, charming presence. Here are a few of the reasons we're going to miss her.
---
The way she can confidently command a stage in nothing more than a leotard and tights:


The way she uses her limbs as though they have no end. Sure, she's tall and leggy, but her incredible reach makes her look even longer:


The way she seems like a real person, not just a bunhead: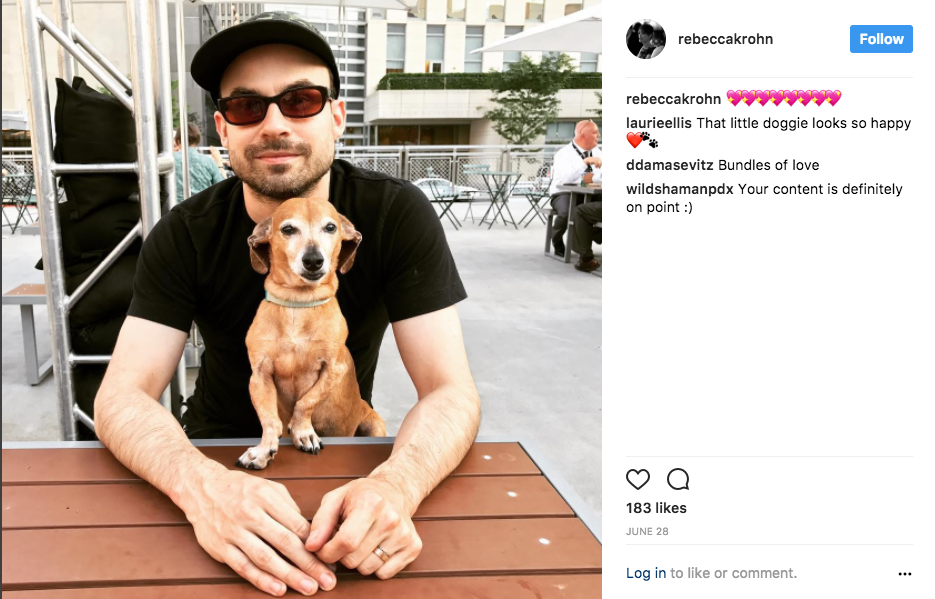 Hendrickson and their dog, Franny
Krohn told The New York Times that she knew she was in love with her husband, former NYCB dancer Adam Hendrickson, when he offered her a piece of bacon—when she was still a vegetarian.
Every night after the production that holiday season in 1999, she and Mr. Hendrickson would go to a diner to eat. A vegetarian of five years at the time, she sat across from him feeling an extreme level of exhaustion. He handed her a piece of bacon off his plate.

"You need the protein," he said. "You're going to feel so much better."

She hesitated, but she could see how concerned he was. He knew her body was depleted, and he understood firsthand the mental and physical demands of being a dancer. She took the bacon.

"It seems silly now," she said. "But it meant so much to me. As an athlete, you need so much protein, and I just wasn't taking care of myself." They married in 2011.

The way she can be delicately soft, even while cleanly punctuating every shape in the choreography:
(Rebecca Krohn and Adrian Danchig-Waring in George Balanchine's Stravinsky Violin Concerto.)
The way she's so grateful for her mentors, like Karin von Aroldingen, whom Krohn cites as one of the reasons she wants to become a ballet master:
When the news broke that Prince George, currently third in line for the British throne, would be continuing ballet classes as part of his school curriculum this year, we were as excited as anyone. (Okay, maybe more excited.)
This was not, it seems, a sentiment shared by "Good Morning America" host Lara Spencer.
Keep reading...
Show less
UA Dance Ensemble members Candice Barth and Gregory Taylor in Jessica Lang's "Among the Stars." Photo by Ed Flores, courtesy University of Arizona
If you think becoming a trainee or apprentice is the only path to gaining experience in a dance company environment, think again.
The University of Arizona, located in the heart of Tucson, acclimates dancers to the pace and rigor of company life while offering all the academic opportunities of a globally-ranked university. If you're looking to get a head-start on your professional dance career—or to just have a college experience that balances company-level training and repertory with rigorous academics—the University of Arizona's undergraduate and graduate programs have myriad opportunites to offer:
Keep reading...
Show less
Alice Sheppard/Kinetic Light in DESCENT, which our readers chose as last year's "Most Moving Performance." Photo by Jay Newman, courtesy Kinetic Light
Yes, we realize it's only August. But we can't help but to already be musing about all the incredible dance happenings of 2019.
We're getting ready for our annual Readers' Choice feature, and we want to hear from you about the shows you can't stop thinking about, the dance videos that blew your mind and the artists you discovered this year who everyone should know about.
Keep reading...
Show less
News
Aug. 23, 2019 10:30AM EST
A still from Dancing Dreams. Courtesy OVID
If you're seeking an extra dash of inspiration to start the new season on the right—dare we say—foot, look no further than dance documentaries.
Starting August 23, OVID, a streaming service dedicated to docs and art-house films, is adding eight notable dance documentaries to its library. The best part? There's a free seven-day trail. (After that, subscriptions are $6.99 per month or $69.99 annually.)
From the glamour of Russian ballet stars to young dancers training in Cuba to a portrait of powerhouse couple Carmen de Lavallade and Geoffrey Holder, here's what's coming to a couch near you:
Keep reading...
Show less