Recover Like a Pro: Parisa Khobdeh's Post-Show Routine
Francisco Granciano, Courtesy PTDC
The minutes after curtain comes down can be the trickiest of a dancer's day: Despite your adrenaline high and the impulse to celebrate the night's achievements, you need to jumpstart your body's recovery so that you can take the stage again the very next day.
Smart dancers like Parisa Khobdeh follow a carefully calibrated routine during busy performance weeks, whether they're at home or on the road. The 14-year Paul Taylor Dance Company veteran shares her tried-and-true post-show rituals.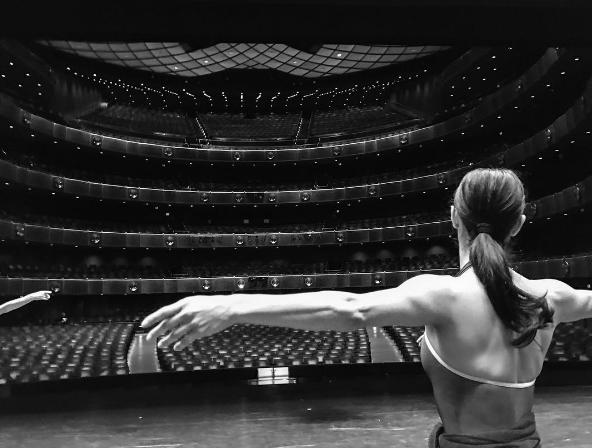 Photo by Francisco Graciano, via Instagram
---
Stretch: "While I'm still warm, I have a 10-minute routine with a friend in the company, where I actively stretch and she passively stretches me, then vice versa."
Ice: "I'll fill a bucket or trash can with ice, add water and stand in it for at least a minute. Bringing down any inflammation helps me feel better the next day."
Eat: "I eat my biggest meal of the day after the show. I always have protein and vegetables. I try to avoid sugary foods during show weeks, and that includes vegetables that are higher in sugars."
Hydrate: "I add electrolytes to refuel while I'm hydrating. I love coconut water. I also avoid alcohol when I'm performing."
Sleep: "I prefer eight hours a night, though that can be a luxury. To relax before bed, I read a book or meditate. I'll forfeit staying out late—I can save that for after the season."
Getty Images
By the Sunday evening of a long convention weekend, you can expect to be thoroughly exhausted and a little sore. But you shouldn't leave the hotel ballroom actually hurt. Although conventions can be filled with magical opportunities, the potential for injury is higher than usual.
Keep your body safe: Watch out for these four common hazards.
Keep reading...
Show less
News
Jul. 18, 2019 05:02PM EST
Frozen put profit-sharing arrangements in place prior to the Equity deal. Photo by Deen van Meer, Courtesy Disney Theatrical Group
For a Broadway dancer, few opportunities are more exciting than being part of the creation of an original show. But if that show goes on to become wildly successful, who reaps the benefits? Thanks to a new deal between Actors' Equity Association and The Broadway League, performers involved in a production's development will now receive their own cut of the earnings.
Keep reading...
Show less
NBCUniversal
Jellicle obsessives, rejoice: There's a new video out that offers a (surprisingly substantive) look at the dancing that went down on the set of the new CATS movie.
Keep reading...
Show less
Via Wikimedia Commons
When Dr. Mae Jemison was growing up, she was obsessed with space. But she didn't see any astronauts who looked like her.
"I said, Wait a minute. Why are all the astronauts white males?" she recounts in a CNN video. "What if the aliens saw them and said, Are these the only people on Earth?"
Keep reading...
Show less