News
Apr. 27, 2019 09:21AM EST
How Design Duo Harriet Jung and Reid Bartelme are Bringing Back the Spirit of the Ballets Russes
Marc Crousillat and Amos Machanic in Netta Yerushalmy's Dahpis and Chloe, with designs by Reid & Harriet. Photo courtesy Reid & Harriet
New York-based costume designers Reid Bartelme and Harriet Jung are in high-demand. Though the duo, who together make up Reid & Harriet Designs, work with major choreographers around the world, they're often frustrated with the backseat role that design plays.
So when Guggenheim Works & Process general manager Duke Dang approached them with an idea to create a designer-driven program exploring the creative methods of the Ballets Russes, they were intrigued.
---
Bartelme and Jung immediately felt that they could relate to the Ballets Russes' highly collaborative style. In the early 20th century, the impresario Sergei Diaghilev brought together celebrated artists including Igor Stravinsky, Pablo Picasso and Coco Chanel to work with choreographers on new ballets. Diaghilev was focused on the gestalt; the idea that the whole of the work should be more than the sum of its parts.
On April 28 and 29, Bartelme and Jung will present Design Dialogues at Works & Process in partnership with NYU's Institute for the Study of the Ancient World's exhibition Hymn to Apollo: The Ancient World and the Ballets Russes. The pair commissioned choreographers Christopher Williams and Netta Yerushalmy to create modern takes on the Ballets Russes' classic Daphnis and Chloe.
We touched base with Bartelme and Jung to hear about how this project came together, and what they learned from their time researching the Ballets Russes.
Getting the Team Together
When choosing choreographers to collaborate with, Bartelme and Jung first thought of Christopher Williams. The genre-bending dancemaker frequently explores the ancient world. "It's all he's obsessed with," says Jung.
As for Yerushalmy, the duo was looking for an artist who's interested in research and history. "Over the past couple of years Netta has been developing her Paramodernities, where she's been looking at all of these different vernaculars, one of which was Nijinsky's Rite of Spring, so it felt like a really good fit," says Bartelme.
Why Daphnis and Chloe?
The Ballets Russes debuted Daphnis et Chloé in 1912. The one-act ballet, split into three scenes, was composed by Maurice Ravel and choreographed by Michel Fokine, with designs by Léon Bakst and dancers Vaslav Njinsky and Tamara Karasavina in the titular roles. The ballet tells the ancient Greek story of the romance between Daphnis, a goatherd, and Chloé, a shepherdess.
The choice of ballet was Williams' idea. "Netta was also open to it," adds Bartelme, "and I think we all thought it would be interesting to see how they interpreted the same music in different ways."
The Research Process
Bartelme and Jung started their research as part of a fellowship on Merce Cunningham at the New York Public Library for the Performing Arts last fall. Cunningham used a similarly collaborative approach as the Ballets Russes, which led the duo to look for comparisons between the two eras. They kept their focus on the Ballets Russes' creative process, as opposed to Bakst's finished designs.
"We thought that all of these artists collaborated in harmony, but in reality Diaghlev seemed to have the final say, so even when a designer disagreed, they'd have to change things," says Jung. "It made me relate to that time, and those famous artists, which was comforting but also a little sad."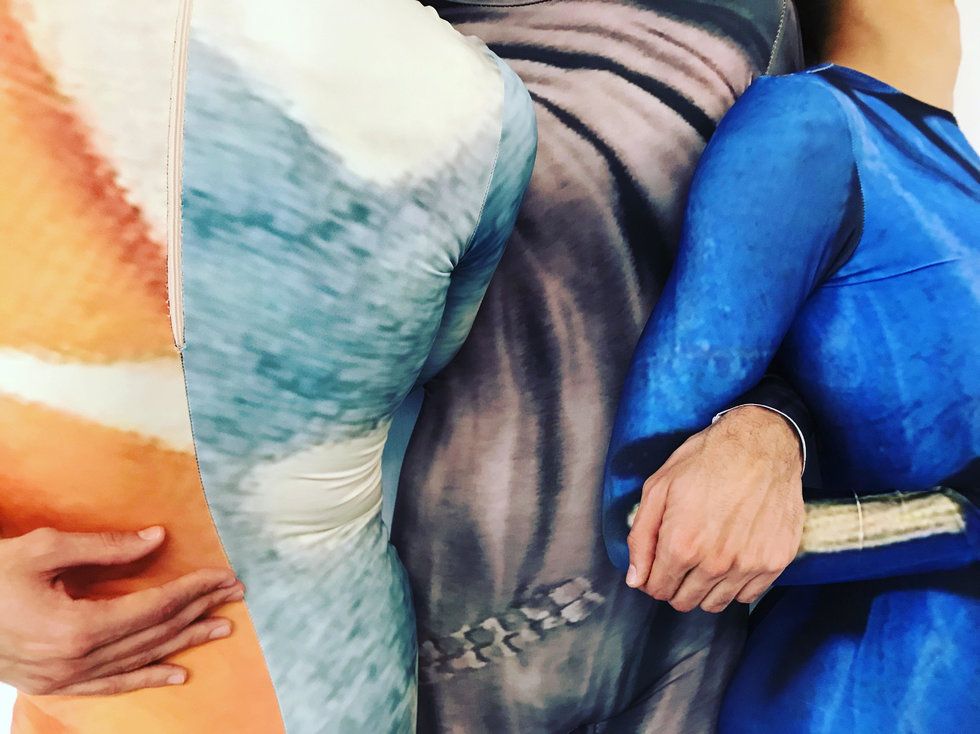 Dancers in costumes for Yerushalmy's piece.
Courtesy Reid & Harriet
A Surprising Takeaway
Nevertheless, the Ballets Russes was very design and spectacle driven, says Jung. "This meant that the clothes could be out there, and maybe even restrictive, if it served the purpose of the show, versus these days, where it's very rare for us to be allowed to do something a little tricky if it affects the dancers' movement."
New Designs
Much like the two choreographers' styles, Bartelme and Jung's approach to their designs was very different. "We approached Netta with fabrics, colors, prints and ideas," says Jung. "But Christopher came to us with images."
Here, Bartelme and Jung were able to exercise the sense of agency that they'd learned from the Ballets Russes.
"We told him we were going to take his ideas, but not directly reference every image he showed us," says Jung. "We don't want to explore that kind of conventional collaborative process, where choreographers tell designers what to do," adds Bartelme. "It's sort of antithetical to what this is all about."
Courtesy Boneau/Bryan-Brown
If "Fosse/Verdon" whet your appetite for the impeccable Gwen Verdon, then Merely Marvelous: The Dancing Genius of Gwen Verdon is the three-course meal you've been craving. The new documentary—available now on Amazon for rental or purchase—dives into the life of the Tony-winning performer and silver-screen star lauded for her charismatic dancing.

Though she's perhaps most well-known today as Bob Fosse's wife and muse, that's not even half of her story. For starters, she'd already won four Tonys before they wed, making her far more famous in the public eye than he was at that point in his career. That's just one of many surprising details we learned during last night's U.S. premiere of Merely Marvelous. Believe us: You're gonna love her even more once you get to know her. Here are eight lesser-known tidbits to get you started.
Keep reading...
Show less
Lindsay Thomas
Every dancer knows that how you fuel your body affects how you feel in the studio. Of course, while breakfast is no more magical than any other meal (despite the enduring myth that it's the most important one of the day), showing up to class hangry is a recipe for unproductive studio time.
So what do your favorite dancers eat in the morning to set themselves up for a busy rehearsal or performance day?
Keep reading...
Show less
News
Sep. 20, 2019 09:17AM EST
Simon Soong, Courtesy DDT
When it comes to dance in the U.S., companies in the South often find themselves overlooked—sometimes even by the presenters in their own backyard. That's where South Arts comes in. This year, the regional nonprofit launched Momentum, an initiative that will provide professional development, mentorship, touring grants and residencies to five Southern dance companies.
Keep reading...
Show less
News
Sep. 19, 2019 12:46PM EST
Alice Pennefather, Courtesy ROH
You ever just wish that Kenneth MacMillan's iconic production of Romeo and Juliet could have a beautiful love child with the 1968 film starring Olivia Hussey? (No, not Baz Luhrmann's version. We are purists here.)
Wish granted: Today, the trailer for a new film called Romeo and Juliet: Beyond Words was released, featuring MacMillan's choreography and with what looks like all the cinematic glamour we could ever dream of:
Keep reading...
Show less