News
Apr. 27, 2019 09:21AM EST
How Design Duo Harriet Jung and Reid Bartelme are Bringing Back the Spirit of the Ballets Russes
Marc Crousillat and Amos Machanic in Netta Yerushalmy's Dahpis and Chloe, with designs by Reid & Harriet. Photo courtesy Reid & Harriet
New York-based costume designers Reid Bartelme and Harriet Jung are in high-demand. Though the duo, who together make up Reid & Harriet Designs, work with major choreographers around the world, they're often frustrated with the backseat role that design plays.
So when Guggenheim Works & Process general manager Duke Dang approached them with an idea to create a designer-driven program exploring the creative methods of the Ballets Russes, they were intrigued.
---
Bartelme and Jung immediately felt that they could relate to the Ballets Russes' highly collaborative style. In the early 20th century, the impresario Sergei Diaghilev brought together celebrated artists including Igor Stravinsky, Pablo Picasso and Coco Chanel to work with choreographers on new ballets. Diaghilev was focused on the gestalt; the idea that the whole of the work should be more than the sum of its parts.
On April 28 and 29, Bartelme and Jung will present Design Dialogues at Works & Process in partnership with NYU's Institute for the Study of the Ancient World's exhibition Hymn to Apollo: The Ancient World and the Ballets Russes. The pair commissioned choreographers Christopher Williams and Netta Yerushalmy to create modern takes on the Ballets Russes' classic Daphnis and Chloe.
We touched base with Bartelme and Jung to hear about how this project came together, and what they learned from their time researching the Ballets Russes.
Getting the Team Together
When choosing choreographers to collaborate with, Bartelme and Jung first thought of Christopher Williams. The genre-bending dancemaker frequently explores the ancient world. "It's all he's obsessed with," says Jung.
As for Yerushalmy, the duo was looking for an artist who's interested in research and history. "Over the past couple of years Netta has been developing her Paramodernities, where she's been looking at all of these different vernaculars, one of which was Nijinsky's Rite of Spring, so it felt like a really good fit," says Bartelme.
Why Daphnis and Chloe?
The Ballets Russes debuted Daphnis et Chloé in 1912. The one-act ballet, split into three scenes, was composed by Maurice Ravel and choreographed by Michel Fokine, with designs by Léon Bakst and dancers Vaslav Njinsky and Tamara Karasavina in the titular roles. The ballet tells the ancient Greek story of the romance between Daphnis, a goatherd, and Chloé, a shepherdess.
The choice of ballet was Williams' idea. "Netta was also open to it," adds Bartelme, "and I think we all thought it would be interesting to see how they interpreted the same music in different ways."
The Research Process
Bartelme and Jung started their research as part of a fellowship on Merce Cunningham at the New York Public Library for the Performing Arts last fall. Cunningham used a similarly collaborative approach as the Ballets Russes, which led the duo to look for comparisons between the two eras. They kept their focus on the Ballets Russes' creative process, as opposed to Bakst's finished designs.
"We thought that all of these artists collaborated in harmony, but in reality Diaghlev seemed to have the final say, so even when a designer disagreed, they'd have to change things," says Jung. "It made me relate to that time, and those famous artists, which was comforting but also a little sad."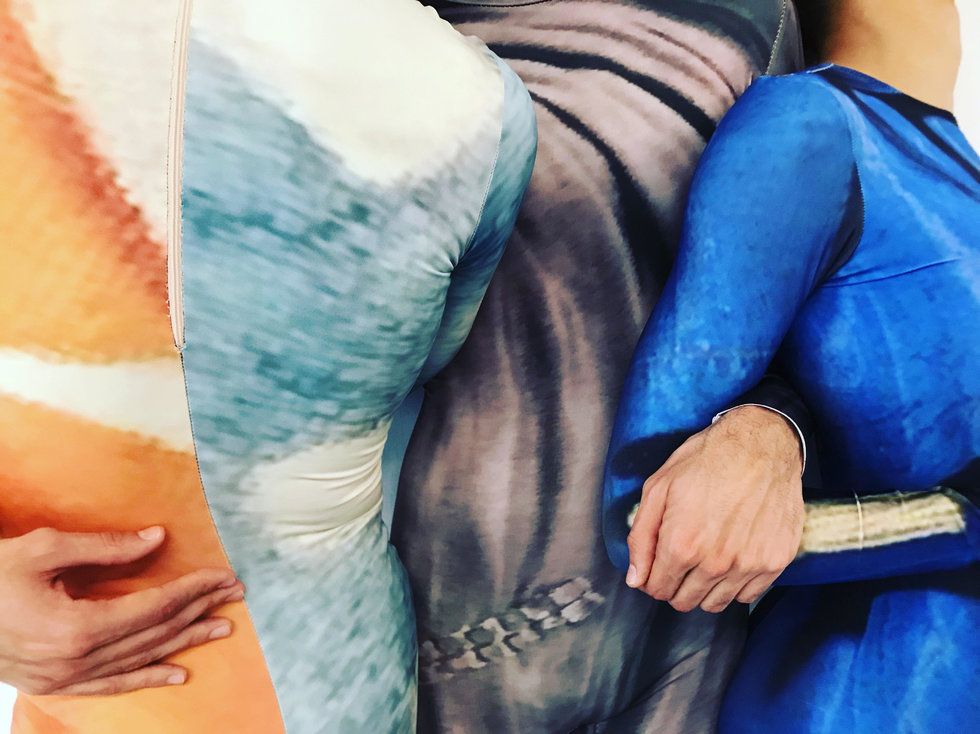 Dancers in costumes for Yerushalmy's piece.
Courtesy Reid & Harriet
A Surprising Takeaway
Nevertheless, the Ballets Russes was very design and spectacle driven, says Jung. "This meant that the clothes could be out there, and maybe even restrictive, if it served the purpose of the show, versus these days, where it's very rare for us to be allowed to do something a little tricky if it affects the dancers' movement."
New Designs
Much like the two choreographers' styles, Bartelme and Jung's approach to their designs was very different. "We approached Netta with fabrics, colors, prints and ideas," says Jung. "But Christopher came to us with images."
Here, Bartelme and Jung were able to exercise the sense of agency that they'd learned from the Ballets Russes.
"We told him we were going to take his ideas, but not directly reference every image he showed us," says Jung. "We don't want to explore that kind of conventional collaborative process, where choreographers tell designers what to do," adds Bartelme. "It's sort of antithetical to what this is all about."
Related Articles Around the Web
From Your Site Articles
News
Jul. 15, 2019 12:30PM EST
Courtesy Ritzel
Capezio, Bloch, So Dança, Gaynor Minden.
At the top of the line, dancers have plenty of quality footwear options to choose from, and in most metropolitan areas, stores to go try them on. But for many of North America's most economically disadvantaged dance students, there has often been just one option for purchasing footwear in person: Payless ShoeSource.
Keep reading...
Show less
Jayme Thornton
When Sonya Tayeh saw Moulin Rouge! for the first time, on opening night at a movie theater in Detroit, she remembers not only being inspired by the story, but noticing the way it was filmed.
"What struck me the most was the pace, and the erratic feeling it had," she says. The camera's quick shifts and angles reminded her of bodies in motion. "I was like, 'What is this movie? This is so insane and marvelous and excessive,' " she says. "And excessive is I think how I approach dance. I enjoy the challenge of swiftness, and the pushing of the body. I love piling on a lot of vocabulary and seeing what comes out."
Keep reading...
Show less
Robbie Fairchild in a still from In This Life, directed by Bat-Sheva Guez. Photo courtesy Michelle Tabnick PR
Back when Robbie Fairchild graced the cover of the May 2018 issue of Dance Magazine, he mentioned an idea for a short dance film he was toying around with. That idea has now come to fruition: In This Life, starring Fairchild and directed by dance filmmaker Bat-Sheva Guez, is being screened at this year's Dance on Camera Festival.
While the film itself covers heavy material—specifically, how we deal with grief and loss—the making of it was anything but: "It was really weird to have so much fun filming a piece about grief!" Fairchild laughs. We caught up with him, Guez and Christopher Wheeldon (one of In This Life's five choreographers) to find out what went into creating the 11-minute short film.
Keep reading...
Show less
Terry Notary in a movement capture suit during the filming of Rise of the Planet of the Apes. Photo by Sigtor Kildal, Courtesy Notary
When Hollywood needs to build a fantasy world populated with extraordinary creatures, they call Terry Notary.
The former gymnast and circus performer got his start in film in 2000 when Ron Howard asked him to teach the actors how to move like Whos for How the Grinch Stole Christmas. Notary has since served as a movement choreographer, stunt coordinator and performer via motion capture technology for everything from the Planet of the Apes series to The Hobbit trilogy, Avatar, Avengers: Endgame and this summer's The Lion King.
Since opening the Industry Dance Academy with his wife, Rhonda, and partners Maia and Richard Suckle, Notary also offers movement workshops for actors in Los Angeles.
Keep reading...
Show less