News
Apr. 27, 2019 09:21AM EST
How Design Duo Harriet Jung and Reid Bartelme are Bringing Back the Spirit of the Ballets Russes
Marc Crousillat and Amos Machanic in Netta Yerushalmy's Dahpis and Chloe, with designs by Reid & Harriet. Photo courtesy Reid & Harriet
New York-based costume designers Reid Bartelme and Harriet Jung are in high-demand. Though the duo, who together make up Reid & Harriet Designs, work with major choreographers around the world, they're often frustrated with the backseat role that design plays.
So when Guggenheim Works & Process general manager Duke Dang approached them with an idea to create a designer-driven program exploring the creative methods of the Ballets Russes, they were intrigued.
---
Bartelme and Jung immediately felt that they could relate to the Ballets Russes' highly collaborative style. In the early 20th century, the impresario Sergei Diaghilev brought together celebrated artists including Igor Stravinsky, Pablo Picasso and Coco Chanel to work with choreographers on new ballets. Diaghilev was focused on the gestalt; the idea that the whole of the work should be more than the sum of its parts.
On April 28 and 29, Bartelme and Jung will present Design Dialogues at Works & Process in partnership with NYU's Institute for the Study of the Ancient World's exhibition Hymn to Apollo: The Ancient World and the Ballets Russes. The pair commissioned choreographers Christopher Williams and Netta Yerushalmy to create modern takes on the Ballets Russes' classic Daphnis and Chloe.
We touched base with Bartelme and Jung to hear about how this project came together, and what they learned from their time researching the Ballets Russes.
Getting the Team Together
When choosing choreographers to collaborate with, Bartelme and Jung first thought of Christopher Williams. The genre-bending dancemaker frequently explores the ancient world. "It's all he's obsessed with," says Jung.
As for Yerushalmy, the duo was looking for an artist who's interested in research and history. "Over the past couple of years Netta has been developing her Paramodernities, where she's been looking at all of these different vernaculars, one of which was Nijinsky's Rite of Spring, so it felt like a really good fit," says Bartelme.
Why Daphnis and Chloe?
The Ballets Russes debuted Daphnis et Chloé in 1912. The one-act ballet, split into three scenes, was composed by Maurice Ravel and choreographed by Michel Fokine, with designs by Léon Bakst and dancers Vaslav Njinsky and Tamara Karasavina in the titular roles. The ballet tells the ancient Greek story of the romance between Daphnis, a goatherd, and Chloé, a shepherdess.
The choice of ballet was Williams' idea. "Netta was also open to it," adds Bartelme, "and I think we all thought it would be interesting to see how they interpreted the same music in different ways."
The Research Process
Bartelme and Jung started their research as part of a fellowship on Merce Cunningham at the New York Public Library for the Performing Arts last fall. Cunningham used a similarly collaborative approach as the Ballets Russes, which led the duo to look for comparisons between the two eras. They kept their focus on the Ballets Russes' creative process, as opposed to Bakst's finished designs.
"We thought that all of these artists collaborated in harmony, but in reality Diaghlev seemed to have the final say, so even when a designer disagreed, they'd have to change things," says Jung. "It made me relate to that time, and those famous artists, which was comforting but also a little sad."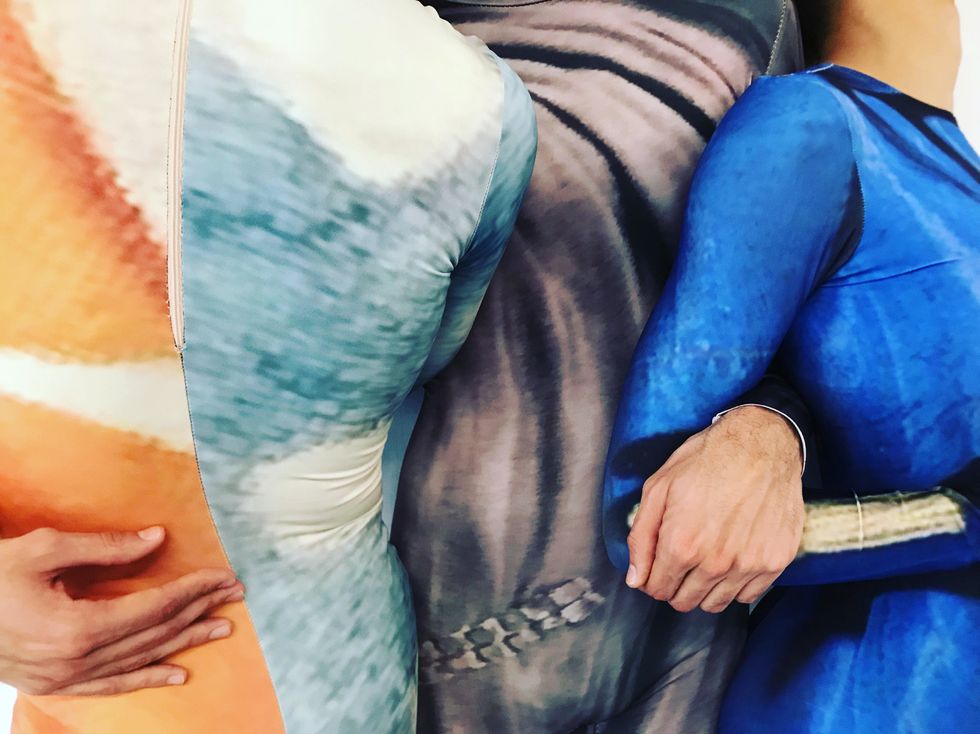 Dancers in costumes for Yerushalmy's piece.
Courtesy Reid & Harriet
A Surprising Takeaway
Nevertheless, the Ballets Russes was very design and spectacle driven, says Jung. "This meant that the clothes could be out there, and maybe even restrictive, if it served the purpose of the show, versus these days, where it's very rare for us to be allowed to do something a little tricky if it affects the dancers' movement."
New Designs
Much like the two choreographers' styles, Bartelme and Jung's approach to their designs was very different. "We approached Netta with fabrics, colors, prints and ideas," says Jung. "But Christopher came to us with images."
Here, Bartelme and Jung were able to exercise the sense of agency that they'd learned from the Ballets Russes.
"We told him we were going to take his ideas, but not directly reference every image he showed us," says Jung. "We don't want to explore that kind of conventional collaborative process, where choreographers tell designers what to do," adds Bartelme. "It's sort of antithetical to what this is all about."
Rachel Papo
In the middle of one of New York City Center's cavernous studios, Misty Copeland takes a measured step backwards. The suggestion of a swan arm ripples before she turns downstage, chest and shoulders unfurling as her legs stretch into an open lunge. She piqués onto pointe, arms echoing the sinuous curve of her back attitude, then walks out of it, pausing to warily look over her shoulder. As the droning of Ryuichi Sakamoto and Alva Noto's mysterious "Attack/Transition" grows more insistent, her feet start to fly with a rapidity that seems to almost startle her.
And then she stops mid-phrase. Copeland's hands fall to her hips as she apologizes. Choreographer Kyle Abraham slides to the sound system to pause the music, giving Copeland a moment to remind herself of a recent change to the sequence.
"It's different when the sound's on!" he reassures her. "And it's a lot of changes."
The day before was the first time Abraham had seen Copeland dance the solo in its entirety, and the first moment they were in the studio together in a month. This is their last rehearsal, save for tech, before the premiere of Ash exactly one week later, as part of the opening night of City Center's Fall for Dance festival.
Keep reading...
Show less
Ailey II artistic director Troy Powell teaching an Ailey Workshop at NYCDA. Courtesy NYCDA
Back in 2011 when Joe Lanteri first approached Katie Langan, chair of Marymount Manhattan College's dance department, about getting involved with New York City Dance Alliance, she was skeptical about the convention/competition world.
"But I was pleasantly surprised by the enormity of talent that was there," she says. "His goal was to start scholarship opportunities, and I said okay, I'm in."
Today, it's fair to say that Lanteri has far surpassed his goal of creating scholarship opportunities. But NYCDA has done so much more, bridging the gap between the convention world and the professional world by forging a wealth of partnerships with dance institutions from Marymount to The Ailey School to Complexions Contemporary Ballet and many more. There's a reason these companies and schools—some of whom otherwise may not see themselves as aligned with the convention/competition world—keep deepening their relationships with NYCDA.
Now, college scholarships are just one of many ways NYCDA has gone beyond the typical weekend-long convention experience and created life-changing opportunities for students. We rounded up some of the most notable ones:
Keep reading...
Show less
Getty Images
Dancers are understandably obsessed with food. In both an aesthetic and athletic profession, you know you're judged on your body shape, but you need proper fuel to perform your best. Meanwhile, you're inundated with questionable diet advice.
"My 'favorite' was the ABC diet," says registered dietitian nutritionist Kristin Koskinen, who trained in dance seriously but was convinced her body type wouldn't allow her to pursue it professionally. "On the first day you eat only foods starting with the letter A, on the second day only B, and so on."
Keep reading...
Show less
Left: Hurricane Harvey damage in Houston Ballet's Dance Lab; Courtesy Harlequin. Right: The Dance Lab pre-Harvey; Nic Lehoux, Courtesy Houston Ballet.
"The show must go on" may be a platitude we use to get through everything from costume malfunctions to stormy moods. But when it came to overcoming a literal hurricane, Houston Ballet was buoyed by this mantra to go from devastated to dancing in a matter of weeks—with the help of Harlequin Floors, Houston Ballet's longstanding partner who sprang into action to build new floors in record time.
Keep reading...
Show less