Meet Reid & Harriet, The Trendiest Design Duo in Dance
Bartelme and Jung compare colors. Photo by Michael Manata, courtesy Reid & Harriet
Reid Bartelme and Harriet Jung were still students at the Fashion Institute of Technology when their first joint commission came along: Creating the costume for a Fall for Dance piece Andrea Miller choreographed on Drew Jacoby. The pair officially joined forces in 2011, forming their eponymous label and building a resumé that includes designing for American Ballet Theatre, New York City Ballet and Miami City Ballet. Reid & Harriet Design's success lies in their ability to mix bold colors and unique textures with an innate understanding of what dancers need to perform comfortably.
---
They opened up to Dance Magazine about their creative process, where they get inspiration and why they like it when choreographers don't come with too many ideas.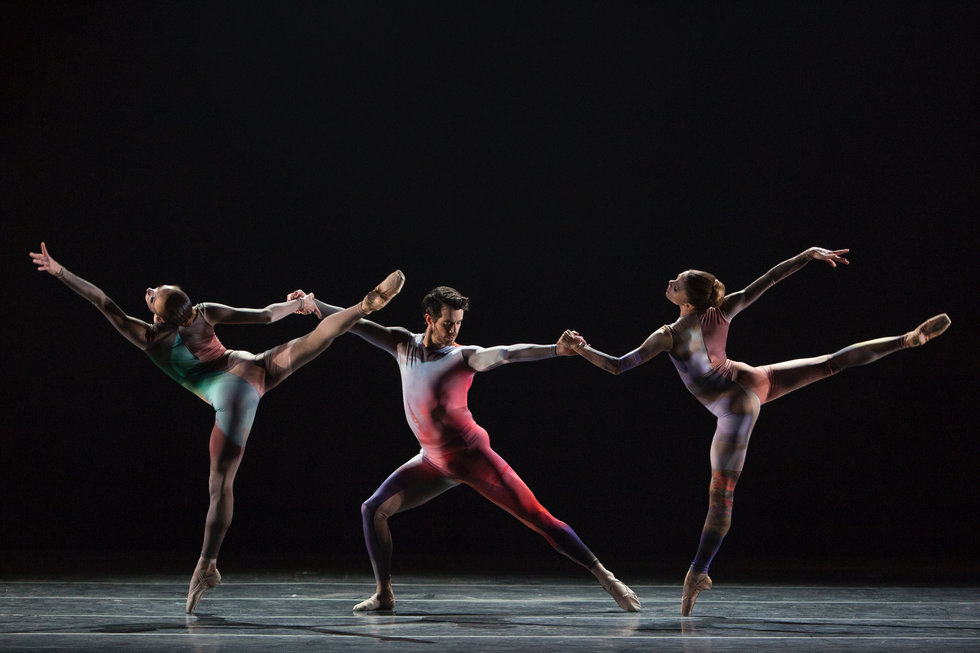 Costumes for choreographer Matthew Neenan. Photo by Erin Baiano, courtesy Reid & Harriet
Bartelme: Fashion made a lot of sense for me when I started transitioning out of dance. I was always crafty—I used photographs of my Halloween costumes growing up to apply to FIT.
Jung: I didn't have any experience in fashion prior to FIT—I majored in molecular and cell biology in college.
Bartelme: When we start a project, a choreographer might come with some dancing done or music picked out. Sometimes they won't have started at all. Harriet and I take whatever we're given and start to source things visually. Then we pull imagery and start sketching together. We'll figure out fabrics and do drawings to send off to the choreographer to see if we're going in the right direction.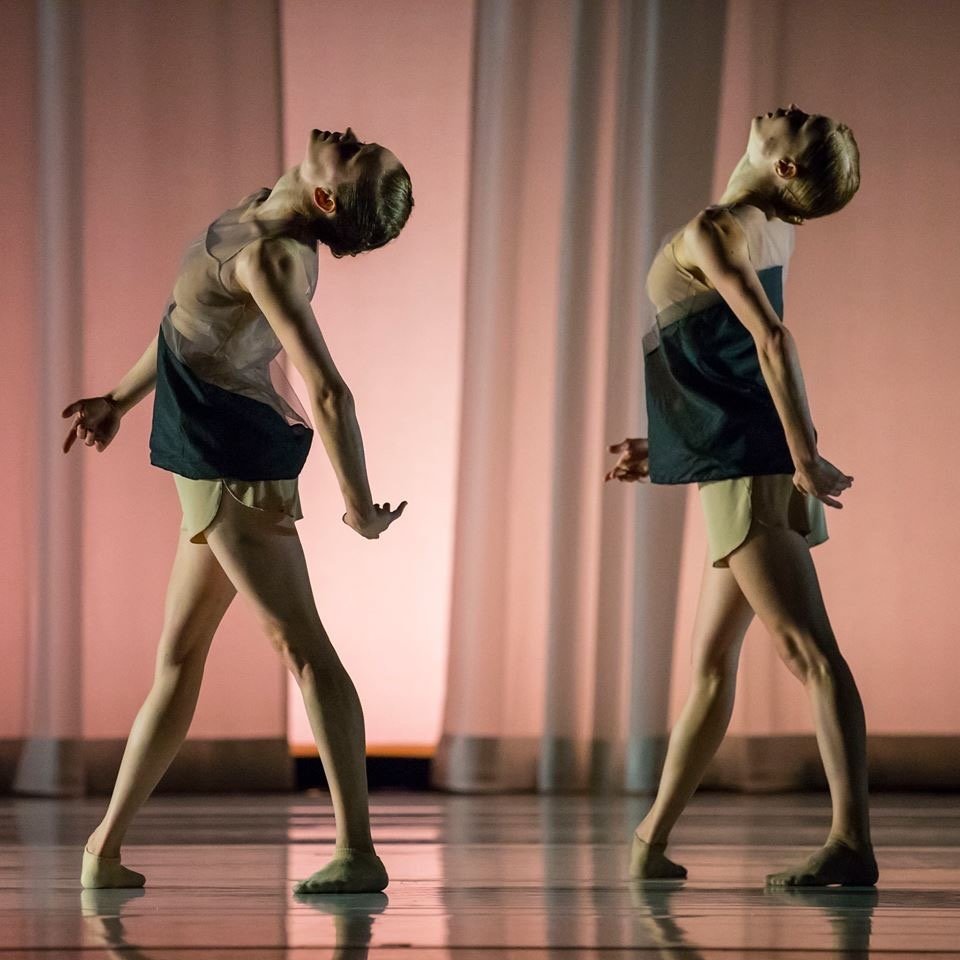 Costumes for Kyle Abraham's Counterpoint for Hubbard Street Dance Chicago. Photo via reidandharriet.com
Jung: I always say it's my favorite when choreographers don't come in with too many ideas. The projects that turn out the best are with choreographers who really trust us.
Bartelme: Ideally, we're put in situations where we can draw from art or a movie or a trip we've taken, and bring that into our work.
Bartelme: We also have to be able to shift along with the choreographer's work because sometimes the piece evolves.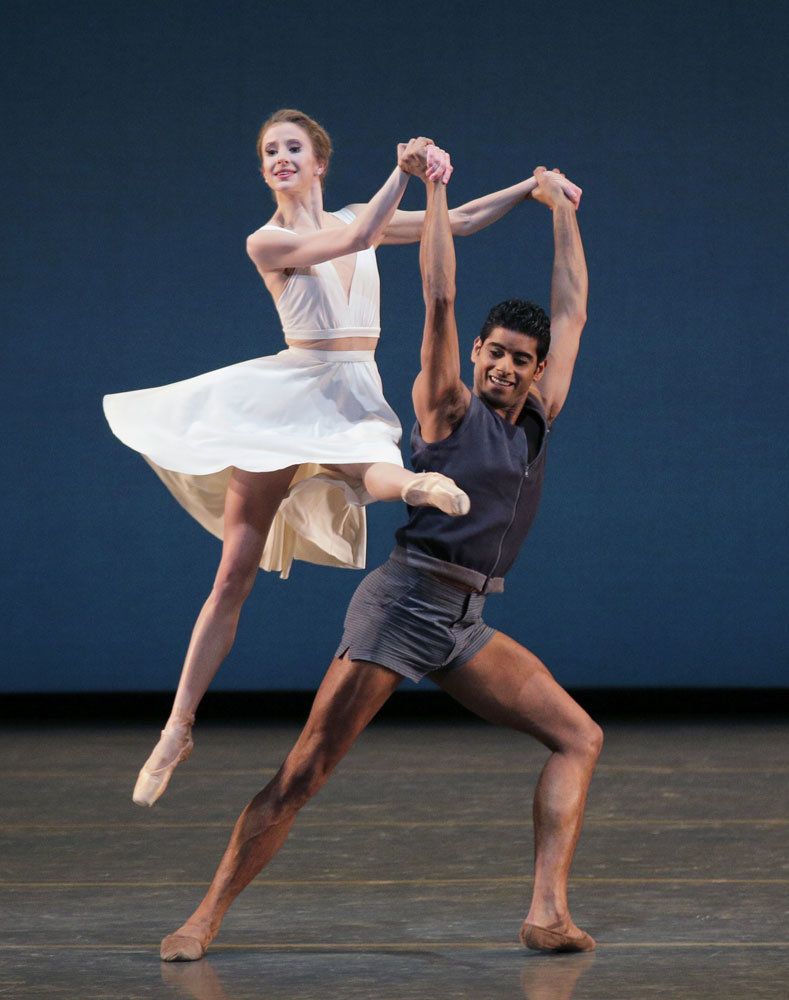 Costumes for Justin Peck's Paz de la Jolla. Photo by Paul Kolnick, courtesy NYCB
Jung: We're always learning. We once made a corset bodice with plastic boning for Julie Kent. After dress rehearsal, the bonings were all broken.
Bartelme: This happened four hours before the show, but luckily Tomoko Ueda-Dunbar, ABT's amazing wardrobe supervisor, took out all of the boning and rigged the costume to the tights.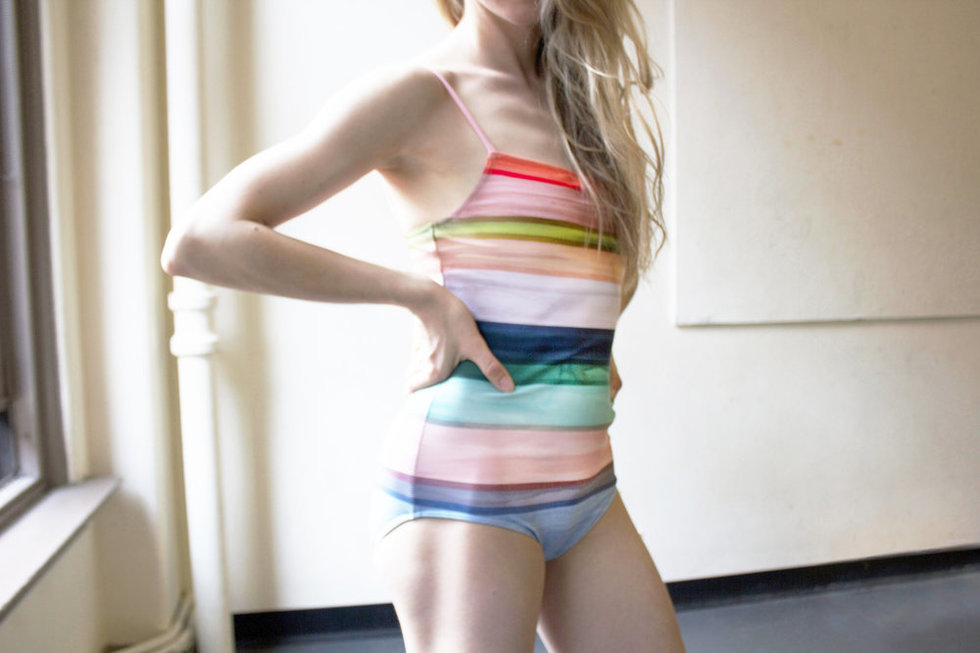 "The Harriet" from Reid & Harriet's ready-to-wear line. Photo via reidandharriet.com
Jung: It's always been one of our ultimate goals to have a unisex, very wearable collection. The ready-to-wear bathing suits we designed last spring were the first logical steps towards that.
Bartelme: Next, we have a show in late March. It's a curated evening in dance at the Guggenheim Museum Works & Process that's based in costumes. It will include five choreographers that I've danced for and we've both designed for, plus a handful of dancers we've worked with. Harriet and I are going to dance, too.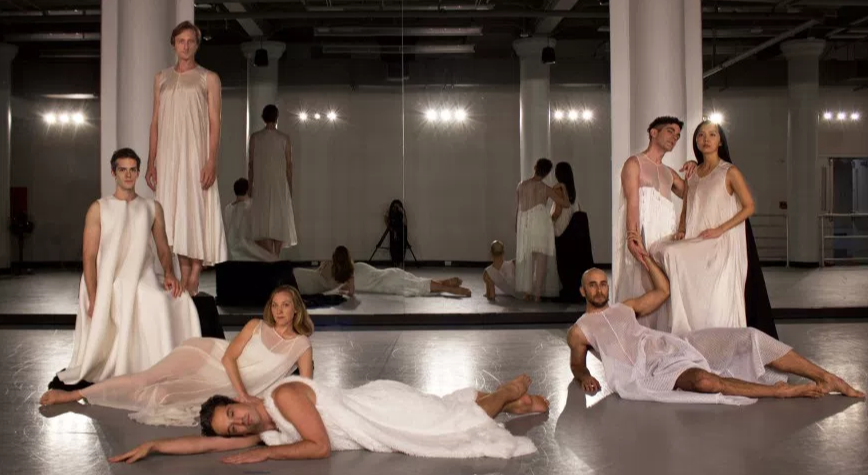 Bartleme, Jung and their cast. Photo via guggenheim.org
Dance in Pop Culture
May. 25, 2018 01:48PM EST
Ne-Yo, Jennifer Lopez and Derek Hough return to "World of Dance" on May 29
Season 2 of World of Dance is almost here! The new season officially kicks off on Tuesday on NBC, and it's bringing a whole new crew of talented dancers with it (plus, some old favorites). Dance pro judges Jennifer Lopez, Derek Hough and Ne-Yo are back, too, with Jenna Dewan serving as the show's host.
Obviously we'll be watching, but just in case you're not completely sold, here's why you're not going to want to miss out:
JLo Might Be Performing
Earlier this week, JLo (who serves as the show's executive producer) posted this insane promo clip to her Instagram. Dancing to a mashup of Cardi B's "Bodak Yellow" and her new single "Dinero," JLo reminded us all of her dance skills while also leading us to believe she might just hit the stage herself for a performance.

Keep reading...
Show less
May. 25, 2018 12:14PM EST
Travis Wall draws inspiration from dancers Tate McCrae, Timmy Blankenship and more.
One often-overlooked relationship that exists in dance is the relationship between choreographer and muse. Recently two-time Emmy Award Winner Travis Wall opened up about his experience working with dancers he considers to be his muses.
"My muses in choreography have evolved over the years," says Wall. "When I'm creating on Shaping Sound, our company members, my friends, are my muses. But at this current stage of my career, I'm definitely inspired by new, fresh talent."
Wall adds, "I'm so inspired by this new generation of dancers. Their teachers have done such incredible jobs, and I've seen these kids grown up. For many of them, I've had a hand in their exposure to choreography."

Keep reading...
Show less
Rant & Rave
May. 23, 2018 04:25PM EST
Jessica Lang's Her Notes, one of ABT's few recent commissions from women. Photo by Rosalie O'Connor
A few weeks ago, American Ballet Theatre announced the A.B.T. Women's Movement, a new program that will support three women choreographers per season, one of whom will make work on the main company.
"The ABT Women's Movement takes inspiration from the groundbreaking female choreographers who have left a lasting impact on ABT's legacy, including Agnes de Mille and Twyla Tharp," said artistic director Kevin McKenzie in a press release.
Hypothetically, this is a great idea. We're all for more ballet commissions for women. But the way ABT has promoted the initiative is problematic.
Keep reading...
Show less
News
May. 18, 2018 12:05PM EST
The inimitable Alicia Alonso, now 97, remains at the helm of Ballet Nacional de Cuba. Photo by Leysis Quesada, Courtesy BNC
On the occasion of its 70th anniversary, the Ballet Nacional de Cuba tours the U.S. this spring with the resolute Cuban prima ballerina assoluta Alicia Alonso a the helm. Named a National Hero of Labor in Cuba, Alonso, 97, has weathered strained international relations and devastating fiscal challenges to have BNC emerge as a world-class dance company. Her dancers are some of ballet's best. On offer this time are Alonso's Giselle and Don Quixote. The profoundly Cuban company performs in Chicago May 18–20, Tampa May 23, Washington, D.C., May 29–June 3 and Saratoga, New York June 6–8.
Courtesy Soffe, Dicsount Dance Supply, Danskin. LeaMarie leotard photographed by Jayme Thornton
Considering we practically live in our dance clothes, there's really no such thing as having too many leotards, tights or leggings (no matter what our mom or friends say!). That's why we treat every sale as an opportunity to stock up. And thanks to the holiday weekend, you can shop all of your dancewear go-tos or try something totally new for as much as 50% less than the usual price.
Here are the eight sales we're most excited about—from online options to in-store retailers that will help you find the perfect fit. Happy Memorial Day (and shopping)!
Now through Monday, Danskin's site will automatically take 25% off your entire purchase at checkout. Even new items like their Pintuck Detail Floral Print Sports Bra and Pintuck Detail Legging (pictured here) are fair game.
Keep reading...
Show less
News
May. 25, 2018 12:38PM EST
Ailey dancers and stagehands rallied together yesterday. Photo by Jen Peters
"The sun may be shining brightly, but we are not in a very sunny mood today!" said New York State assemblywoman Linda Rosenthal during yesterday's rally for the Artists of Ailey.
The dancers and stage crew are demanding increased wages and more comprehensive benefits, what they have termed "reaching for the standard" and "fair wages."
Keep reading...
Show less


Get Dance Magazine in your inbox