Meet Reid & Harriet, The Trendiest Design Duo in Dance
Bartelme and Jung compare colors. Photo by Michael Manata, courtesy Reid & Harriet
Reid Bartelme and Harriet Jung were still students at the Fashion Institute of Technology when their first joint commission came along: Creating the costume for a Fall for Dance piece Andrea Miller choreographed on Drew Jacoby. The pair officially joined forces in 2011, forming their eponymous label and building a resumé that includes designing for American Ballet Theatre, New York City Ballet and Miami City Ballet. Reid & Harriet Design's success lies in their ability to mix bold colors and unique textures with an innate understanding of what dancers need to perform comfortably.
---
They opened up to Dance Magazine about their creative process, where they get inspiration and why they like it when choreographers don't come with too many ideas.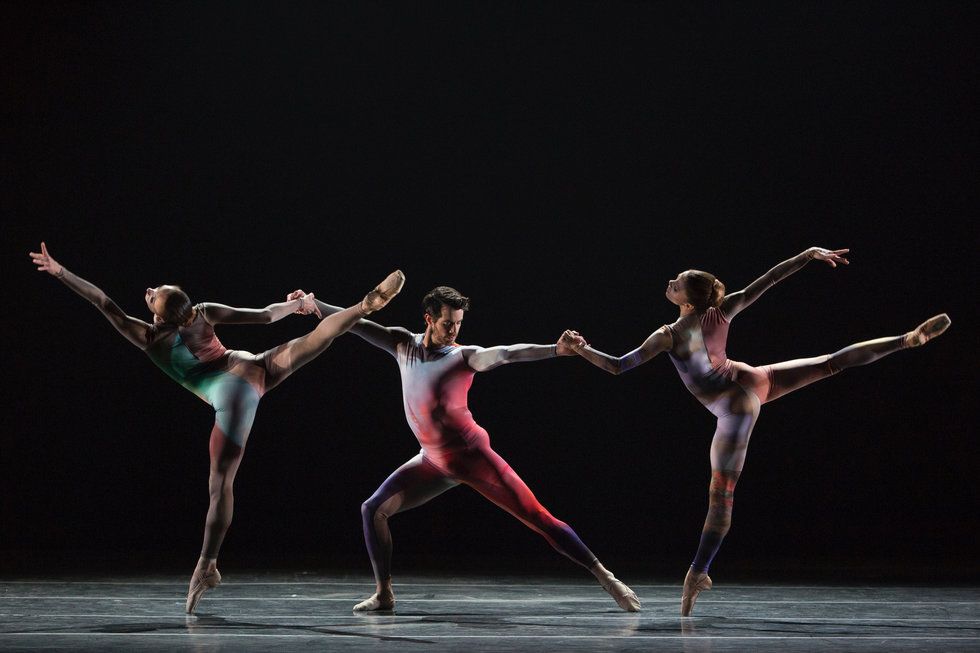 Costumes for choreographer Matthew Neenan. Photo by Erin Baiano, courtesy Reid & Harriet
Bartelme: Fashion made a lot of sense for me when I started transitioning out of dance. I was always crafty—I used photographs of my Halloween costumes growing up to apply to FIT.
Jung: I didn't have any experience in fashion prior to FIT—I majored in molecular and cell biology in college.
Bartelme: When we start a project, a choreographer might come with some dancing done or music picked out. Sometimes they won't have started at all. Harriet and I take whatever we're given and start to source things visually. Then we pull imagery and start sketching together. We'll figure out fabrics and do drawings to send off to the choreographer to see if we're going in the right direction.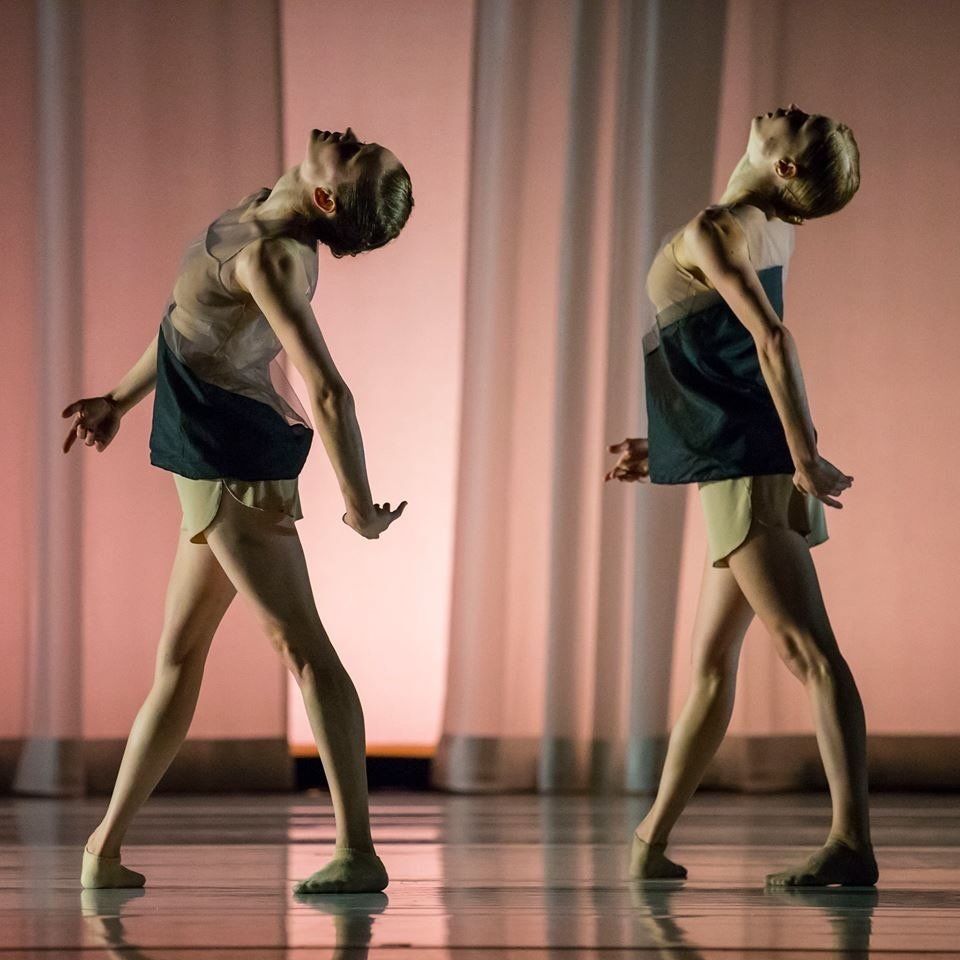 Costumes for Kyle Abraham's Counterpoint for Hubbard Street Dance Chicago. Photo via reidandharriet.com
Jung: I always say it's my favorite when choreographers don't come in with too many ideas. The projects that turn out the best are with choreographers who really trust us.
Bartelme: Ideally, we're put in situations where we can draw from art or a movie or a trip we've taken, and bring that into our work.
Bartelme: We also have to be able to shift along with the choreographer's work because sometimes the piece evolves.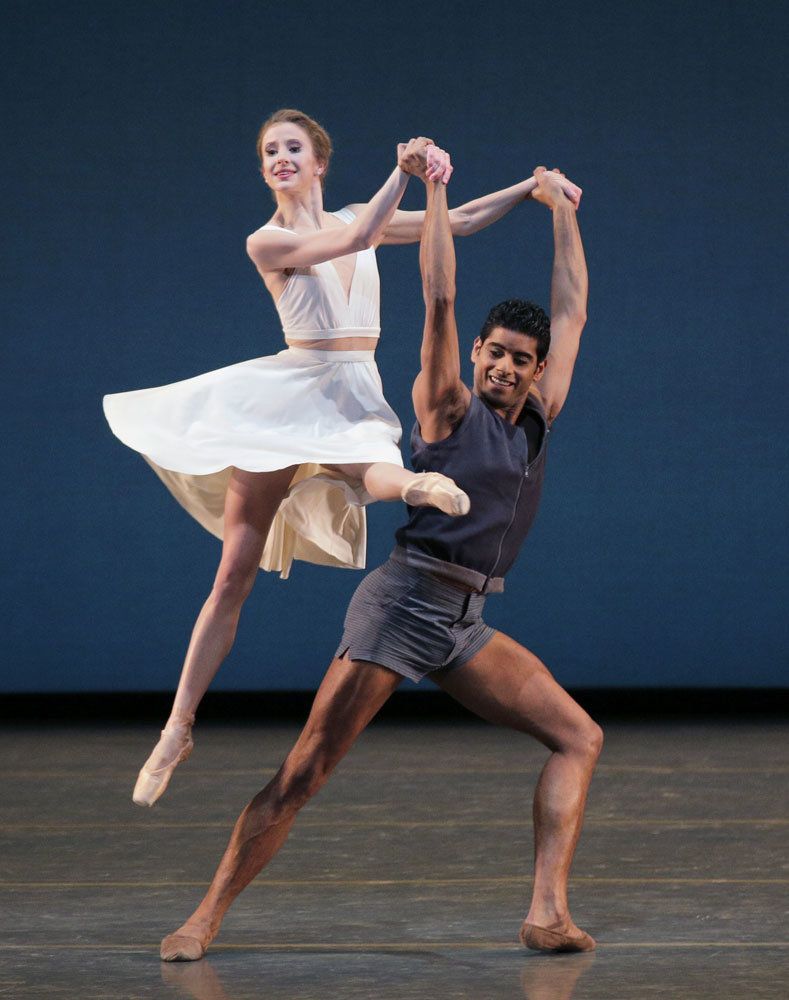 Costumes for Justin Peck's Paz de la Jolla. Photo by Paul Kolnick, courtesy NYCB
Jung: We're always learning. We once made a corset bodice with plastic boning for Julie Kent. After dress rehearsal, the bonings were all broken.
Bartelme: This happened four hours before the show, but luckily Tomoko Ueda-Dunbar, ABT's amazing wardrobe supervisor, took out all of the boning and rigged the costume to the tights.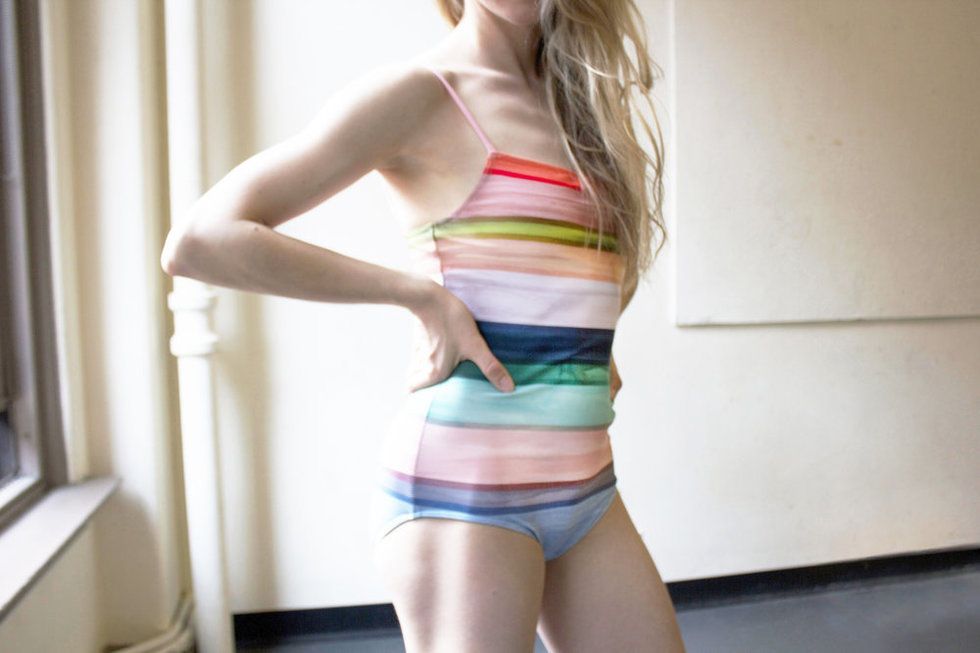 "The Harriet" from Reid & Harriet's ready-to-wear line. Photo via reidandharriet.com
Jung: It's always been one of our ultimate goals to have a unisex, very wearable collection. The ready-to-wear bathing suits we designed last spring were the first logical steps towards that.
Bartelme: Next, we have a show in late March. It's a curated evening in dance at the Guggenheim Museum Works & Process that's based in costumes. It will include five choreographers that I've danced for and we've both designed for, plus a handful of dancers we've worked with. Harriet and I are going to dance, too.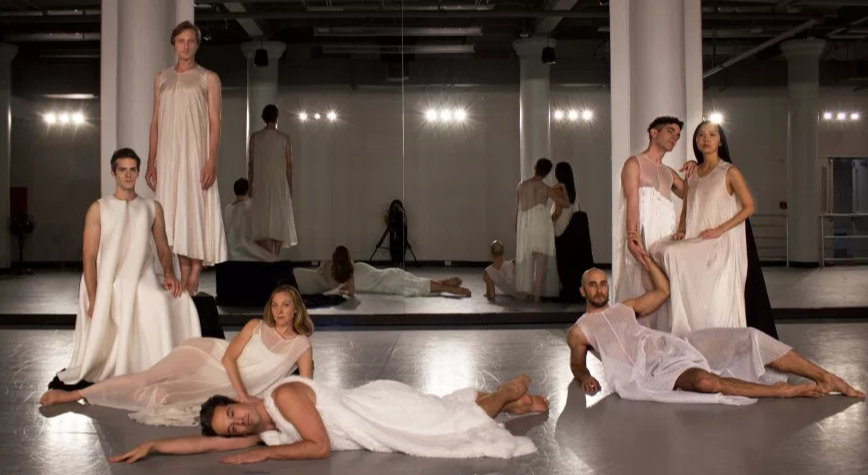 Bartleme, Jung and their cast. Photo via guggenheim.org
Related Articles Around the Web
From Your Site Articles
Just for Fun
Jul. 16, 2019 02:13PM EST
As Dance Magazine editors, we admittedly spend more time than we'd like sifting through stock photography. Some of it is good, more of it is bad and most of it is just plain awkward.
But when paired with the right caption, those shots magically transform from head-scratchers to meme-worthy images that illustrate our singular experience as dancers. You can thank the internet for this special salute to dancer moods.
Keep reading...
Show less
Wayne McGregor. Photo by Johan Persson, Courtesy ROH
It's no surprise that dancers make some of the best TED Talk presenters. Not only are they great performers, but they've got unique knowledge to share. And they can dance!
If you're in need of a midweek boost, look no further than these eight presentations from some incredibly inspiring dance artists.
Keep reading...
Show less
News
Jul. 16, 2019 03:58PM EST
Including this extraordinary Travis Wall number for "So You Think You Can Dance" (Adam Rose/FOX)
The Primetime Emmy Award nominations are out! Congrats to the seven choreographers who earned nods for their exceptional TV work this year. Notably, that work was made for just two shows, "So You Think You Can Dance" and "World of Dance."
And there was a particularly remarkable snub: While the dance-filled hit "Fosse/Verdon" earned 17 nominations across many of the major categories, Andy Blankenbuehler's fabulous Fosse remixes weren't recognized in the Outstanding Choreography field.
Here are all the dance routines up for Emmys:
Keep reading...
Show less

abezikus/Getty Images
"Dancers can do everything these days," I announced to whoever was in earshot at the Jacob's Pillow Archives during a recent summer. I had just been dazzled by footage of a ballet dancer performing hip hop, remarkably well. But my very next thought was, What if that isn't always a good thing? What if what one can't do is the very thing that lends character?
Keep reading...
Show less