Meet Reid & Harriet, The Trendiest Design Duo in Dance
Bartelme and Jung compare colors. Photo by Michael Manata, courtesy Reid & Harriet
Reid Bartelme and Harriet Jung were still students at the Fashion Institute of Technology when their first joint commission came along: Creating the costume for a Fall for Dance piece Andrea Miller choreographed on Drew Jacoby. The pair officially joined forces in 2011, forming their eponymous label and building a resumé that includes designing for American Ballet Theatre, New York City Ballet and Miami City Ballet. Reid & Harriet Design's success lies in their ability to mix bold colors and unique textures with an innate understanding of what dancers need to perform comfortably.
---
They opened up to Dance Magazine about their creative process, where they get inspiration and why they like it when choreographers don't come with too many ideas.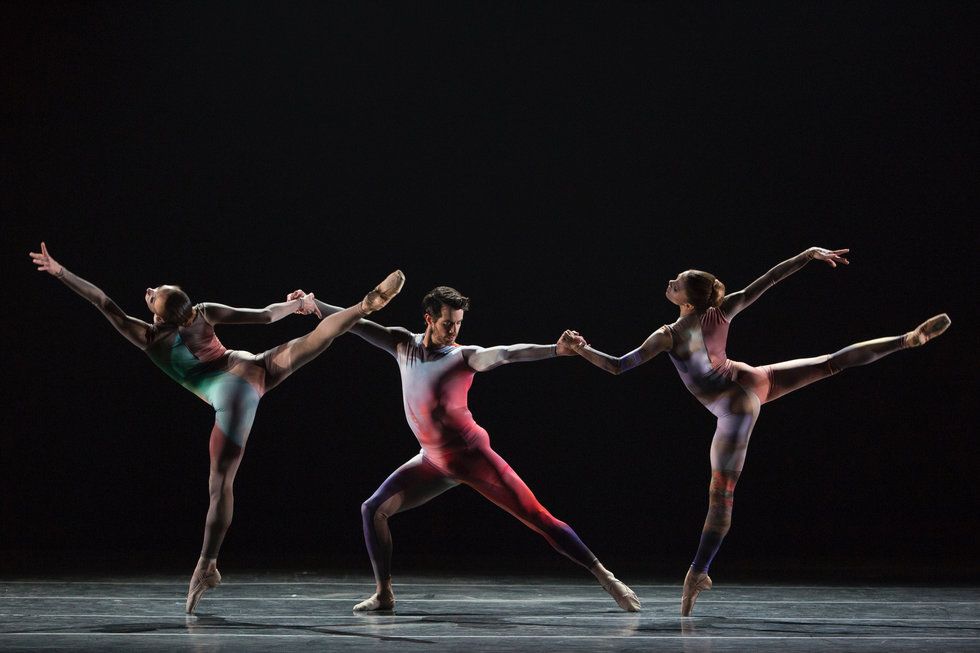 Costumes for choreographer Matthew Neenan. Photo by Erin Baiano, courtesy Reid & Harriet
Bartelme: Fashion made a lot of sense for me when I started transitioning out of dance. I was always crafty—I used photographs of my Halloween costumes growing up to apply to FIT.
Jung: I didn't have any experience in fashion prior to FIT—I majored in molecular and cell biology in college.
Bartelme: When we start a project, a choreographer might come with some dancing done or music picked out. Sometimes they won't have started at all. Harriet and I take whatever we're given and start to source things visually. Then we pull imagery and start sketching together. We'll figure out fabrics and do drawings to send off to the choreographer to see if we're going in the right direction.
Jung: I always say it's my favorite when choreographers don't come in with too many ideas. The projects that turn out the best are with choreographers who really trust us.
Bartelme: Ideally, we're put in situations where we can draw from art or a movie or a trip we've taken, and bring that into our work.
Bartelme: We also have to be able to shift along with the choreographer's work because sometimes the piece evolves.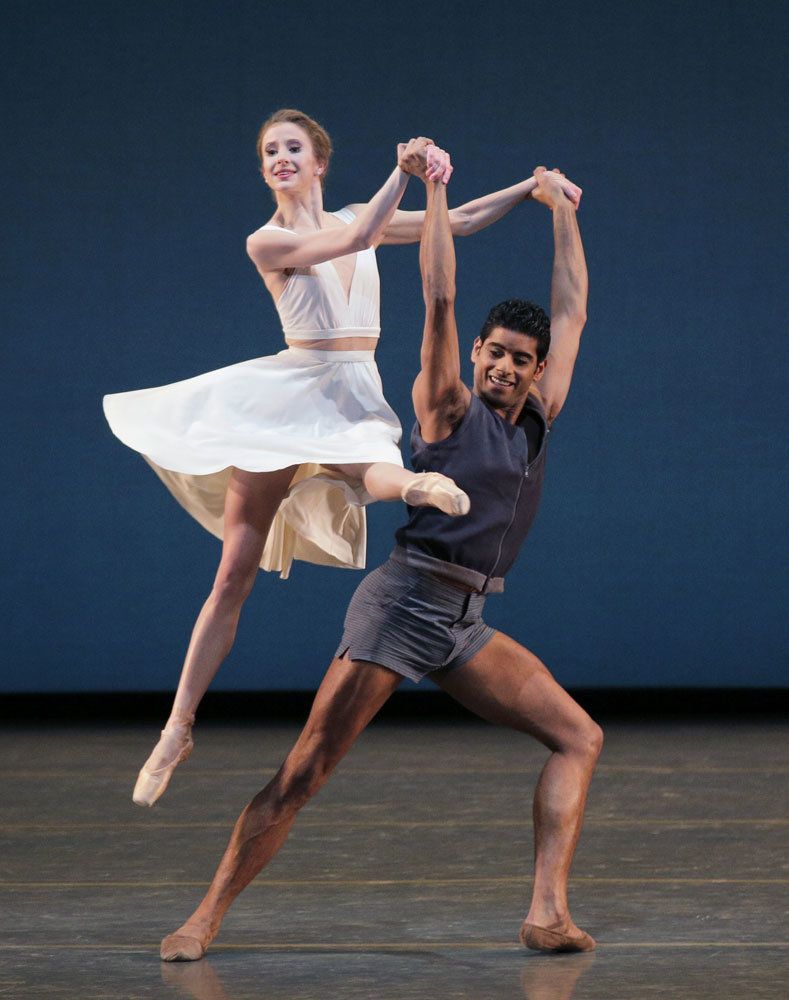 Costumes for Justin Peck's Paz de la Jolla. Photo by Paul Kolnick, courtesy NYCB
Jung: We're always learning. We once made a corset bodice with plastic boning for Julie Kent. After dress rehearsal, the bonings were all broken.
Bartelme: This happened four hours before the show, but luckily Tomoko Ueda-Dunbar, ABT's amazing wardrobe supervisor, took out all of the boning and rigged the costume to the tights.
Jung: It's always been one of our ultimate goals to have a unisex, very wearable collection. The ready-to-wear bathing suits we designed last spring were the first logical steps towards that.
Bartelme: Next, we have a show in late March. It's a curated evening in dance at the Guggenheim Museum Works & Process that's based in costumes. It will include five choreographers that I've danced for and we've both designed for, plus a handful of dancers we've worked with. Harriet and I are going to dance, too.
Lindsay Thomas
Every dancer knows that how you fuel your body affects how you feel in the studio. Of course, while breakfast is no more magical than any other meal (despite the enduring myth that it's the most important one of the day), showing up to class hangry is a recipe for unproductive studio time.
So what do your favorite dancers eat in the morning to set themselves up for a busy rehearsal or performance day?
Keep reading...
Show less
News
Sep. 20, 2019 09:17AM EST
Simon Soong, Courtesy DDT
When it comes to dance in the U.S., companies in the South often find themselves overlooked—sometimes even by the presenters in their own backyard. That's where South Arts comes in. This year, the regional nonprofit launched Momentum, an initiative that will provide professional development, mentorship, touring grants and residencies to five Southern dance companies.
Keep reading...
Show less
News
Sep. 19, 2019 12:46PM EST
Alice Pennefather, Courtesy ROH
You ever just wish that Kenneth MacMillan's iconic production of Romeo and Juliet could have a beautiful love child with the 1968 film starring Olivia Hussey? (No, not Baz Luhrmann's version. We are purists here.)
Wish granted: Today, the trailer for a new film called Romeo and Juliet: Beyond Words was released, featuring MacMillan's choreography and with what looks like all the cinematic glamour we could ever dream of:
Keep reading...
Show less
News
Sep. 19, 2019 11:54AM EST
Touch tour for English National Ballet's Giselle by Akram Khan at the Aotea Centre in Auckland, New Zealand. Photo by Studio Pono, Courtesy ENB
While you might think of dance as a primarily visual art form, performances engage us on multiple levels. Our ears take in the score, the artists' breathing patterns, fellow audience members' reactions, and the physical percussion made by the dancers' footfalls and partnering. All of this information is available to audience members with limited to no vision, and when it comes to providing them with the rest, there are multiple approaches being refined by experts in the field generally referred to as "audience accessibility."
Keep reading...
Show less