Meet Reid & Harriet, The Trendiest Design Duo in Dance
Bartelme and Jung compare colors. Photo by Michael Manata, courtesy Reid & Harriet
Reid Bartelme and Harriet Jung were still students at the Fashion Institute of Technology when their first joint commission came along: Creating the costume for a Fall for Dance piece Andrea Miller choreographed on Drew Jacoby. The pair officially joined forces in 2011, forming their eponymous label and building a resumé that includes designing for American Ballet Theatre, New York City Ballet and Miami City Ballet. Reid & Harriet Design's success lies in their ability to mix bold colors and unique textures with an innate understanding of what dancers need to perform comfortably.
---
They opened up to Dance Magazine about their creative process, where they get inspiration and why they like it when choreographers don't come with too many ideas.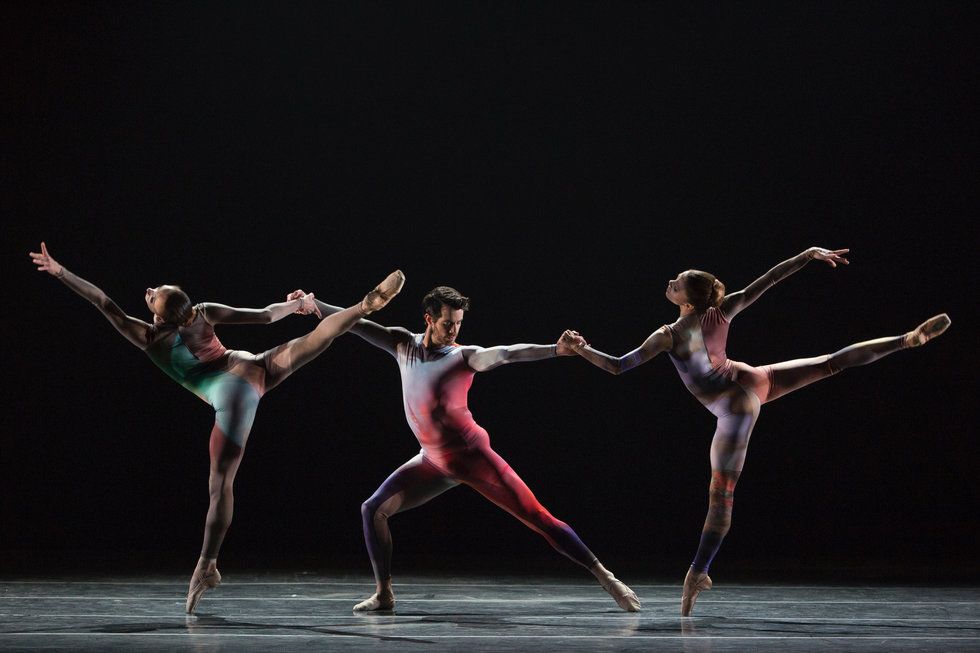 Costumes for choreographer Matthew Neenan. Photo by Erin Baiano, courtesy Reid & Harriet
Bartelme: Fashion made a lot of sense for me when I started transitioning out of dance. I was always crafty—I used photographs of my Halloween costumes growing up to apply to FIT.
Jung: I didn't have any experience in fashion prior to FIT—I majored in molecular and cell biology in college.
Bartelme: When we start a project, a choreographer might come with some dancing done or music picked out. Sometimes they won't have started at all. Harriet and I take whatever we're given and start to source things visually. Then we pull imagery and start sketching together. We'll figure out fabrics and do drawings to send off to the choreographer to see if we're going in the right direction.
Jung: I always say it's my favorite when choreographers don't come in with too many ideas. The projects that turn out the best are with choreographers who really trust us.
Bartelme: Ideally, we're put in situations where we can draw from art or a movie or a trip we've taken, and bring that into our work.
Bartelme: We also have to be able to shift along with the choreographer's work because sometimes the piece evolves.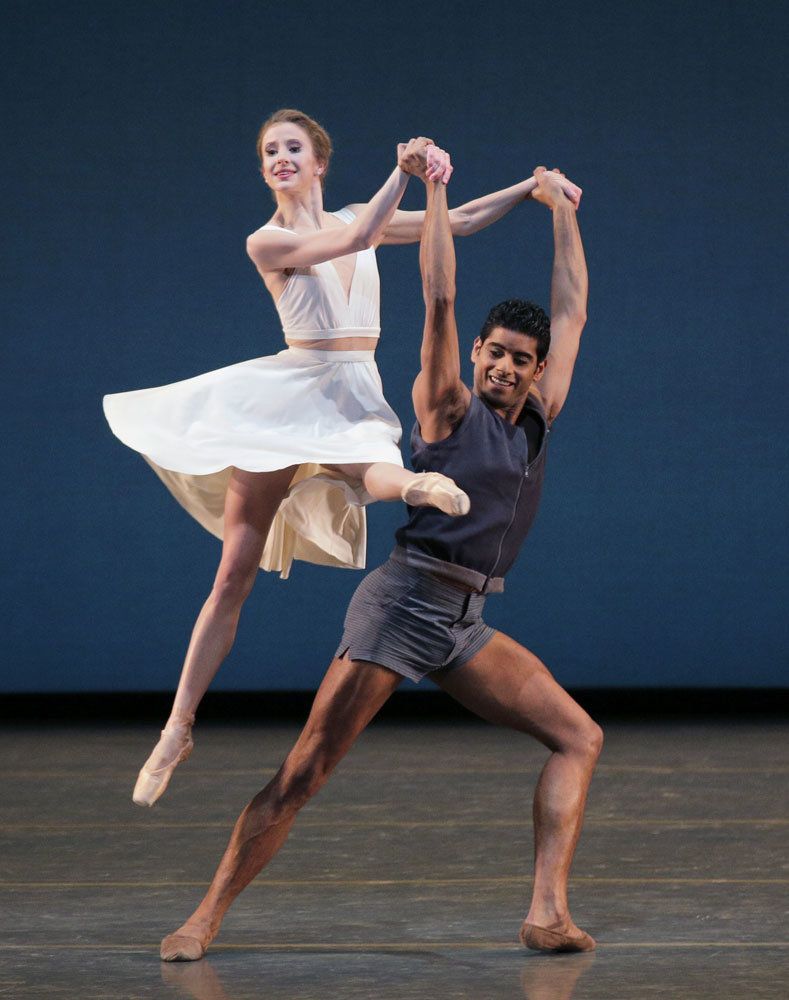 Costumes for Justin Peck's Paz de la Jolla. Photo by Paul Kolnick, courtesy NYCB
Jung: We're always learning. We once made a corset bodice with plastic boning for Julie Kent. After dress rehearsal, the bonings were all broken.
Bartelme: This happened four hours before the show, but luckily Tomoko Ueda-Dunbar, ABT's amazing wardrobe supervisor, took out all of the boning and rigged the costume to the tights.
Jung: It's always been one of our ultimate goals to have a unisex, very wearable collection. The ready-to-wear bathing suits we designed last spring were the first logical steps towards that.
Bartelme: Next, we have a show in late March. It's a curated evening in dance at the Guggenheim Museum Works & Process that's based in costumes. It will include five choreographers that I've danced for and we've both designed for, plus a handful of dancers we've worked with. Harriet and I are going to dance, too.
Amber Gray and Patrick Page. Photo by Matthew Murphy, Courtesy Hadestown
There's a rare moment in Broadway's Hadestown where the audience is able to breathe a sigh of relief. The smash-hit success is not well-known for being light-hearted or easy-going; Hadestown is a show full of workers and walls and, well, the second act largely takes place in a slightly modernized version of hell.
But deep into the second act, the show reaches a brief homeostasis of peace, one of those bright, shining moments that allows the audience to think "maybe it will turn out this time," as the character Hermes keeps suggesting.
After songs and songs of conflict and resentment, Hades, the king of the underground, and his wife, the goddess Persephone, rekindle their love. And, unexpectedly, they dance. It's one of the most compelling moments in the show.
Keep reading...
Show less
Ailey II artistic director Troy Powell teaching an Ailey Workshop at NYCDA. Courtesy NYCDA
Back in 2011 when Joe Lanteri first approached Katie Langan, chair of Marymount Manhattan College's dance department, about getting involved with New York City Dance Alliance, she was skeptical about the convention/competition world.
"But I was pleasantly surprised by the enormity of talent that was there," she says. "His goal was to start scholarship opportunities, and I said okay, I'm in."
Today, it's fair to say that Lanteri has far surpassed his goal of creating scholarship opportunities. But NYCDA has done so much more, bridging the gap between the convention world and the professional world by forging a wealth of partnerships with dance institutions from Marymount to The Ailey School to Complexions Contemporary Ballet and many more. There's a reason these companies and schools—some of whom otherwise may not see themselves as aligned with the convention/competition world—keep deepening their relationships with NYCDA.
Now, college scholarships are just one of many ways NYCDA has gone beyond the typical weekend-long convention experience and created life-changing opportunities for students. We rounded up some of the most notable ones:
Keep reading...
Show less
News
Oct. 22, 2019 05:27PM EST
Amber Star Merkens, Courtesy Mark Morris Dance Group
There's always been something larger than life about choreographer Mark Morris. Of course, there are the more than 150 works he's made and that incisive musicality that makes dance critics drool. But there's also his idiosyncratic, no-apologies-offered personality, and his biting, no-holds-barred wit. And, well, his plan to keep debuting new dances even after he's dead.
So it should come as little surprise that his latest distinction is also a bit larger than life: The New York Landmarks Conservancy is adding Morris to its list of "Living Landmarks."
Keep reading...
Show less
Left: Hurricane Harvey damage in Houston Ballet's Dance Lab; Courtesy Harlequin. Right: The Dance Lab pre-Harvey; Nic Lehoux, Courtesy Houston Ballet.
"The show must go on" may be a platitude we use to get through everything from costume malfunctions to stormy moods. But when it came to overcoming a literal hurricane, Houston Ballet was buoyed by this mantra to go from devastated to dancing in a matter of weeks—with the help of Harlequin Floors, Houston Ballet's longstanding partner who sprang into action to build new floors in record time.
Keep reading...
Show less