News
Dec. 20, 2018 07:17PM EST
Remembering Raven Wilkinson, Trailblazing Ballerina
Raven Wilkinson in Les Sylphides. Photo Courtesy Wilkinson.
Ballerina Raven Wilkinson passed away on Monday at her home in New York City at age 83. Wilkinson is best known as the first African American woman to dance full-time with the Ballet Russe de Monte Carlo and as a cherished mentor to Misty Copeland.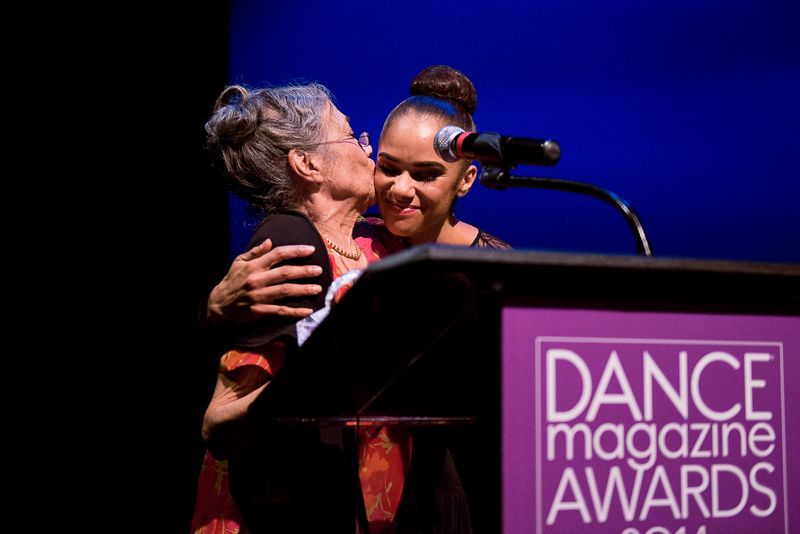 Raven Wilkinson presenting Misty Copeland with the Dance Magazine Award in 2014. Photo by Cherylynn Tsushima for Dance Magazine.
---
Wilkinson was born in New York City in 1935. She fell in love with ballet at age five while attending a performance of the Ballet Russe de Monte Carlo's Coppélia. In a 2014 interview with Pointe, she recalled the experience: "I remember being so overwhelmed by the orchestra, the curtains, the lights, that I started crying." For her ninth birthday, her uncle gave her the gift of ballet classes with Maria Swoboda. In 1951, Swoboda's school was purchased by Sergei Denham, the director of the Ballet Russe, and he began culling dancers for his company. Despite being recognized as talented, Wilkinson didn't make the cut. After multiple auditions, Wilkinson said a friend pulled her aside and said, "Raven, they can't afford to take you because of your race." Then a student at Columbia University, Wilkinson was undeterred; after her third audition in 1955, at age 20, she got in. Shortly before he passed away in 2013, former Ballet Russe dancer Frederic Franklin, who'd given class at Wilkinson's final audition, told her that he had pushed the company's leadership to take her.
Wilkinson's six years with the Ballet Russe were filled with both happiness and hardship. In her second season she was promoted to soloist, and danced a number of leading roles including the waltz solo in Les Sylphides. But Ballet Russe was primarily a touring company, and Wilkinson had to combat extreme racism during trips to the Deep South. In 1957 in Atlanta, Georgia, a hotel owner refused to let her stay with the rest of the company; Denham sent her back to New York and instructed her to rejoin the company once their tour took them closer to the Mason Dixon Line. Wilkinson also experienced run-ins with the Ku Klux Klan, most notably in Alabama, where (as she outlines in the picture book Trailblazer) two members stormed into the theater and interrupted a Ballet Russe performance. Throughout these years, Wilkinson's colleagues protected and supported her: "If it looked like there might be trouble after a show, company boys would appear at the stage door to escort me," she told Pointe in 2014. Denham continued to cast her in soloist roles regardless of where the company was performing.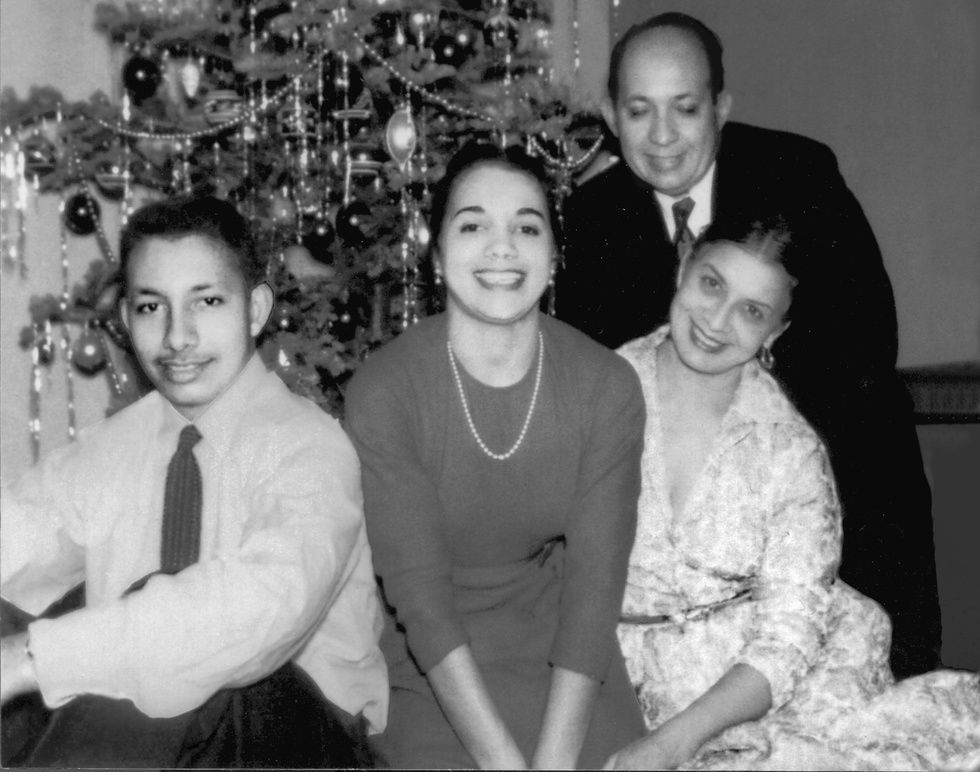 Wilkinson with her younger brother and parents. Courtesy Wilkinson.
The Ballet Russe was very international, and with her fair complexion some of the other dancers urged Wilkinson to say that she was Spanish. She often lightened her skin with makeup for performances, but she refused to hide her identity if asked about it directly. Earlier this year, Wilkinson told Pointe that she attributed this pride to her upbringing. Though she grew up on 150th Street in Harlem (above what she called "the Mason Dixon Line of New York"), she and her mother often faced questioning when spending time in other parts of the city. "People were curious because they had a certain idea in their mind of what African American people were like, that they didn't speak well or weren't well-clothed or were poor, and they didn't believe my mother and I were African American," she said. "They'd ask, 'What are you?' and my mother would say, 'We're American.'"
In 1961, Wilkinson left the Ballet Russe. Despite her classical training and professional experience, at auditions she was told to try African dance or jazz instead. Eventually her friend Sylvester Campbell, a black American dancer working for the Dutch National Ballet, urged her to join him in Amsterdam. Highlights of her Dutch National career included Balanchine repertoire and the Swan Lake pas de trois. Wilkinson found the culture of the Netherlands to be much more accepting. "They weren't interested in what you were, but who you were," she said in our interview earlier this year. In 1974, a homesick Wilkinson returned to New York and was invited to join the New York City Opera. She stopped dancing at age 50, but continued on there as an actress until 2011, when the company folded.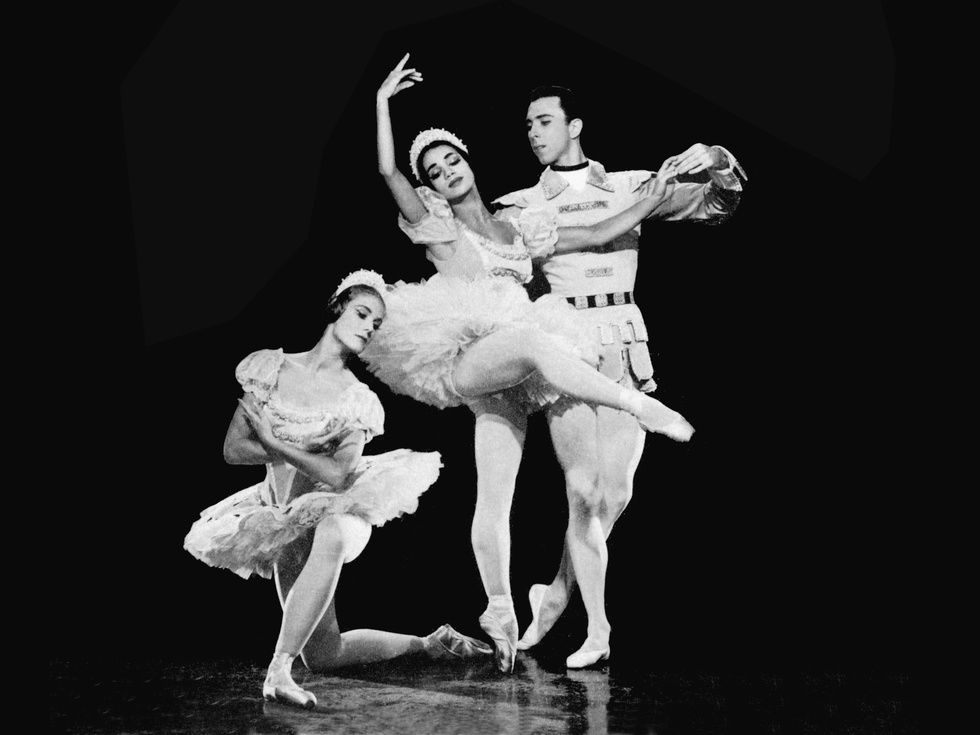 Wilkinson, center, with colleagues in the Ballet Russe. Photo Courtesy Wilkinson.
In her later years, Wilkinson developed a special friendship with Copeland. Wilkinson first discovered the then-teenage dancer while watching a TV program highlighting her in a variation from Don Quixote. "I took one look at her and knew that she knew what dancing was all about," Wilkinson told Pointe. I fell to my knees saying, 'Please god, let her make it.'" Copeland writes in her memoir Life in Motion that after hearing Wilkinson's story in a documentary on the Ballet Russe, she spoke about her so often that her publicist finally tracked her down so the two dancers could meet. "She is humble, hilarious, and so fully of funny, poignant tales that she never repeats one," Copeland writes of Wilkinson. "We speak the same very rare language: that of a black classical ballet dancer." When Copeland made her debut as Odette/Odile with American Ballet Theatre in 2015, Wilkinson, along with former Houston Ballet principal Lauren Anderson, joined her onstage, arms overflowing with flowers. Copeland's breakout success has also helped bring Wilkinson's story back into the spotlight: Wilkinson was featured in the 2016 documentary Black Ballerina, and last year a picture book based on her life titled Trailblazer: The Story of Ballerina Raven Wilkinson was published with a forward by Copeland.
Earlier this year I asked Wilkinson if she had advice for young dancers who might feel discouraged, or who don't feel they fit into the slowly-changing world of ballet. "In the darkness and the futility of the moment you have to get up and keep going, put one foot in front of the other. It's only in trying and keeping going that you achieve," she told me. "You can't expect that it's all going to happen for you just because you're out there pointing your toes nicely. You have to open your mind and heart, and you must believe in yourself and have faith and hope."
Gettty Images
It's a cycle familiar to many: First, a striking image of a lithe, impossibly fit dancer executing a gravity-defying développé catches your eye on Instagram. You pause your scrolling to marvel, over and over again, at her textbook physique.
Inevitably, you take a moment to consider your own body, in comparison. Doubt and negative self-talk first creep, and then flood, in. "I'll never look like that," the voice inside your head whispers. You continue scrolling, but the image has done its dirty work—a gnawing sensation has taken hold, continually reminding you that your own body is inferior, less-than, unworthy.
It's no stretch to say that social media has a huge effect on body image. For dancers—most of whom already have a laser-focus on their appearance—the images they see on Instagram can seem to exacerbate ever-present issues. "Social media is just another trigger," says Nadine Kaslow, a psychologist who works with the dancers of Atlanta Ballet. "And dancers don't need another trigger." In the age of Photoshop and filters, how can dancers keep body dysmorphia at bay?
Keep reading...
Show less
Courtesy Boneau/Bryan-Brown
If "Fosse/Verdon" whet your appetite for the impeccable Gwen Verdon, then Merely Marvelous: The Dancing Genius of Gwen Verdon is the three-course meal you've been craving. The new documentary—available now on Amazon for rental or purchase—dives into the life of the Tony-winning performer and silver-screen star lauded for her charismatic dancing.

Though she's perhaps most well-known today as Bob Fosse's wife and muse, that's not even half of her story. For starters, she'd already won four Tonys before they wed, making her far more famous in the public eye than he was at that point in his career. That's just one of many surprising details we learned during last night's U.S. premiere of Merely Marvelous. Believe us: You're gonna love her even more once you get to know her. Here are eight lesser-known tidbits to get you started.
Keep reading...
Show less
Lindsay Thomas
Every dancer knows that how you fuel your body affects how you feel in the studio. Of course, while breakfast is no more magical than any other meal (despite the enduring myth that it's the most important one of the day), showing up to class hangry is a recipe for unproductive studio time.
So what do your favorite dancers eat in the morning to set themselves up for a busy rehearsal or performance day?
Keep reading...
Show less
News
Sep. 20, 2019 09:17AM EST
Simon Soong, Courtesy DDT
When it comes to dance in the U.S., companies in the South often find themselves overlooked—sometimes even by the presenters in their own backyard. That's where South Arts comes in. This year, the regional nonprofit launched Momentum, an initiative that will provide professional development, mentorship, touring grants and residencies to five Southern dance companies.
Keep reading...
Show less