Dance Magazine Award Honoree: Rennie Harris
Osamu Inoue, courtesy Harris
It makes sense that Dance Magazine long ago dubbed Rennie (Lorenzo) Harris the "high priest of hip hop." When the often shy, Philadelphia-born choreographer founded his company Rennie Harris Puremovement in 1992, he planted a prodigious seed in the dance world. Then and now, Harris' mission has been to examine, preserve and share the culture of hip hop, decisively away from the commercially exploited view.
Harris remembers that when he started in the '90s, it was rough; a lot of his work was direct, so picketing and policing RHPM shows was the norm. But that time also harkened the birth of his well-thought-out launch of street dance onto the concert stage. There was the politically charged March of the Antmen, the pointed look at brotherhood and neighborhoods in P-Funk, and the tour de force Students of the Asphalt Jungle. His chilling solos, Lorenzo's Oil and Endangered Species, screamed chaos, contradiction and culture. In the 2000s, Rome & Jewels, his first evening-length work, garnered a Bessie Award. Facing Mekka followed, celebrating women of hip hop.
---
Always with one foot in the streets and the other on the stage, time spent teaching in the studio has been an extension of his ongoing hip-hop ministry. With his signature cap, and a towel hanging from his shoulder, before any movement, he guides his classes in a fact-filled discussion on tradition, the elders, and then he breaks down the choreography (aka "routines"). This is where Harris makes all of us rethink the possibilities of bridging the streets and the stage. As he puts it, "At the end of the day it's not just street dance, it's a culture."
He's Dr. Rennie Harris now, his Illadelph Legends of Hip-hop Festival, begun in 1997, is ever strong, and he heads four companies: RHPM; the youth-driven RHAW (Rennie Harris Awe-Inspiring Works); Rennie Harris Grass Roots, with mixed-level and polycultural dancers; plus the all-female THIS WOMAN.
For his unwavering efforts he has received numerous accolades, including three Black Theater Alliance Awards for best choreography, the Herb Alpert Award in the Arts, a Philadelphia Rocky Award, a Guggenheim Fellowship, a Pew Fellowship, and a Governor's Awards for the Arts Artist of the Year nod, to name just a few. Harris' cultural cipher is alive and well.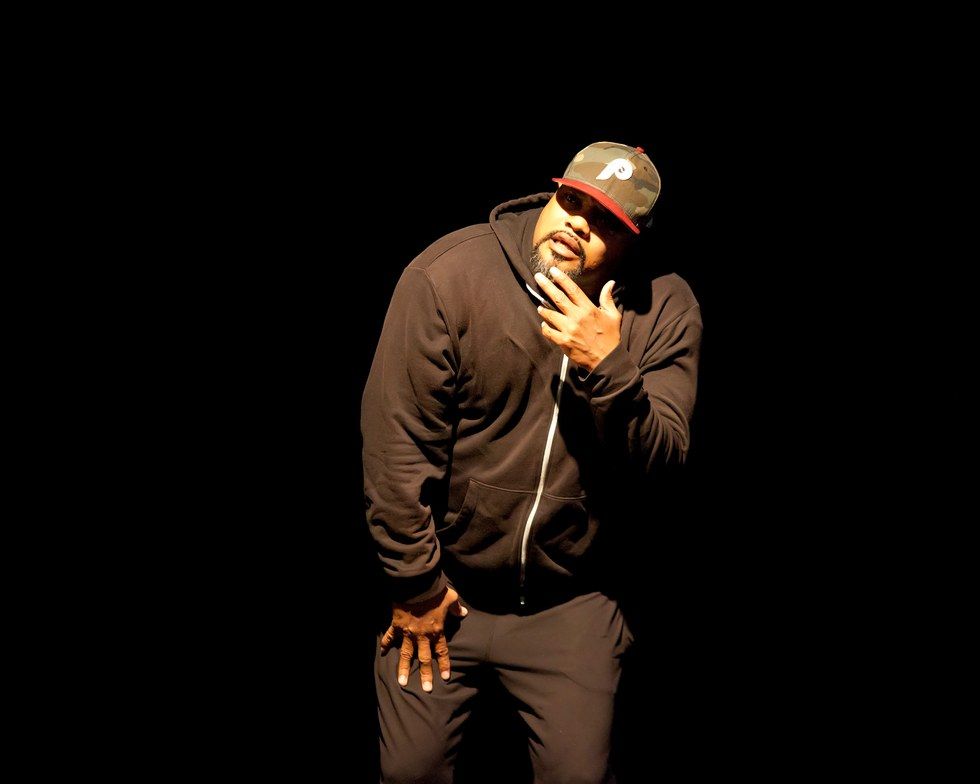 Courtesy Harris
For information about the Dance Magazine Awards ceremony on December 4, click here.
Related Articles Around the Web
From Your Site Articles
Just for Fun
Jul. 16, 2019 02:13PM EST
As Dance Magazine editors, we admittedly spend more time than we'd like sifting through stock photography. Some of it is good, more of it is bad and most of it is just plain awkward.
But when paired with the right caption, those shots magically transform from head-scratchers to meme-worthy images that illustrate our singular experience as dancers. You can thank the internet for this special salute to dancer moods.
Keep reading...
Show less
Wayne McGregor. Photo by Johan Persson, Courtesy ROH
It's no surprise that dancers make some of the best TED Talk presenters. Not only are they great performers, but they've got unique knowledge to share. And they can dance!
If you're in need of a midweek boost, look no further than these eight presentations from some incredibly inspiring dance artists.
Keep reading...
Show less
News
Jul. 16, 2019 03:58PM EST
Including this extraordinary Travis Wall number for "So You Think You Can Dance" (Adam Rose/FOX)
The Primetime Emmy Award nominations are out! Congrats to the seven choreographers who earned nods for their exceptional TV work this year. Notably, that work was made for just two shows, "So You Think You Can Dance" and "World of Dance."
And there was a particularly remarkable snub: While the dance-filled hit "Fosse/Verdon" earned 17 nominations across many of the major categories, Andy Blankenbuehler's fabulous Fosse remixes weren't recognized in the Outstanding Choreography field.
Here are all the dance routines up for Emmys:
Keep reading...
Show less

abezikus/Getty Images
"Dancers can do everything these days," I announced to whoever was in earshot at the Jacob's Pillow Archives during a recent summer. I had just been dazzled by footage of a ballet dancer performing hip hop, remarkably well. But my very next thought was, What if that isn't always a good thing? What if what one can't do is the very thing that lends character?
Keep reading...
Show less