Dance Magazine Award Honoree: Rennie Harris
Osamu Inoue, courtesy Harris
It makes sense that Dance Magazine long ago dubbed Rennie (Lorenzo) Harris the "high priest of hip hop." When the often shy, Philadelphia-born choreographer founded his company Rennie Harris Puremovement in 1992, he planted a prodigious seed in the dance world. Then and now, Harris' mission has been to examine, preserve and share the culture of hip hop, decisively away from the commercially exploited view.
Harris remembers that when he started in the '90s, it was rough; a lot of his work was direct, so picketing and policing RHPM shows was the norm. But that time also harkened the birth of his well-thought-out launch of street dance onto the concert stage. There was the politically charged March of the Antmen, the pointed look at brotherhood and neighborhoods in P-Funk, and the tour de force Students of the Asphalt Jungle. His chilling solos, Lorenzo's Oil and Endangered Species, screamed chaos, contradiction and culture. In the 2000s, Rome & Jewels, his first evening-length work, garnered a Bessie Award. Facing Mekka followed, celebrating women of hip hop.
---
Always with one foot in the streets and the other on the stage, time spent teaching in the studio has been an extension of his ongoing hip-hop ministry. With his signature cap, and a towel hanging from his shoulder, before any movement, he guides his classes in a fact-filled discussion on tradition, the elders, and then he breaks down the choreography (aka "routines"). This is where Harris makes all of us rethink the possibilities of bridging the streets and the stage. As he puts it, "At the end of the day it's not just street dance, it's a culture."
He's Dr. Rennie Harris now, his Illadelph Legends of Hip-hop Festival, begun in 1997, is ever strong, and he heads four companies: RHPM; the youth-driven RHAW (Rennie Harris Awe-Inspiring Works); Rennie Harris Grass Roots, with mixed-level and polycultural dancers; plus the all-female THIS WOMAN.
For his unwavering efforts he has received numerous accolades, including three Black Theater Alliance Awards for best choreography, the Herb Alpert Award in the Arts, a Philadelphia Rocky Award, a Guggenheim Fellowship, a Pew Fellowship, and a Governor's Awards for the Arts Artist of the Year nod, to name just a few. Harris' cultural cipher is alive and well.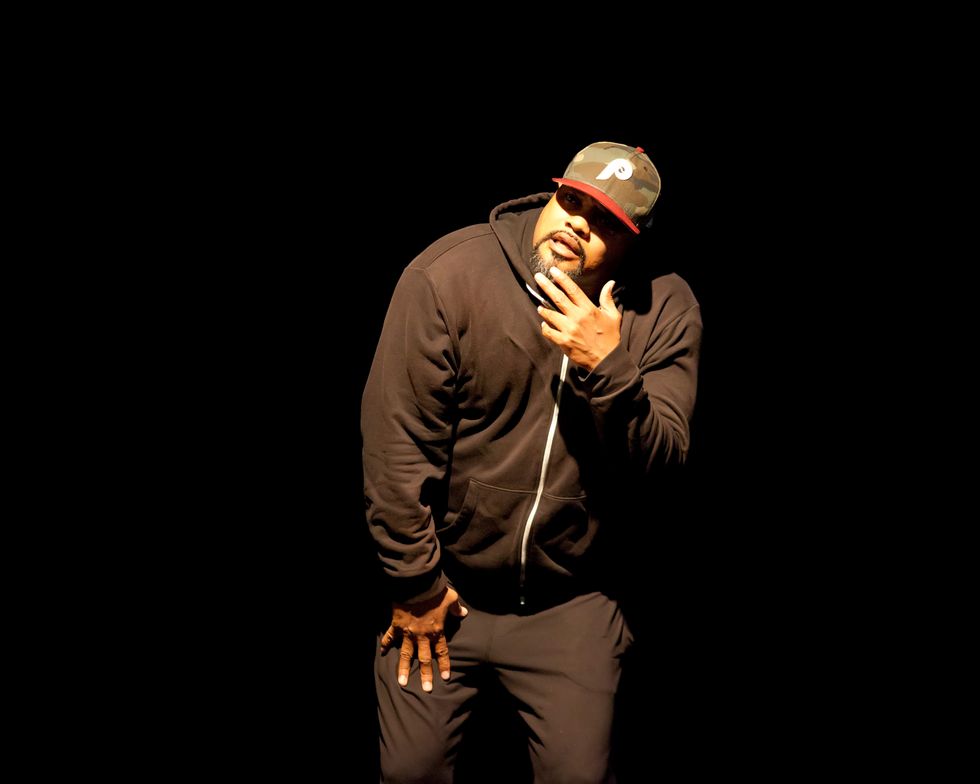 Courtesy Harris
For information about the Dance Magazine Awards ceremony on December 4, click here.
Related Articles Around the Web
Rehearsal of Yvonne Rainer's Parts of Some Sextets. Photo by Paula Court, Courtesy Performa.
Yvonne Rainer's Parts of Some Sextets (AKA "the mattress dance") hasn't been revived since it premiered in 1965. Nor has Rainer had any wish to do it again, to ask performers to heave 10 mattresses around while carrying out 31 tasks that changed every 30 seconds. It was an unwieldy, difficult dance. (Even the title is unwieldy.) But Emily Coates, who has danced in Rainer's work for 20 years, became curious about this piece and was determined to see it again—and to dance in it. She will get her wish November 15–17, when the mattress dance will be performed as part of the Performa 19 Biennial.
Keep reading...
Show less
Ailey II artistic director Troy Powell teaching an Ailey Workshop at NYCDA. Courtesy NYCDA
Back in 2011 when Joe Lanteri first approached Katie Langan, chair of Marymount Manhattan College's dance department, about getting involved with New York City Dance Alliance, she was skeptical about the convention/competition world.
"But I was pleasantly surprised by the enormity of talent that was there," she says. "His goal was to start scholarship opportunities, and I said okay, I'm in."
Today, it's fair to say that Lanteri has far surpassed his goal of creating scholarship opportunities. But NYCDA has done so much more, bridging the gap between the convention world and the professional world by forging a wealth of partnerships with dance institutions from Marymount to The Ailey School to Complexions Contemporary Ballet and many more. There's a reason these companies and schools—some of whom otherwise may not see themselves as aligned with the convention/competition world—keep deepening their relationships with NYCDA.
Now, college scholarships are just one of many ways NYCDA has gone beyond the typical weekend-long convention experience and created life-changing opportunities for students. We rounded up some of the most notable ones:
Keep reading...
Show less
Left: Hurricane Harvey damage in Houston Ballet's Dance Lab; Courtesy Harlequin. Right: The Dance Lab pre-Harvey; Nic Lehoux, Courtesy Houston Ballet.
"The show must go on" may be a platitude we use to get through everything from costume malfunctions to stormy moods. But when it came to overcoming a literal hurricane, Houston Ballet was buoyed by this mantra to go from devastated to dancing in a matter of weeks—with the help of Harlequin Floors, Houston Ballet's longstanding partner who sprang into action to build new floors in record time.
Keep reading...
Show less