Dance Magazine Award Honoree: Rennie Harris
Osamu Inoue, courtesy Harris
It makes sense that Dance Magazine long ago dubbed Rennie (Lorenzo) Harris the "high priest of hip hop." When the often shy, Philadelphia-born choreographer founded his company Rennie Harris Puremovement in 1992, he planted a prodigious seed in the dance world. Then and now, Harris' mission has been to examine, preserve and share the culture of hip hop, decisively away from the commercially exploited view.
Harris remembers that when he started in the '90s, it was rough; a lot of his work was direct, so picketing and policing RHPM shows was the norm. But that time also harkened the birth of his well-thought-out launch of street dance onto the concert stage. There was the politically charged March of the Antmen, the pointed look at brotherhood and neighborhoods in P-Funk, and the tour de force Students of the Asphalt Jungle. His chilling solos, Lorenzo's Oil and Endangered Species, screamed chaos, contradiction and culture. In the 2000s, Rome & Jewels, his first evening-length work, garnered a Bessie Award. Facing Mekka followed, celebrating women of hip hop.
---
Always with one foot in the streets and the other on the stage, time spent teaching in the studio has been an extension of his ongoing hip-hop ministry. With his signature cap, and a towel hanging from his shoulder, before any movement, he guides his classes in a fact-filled discussion on tradition, the elders, and then he breaks down the choreography (aka "routines"). This is where Harris makes all of us rethink the possibilities of bridging the streets and the stage. As he puts it, "At the end of the day it's not just street dance, it's a culture."
He's Dr. Rennie Harris now, his Illadelph Legends of Hip-hop Festival, begun in 1997, is ever strong, and he heads four companies: RHPM; the youth-driven RHAW (Rennie Harris Awe-Inspiring Works); Rennie Harris Grass Roots, with mixed-level and polycultural dancers; plus the all-female THIS WOMAN.
For his unwavering efforts he has received numerous accolades, including three Black Theater Alliance Awards for best choreography, the Herb Alpert Award in the Arts, a Philadelphia Rocky Award, a Guggenheim Fellowship, a Pew Fellowship, and a Governor's Awards for the Arts Artist of the Year nod, to name just a few. Harris' cultural cipher is alive and well.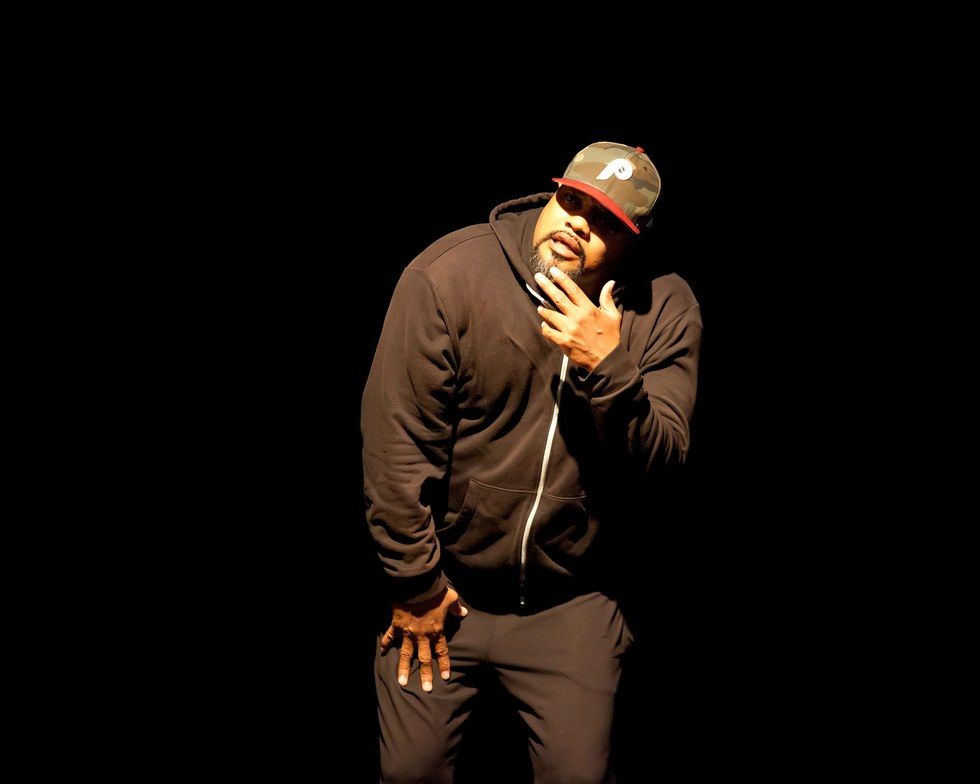 Courtesy Harris
For information about the Dance Magazine Awards ceremony on December 4, click here.
Related Articles Around the Web
Most people may know Derek Dunn for his impeccable turns and alluring onstage charisma. But the Boston Ballet principal dancer is just as charming offstage, whether he's playing with his 3-year-old miniature labradoodle or working in the studio. Dance Magazine recently spent the day with Dunn as he prepared for his debut as Albrecht in the company's upcoming run of Giselle.
Rosalie O'Connor, Courtesy Mark Morris Dance Group
You know compelling musicality when you see it. But how do you cultivate it? It's not as elusive as it might seem. Musicality, like any facet of dance, can be developed and honed over time—with dedicated, detailed practice. At its most fundamental, it's "respect for the music, that this is your partner," says Kate Linsley, academy principal of the School of Nashville Ballet.
Keep reading...
Show less
The USC Kaufman graduating class with Mikhail Baryshnikov. Gus Ruelas/USC
Just four years ago, the University of Southern California's Glorya Kaufman School of Dance welcomed its first class of BFA students. The program—which boasts world-class faculty and a revolutionary approach to training focused on collaboration and hybridity—immediately established itself as one of the country's most prestigious and most innovative.
Now, the first graduating class is entering the dance field. Here, six of the 33 graduates share what they're doing post-grad, what made their experience at USC Kaufman so meaningful and how it prepared them for their next steps:
Keep reading...
Show less
Ross Parkes, right, teaching in Shanghai in 1983. Lan-Lan Wang is at left. Courtesy Lan-Lan Wang.
Notable dancer and beloved teacher, Ross Parkes, 79, passed away on August 5, 2019 in New York City. He was a founding faculty member at Taipei National University of the Arts in Taiwan, where he taught from 1984 to 2006. Lin Hwai-min, artistic director of Cloud Gate Dance Theater, said: "He nurtured two generations of dancers in Taiwan, and his legacy will continue."
About his dancing, Tonia Shimin, professor emerita at UC Santa Barbara and producer of Mary Anthony: A Life in Modern Dance, said this: "He was an exquisite, eloquent dancer who inhabited his roles completely."
Keep reading...
Show less