Meet "RuPaul's Drag Race's" First Professional Ballet Dancer: Brock Hayhoe AKA Brook Lynn Hytes
Courtesy MPRM Communications
A bright disposition with a dab of astringent charm is how I remember Brock Hayhoe, a National Ballet School of Canada schoolmate. Because we were a couple years apart, we barely brushed shoulders, except at the odd Toronto dance party where we could dance all night with mutual friends letting our inhibitions subside through the music. Dancing always allows a deeper look.
But, as my late great ballet teacher Pyotr Pestov told me when I interviewed him for Dance Magazine in 2009, "You never know what a flower is going to look like until it opens up."
---
Well, Brock Hayhoe has most certainly bloomed—all the way into his celebrated drag-persona: Brooke Lynn Hytes, a popular and polished performer on the new season of the Emmy Award winning TV series "RuPaul's Drag Race." He's the first professional ballet dancer (and the first Canadian) on the show so far, and by the looks of the episodes currently airing, he's already breaking the mold—even appearing on pointe.
What was your journey from ballet student to drag queen?
I started dancing ballet at 15, so when I joined NBS that same year I had virtually no experience. I was so far behind, but I worked really hard. After three years at NBS and two additional years as a part of the post-secondary program, I got a job dancing in South Africa with Cape Town City Ballet. I was fortunate to dance many principal roles, but something was missing.
The truth is, I've never enjoyed dancing the male roles. I always saw myself as that tall, glamorous soloist girl from Balanchine's "Rubies." So I moved to New York City to join Les Ballets Trockadero de Monte Carlo. I traveled the globe with them dancing amazing roles, but my eye was moving more towards the drag side of things. So I moved back home to Toronto and decided I would become a full-time drag queen.
How do you define what drag is to you? 
I think drag is for everyone. To me, drag is physically becoming someone other than who you are.
How did the name Brooke Lynn come about?
Ha! I've had four drag names.
My first was one Halloween when I was pulled on stage at a bar and asked my name. I panicked and said Jackie D. Why? I don't know, but that only lasted one night.
Then I decided I wanted to be Carmen. It sounded sexy and it's one of my favorite ballets. I stopped doing drag while in South Africa so when I moved to New York I decided my name would be Bianca.
Finally, when I moved back home to Toronto local legend Fara N Hyte adopted me as her drag daughter and gave me the name Brooke Lynn Hytes.
Did you have a moment when everything clicked and you thought, "Drag could legit be my full-time career right now"?
Shortly after moving back to Toronto I won my first drag pageant called the Queen of Halloween at a local bar. Once that happened, I started getting bookings all over the city and that's when it kind of clicked that I was really good at this.
What was your upbringing like? 
Both of my parents come from very strict Christian upbringings so my upbringing was quite strict, which caused me to rebel in my later years. When I came out as gay at 18 my parents weren't thrilled. It took time but eventually they warmed up to the idea and now they love it! My mom even came to the premiere of the show!
Inquiring ballerinas want to know: What's worse—needing a bathroom break when you're in full ballet costume with tutu and tights, or in full tucked, pulled and padded drag? 
Oh, full drag for sure! I wear about seven pairs of tights plus padding plus tucking, so there is lots of rearranging that needs to be done every time mother nature calls.
What did you take from the ballet world into your life as a drag performer?
The importance of being professional and punctual. As a dancer, you are drilled in how important it is to be on time and to be easy to work with. In my opinion that's something many drag queens need a few lessons on.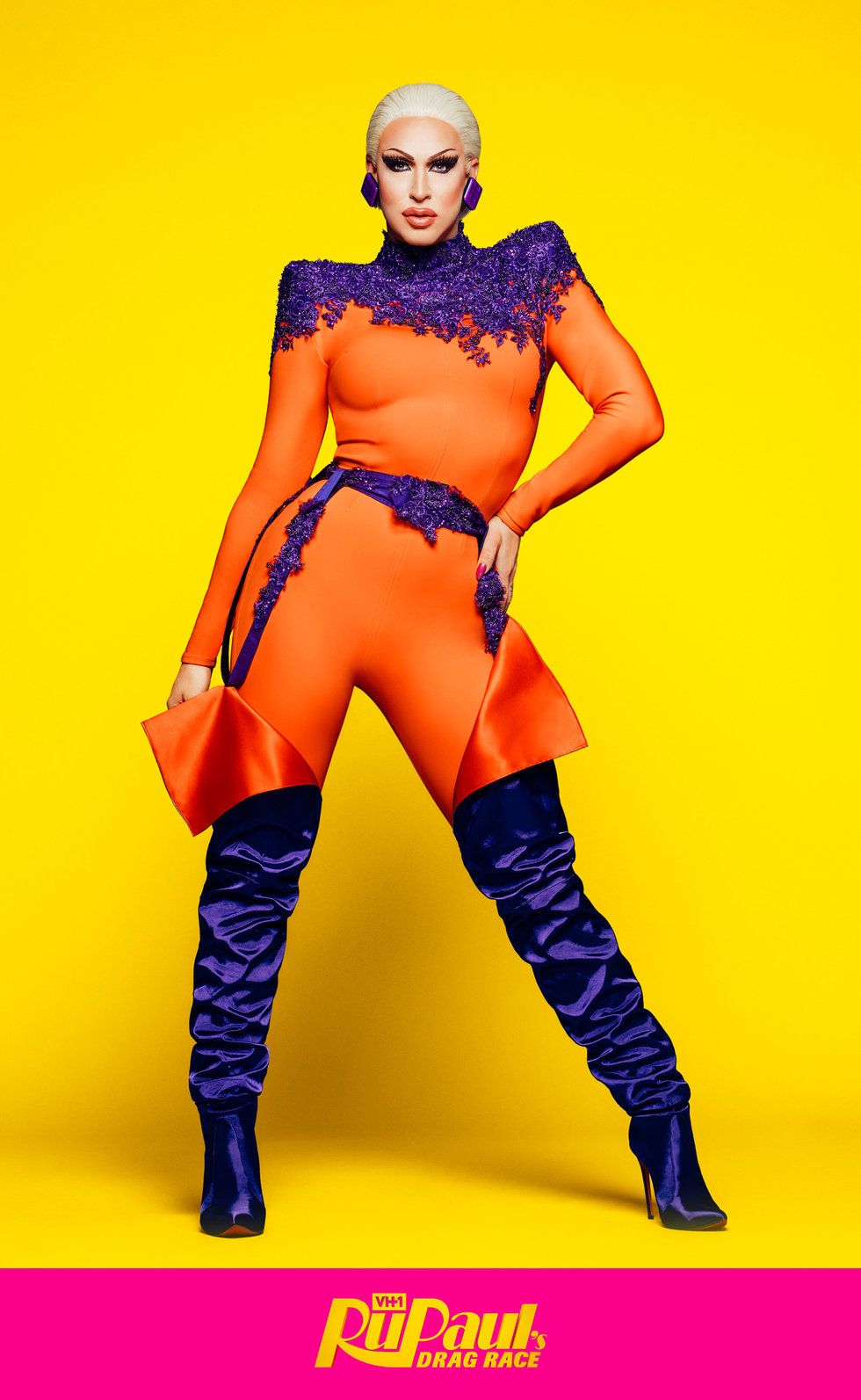 What would you bring back from the drag world if you ever joined a dance company again? 
A sense of fun. I think sometimes we take ourselves too seriously in the dance world, and drag has definitely taught me the joy, and the importance, of laughing at yourself and being a little more laid back.
You are becoming a role model to many. How does that feel?
It feels weird to be honest. I never thought of myself as a role model. I'm just a man in a wig chasing his dreams!
That said, it's such a privilege being able to inspire people. I am so lucky to be in the position I'm in right now and never want to take that for granted. I would love to use my platform to help homeless LGBTQ youth and help LGBTQ youth in other countries who are not fortunate to have the same rights that we as North Americans have. I would also like to really showcase my queer Canadian brothers and sisters in any way I can. And of course, World Peace ;)
News
Oct. 17, 2019 01:39PM EST
Courtesy NBC
"Law & Order: SVU" has dominated the crime show genre for 21 seasons with its famous "ripped from the headlines" strategy of taking plot inspiration from real-life crimes.
So viewers would be forgiven for assuming that the new storyline following the son of Mariska Hargitay's character into dance class originated in the news cycle. After all, the mainstream media widely covered the reaction to Lara Spencer's faux pas on "Good Morning America" in August, when she made fun of Prince George for taking ballet class.
But it turns out, the storyline was actually the idea of the 9-year-old actor, Ryan Buggle, who plays Hargitay's son. And he came up with it before Spencer ever giggled at the word ballet.
Keep reading...
Show less
Chantelle Pianetta competing at a West Coast swing event. Courtesy Pianetta.
Just hearing the word "improvisation" is enough to make some ballet dancers shake in their pointe shoes. But for Chantelle Pianetta, it's a practice she relishes. Depending on the weekend, you might find her gracing Bay Area stages as a principal with Menlowe Ballet or sweeping in awards at West Coast swing competitions.

She specializes in Jack and Jill events, which involve improvised swing dancing with an unexpected partner in front of a panel of judges. (Check her out in action below.) While sustaining her ballet career, over the past four years Pianetta has quickly risen from novice to champion level on the WCS international competition circuit.
Keep reading...
Show less
Jayme Thornton
Sean Dorsey was always going to be an activist. Growing up in a politically engaged, progressive family in Vancouver, British Columbia, "it was my heart's desire to create change in the world," he says. Far less certain was his future as a dancer.
Like many dancers, Dorsey fell in love with movement as a toddler. However, he didn't identify strongly with any particular gender growing up. Dorsey, who now identifies as trans, says, "I didn't see a single person like me anywhere in the modern dance world." The lack of trans role models and teachers, let alone all-gender studio facilities where he could feel safe and welcome, "meant that even in my wildest dreams, there was no room for that possibility."
Keep reading...
Show less