Ryan Heffington: Hollywood's Delightfully Absurd Dancemaker
Ryan Heffington shot by Jacob Sutton, styled by Mindy Le Brock in jacket by Jil Sander, pants by McQ and shoes by Opening Ceremony
On paper, the finale of last year's Netflix series "The OA" looks absurd: Choreography as a pivotal plot device for a cerebral sci-fi show? Please.
"It could be truly amazing, or the worst part of the series," admits Ryan Heffington, the man behind the moves, which were introduced over eight surreal episodes.
But the climax proved powerful and poignant, an utterly unique use of the body to not just tell a story but drive it. "They're healing," he says of the show's gestures, which echo ancient rituals and his own personal philosophy. "It's a very spiritual set of movements. And I always say, 'Dance is a portal to spirituality.' "
---
"The OA" is just one of several unlikely projects from Heffington, who has emerged as one of the most in-demand choreographers in Hollywood. His eclectic resumé includes hit feature films, like this summer's stylized action flick Baby Driver, elegantly wacky perfume ads and collaborations with numerous musicians, most notably the pop star Sia. His work on her 2014 music video "Chandelier"—one of YouTube's most-watched videos—propelled him into a realm of visibility few dancemakers reach.
But it's no lucky break: Heffington's moment is the result of years of relentless work and an insistence on preserving his singular artistic voice.
Heffington's journey began in Yuba City, California, where the self-described "pageant boy" studied jazz, tap and ballet at a dance studio in the middle of an orchard, next to horse stables. It wasn't an easy place to be different, but dance—the kind he found on TV shows like "Solid Gold," "Dance Fever" and "Star Search"—was an escape and an inspiration (he appeared several times on "Star Search").
"I never felt like I was expressing myself as a youngster unless I was in dance class," he says. He was teased for performing in tights and sequins but flaunted his dance competition ribbons at school anyway. "I just didn't care," he said. "I was so proud of myself."
At the earliest opportunity, he fled to Los Angeles, where he didn't quite fit in among the more clean-cut dancers. "I recall a mentor saying, 'If you want to work, you have to cut your hair,' " he says, referring to his then-waist-length locks. "I don't like being told those things."
He hated auditioning, but needed the money and found a balance by getting cast as a hippie or, in one case, as the witch in a Disney production of Snow White, a role he loved.
But while the commercial-dance world kept him at arm's length, the art world embraced him. "Hanging out with artists and musicians and poets, I found a new community," he says.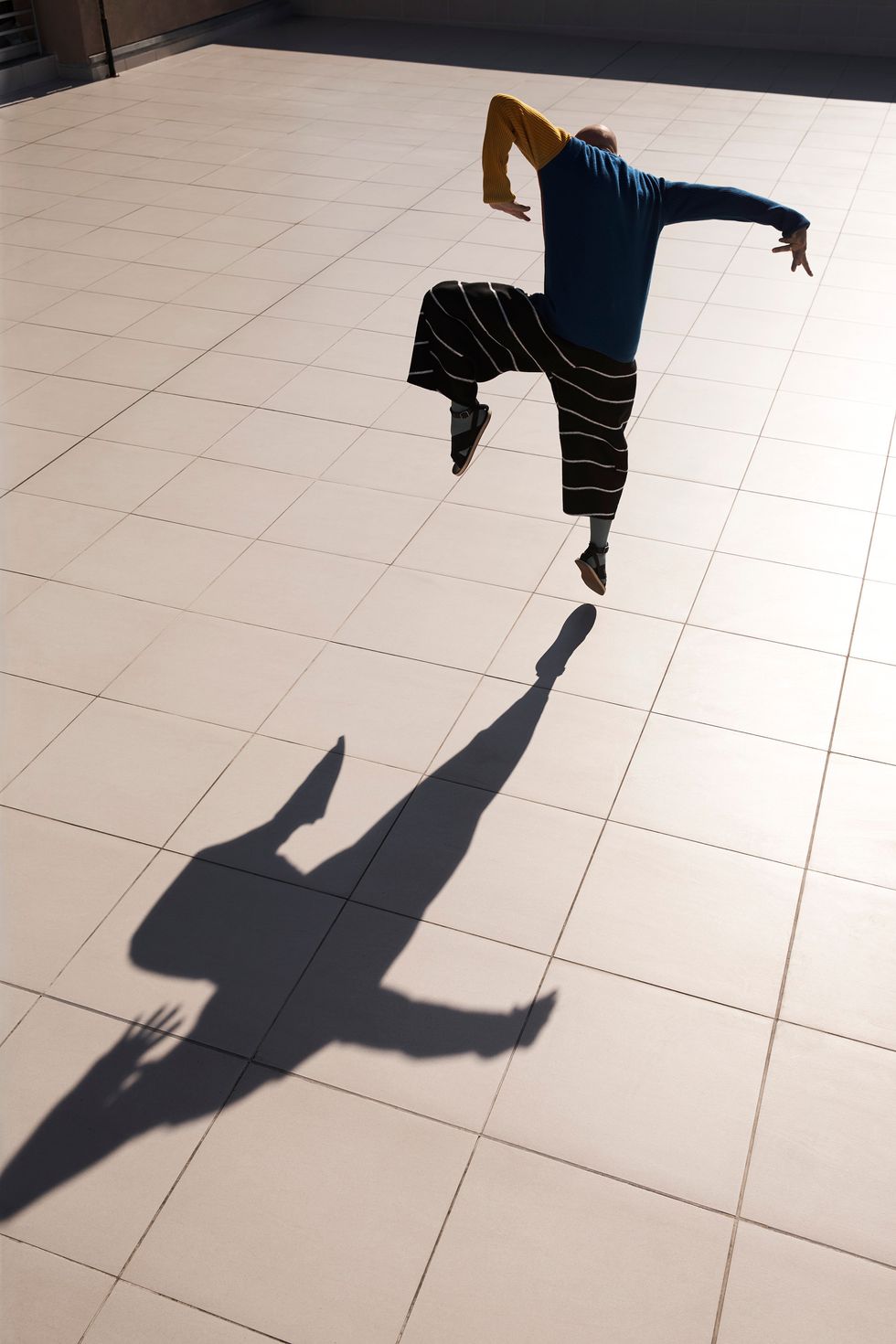 Ryan Heffington, shot by Jacob Sutton, styled by Mindy Le Brock in top by kenzo, pants by Henrik Vibskov and shoes by Dries Van Noten.
Around age 25, Heffington discovered that he loved to teach after subbing a friend's class. He hasn't stopped since. Teaching "gave me a platform to develop choreography," he says. In class, he would experiment to music by artists he admired, like PJ Harvey and Björk. "I believe that teaching has kept me evolving," he says.
On the side, he started choreographing for art-world friends at exhibitions and fashion shows, any gig he could get. Meanwhile, he produced his own wild work, like Psycho Dance Sho, a radical punk cabaret created with Bubba Carr, which ran in L.A. from the mid-1990s to the early 2000s. "For me it was about always creating," he says. "That was my need. Through that, my exposure grew."
It was at a 2013 performance of his show KTCHN, a psychedelic, Warhol-esque dance installation, that Heffington met Sia, who saw in him a kindred artistic spirit. "He gets me," she says. "He gets my spaghetti woman, my floppy arms, my toddler lens, my anti-sexy, and he has embraced and elevated it to art status."
Since "Chandelier," the two have collaborated on several more music videos, including a recent HIV-awareness video starring Zoë Saldana, concerts and even an upcoming film that Sia is directing. "He's very intuitive and avant-garde without being pretentious or alienating," she says.
Heffington avoids traps of pretension by focusing on storytelling through raw emotion—a response, he suggests, to his childhood. "I wasn't allowed to express myself emotionally growing up," he says. Dance helped him see "what expressing oneself meant, how fulfilling that could be."
His bespoke brand of quirky gestures and intentionally imperfect technique can make a highly trained dancer like Maddie Ziegler, the young star of "Chandelier," look vulnerable while making non-dancers like the cast of "The OA" look like confident, natural movers. "I'm interested in portraying human emotion and humanity over pure aesthetics of movement," he says.
Dancer or non-dancer, his approach is the same. "I paint visual pictures through description and direction," he says. He rejects dance jargon in favor of evocative imagery and visceral scenarios. For example: "You're a possum, a car is approaching and you're going to hiss to protect your babies," he offers. "It's about an instinct, survival and need."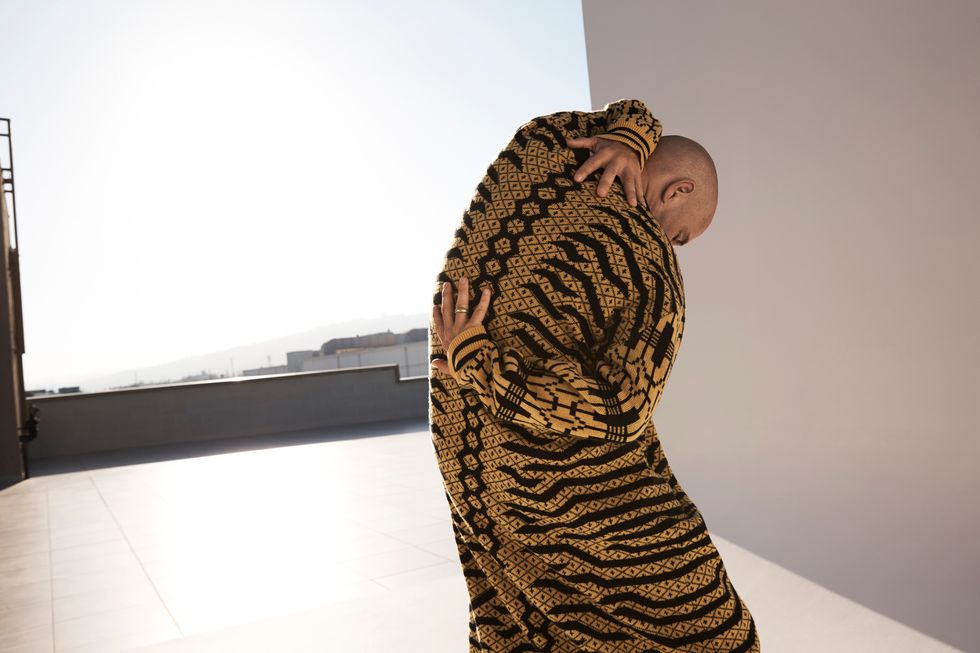 Heffington photographed by Jacob Sutton, styled by Mindy Le Brock in Kenzo
His focus on the face and frequent use of grotesque facial distortions has defined his aesthetic as well. "Ninety-nine percent of telling an emotional story comes from the face. Why not use this as a tool?"
Though he seems to have landed suddenly on the pop culture radar, no one who has worked with him is surprised at Heffington's success. "Ryan has always been true to himself, and I believe that's why he's gotten to where he is today," says Denna Thomsen, a choreographer and dancer who has worked with Heffington for 10 years and serves as his assistant. She describes him as "always so calm." He's eager to challenge his dancers, she says, and himself. "He's not afraid to take leaps, to take a risk."
That's probably because he sees value in stumbling occasionally. "I've got a library of music videos that I don't share online," he says with a laugh. Whether a collaboration wasn't smooth or he's dissatisfied with his own work, he asks himself what he can take from the experience, then moves on. "The need to fail is so important as an artist," he says. "An artist doesn't mean always creating beautiful work. That instills fear. My need to create overrides the fear of failure."
That appetite for risk has led him into unexplored territory, such as co-directing Seeing You, a recent immersive dance-theater work in New York City by a producer of Sleep No More, and upcoming projects with musicians like Lorde and fashion brands like Under Armour.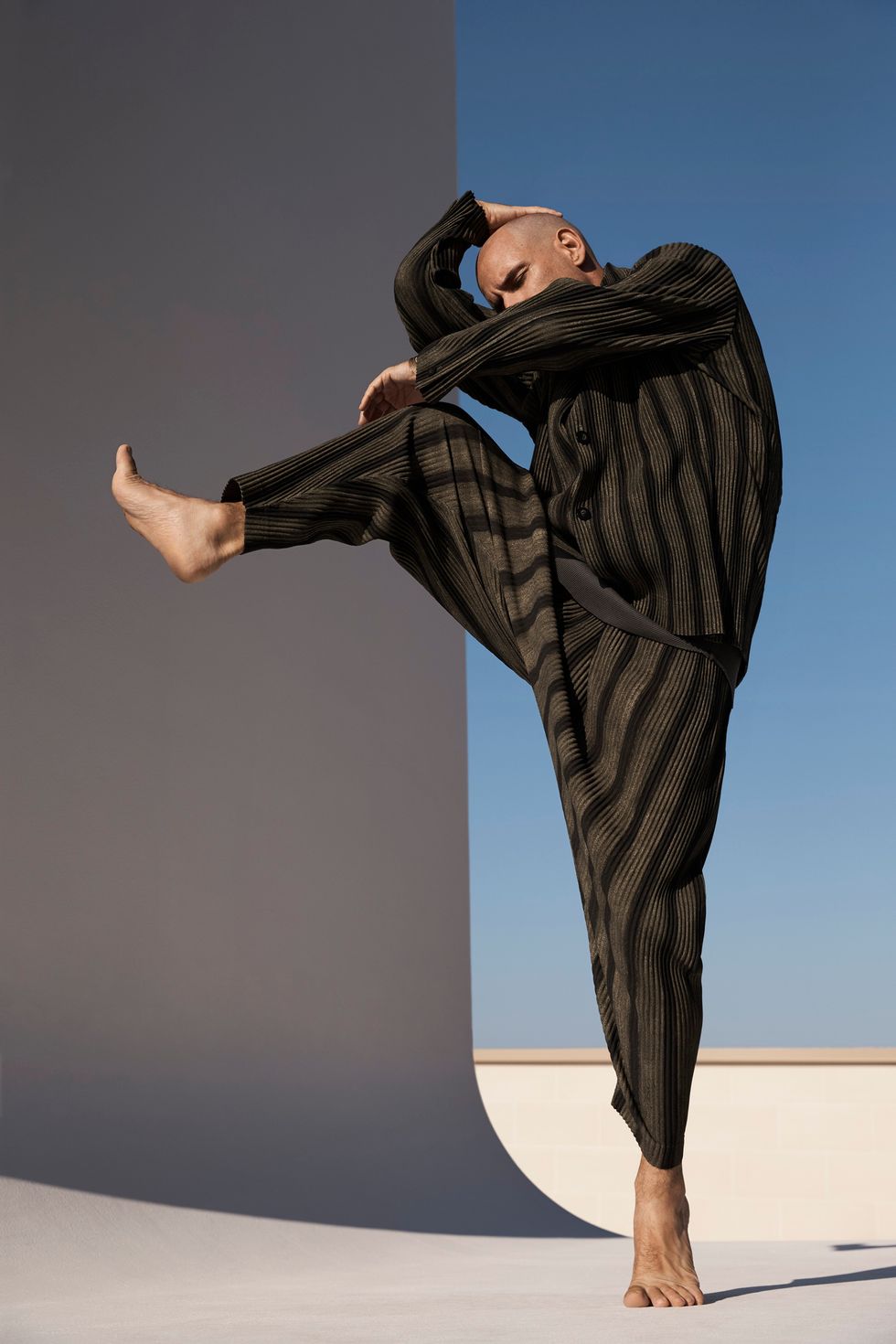 Ryan Heffington, photographed by Jacob Sutton, styled by Mindy Le Brock
But don't assume that Heffington has quieted the quirks to go mainstream—his M.O. hasn't changed since the days of Psycho Dance Sho. He credits his high-profile rise to timing, like-minded collaborators and a more generous cultural embrace of idiosyncrasy in dance. "It's a different color," he says of his style. "And I think people get hungry for that."
Heffington still recharges with teaching. In 2008, he opened The Sweat Spot, an L.A. dance studio, to indulge his passion. There he teaches his popular Sweaty Sundays class, spreading the gospel of self-love and creative freedom that has guided him over the years. Whether with big stars or a newbie off the street, in the studio or on screen, Heffington sticks to his strategy: "If you make people feel good, you have access to a lot more," he says. "They feel free, loved, confident."
In other words, Heffington uses dance in real life the way he did on "The OA." "I believe that dance heals," he says. "People experience it, and it changes who they are."
Subscribe to get the print edition!
Rachel Papo
In the middle of one of New York City Center's cavernous studios, Misty Copeland takes a measured step backwards. The suggestion of a swan arm ripples before she turns downstage, chest and shoulders unfurling as her legs stretch into an open lunge. She piqués onto pointe, arms echoing the sinuous curve of her back attitude, then walks out of it, pausing to warily look over her shoulder. As the droning of Ryuichi Sakamoto and Alva Noto's mysterious "Attack/Transition" grows more insistent, her feet start to fly with a rapidity that seems to almost startle her.
And then she stops mid-phrase. Copeland's hands fall to her hips as she apologizes. Choreographer Kyle Abraham slides to the sound system to pause the music, giving Copeland a moment to remind herself of a recent change to the sequence.
"It's different when the sound's on!" he reassures her. "And it's a lot of changes."
The day before was the first time Abraham had seen Copeland dance the solo in its entirety, and the first moment they were in the studio together in a month. This is their last rehearsal, save for tech, before the premiere of Ash exactly one week later, as part of the opening night of City Center's Fall for Dance festival.
Keep reading...
Show less
Ailey II artistic director Troy Powell teaching an Ailey Workshop at NYCDA. Courtesy NYCDA
Back in 2011 when Joe Lanteri first approached Katie Langan, chair of Marymount Manhattan College's dance department, about getting involved with New York City Dance Alliance, she was skeptical about the convention/competition world.
"But I was pleasantly surprised by the enormity of talent that was there," she says. "His goal was to start scholarship opportunities, and I said okay, I'm in."
Today, it's fair to say that Lanteri has far surpassed his goal of creating scholarship opportunities. But NYCDA has done so much more, bridging the gap between the convention world and the professional world by forging a wealth of partnerships with dance institutions from Marymount to The Ailey School to Complexions Contemporary Ballet and many more. There's a reason these companies and schools—some of whom otherwise may not see themselves as aligned with the convention/competition world—keep deepening their relationships with NYCDA.
Now, college scholarships are just one of many ways NYCDA has gone beyond the typical weekend-long convention experience and created life-changing opportunities for students. We rounded up some of the most notable ones:
Keep reading...
Show less
Getty Images
Dancers are understandably obsessed with food. In both an aesthetic and athletic profession, you know you're judged on your body shape, but you need proper fuel to perform your best. Meanwhile, you're inundated with questionable diet advice.
"My 'favorite' was the ABC diet," says registered dietitian nutritionist Kristin Koskinen, who trained in dance seriously but was convinced her body type wouldn't allow her to pursue it professionally. "On the first day you eat only foods starting with the letter A, on the second day only B, and so on."
Keep reading...
Show less
Left: Hurricane Harvey damage in Houston Ballet's Dance Lab; Courtesy Harlequin. Right: The Dance Lab pre-Harvey; Nic Lehoux, Courtesy Houston Ballet.
"The show must go on" may be a platitude we use to get through everything from costume malfunctions to stormy moods. But when it came to overcoming a literal hurricane, Houston Ballet was buoyed by this mantra to go from devastated to dancing in a matter of weeks—with the help of Harlequin Floors, Houston Ballet's longstanding partner who sprang into action to build new floors in record time.
Keep reading...
Show less