Why Broadway Dancer Ryan Steele Eats Whatever His Body Craves—Including Domino's
Steele relies on carbs for Broadway-worthy energy. Photo by Lee Gumbs, courtesy Steele
Ryan Steele has a simple rule for demanding days on Broadway: "I listen to my body," he says. "I have whatever I'm craving: If I need more protein, I go straight for that. If I'm tired, I know I need carbs."
This wasn't always Steele's approach. Growing up, shuttling between the studio and school meant relying on McDonald's and Burger King.
---
Now, he focuses on staying in touch with whatever his body is asking for, though eating between shows still challenges him. "You need enough calories, but you can't eat too much: A stomach full of lasagna won't do well," he says, with a laugh. "Often I'll go to Chirping Chicken for the chicken shawarma sandwich or wings—but nothing too much."
How He Figured Out His Ideal Meal Plan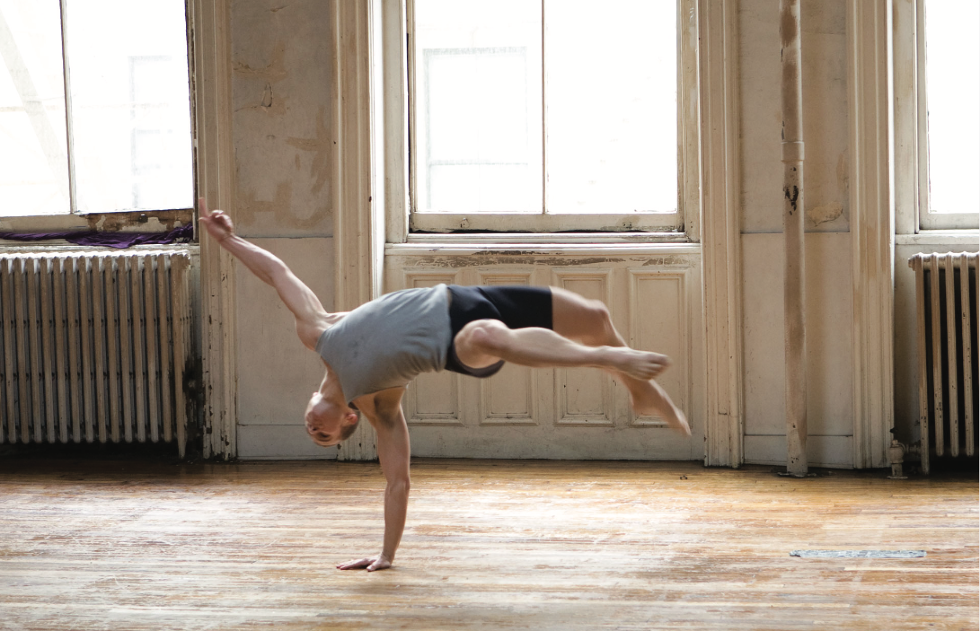 Steele in the 2013 film Five Dances
Two years ago, Steele worked with a nutritionist for a month and a half to figure out what worked best for him. "It was always hard for me to eat as much protein as she suggested, so I turned to protein shakes," he says. The extra protein boost helped him pull double duty this summer when he was performing in Broadway's Carousel and rehearsing for a production lab at the same time.
For Steele, focusing on his own needs—not the trends or tips that work for others—is key. "Some people are intense around cutting carbohydrates, but I enjoy carbs and they help me with energy and blood sugar," he says. "Take three days and test different things, taking things out, or adding them back in. Everyone is different. It's all about the situation and your unique body."
His Kitchen Must-Haves
eggs
granola
Suja Green Juice
frozen dinners from Trader Joe's, like Superfood Pilaf and Chicken Chow Mein
His Favorite Nostalgic Treat
Even though New York City is home to some of the world's best pizza, Steele loves Domino's. "People give me a lot of sass about it, but I love the thin crust, which feels healthier. And the Pizza Tracker makes it feel so personal. Plus, I have tons of reward points!"
Why He Has to Take Singing Into Account
Because musical theater requires vocal health, too, Steele has to be careful of how late he eats and foods that lead to acid reflux. "I stay away from really creamy things," he says. "If I eat a lot of ice cream at once, the next morning I wake up achy. I sub in things like coconut milk ice cream instead."
From Your Site Articles
Related Articles Around the Web
Courtesy Boneau/Bryan-Brown
If "Fosse/Verdon" whet your appetite for the impeccable Gwen Verdon, then Merely Marvelous: The Dancing Genius of Gwen Verdon is the three-course meal you've been craving. The new documentary—available now on Amazon for rental or purchase—dives into the life of the Tony-winning performer and silver-screen star lauded for her charismatic dancing.

Though she's perhaps most well-known today as Bob Fosse's wife and muse, that's not even half of her story. For starters, she'd already won four Tonys before they wed, making her far more famous in the public eye than he was at that point in his career. That's just one of many surprising details we learned during last night's U.S. premiere of Merely Marvelous. Believe us: You're gonna love her even more once you get to know her. Here are eight lesser-known tidbits to get you started.
Keep reading...
Show less
Lindsay Thomas
Every dancer knows that how you fuel your body affects how you feel in the studio. Of course, while breakfast is no more magical than any other meal (despite the enduring myth that it's the most important one of the day), showing up to class hangry is a recipe for unproductive studio time.
So what do your favorite dancers eat in the morning to set themselves up for a busy rehearsal or performance day?
Keep reading...
Show less
News
Sep. 20, 2019 09:17AM EST
Simon Soong, Courtesy DDT
When it comes to dance in the U.S., companies in the South often find themselves overlooked—sometimes even by the presenters in their own backyard. That's where South Arts comes in. This year, the regional nonprofit launched Momentum, an initiative that will provide professional development, mentorship, touring grants and residencies to five Southern dance companies.
Keep reading...
Show less
News
Sep. 19, 2019 12:46PM EST
Alice Pennefather, Courtesy ROH
You ever just wish that Kenneth MacMillan's iconic production of Romeo and Juliet could have a beautiful love child with the 1968 film starring Olivia Hussey? (No, not Baz Luhrmann's version. We are purists here.)
Wish granted: Today, the trailer for a new film called Romeo and Juliet: Beyond Words was released, featuring MacMillan's choreography and with what looks like all the cinematic glamour we could ever dream of:
Keep reading...
Show less