News
May. 01, 2018 02:58PM EST
SF Ballet's "Boundless" Symposium Explores How Ballet is Evolving
Arthur Pita speaking during a discussion on ballet and technology. Photo by Chris Hardy, courtesy SFB
The first week of San Francisco Ballet's Unbound: A Festival of New Works was all about new ballets, with 12 world premieres by the likes of Justin Peck, Dwight Rhoden and Annabelle Lopez Ochoa. The second weekend provided time to reflect, as artists and influencers gathered for "Boundless: A Symposium on Ballet's Future."
Dance Magazine sat in on two sessions.
---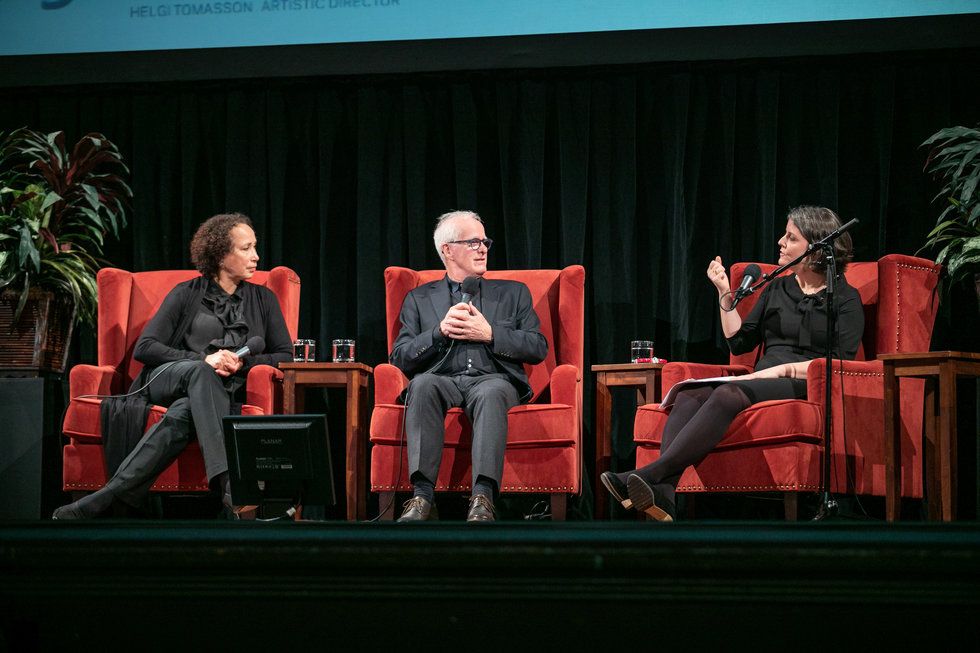 Virginia Johnson, Helgi Tomasson and Marina Harss. Photo by Chris Hardy, courtesy SFB
On Friday, April 27, writer Marina Harss moderated "Unbound: A Conversation on the Future of Ballet" with SFB artistic director Helgi Tomasson and Dance Theatre of Harlem artistic director Virginia Johnson. The wide-ranging discussion offered several takeaways:
Johnson and Tomasson agree that being a great ballet dancer is not determined by ethnicity, gender or body type—although height still plays a role because of partnering.
They also believe that while classical technique is the essential foundation of ballet, they aren't precious about it—technique should be allowed to evolve so that ballet feels relevant to contemporary audiences.
Both directors want dancers with personality and expressiveness, not just showstopping tricks.
Johnson observed that there are more women artistic directors than ever before, and she believes those opportunities will continue to grow.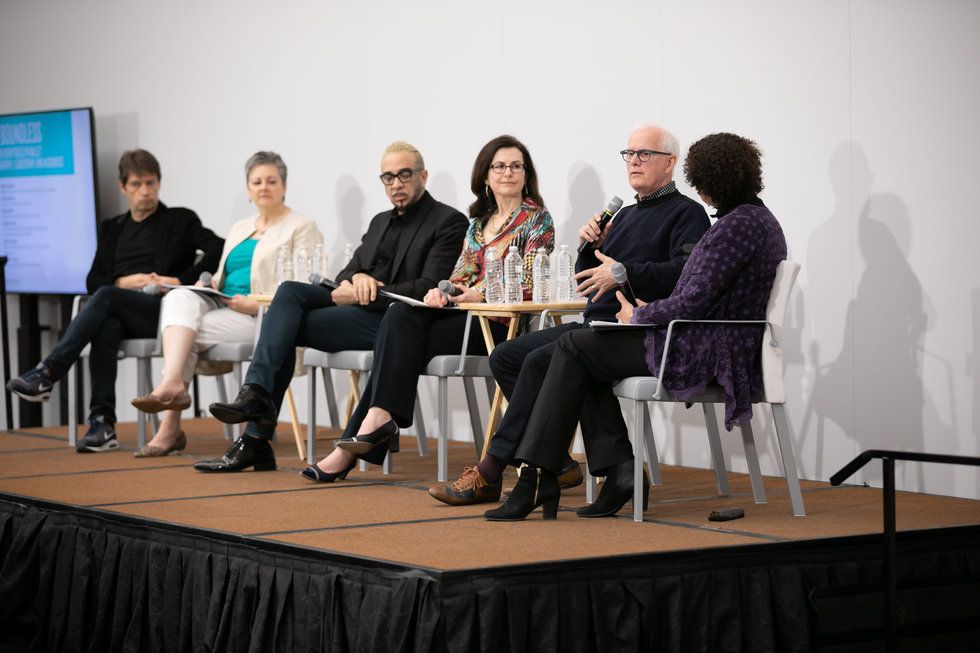 Patrick Armand, Andrea Yannone, Dwight Rhoden, Celia Fushille, Helgi Tomasson and Virginia Johnson. Photo by Chris Hardy, courtesy SFB.
Johnson moderated an in-depth session about diversity and inclusion on Sunday. "Boundless: Fostering New Voices in Ballet Choreography, Leadership and Audiences" brought together Tomasson, SFB School director Patrick Armand, Smuin Contemporary American Ballet artistic director Celia Fushille, Complexions Contemporary Ballet artistic director Dwight Rhoden and SFB director of education and training Andrea Yannone.
All agreed that diversity makes ballet schools and companies relevant to today's audiences, but Armand reported that SFB School struggles to recruit young dancers from diverse cultural and economic backgrounds.
Rhoden got cheers when he brought up the importance of creating ballets that use themes, music and collaborators that diverse communities can relate to.
Fushille agreed, adding that ballet-dancer contestants on TV shows like "So You Think You Can Dance" have helped make ballet seem more accessible and less elitist.
Yannone said that diversity in ballet is about nurturing anyone who wants to dance, and credits programs like SFB School's Dance in Schools & Communities, Boston Ballet's Adaptive Dance Program, ABT's Project Plié and the International Association of Blacks in Dance with fostering wide-ranging inclusion.
If there was unifying theme throughout symposium, it was that change will take time, but ballet is truly evolving to reflect the times we live in and represent everyone who dances, choreographs and enjoys it.
From Your Site Articles
Related Articles Around the Web
Peter Smith, courtesy of University Musical Society
What happens during a performance is the product of the painstaking process of realizing an artistic vision. Whether held beforehand, afterward, offsite or online, audience discussions tend not to be so preordained, easily thrown off track without a skilled moderator at the helm.
"I'm someone who dreaded talkbacks and Q&As," admits Bill Bragin, former director of public programming at Lincoln Center. "While I was in New York, a lot of the time it was just audience members trying to show off how smart they were."
These events present a pile of difficult questions: How much do you reveal about a piece before it's shown? How can a conversation designed to hit key points feel casual and spontaneous? How do you cater to the needs of diverse attendees, from novice dancegoers to lifelong fans to scholars and critics? And how do you avoid smothering dance with language, flattening all its complexity?
Keep reading...
Show less
UA Dance Ensemble members Candice Barth and Gregory Taylor in Jessica Lang's "Among the Stars." Photo by Ed Flores, courtesy University of Arizona
If you think becoming a trainee or apprentice is the only path to gaining experience in a dance company environment, think again.
The University of Arizona, located in the heart of Tucson, acclimates dancers to the pace and rigor of company life while offering all the academic opportunities of a globally-ranked university. If you're looking to get a head-start on your professional dance career—or to just have a college experience that balances company-level training and repertory with rigorous academics—the University of Arizona's undergraduate and graduate programs have myriad opportunites to offer:
Keep reading...
Show less
Alice Sheppard/Kinetic Light in DESCENT, which our readers chose as last year's "Most Moving Performance." Photo by Jay Newman, courtesy Kinetic Light
Yes, we realize it's only August. But we can't help but to already be musing about all the incredible dance happenings of 2019.
We're getting ready for our annual Readers' Choice feature, and we want to hear from you about the shows you can't stop thinking about, the dance videos that blew your mind and the artists you discovered this year who everyone should know about.
Keep reading...
Show less
Silas Farley in his Songs from the Spirit at the Metropolitan Museum of Art. Rosalie O'Connor, Courtesy Farley
I dance to encourage others. The longer I dance, the more I see that much of my real work is to speak life-giving words to my fellow artists. This is a multidimensionally grueling profession. I count it a privilege to remind my colleagues of how they are bringing beauty into the world through their craft. I recently noticed significant artistic growth in a fellow dancer, and when I verbalized what I saw, he beamed. The impact of positive feedback is deeper than we realize.
Keep reading...
Show less