Sara Mearns and Joshua Bergasse Gave Us the Scoop on What It's Actually Like to Work Together
Paula Lobo, Courtesy Matt Ross PR
It was only a matter of time before dance super couple Sara Mearns and Joshua Bergasse did a major project together.
After all, the newlyweds first met when Mearns, a New York City Ballet star, was being considered for a part on the TV show "Smash," which Bergasse was choreographing. They hit it off, but the role ended up getting cut.

Fast-forward to today, and they're working on their first full-length musical together: I Married an Angel, which opens next week as part of New York City Center's Encores! season, with Bergasse as director and choreographer and Mearns as the star.
---
"We've done a number here, a number there together before, but this is the first time we're doing something of this scope," says Bergasse.
"It's been really fun. He gets red in the face when we're fooling around in the studio and I joke around with him," says Mearns, adding, "It's really cute."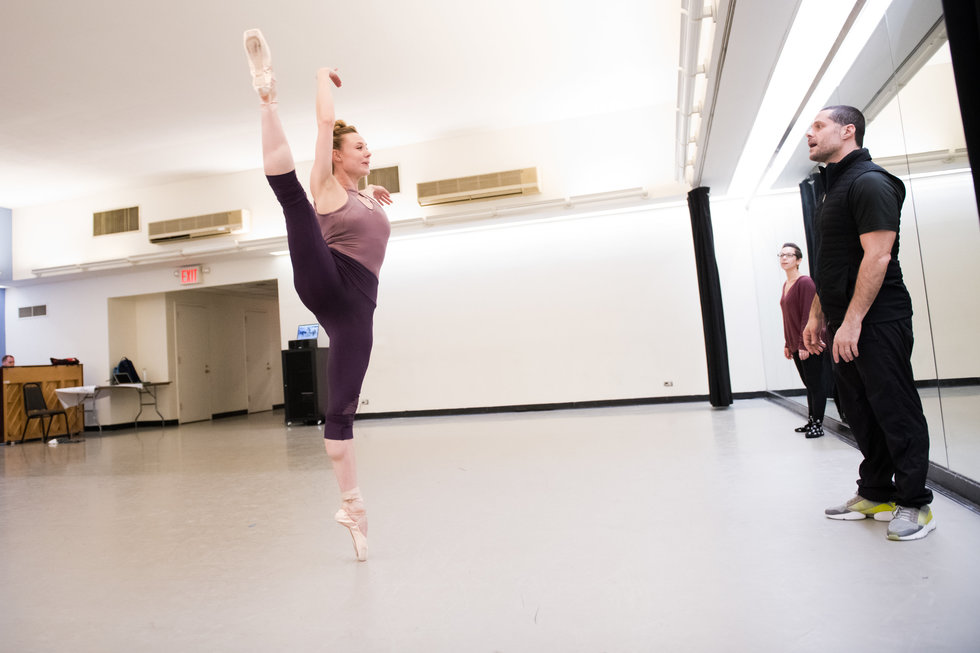 Paula Lobo, Courtesy Matt Ross PR
This particular show has special significance: I Married an Angel was originally choreographed by George Balanchine in 1938 (a decade before he founded New York City Ballet), and it starred his wife at the time, Vera Zorina. That sparked the idea for Encores! artistic director Jack Viertel to approach Mearns and Bergasse not long after they started dating, hoping they would re-create that historic dynamic together.
Bergasse says their personal relationship does make their creative collaboration more instinctive: "There's a certain understanding we have of each other's personalities. We can read each other in the room."
But being married comes with its own wrinkles. Bergasse and Mearns admit that the work inevitably follows them home, where they'll end up talking through ideas, and getting each other's opinions on things like costume design right when one of them comes out of the shower, for instance.
Fortunately, they have a simple answer for when they need to completely tune out their work. "We binge-watch 'Game of Thrones,' " says Bergasse. "Though, with the limited time we have, that means like maybe one episode a night."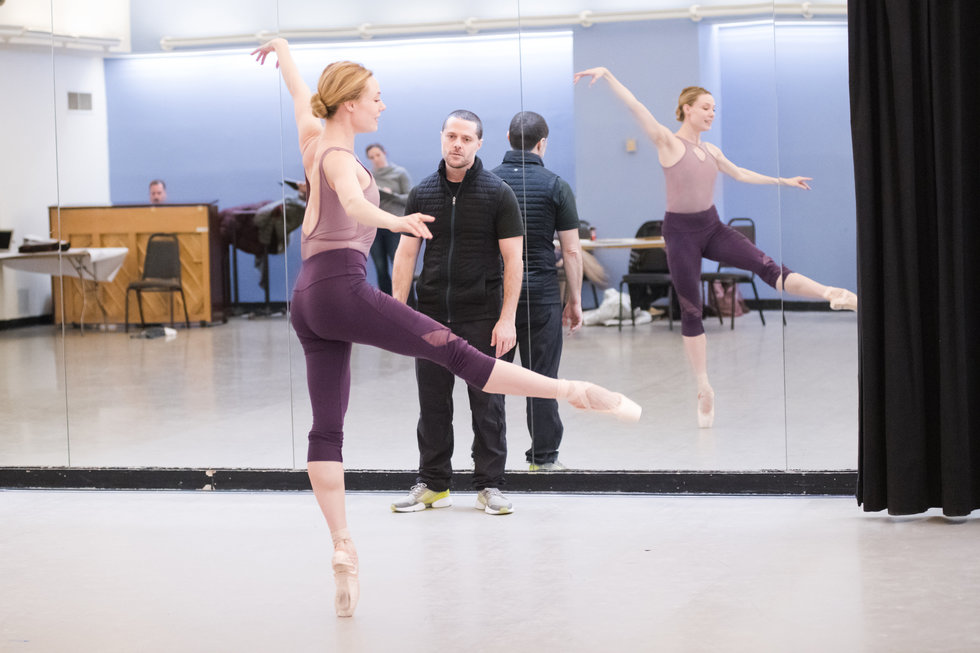 Paula Lobo, Courtesy Matt Ross PR
Although their wedding was only four months ago, the pair already has their married couple banter down. When asked what working with Bergasse has taught her, Mearns pauses, thinking.

"Not too much apparently," Bergasse jokes, before Mearns laughs and then talks about how he's helped her make storytelling more central to her dancing.
And when Bergasse is asked what he's learned from Mearns, she's the first to answer, saying, "Everything!" (Bergasse says he's learned from her intuition, how her body naturally moves.)
But no matter how silly or heated things get in the studio or at home, both say they appreciate the sense of security that has come with marriage. "No matter what is happening," says Mearns, "we're in this together. Officially."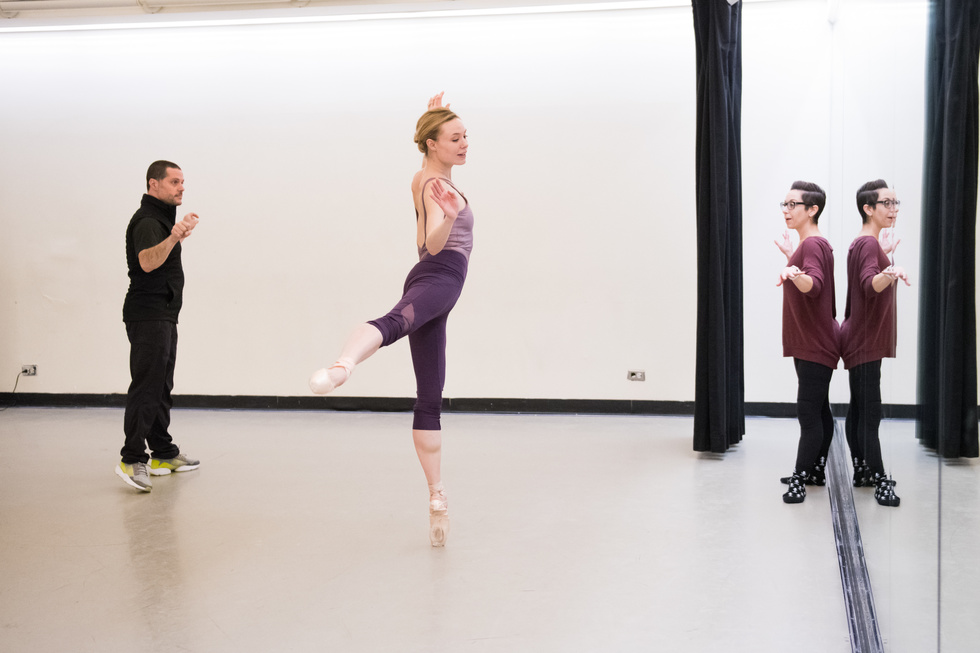 Paula Lobo, Courtesy Matt Ross PR
From Your Site Articles
Related Articles Around the Web
Alice Sheppard/Kinetic Light in DESCENT, which our readers chose as last year's "Most Moving Performance." Photo by Jay Newman, courtesy Kinetic Light
Yes, we realize it's only August. But we can't help but to already be musing about all the incredible dance happenings of 2019.
We're getting ready for our annual Readers' Choice feature, and we want to hear from you about the shows you can't stop thinking about, the dance videos that blew your mind and the artists you discovered this year who everyone should know about.
Keep reading...
Show less
The USC Kaufman graduating class with Mikhail Baryshnikov. Gus Ruelas/USC
Just four years ago, the University of Southern California's Glorya Kaufman School of Dance welcomed its first class of BFA students. The program—which boasts world-class faculty and a revolutionary approach to training focused on collaboration and hybridity—immediately established itself as one of the country's most prestigious and most innovative.
Now, the first graduating class is entering the dance field. Here, six of the 33 graduates share what they're doing post-grad, what made their experience at USC Kaufman so meaningful and how it prepared them for their next steps:
Keep reading...
Show less
Courtesy Chiara Valle
Chiara Valle is just one of many dancers heading back to the studio this fall as companies ramp up for the season. But her journey back has been far more difficult than most.
Valle has been a trainee at The Washington Ballet since 2016, starting at the same time as artistic director Julie Kent. But only a few months into her first season there, she started experiencing excruciating pain high up in her femur. "It felt like someone was stabbing me 24/7," she says. Sometimes at night, the pain got so bad that her roommates would bring her dinner to the bathtub.
Keep reading...
Show less
A Ladies of Hip-Hop battle. Photo by Loreto Jamlig, Courtesy Ladies of Hip-Hop
Michele Byrd-McPhee's uncle was a DJ for the local black radio station in Philadelphia, where she was born. As a kid she was always dancing to the latest music, including a new form of powerful poetry laid over pulsing beats that was the beginning of what we now call hip hop.
Byrd-McPhee became enamored of the form and went on to a career as a hip-hop dancer and choreographer, eventually founding the Ladies of Hip-Hop Festival and directing the New York City chapter of Everybody Dance Now!. Over the decades, she has experienced hip hop's growth from its roots in the black community into a global phenomenon—a trajectory she views with both pride and caution.
On one hand, the popularity of hip hop has "made a global impact," says Byrd-McPhee. "It's provided a voice for so many people around the world." The downside is "it's used globally in ways that the people who made the culture don't benefit from it."
Keep reading...
Show less