What is Tap Music? Sarah Reich's New Album Uses Tap Dancing As an Instrument
Sarah Reich has turned her tap shoes into instruments. Photo by Christopher Erk
Perhaps the most precious tradition in tap dance is honoring the elders, reflecting a belief that dancers cannot tap a sound without re-sounding the steps of the masters. This show of gratitude is not nostalgic but regenerative: the practice of realizing the future from the past while making one's own inscription on the tradition.
And so it is with Sarah Reich and the release of her debut album, New Change, a mix of original tunes composed of percussive tap rhythms performed by Reich and an ensemble of jazz musicians. The tunes are dedicated to and named after jazz tap masters—from Harold Cromer, the tap dancer/vaudevillian who was Reich's decade-long mentor, to such notables as Ted Louis Levy, Arthur Duncan, Ivery Wheeler, Jason Samuels Smith, Brenda Bufalino and Dianne "Lady Di" Walker.
What is "new" in New Change is the common-sense idea that tap dance is music—and that it can be composed by tap dancers.
---
Tap Music By a Tap Dancer
"I always had a dream of writing music. My mother was born in Mexico City, and my grandma always had Latin music around. My father made sure to make me culturally aware of black music, jazz. I especially loved Tito Puente. These rhythmic melodic ideas are what I hear in my head when I tap dance.
"I studied with Denise Scheerer, who would bring a drum kit to class. And she would have a drum manual, Syncopation, by Ted Reed. Exercise Number One was just eighth notes, and then we would improvise on quarter notes, and sixteenth-note triplets. That's when I realized that tap is music. And that tap dancers are musicians.
"Instead of always dancing to jazz standards, which is traditional, I want to compose original music, collaborate with musicians, create a rhythm, have the musician learn it, and then build a song together."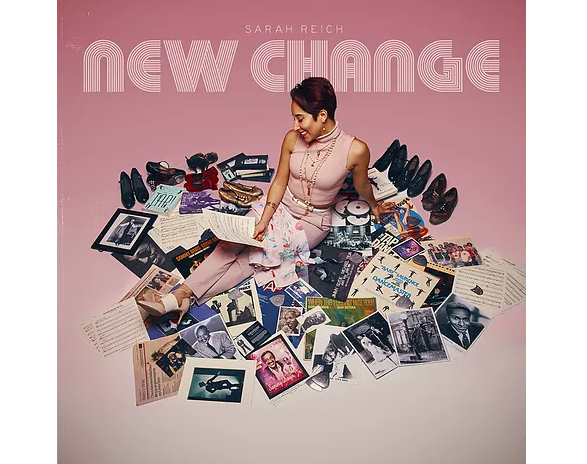 How to Make Tap Music
"The whole process took four years. I wrote the first song, 'Gemini Vibe', with my good friend Danny Janklow, a saxophonist. I told him I would improvise an idea, and when I liked it, I would scat it to him melodically, how I hear it, and he would transcribe it the way he hears it. So instead of playing all the notes, we shared them!"
Honoring The Elders
"I want the audience to hear the voices of these legends. On 'Harold Cromer,' you hear a message he sent me, which I have always saved, since he passed away in 2013. On 'The Groove,' you hear vocal samples from two 1980s documentaries, About Tap and No Maps On My Taps. On 'Ted Louis Levy,' you hear him scatting 'You're a pure, honest connection to rhythm, everything rhythm.' After you listen to 'Arthur Duncan,' you will want to Google his name and find out more about this wonderful artist who appeared for many years on the Lawrence Welk Show. For 'Dianne Walker,' my idol, and 'Brenda Bufalino,' who I spent a week with at the Beantown Tapfest in Boston, I wanted people to experience what I have experienced as a tap dancer—to be taught by the legends."
An Emotional Time Signature
" 'For Chance' was written for my friend and teacher, Chance Taylor, who committed suicide. When Chance passed, it was really hard for me. I set the tune in 6/8 time because it sounded like a heartbeat. It helped me to channel him and to experience what I thought was the mental state he was going through. I recorded a first and second track to create polyrhythm. It was nice to show that rhythm can be emotional."
What It Was Like To Work With a Vocalist
"I composed 'My Baby Just Cares for Me' with Maya Sykes as vocalist, and we toured it with Postmodern Jukebox, with Scott Bradley on piano. I wanted to be the drummer on this tune, not to go over her sound. I like for others to solo, for people to listen to tap like they would listen to drummers doing the brushes."
Her Grammy Dreams
"I applied for consideration for Tap Music to be considered for the Grammy Awards! I want audiences to understand that tap can be respected as a musical instrument, and that tap has always been a large part of jazz history."
New Change is available on Sarah Reich's website, Amazon, iTunes, Google Play and Spotify.
Related Articles Around the Web
From Your Site Articles
Just for Fun
Jul. 16, 2019 02:13PM EST
As Dance Magazine editors, we admittedly spend more time than we'd like sifting through stock photography. Some of it is good, more of it is bad and most of it is just plain awkward.
But when paired with the right caption, those shots magically transform from head-scratchers to meme-worthy images that illustrate our singular experience as dancers. You can thank the internet for this special salute to dancer moods.
Keep reading...
Show less
Wayne McGregor. Photo by Johan Persson, Courtesy ROH
It's no surprise that dancers make some of the best TED Talk presenters. Not only are they great performers, but they've got unique knowledge to share. And they can dance!
If you're in need of a midweek boost, look no further than these eight presentations from some incredibly inspiring dance artists.
Keep reading...
Show less
News
Jul. 16, 2019 03:58PM EST
Including this extraordinary Travis Wall number for "So You Think You Can Dance" (Adam Rose/FOX)
The Primetime Emmy Award nominations are out! Congrats to the seven choreographers who earned nods for their exceptional TV work this year. Notably, that work was made for just two shows, "So You Think You Can Dance" and "World of Dance."
And there was a particularly remarkable snub: While the dance-filled hit "Fosse/Verdon" earned 17 nominations across many of the major categories, Andy Blankenbuehler's fabulous Fosse remixes weren't recognized in the Outstanding Choreography field.
Here are all the dance routines up for Emmys:
Keep reading...
Show less

abezikus/Getty Images
"Dancers can do everything these days," I announced to whoever was in earshot at the Jacob's Pillow Archives during a recent summer. I had just been dazzled by footage of a ballet dancer performing hip hop, remarkably well. But my very next thought was, What if that isn't always a good thing? What if what one can't do is the very thing that lends character?
Keep reading...
Show less