How SAB Is Working To Fix NYCB's Diversity Problem
Fellow Angela Harris teaching an intermediate girls class at SAB
New York City Ballet has an image problem. Despite having the moniker of one of the most diverse cities on the planet, the company regularly comes under fire for its lack of diversity. A perception of overbearing whiteness has plagued the institution, often acting as a cultural barrier for prospective students and audiences.
Over the last three years, the company's School of American Ballet and its diversity team have been working to change this. Since NYCB preserves its Balanchine legacy by keeping everything in house—dancers are hired almost exclusively from SAB, where they are trained by former members of the company—the school is a logical place to start transforming its image. And it's working. Presently, the children's division and intermediate/advanced division boasts 44% and 29% students of color, respectively.
---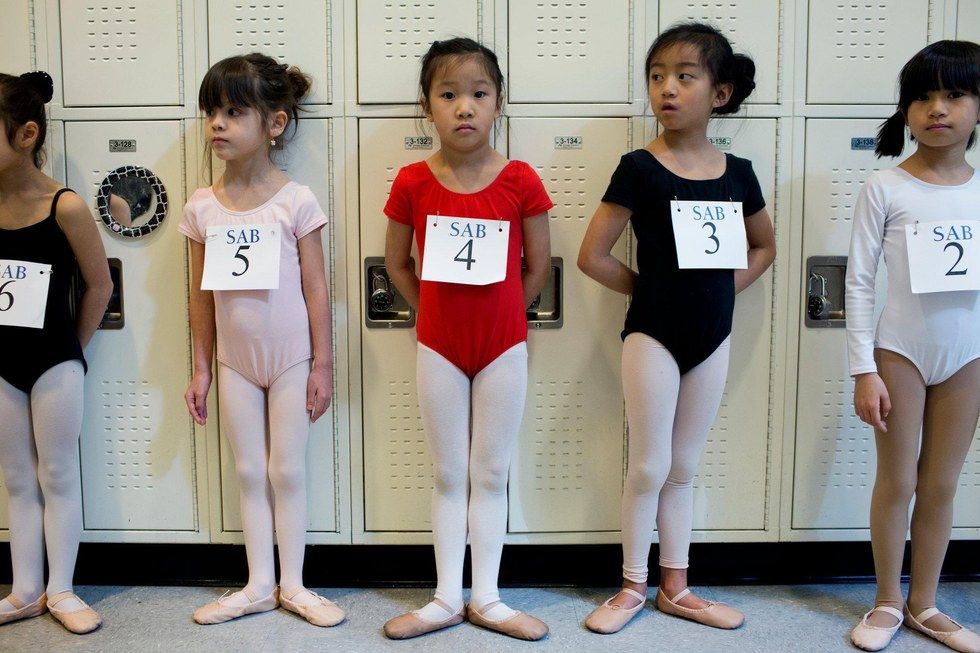 Photo via nytimes.com
The importance of high numbers in the lower levels can not be undervalued. Dance is brutally Darwinian, and SAB is acutely aware that not all beginners will end up in level D. "It's so important that our 6- and 7-year-old pools are as diverse as possible," says Leah Quintiliano, senior manager of diversity and inclusion. "It gets whittled down so much, we need to make sure that we are left with options later on."

In addition to broadening audition locations to identify talented students of color, two years ago, SAB launched the National Visiting Fellows Program. Up to five classical ballet instructors with a commitment to teaching students from diverse backgrounds are invited to participate in two week-long sessions during SAB's Winter Term. They observe classes, discuss pedagogy and curriculum, and have an opportunity to teach in the school then receive feedback.
This is an unprecedented amount of access to the often opaque organization.

The intimate group is highly vetted. "We have to see expertise, and know that we speak the same language," says faculty co-chair Kay Mazzo, whose enthusiasm about the program is palpable. "They have to be good teachers who know what it takes to become a classical ballet dancer."
2016-17 fellow Christopher McDaniel of Connally's Dance Workshop, in San Antonio, TX, says the fellows watch just about every level in the school. "Following each level, different specifications on technique were broken down by a faculty member with a student demonstrating," he says. Participants are in an hands-on environment, Quintiliano explains. "In some other programs, the participants may be working together in an empty studio; our fellows are present in the classroom."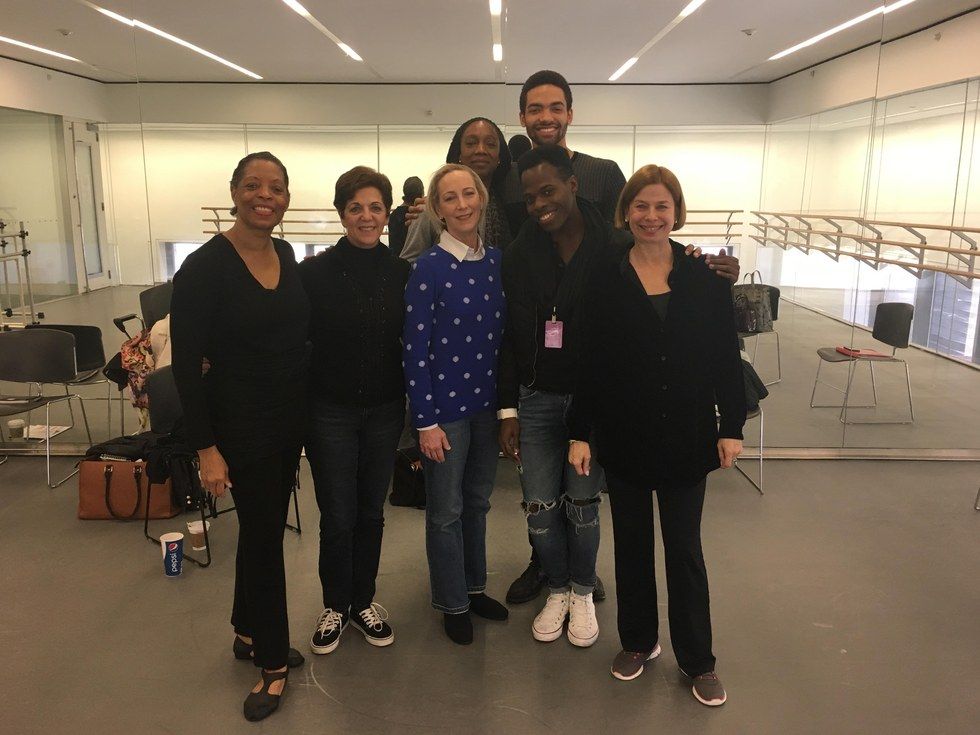 Spring 2017 fellows. Pictured left to right: (front row) Robyn Gardenhire, Mariana Alvarez Brake, Kay Eichman, Christopher McDaniel, SAB faculty member Katrina Killian. (back row) Jennifer Mason, SAB alumnus Silas Farley
For Angela Harris, founder of the Atlanta-based nonprofit Dance Canvas and part of the pilot program class, this level of access was invaluable. "I focused most on the younger classes, to reflect on how I could build my pre-pointe/beginner pointe classes," she says. "The regiment of the combinations, paired with the attention to developing the articulation of the foot, made complete sense to me. I came home and I slowed my classes down and spent two months returning to facing the barre for many combinations to isolate and correct positions. It made a difference, and my students became stronger."
All expenses, including travel and housing, are paid for. "We didn't just want teachers who could afford it coming," says Mazzo. "We felt that if we are taking a teacher away from a school, we wanted to make sure that they were paid for that week." In addition, each fellow's home school receives $5,000. Quintiliano says, "This is our way of saying, 'Please, we would like to help you continue what you are doing."
Many participants find the program actually reaffirms their own mastery. "It solidified my thoughts on, Am I teaching the correctly? Are my combinations taking the student to the next level? Showing my work and writing out my mission gave me great confidence in what I have achieved as an instructor and director of a program," says Robyn Gardenhire, a former American Ballet Theatre dancer who now directs City Ballet of Los Angeles, and who was scouted for the fellowship by SAB faculty member Katrina Killian. Gardenhire was also asked to be on SAB's Diversity Board, made up of school alumni.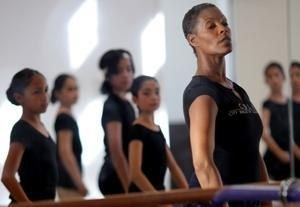 Robyn Gardenhire teaching at City Ballet of Los Angeles
SAB is building these new relationships in hopes of expanding its reach, re-framing its image—and ultimately resulting in brown students seeing SAB as a possibility for them. "SAB's outreach through the fellows allows us to help break down a barrier for our students to feel welcome," says Harris. "Last year, a young dancer I encouraged to audition told me she'd never thought of auditioning because she didn't feel like she was 'what they were looking for.' Although she didn't get in, she had a great experience auditioning, and is headed to Ballet West or Texas Ballet Theater this summer." Students of fellows have their audition fees waived, and over the last two years, Harris has been able to offer 15 of her students audition scholarships for SAB.
Today, as you walk through the SAB halls when the children's program is in session, it looks like the residents of New York City. Though the diversity begins to wane in the upper levels, and there is still work to do, progress is happening.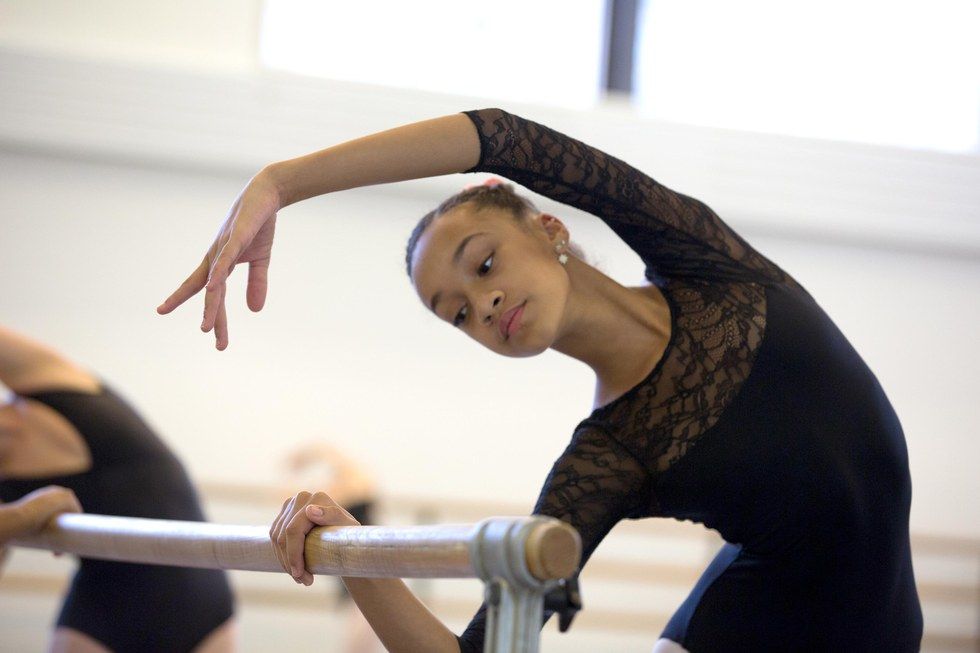 SAB's summer course
The goal of adding ballet faculty of color will be harder to come by, since SAB only hires from NYCB, and there have been so few non-white dancers. However, changes are happening on this front as well: Former NYCB dancer Andrea Long-Naidu has been a guest faculty member, was present on SAB's national audition tour this year and will return for a week of the 2017 summer intensive.
When asked if the fellows might be called on to teach at the school, Mazzo paused. "Down the road…I don't know, we are always evolving. I can certainly see some of our fellows guest teaching here, and then we have to see how it works." She maintains that either way, the door to SAB will always be open to fellows to observe or get feedback. Harris shares that fellows feel supported—SAB's director of development gave her a list of potential funders for new programs at her school, and on a recent trip to New York, she spent an hour catching up with Quintiliano.
It is said that it takes 10 years to make a dancer. It might take just as long to change the perception that people have about NYCB. After all, the final decision on hiring lies with ballet master in chief Peter Martins. But the team at SAB has made it a mission to find and train dancers of color so that Martins has strong candidates to choose from.
We already have evidence of their work. Of the eight apprentices appointed this year, five are of color. Two are African American—India Bradley and Darius Black—and Gilbert Bolden is biracial. Where SAB's tradition might not make "outreach" a model for them, they are working to escort people in.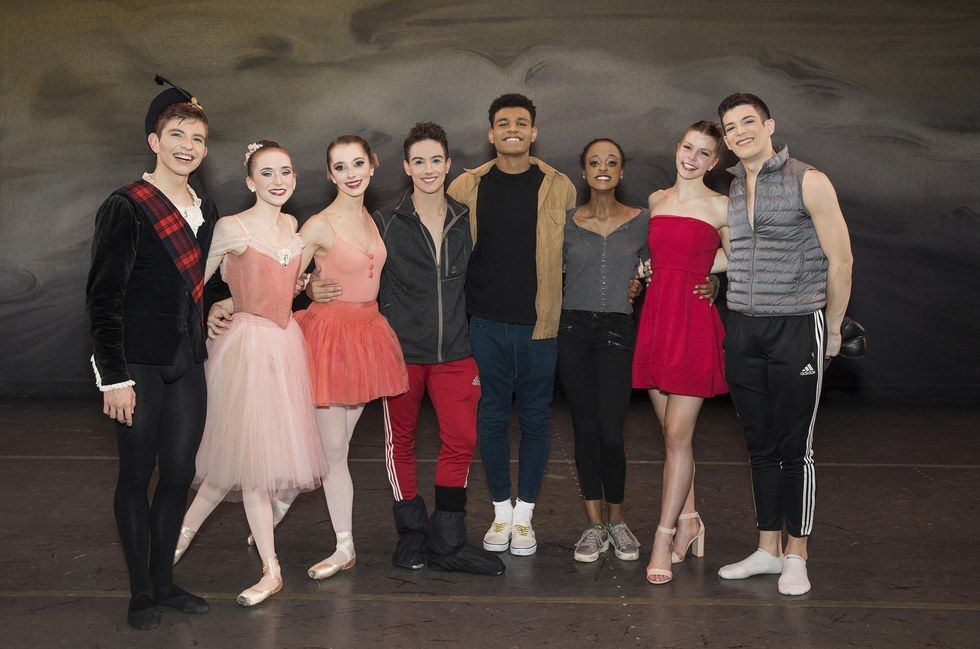 SAB students moments after they were tapped to become NYCB apprentices for the 2017/18 season. Pictured left to right: Andres Zuniga, Gabriella Domini, Nieve Corrigan, Roman Mejia, Darius Black, India Bradley, Mary Thomas MacKinnon, Gilbert Bolden. Photo by Paul Kolnik
A still from the documentary American Tap
Thirty years ago, U.S. Joint Resolution 131, introduced by congressman John Conyers (D-MI) and Senator Alphonse D'Amato (R-NY), and signed into law by President G. W. Bush declared:
"Whereas the multifaceted art form of tap dancing is a manifestation of the cultural heritage of our Nation...
Whereas tap dancing is a joyful and powerful aesthetic force providing a source of enjoyment and an outlet for creativity and self-expression...
Whereas it is in the best interest of the people of our Nation to preserve, promote, and celebrate this uniquely American art form...
Whereas May 25, as the anniversary of the birth of Bill "Bojangles" Robinson is an appropriate day on which to refocus the attention of the Nation on American tap dancing: Now therefore, be it resolved by the Senate and House of Representatives of the United States of America in Congress that May 25, 1989, be designated "National Tap Dance Day."
Happy National Tap Dance Day!
Keep reading...
Show less
Hive by Boston Conservatory student Alyssa Markowitz. Photo by Jim Coleman
The way we create and consume dance is changing every day. Now more than ever, the field demands that dancers not only be able to perform at the highest level, but also collaborate with choreographers to bring their artistic visions to life. Dancers who miss out on choreographic training may very well find themselves at a disadvantage as they try to launch their careers.

Keep reading...
Show less
James Fosberg, courtesy Mason
Over the past 15 years, Gesel Mason has asked 11 choreographers—including legends like Donald McKayle, David Roussève, Bebe Miller, Jawole Willa Jo Zollar, Rennie Harris and Kyle Abraham—to teach her a solo. She's performed up to seven of them in one evening for her project No Boundaries: Dancing the Visions of Contemporary Black Choreographers.
Now, Mason is repackaging the essence of this work into a digital archive. This online offering shares the knowledge of a few with many, and considers how dance can live on as those who create it get older.
Keep reading...
Show less
News
May. 22, 2019 05:57PM EST
Fox produced a live broadcast of Rent in January—but could an original musical be next? Photo by Kevin Estrada, Courtesy Fox
When a musical prepares to make the transfer from a smaller, lesser-known venue to Broadway (where theaters hold 500-plus seats), often there's a collective intake of breath from all involved. After all, a bigger house means more tickets to sell in order to stay in the black, and sometimes shows with even the most tenacious fan bases can't quite navigate such a jump. But what about the transfer from stage…to screen? Is Broadway ready to be consumed from the comfort of your couch?
Keep reading...
Show less
Last year's winner: Manuel Vignoulle's EARTH. Jack Hartin Photography, Courtesy McCallum Theatre
It's not often that a promising choreographer gets to stage work in a world-class theater, on a skillfully-curated program with professional dancers, and with the possibility of winning a substantial cash prize. But at the McCallum Theatre's Palm Desert Choreography Festival, that's been the status quo for over twenty years.
Since Shea New, the festival's artistic director, founded the festival in 1998, she's worked tirelessly with McCallum's director of education and festival producer, Kajsa Thuresson-Frary, and stage manager and festival production manager Joanna Fookes to build a festival that nurtures choreographers, highlights high quality work, powerfully engages the local community and cultivates an audience base for dance in the Coachella Valley. The trio is backed by a strong team of professionals at McCallum and the brilliant volunteers from the local and national level who serve as adjudicators.
Keep reading...
Show less
Get Dance Magazine in your inbox
Courtesy Lee
Daphne Lee was dancing with Collage Dance Collective in Memphis, Tennessee, when she received two difficult pieces of news: Her mother had been diagnosed with multiple myeloma cancer, and her father had Parkinson's disease, affecting his mobility and mental faculties.
The New Jersey native's reaction: "I really need to move home."
Keep reading...
Show less
Bruce Mars via Unsplash
Summer is almost upon us, and whether you're a student about to go on break or a pro counting the days till layoff, don't forget that with warm weather comes a very serious responsibility: To maintain your cross-training routine on your own.
Those of us who've tried to craft our own cross-training routine know it's easier said than done. So we consulted the stars, and rounded up the best options for every zodiac sign. (TBH, you should probably consult an expert, too—we'd recommend a physical therapist, a personal trainer or your teacher.)
Keep reading...
Show less
It's become second nature in dance studios: The instant anyone gets hurt, our immediate reaction is to run to the freezer to grab some ice (or, more realistically, a package of frozen peas).
But as routine as icing our injuries might be, the benefits are not actually backed up by scientific studies. And some experts now believe icing could even disrupt the healing process.
Keep reading...
Show less
Getty Images
I'm a contemporary dancer, and I'm nervous about trying to get pregnant since I can't predict if it might happen during the middle of the season. We have a union contract that is supposed to protect us. But I'm scared because several of my colleagues' contracts weren't renewed for no particular reason. Having a big belly could be a big reason to get rid of me!
—Andrea, New York, NY
Keep reading...
Show less
From Dance of Urgency. © Ekvidi
When the going gets tough, the tough start dancing: That's the premise behind "Dance of Urgency," a recently opened exhibit at MuseumsQuartier Vienna that features photos, video and other documentary material relating to the use of dance as political protest or social uprising.
The groups featured in the show, largely based around clubs and electronic dance music scenes, span the globe and respond to a variety of issues—from inequality and social stratification to racial divides to crackdowns on club culture itself.
Keep reading...
Show less
News
May. 20, 2019 04:24PM EST
Last night, longtime theater legends (including Chita Rivera herself!) as well as rising stars gathered to celebrate one of Broadway's danciest events: the third annual Chita Rivera Awards.
The evening paid tribute to this season's dancer standouts, fabulous ensembles, and jaw-dropping choreography—on- and off-Broadway and on film.
As usual, several of our faves made it into the mix. (With such a fabulous talent pool of nominees to choose from, we're glad that ties were allowed.) Here are the highlights from the winner's list:
Keep reading...
Show less
Lorenzo Di Cristina/Unsplash
When you're a foreign dancer, gaining legal rights to work in the U.S. is a challenging process. It's especially difficult if you're petitioning to work as a freelance dancer without an agent or company sponsorship.
The process requires professional muscle along with plenty of resources and heart. "There's a real misnomer that it's super easy," says Neena Dutta, immigration attorney and president of Dutta Law Firm. "People need to educate themselves and talk to a professional."
Here are four things every foreign dancer who wants to work in the U.S. needs to know to build a freelance dance career here.
Keep reading...
Show less
Quinn Wharton
What does it take to "make it" in dance? It's no secret that turning this passion into a profession can be a struggle. In such a competitive field, talent alone isn't enough to get you where you want to be.
So what kinds of steps can you take to become successful? Dance Magazine spoke to 33 people from all corners of the industry to get their advice on the lessons that could help us all, no matter where we are in our careers.
Keep reading...
Show less