With Seattle Dance Collective, Two Pacific Northwest Ballet Stars Try Directing on for Size
James Yoichi Moore and Noelani Pantastico warm up onstage. Angela Sterling, Courtesy SDC.
On a sunny July weekend, hundreds of Seattle-area dance fans converged on tiny Vashon Island, a bucolic enclave in Puget Sound about 20 miles from the city. They made the ferry trek to attend the debut performance of the fledgling Seattle Dance Collective.
SDC is not a run-of-the-mill contemporary dance company; it's the brainchild of two of Pacific Northwest Ballet's most respected principal dancers: James Yoichi Moore and Noelani Pantastico. The duo wanted to create a nimble organization to feature dancers and choreographers they felt needed more exposure in the Pacific Northwest.
---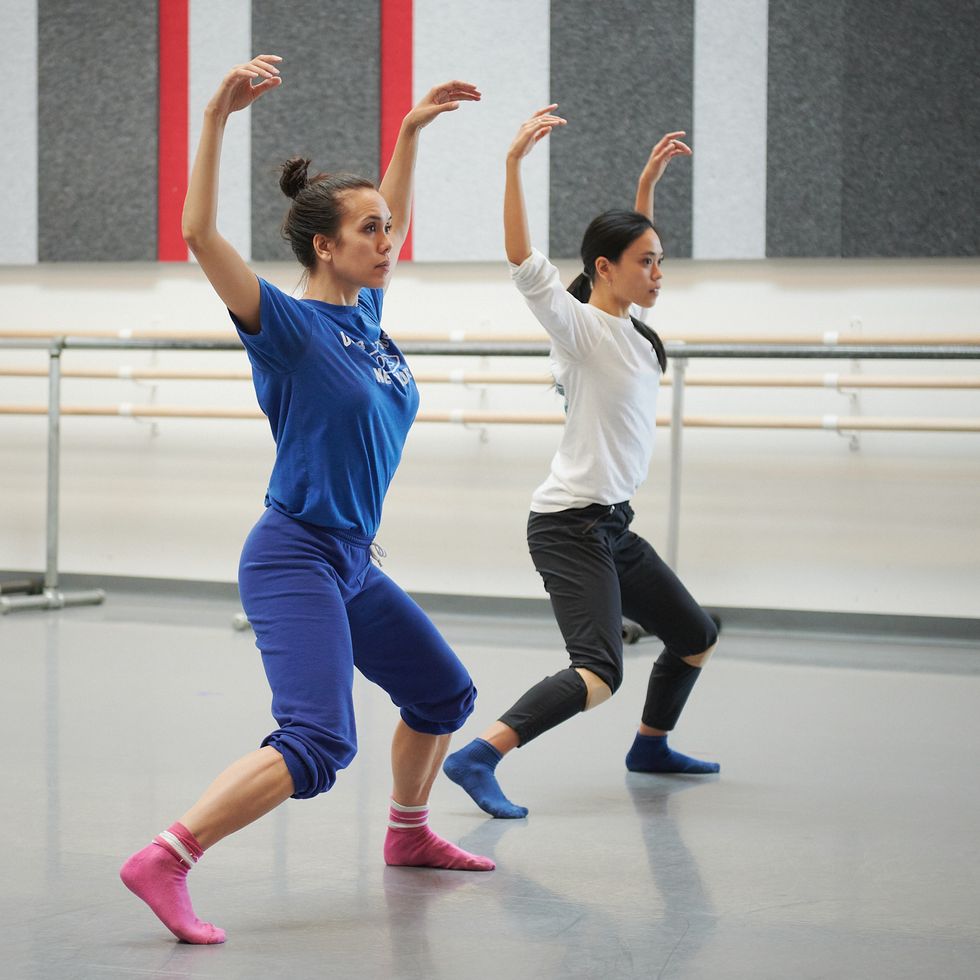 Pantastico and Angelica Generosa in rehearsal for Bruno Roque's Frugivory
Brett Doss Photogray, Courtesy SDC.
Moore says PNB's artistic director Peter Boal first broached the idea to him about three years ago.
"I was shocked. I never saw myself as a director," Moore said recently. "It took me years to get used to that idea of me in a leadership position."
Unbeknownst to Moore, a PNB board member had proposed to Pantastico that she consider forming her own dance company. The frequent dance partners and longtime friends discovered each other's plans after a number of conversations in the back of the studio.
"We stand next to each other at barre," Moore explained. "We always talk, and that's where this company grew from. We realized we had similar ideas and one day we decided to look into it more."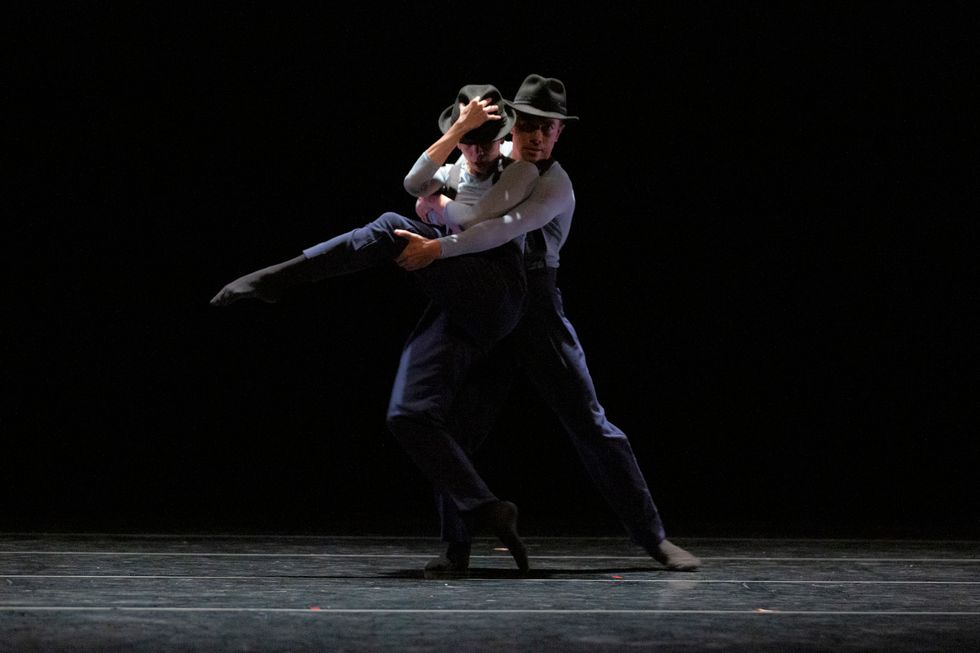 Liane Aung and Jim Kent in Penny Saunders' Sur La Fil
Angela Sterling, Courtesy SDC
The duo envisioned SDC as a small side project; they invited six fellow PNB company members and two well-known Seattle contemporary dancers (Whim W'Him's Liang Aung and Jim Kent) to join them for the inaugural program, comprised of seven works by such choreographers as David Dawson, Marco Goecke, Penny Saunders and Pantastico's husband, Bruno Roque. They intentionally sought out choreographers whose work they admired; only Dawson and Goecke had previously been presented by PNB.
"I think we're in a more contemporary mindset at this point in our careers," said Pantastico. But she and Moore don't want SDC to be pigeonholed as a contemporary ballet company. "Because we have access to phenomenal classical dancers," Moore said. "We have ideas to do a full classical evening."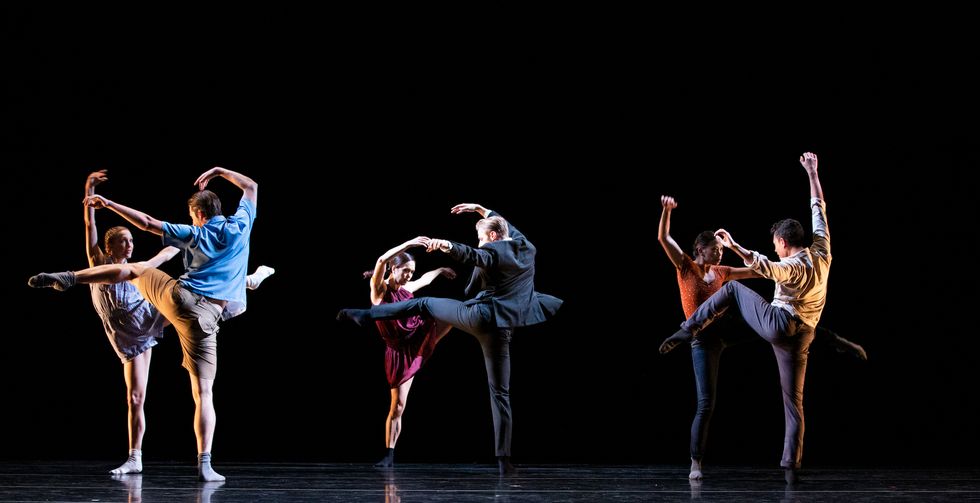 Members of Seattle Dance Collective in Bruno Roque's Frugivory
Angela Sterling, Courtesy SDC
Since Moore and Pantastico officially formed SDC only last October, they had to rush to nail down the details for their initial program: choosing the repertoire, finding a venue, writing up contracts and the like. "We'd never obtained music rights, or done costuming. We never put together a rehearsal schedule," Moore admitted. "We wanted to give ourselves an education, and the best way is by doing."
They had encouragement from friends in high places: Boal offered artistic guidance, while PNB audience education manager Doug Fullington (now SDC's company manager) and former PNB board president Aya Hamilton, who now presides over the SDC board, provided organizational and financial guidance, as well as the initial introduction to leadership at Vashon Center for the Arts.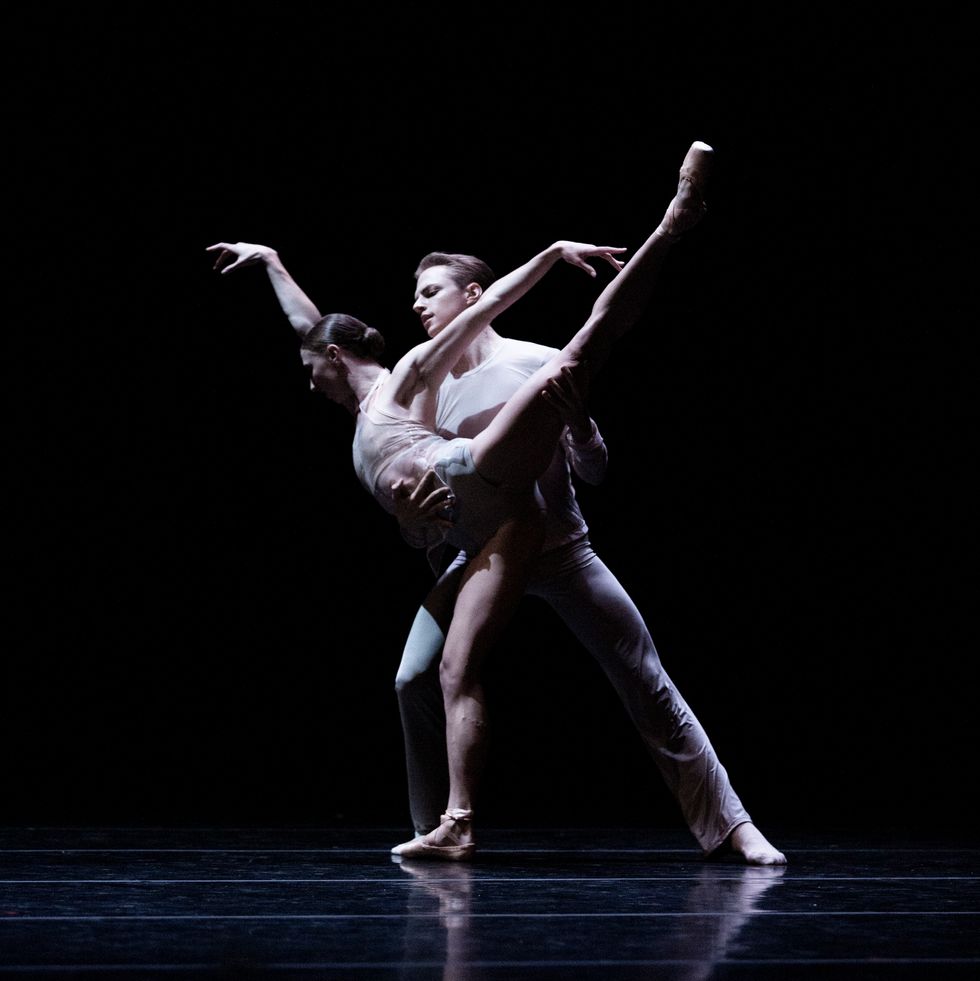 Elle Macy and Dylan Wald in David Dawson's The Grey Area
Angela Sterling, Courtesy SDC
As soon as PNB's artistic season ended in mid-June, Moore and Pantastico dove full-time into rehearsals with their new company. Saunders spent several weeks in residence with SDC, and Roque was an almost full-time presence. Moore and Pantastico cast themselves in several of the dances, but when they weren't rehearsing, they donned their managerial hats, answering calls and emails and putting out pre-production fires. The week before the performance, the entire company relocated to Vashon Island for final rehearsals and to offer master classes, lodging with locals who opened their homes. The influx of artists fostered a mini-festival vibe on the island of 10,000 residents.
That sense of excitement carried over to the performances themselves, a treat for area ballet fans. PNB normally performs in the 3,000 seat McCaw Hall. By contrast, the Vashon Island theater seats 300, providing a more intimate experience for both the audience and the dancers. Pantastico hasn't ruled out a return Vashon Island engagement, but both she and Moore envision building a company that will perform locally in Seattle while also touring nationally and internationally.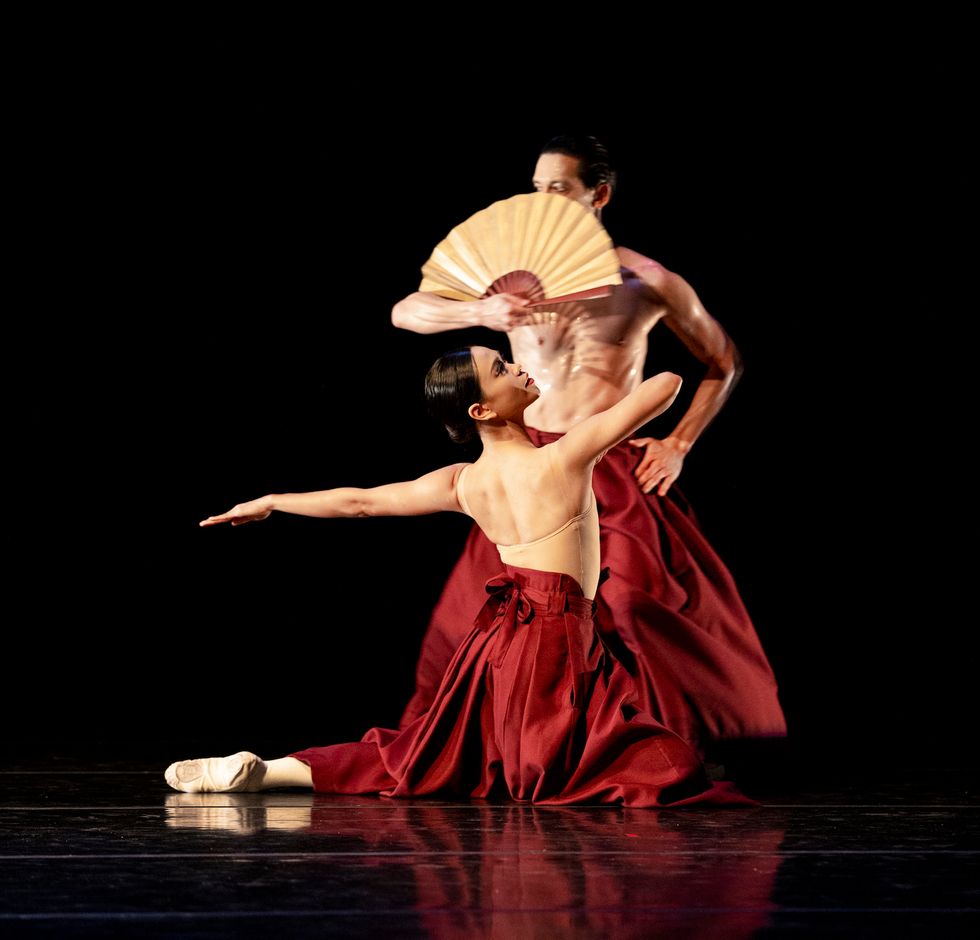 Generosa and Moore in Ivonice Satie's Shogun
Angela Sterling, Courtesy SDC
One of the biggest challenges will be scheduling. PNB dancers have a 41-week contract, with a series of short layoffs during the season plus a more significant summer break, unless the company goes on tour. Pantastico acknowledged the difficulty of squeezing in rehearsal time for other projects. Nevertheless, she and Moore are keenly aware that any aspiring performing arts organization needs consistent visibility to stay on the audience radar. That could mean producing a small pop-up performance over the winter, as well as planning for another significant production next summer.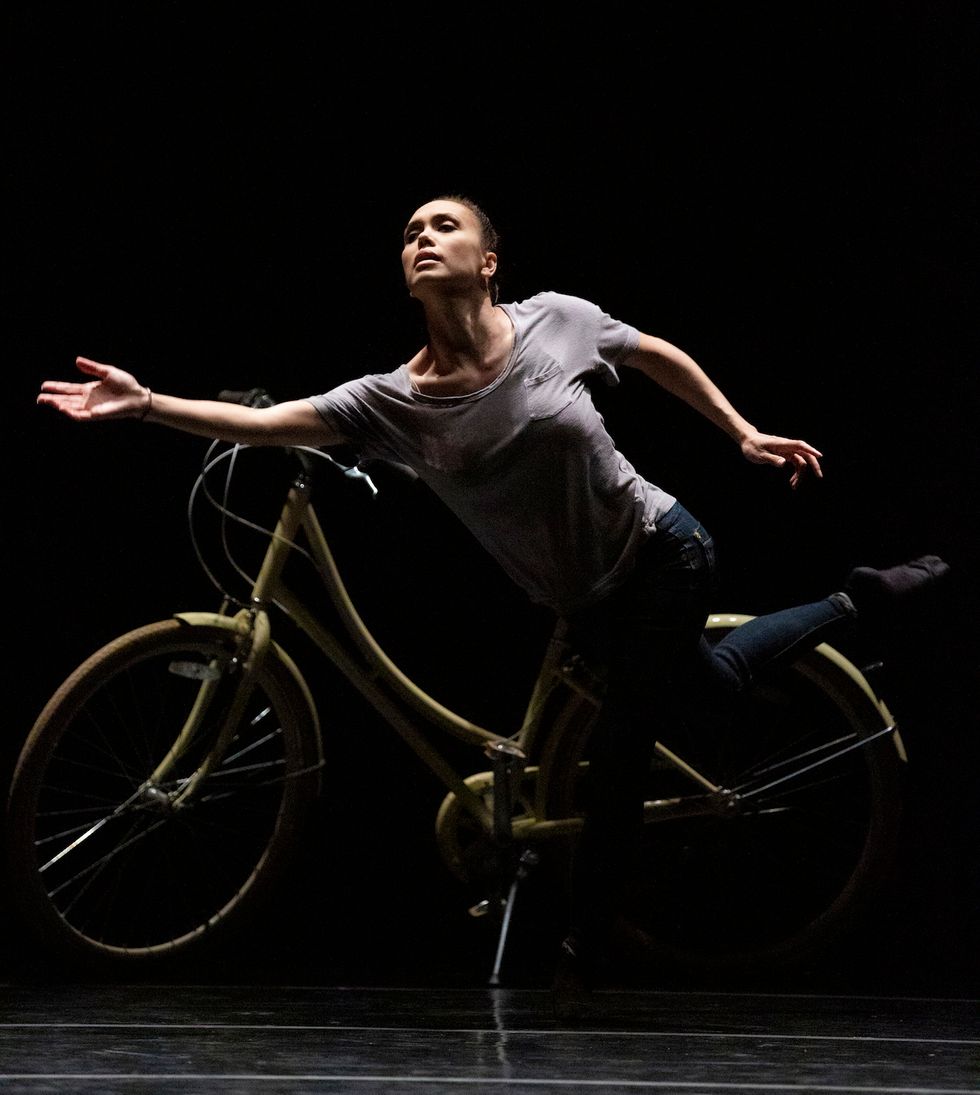 Pantastico in in Bruno Roque's Anamnesis
In the meantime, Moore and Pantastico (and most of their company members) continue to dance full-time with PNB. Although they have no imminent plans to retire, both are in their late 30s, and Seattle Dance Collective provides them a clear transition path from ballet to their next steps in the dance world.
"Noe and I realize there's only so much time left in our careers," said Moore. "We have so many ballets we want to perform still, and choreographers we want to work with. Why not create it for ourselves?"
Rachel Papo
In the middle of one of New York City Center's cavernous studios, Misty Copeland takes a measured step backwards. The suggestion of a swan arm ripples before she turns downstage, chest and shoulders unfurling as her legs stretch into an open lunge. She piqués onto pointe, arms echoing the sinuous curve of her back attitude, then walks out of it, pausing to warily look over her shoulder. As the droning of Ryuichi Sakamoto and Alva Noto's mysterious "Attack/Transition" grows more insistent, her feet start to fly with a rapidity that seems to almost startle her.
And then she stops mid-phrase. Copeland's hands fall to her hips as she apologizes. Choreographer Kyle Abraham slides to the sound system to pause the music, giving Copeland a moment to remind herself of a recent change to the sequence.
"It's different when the sound's on!" he reassures her. "And it's a lot of changes."
The day before was the first time Abraham had seen Copeland dance the solo in its entirety, and the first moment they were in the studio together in a month. This is their last rehearsal, save for tech, before the premiere of Ash exactly one week later, as part of the opening night of City Center's Fall for Dance festival.
Keep reading...
Show less
Ailey II artistic director Troy Powell teaching an Ailey Workshop at NYCDA. Courtesy NYCDA
Back in 2011 when Joe Lanteri first approached Katie Langan, chair of Marymount Manhattan College's dance department, about getting involved with New York City Dance Alliance, she was skeptical about the convention/competition world.
"But I was pleasantly surprised by the enormity of talent that was there," she says. "His goal was to start scholarship opportunities, and I said okay, I'm in."
Today, it's fair to say that Lanteri has far surpassed his goal of creating scholarship opportunities. But NYCDA has done so much more, bridging the gap between the convention world and the professional world by forging a wealth of partnerships with dance institutions from Marymount to The Ailey School to Complexions Contemporary Ballet and many more. There's a reason these companies and schools—some of whom otherwise may not see themselves as aligned with the convention/competition world—keep deepening their relationships with NYCDA.
Now, college scholarships are just one of many ways NYCDA has gone beyond the typical weekend-long convention experience and created life-changing opportunities for students. We rounded up some of the most notable ones:
Keep reading...
Show less
Getty Images
Dancers are understandably obsessed with food. In both an aesthetic and athletic profession, you know you're judged on your body shape, but you need proper fuel to perform your best. Meanwhile, you're inundated with questionable diet advice.
"My 'favorite' was the ABC diet," says registered dietitian nutritionist Kristin Koskinen, who trained in dance seriously but was convinced her body type wouldn't allow her to pursue it professionally. "On the first day you eat only foods starting with the letter A, on the second day only B, and so on."
Keep reading...
Show less
Left: Hurricane Harvey damage in Houston Ballet's Dance Lab; Courtesy Harlequin. Right: The Dance Lab pre-Harvey; Nic Lehoux, Courtesy Houston Ballet.
"The show must go on" may be a platitude we use to get through everything from costume malfunctions to stormy moods. But when it came to overcoming a literal hurricane, Houston Ballet was buoyed by this mantra to go from devastated to dancing in a matter of weeks—with the help of Harlequin Floors, Houston Ballet's longstanding partner who sprang into action to build new floors in record time.
Keep reading...
Show less